By
It's not just about the food and vino in Wine Country. 
1. Francis Ford Coppola Winery, Alexander Valley
You'll feel like a movie star sipping on a cocktail while you lounge beside one of Francis Ford Coppola's pools. The glamorous area has two large pools, connected by a small, swimmable water bridge. And to make sure you stay chic at all times, there are 28 small cabines available to rent where you can change, store personal items, and even shower afterwards- you can even get a personal flag to hoist above yours during your visit. The pools are open daily from 11:00 a.m. to 6:00 p.m. A day pass to the pool is $35 per adult. 300 Via Archimedes, Geyserville. 
2.  Lake Sonoma 
If you're looking for something a little more private, find your own bend in the 50-mile shoreline of Lake Sonoma. This is the place to go for boating, fishing, and of course, swimming. Head for the Warm Springs Recreation Area – located below the dam – to find a number of picnic sites, two sand volleyball courts, a playground, and lawn area for sports. 3333 Skaggs Springs Road, Geyserville.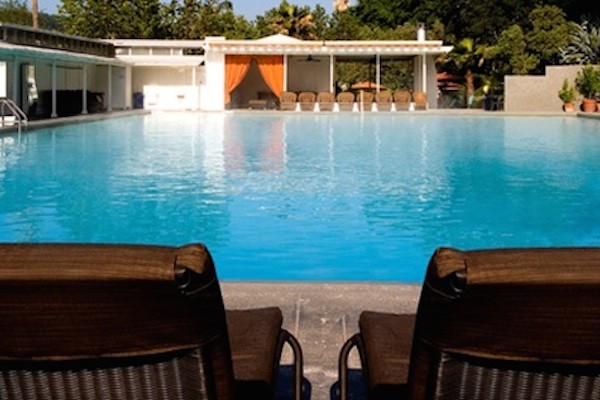 Indian Spring mineral pool, via Wordpress
3.  Indian Spring Resort and Spa, Calistoga 
The nearly Olympic-size pool at Indian Springs Resort and Spa, fed by geysers and infused with minerals, is naturally warm – around 102 degrees in winter and 92 degrees in summer. (Oh, yah). It's the perfect place to relax regardless of the weather with a gorgeous view of nearby mountains. They've recently added a new adult pool to the mix – smaller, quieter, and more intimate than the main pool, it's also kept about ten degrees cooler. The pools are kept open late, allowing you to float underneath the Napa Valley stars. Stop by the pool store for snacks, drinks, ice cream, sunblock, or any other necessities you may have forgotten. The pool is only open to hotel and spa guests, but a single spa treatment comes with an all-day pass to the pool and guests are allowed to bring one visitor to the pool for $30. Open daily 9:00 a.m. to midnight. 1712 Lincoln Ave., Calistoga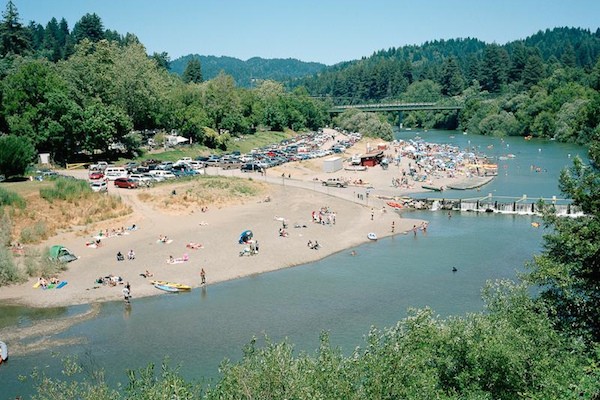 Photo by Colleen Mullins, via Flickr. 
4.  Johnson's Beach, Guernville
Johnson's Beach is a popular, sandy, spot on the Russian River. It's walking distance to downtown restaurants, shopping and redwoods. The Beach offers canoes, single and double kayaks, and pedal boats for rent ($40/day or $12/hour) as well as umbrellas, low beach chairs and inner tubes. There's a snack bar on the beach and beer is for sale at the boathouse. The best part – entrance is free. 16241 First Street, Guerneville
5. Spring Lake, Santa Rosa 
Take a dip in the 3-acre swimming lagoon or suntan on the sandy beach at Spring Lake. Open Memorial Day weekend, May 30-31, and June 6 through Labor Day, the lagoon is manned by lifeguards, and treated with chlorine weekly. The 72-acre lake, however, is open year-round for windsurfing, canoes, or paddleboats. Rent a boat from 11:00 a.m. - 4:00 p.m. Or set up a fishing pole for large-mouth bass, sunfish, and catfish. 393 Violetti Road, Santa Rosa
DON'T MISS A BAY AREA BEAT! SUBSCRIBE TO OUR NEWSLETTER.