By
If you don't feel like preparing an Easter feast next weekend, head to one of these boozy brunch spots instead. All of the good eats, and none of the clean up!
MINA Test Kitchen is debuting their newest event, Diane's Bloody Mary Brunch, on Easter Sunday. Named after Chef Michael Mina's wife Diane, the brunch series originated at Michael Mina's tailgate at Levi's Stadium. Accompanied by a mouthwatering menu from Chef Adam Sobel, this is a wonderfully chill way to celebrate the holiday. // 2120 Greenwich St. (Cow Hollow); minatestkitchen.com
Dirty Water will be offering a special, three-course prix fixe menu suitable for all frugal foodies. You'll start with a butter lettuce salad with blood orange segments and a creamy citrus vinaigrette, and follow it up with with either banana French toast or the crispy soft shell crab Benedict with avocado, hollandaise, and crispy potatoes, plus dessert. Three delicious courses for $45? We're sold. // 1355 Market St. (Mid-Market); dirtywatersf.com
Americano inside Hotel Vitale

Between 10am and 3pm on Sunday Americano will be in full-on Easter mode. Chef Josh Perez is serving up such tasty specials as crispy pork belly on a buttermilk biscuit and corned beef eggs Benedict. If a la carte doesn't suit your fancy, Americano will also be serving a scrumptious buffet at just $25 per person. // 8 Mission St. (Embarcadero); jdvhotels.com
If you require an amazing view with brunch, look no farther than Waterbar. Chef Parke Ulrich is offering a three-course prix fixe menu featuring sea scallop ceviche, warm asparagus salad with grilled bacon, and an American caviar scramble. The dessert menu is also on point, with sweets such as Waterbar Homies (festive marshmallow bunnies on coconut grass) and Kataifi Nests (shredded phyllo seasoned with cardamom sugar and served with a ricotta fritter, orange blossom sorbet, and pistachio ice cream). All that and a gorgeous view for just $55? Bargain. // 399 The Embarcadero (Embarcadero); waterbarsf.com
Once again Lungomare will host a family-friendly brunch buffet overlooking the waterfront at Jack London Square this Easter. Chef Craig DiFonzo has carefully crafted a menu made from locally sourced ingredients with a delicious spring twist. Seasonal cocktails are also on the menu, along with a selection of micro-brews and wines, in case the kids are driving you crazy. // One Broadway, Oakland (Jack London Square); lungomareoakland.com
Do things a little differently this Easter and forgo the ham for spicy Indian food. Ajanta will be open for lunch from 11:30am to 2:30pm on Easter Sunday, serving their regular a la carte menu along with a $29 chef's tasting menu that includes three appetizers, four main dishes, and side dishes of rice, chutney, pickles, and naan bread. A vegetarian option will also be available for $26. // 1888 Solano Ave. (Berkeley); ajantarestaurant.com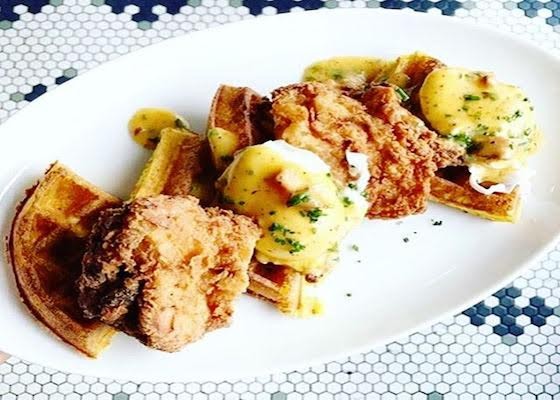 We're ordering the Southern fried chicken Benedict this Easter. (photo courtesy of The Keystone, via Instagram) 
What's brunch without bottomless mimosas? Famous for their Southern fried chicken Benedict with coconut curry waffles, poached eggs, and tasso ham bernaise, you'll be delighted by Keystone's twist on a familiar favorite. And did we mention the bottomless mimosas? // 68 4th St. (SoMa); thekeystonesf.com
If you can't get up early enough for brunch, we have the perfect Asian fusion dinner opportunity. E&O's Chef Sharon Nahm will be serving up Lapsang Souchong tea deviled eggs with char siu lacquered bacon to kick off the meal. Follow up with her savory pork tenderloin with brown butter sweet potato puree, smoked soy braised cabbage, yuzu marmalade, and pickled cranberries. Still not satisfied? Then bring on the Bananamisu (espresso ladyfingers, banana mascarpone mousse, and plantain chips) for dessert. Couple all of these with any of their craft cocktail selection and you'll have a very happy Easter indeed. // 314 Sutter St. (Union Square); eosanfrancisco.com
Add a little French flavor to your Easter Sunday at the tres beau Cafe Claude. The full dinner menu will be offered, including favorites such as the Moules, Steak Frites, Coq Au Vin, in addition to oysters and a selection of artisanal charcuterie, a selection of cheeses and housemade pates. Cafe Claude will also be serving a special Egg Mouillette. Guests can order from the a la carte menu or enjoy the delicious prix fixe menu ($45).  // 7 Claude Ln. (Union Square); cafeclaude.com // 

This Easter, Poggio will be serving their regular a la carte menu along with many dishes inspired by the time of the year and season. Executive Chef Benjamin Balesteri will add lamb dishes for the special holiday, served alongside spring vegetables and a few other specials throughout the day. If the weather permits guests can enjoy the beautiful outdoor seating at Poggio with views of the Sausalito Harbor. Easter brunch starts at 11:30a.m. but if you can't wait until then you can join them for breakfast from 6:30 a.m. - 11:00 a.m., serving an assortment of Italian coffees, cappuccinos, lattes, tostis, pastries and steel cut oatmeal. // 777 Bridgeway, Sausalito, CA, poggiotrattoria.com //
One of the top restaurants for brunch in San Francisco, Bluestem Brasserie will be a hot spot for brunch on Easter Sunday. Bluestem will be serving their complete brunch menu including favorites such as the Cajun Benedict, Smoked Brisket Hash, Chicken & Bacon Waffles, Cinnamon French Toast and the very popular Bluestem Brunch Burger, along with a few festive additions, including a special version of the Bluestem Baker's Board. They also various brunch cocktails to choose from, including the Orange Gina, Rude Awakening, Bloody Mary and Mimosa. // 1 Yerba Buena Ln. (SoMa), bluestembrasserie.com //
DON'T MISS A BAY AREA BEAT! SUBSCRIBE TO OUR NEWSLETTER.