By
One of San Francisco's biggest neighborhoods, SoMa sits at the nexus of old and new SF, where dive bars and deserted buildings on sometimes-sketchy streets intersect with industrial warehouses turned chic residential lofts, start-up hubs, art galleries, and world-class museums. Here's what to do when you're in the neighborhood.
ART
With SFMOMA holding down the fort (it reopens in May!), SoMa is arguably one of the city's leading centers for the arts. Here are the museums and galleries not to be missed.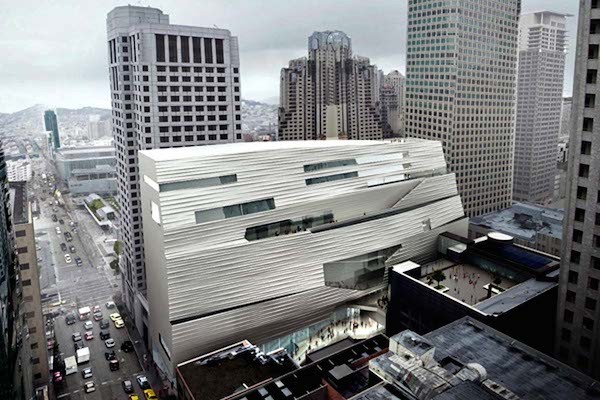 (Courtesy of SFMOMA)
When at last it reopens on May 14, 2016, SFMOMA, at more than 20,000 square feet larger than the Museum of Modern Art in New York, will be the largest modern and contemporary art museum in the United States. In a striking new building designed by Snøhetta, SFMOMA will have nearly three times the previous exhibition space, with 260 works from the Fisher Collection; a first showing of more than 600 artworks promised to the museum; and the debut of the new Pritzker Center for Photography. For now, all there is to do at the SoMa location is look up and marvel at the construction. Until May, check out On-the-Go exhibits, including Janet Cardiff's The Forty Part Motet at Fort Mason.  //  151 3rd St., sfmoma.org
Autodesk
Best known for its 3-D design and visual effects software—which have been used for the last 19 Academy Award winners for Best Visual Effects—Autodesk has merged into every aspect of San Franciscan life with everything from 3-D printing robots to weekly classes to a recent campaign to redesign the San Francisco flag. The SoMa gallery features more than 20 exhibits, including original works by Lego, Mercedes-Benz, Nike, and more. // One Market, 2nd floor, autodesk.com/gallery
LINES Ballet at YBCA
Ethereal hardly begins to describe the performances by Alonzo King's classically trained LINES dancers at Yerba Buena Center for the Arts. This spring seasons, the San Francisco-based contemporary dance company features a world premiere ballet set to an original composition by natural soundscape artist Bernie Krause and composer Richard Blackford as well as the return of Concerto for Two Violins, choreographed to Bach's concerto in D Minor and performed live by the Philharmonia Baroque Chamber Players. //  701 Mission St., ybca.org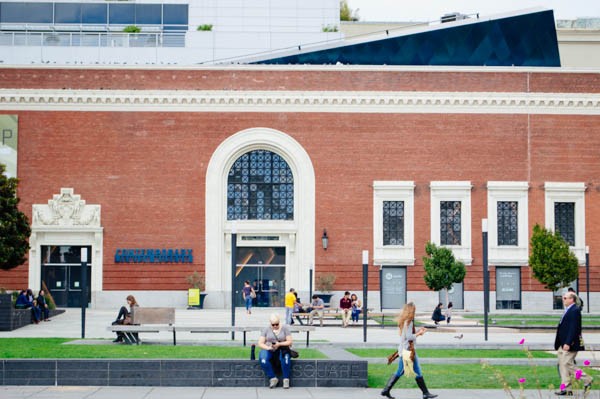 The Jewish wit is legendarily dry (thank you, Seinfeld), but the works at the Contemporary Jewish Museum are anything but. Recent juicy exhibitions here, where the focus is on Jewish art and culture, include Amy Winehouse: A Family Portrait. Up next: Chasing Justice, in which three artists explore the pursuit of justice via collage, abstract paintings, and drawings.  //  736 Mission St, thecjm.org
Ian Ross Gallery 
Artist Ian Ross is one of those incredibly talented (and just a bit lucky) SF artists who's actually living the art-word dream. In March 2013 Ian expanded his empire, opening the Ian Ross Gallery along with his business partner and wife Daniele Rocha. The SoMa space has an exceptionally cool vibe, and shows painting and murals of tons of our favorite contemporary innovators (like Zio Ziegler and Elle Luna.) // 466 Brannan St., rochaart.com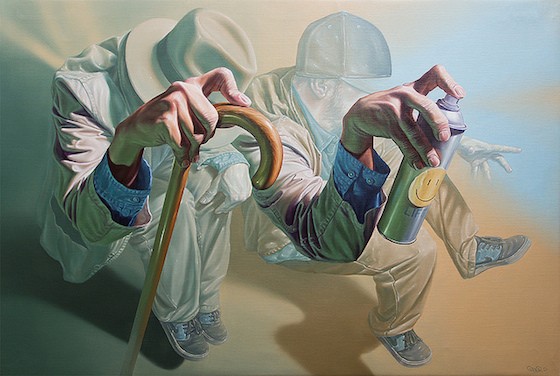 (A work by French street artist Ratur, courtesy of 1AM Gallery)
If street art is the visual manifestation of artists exercising free speech, then 1AM Gallery, which stands for First Amendment, is its advocate and agent. The interactive gallery, which also offers classes and custom mural services, aims to bolster the graffiti community from the local to the international level. Opening Nov. 5, "Catch Me If You Can" showcases the work of French brothers Ratur and Sckaro.  //  1000 Howard St, 1amsf.com 
How many of you have lived in SF practically forever and still haven't visited the California Historical Society? This Mission Street gallery and public research library is a treasure trove for Golden State history. Don't miss "City Rising," an exhibition celebrating the centennial of the World's Fair in San Francisco, on view through January 2016.  //  678 Mission St, californiahistoricalsociety.org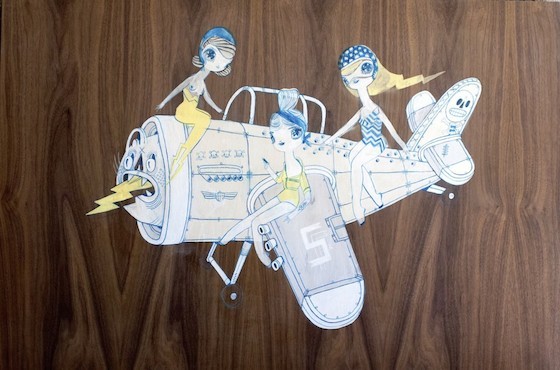 (Holding Pattern, by SF artist duo KeFe, courtesy of 111 Minna Gallery)
111 Minna has been a SoMa hot spot for culture and parties since the early '90s. The ever-changing gallery space is designed for cocktail-fueled interactivity, and showcases works local and international contemporary works with indie spirit. Interested to know who the hip & hot artists are right now? Or you just like going vernissages while sipping on cocktails and admiring art, then Minna Gallery is your place. Go for Wine Down Monday happy hour, and check their online schedule for special events. On Nov. 14, grab a group for Back to the Nineties night, with DJs Zimmie Pleez and Umami.  //  111 Minna St, 111minnagallery.com
836M Gallery
836M is a non profit space that hosts a thought-provoking selection of artists, events, and moments. Head here to see renowned French artist Jean-Michel Othoniel's gorgeous sculpture "Peony, the Knot of Shame" through January 14th. // 836 Montgomery Street, San Francisco, 836m.org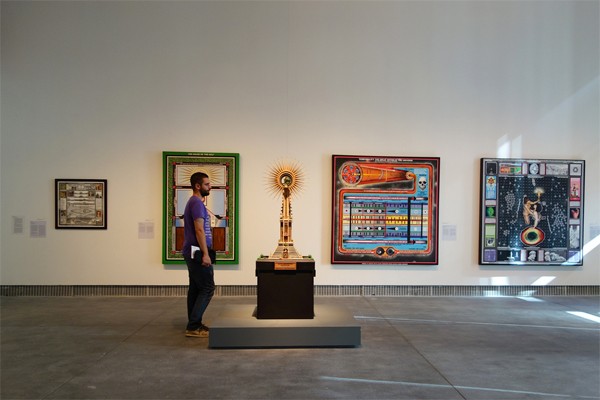 (Photo via Nicolas Nova)
Yerba Buena Gardens
Never mind SoMa for the moment. Yerba Buena Gardens may be one the coolest places in town, period. As if making good for its Titanic of a neighbor called the Metreon, Yerba Buena's green space with trickling water features, as well its Center for the Arts galleries and performance spaces, are a playground for culture vultures. Some of the latest and greatest initiatives include the Market Street Prototyping Festival, Jazz@YBCA, and, our favorite, Young Artists at Work, a paid residency for Bay Area high schoolers exploring art as a means of activism.  //  701 Mission St, ybca.org
Slow down or you will miss this Brannan Street contemporary art gallery—it may look like a hole in the wall from the outside, but on the inside, ArtHaus is a cozy gallery for a tête-à- tête between you and one of a handful of works from Bay Area and New York artists.  //  411 Brannan St, arthaus-sf.com
PLAY
Work hard, play hard—isn't that the motto of startup culture? Accordingly, SoMa does offer a few fun things to do during the day in case your office doesn't have its own ping pong table or climbing wall.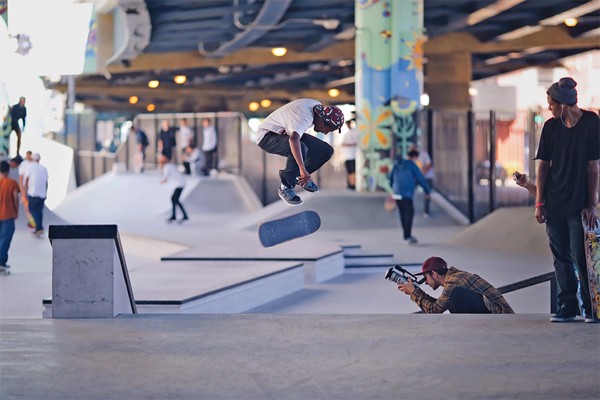 (Photo via The Hundreds)
Challenge your inner Tony Hawk at what may be the most awesome use of the dead space beneath a highway overpass ever. Located directly under the Central Freeway, SoMa Skate Park has turned a narrow, sketchy parcel of unused cement into a small paradise for boarders. If a skateboard isn't your vehicle of choice, grab a burger and fries from the nearby diner It's Tops, and ruberneck as the cool kids take on hazardous jumps and loops.  //  sfdpw.org, map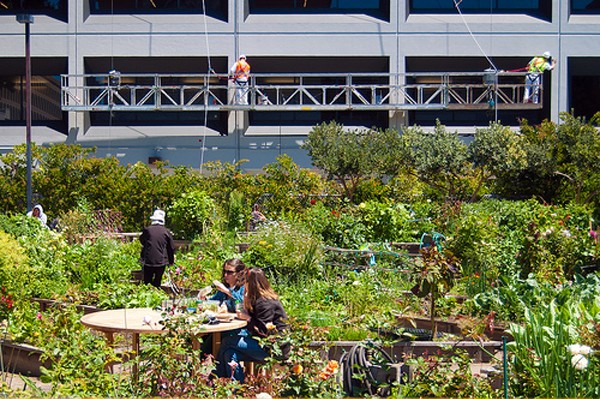 (Photo via Flickr)
Alice Street Community Gardens
In the once industrial neighborhood that has become the city's hub for startup technology, it's easy to long for a little bit of nature. For anyone interested in how sweet peas grow, Alice Street Community Gardens is a lovely green oasis for a midday escape or picnic lunch.  //  Lapu Lapu St., facebook.com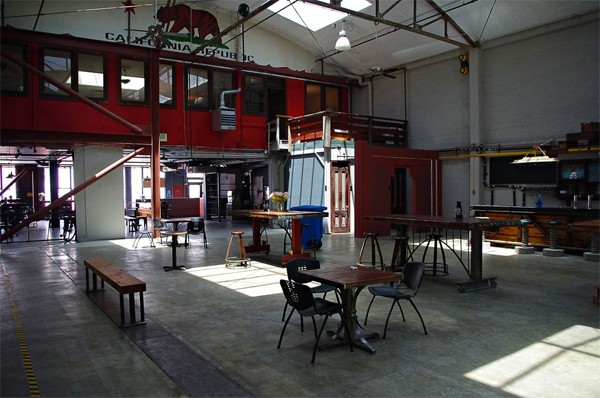 This warehouse turned event space, bar, and digital art gallery is about as SoMa as SoMa gets. Folsom Street Foundry is open midweek for game nights. Check their schedule for other special events.  //  1425 Folsom St, folsomstreetfoundry.com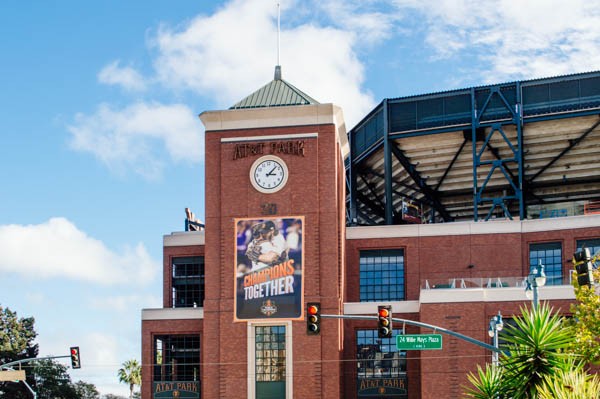 The 2015 baseball season may have ended too soon for Giants fans, but the ballpark (also home to delicious/expensive food and drink) is still a center for fun and games in SoMa. Look out for the Color Run, a paint-splattered 5K race on Nov. 15, and in Lot A behind the park, Odysseo, the latest from Cirque du Soleil, opens Nov. 19.  //  24 Willie Mays Plaza, sanfrancisco.giants.com
Lucky Strike Bowling
This chic entertainment spot on King Street is not your typical 10-pin, sweaty-shoe rental, 1950s artifact. In fact, owner Steven Foster doesn't care if you bowl or not when you visit—and you won't either. Sit down for supper in the leather-and-wood dining room, grab a drink at the bar, or head there for a collaborative trivia game. // 200 King St., bowlluckystrike.com
SHOP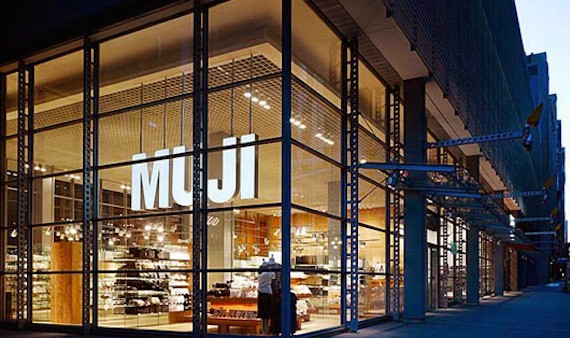 (Photo via SFGirlbyBay)
Those of us who remember the opening of the Bay Area's first Muji store remember the feeling of finally, finally, getting to shop hip, cheap, purist Japanese lifestyle staples—from minimalist notebooks and merino wool sweaters to perfect ceramic mugs and well designed toothbrushes. Go, and then go hog wild—you can totally afford it.  //  540 9th St, muji.com
Antique Scottish imports comprise the backbone of McCarney's Furniture on Bryant Street, a family-run business offering a vast selection of Old English pieces and housewares. The overwhelming bulk of sales are Scottish imports dating to the 1850s as well as local consignment pieces. Store inventory includes armoires, clocks, gramophones, bureaus, desks, tables, chairs, pictures, mirrors, china, ornaments, chests and other novelties. // 731 Bryant St., mccarneysfurniture.com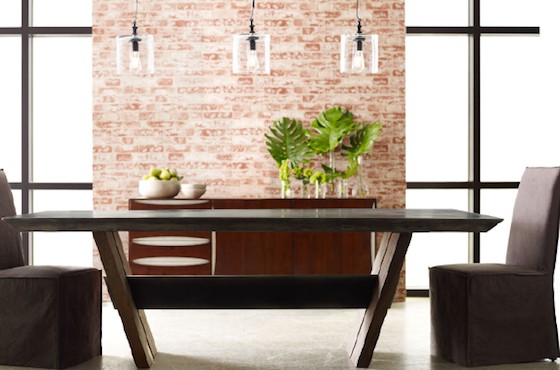 (Courtesy of HD Buttercup)
Formerly home to the modern design gallery Limn, the address now occupied by HD Buttercup has long been the stomping grounds of SoMa aesthetes. The large, multilevel space is designed in vignettes that make it easy to spend, spend, spend on beautiful sectional sofas, iconic chairs, and quirky interior accents. We love the second-floor rug gallery, which just begs us to curl up on a giant sheepskin for stylish catnap.  //  290 Townsend St,  hdbuttercup.com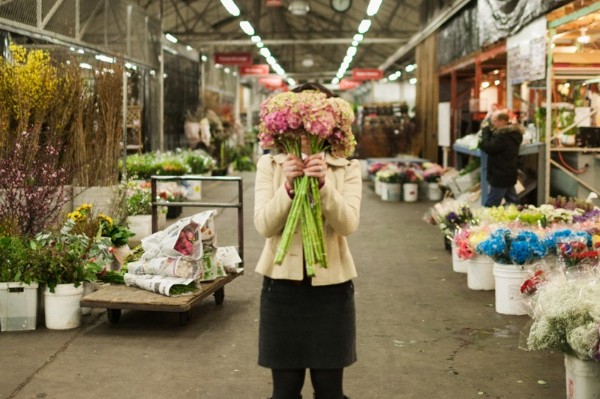 This past year has been a rocky one for vendors at the SF Flower Mart, where developers threatened to oust the the many bloom-filled booths in favor of new construction. Safe for now, the local institution, which dates back to the 1800s and has enjoyed its home in SoMa since 1956, remains open to the public from 10am to 3 pm daily, with plans for renovation supposedly in the near future. This is paradise for every urban Tarzan and Jane looking for wholesale prices on spectacular blooms.  //  640 Brannan St, sanfranciscoflowermart.com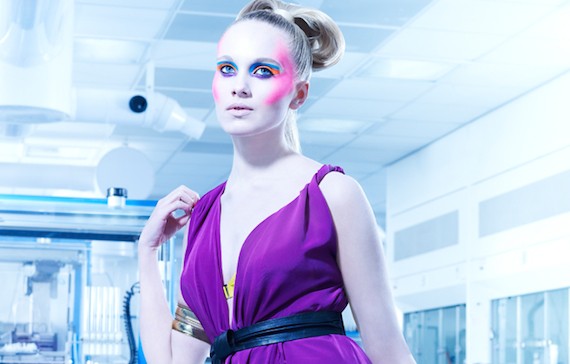 (Courtesy of Kryolan)
If you've never stopped into Kryolan, you must! This professional makeup factory and storefront has every cosmetic under the sun, whether you've landed a part in a play, seek ghoul makeup for Halloween, or just need a great foundation. // 134 9th St, kryolan.com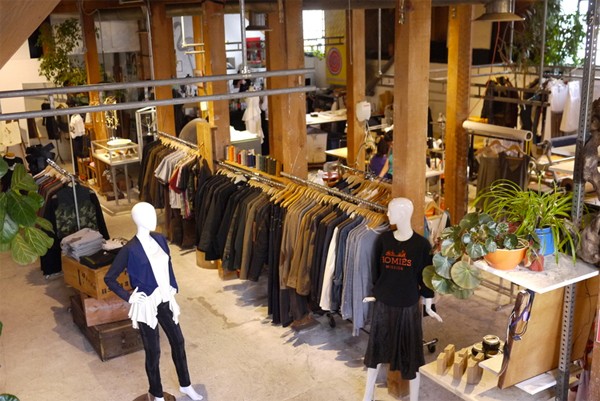 (Photo via Blufox Blog)
This design studio and retail space has seen neighbors come and go (Bacar, Ma Maison). For years, 440 Brannan has acted as a launch pad for emerging local fashion designers including House of Hengst and Camilla Olson. Ensure you're the only one wearing that dress when you purchase limited editions and custom-made pieces.  //  440 Brannan St, 440brannan.com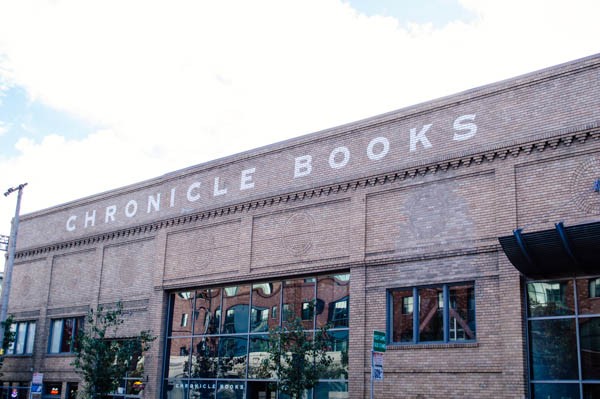 Chronicle Books' sunny storefront, inside its vast, architecturally award-winning HQ, is stocked with books and gifts for every interest. Look out for regular warehouse sales, and add this one to your list for holiday shopping needs.  //  680 2nd St, chroniclebooks.com
DON'T MISS A BAY AREA BEAT! SUBSCRIBE TO OUR NEWSLETTER.