A while back, a lovely lady wrote to us asking where she should take her attractive and newly divorced mother out on the town in SF. It's true, sometimes we forget Moms love to have fun as much as the rest of us–and that's why this idea caught our eye. While most of us don't have moms that fit into that exact category, we put our heads together and fantasized about taking our moms out for the time of her life in the best city on Earth. Here's what we came up with:
The Tonga Room
A throwback to the kitschy side of the 1940s, how can you go wrong with indoor rainstorms and a cover band playing on a floating island? Coupled with a dance floor big enough for your mom to show a cutie her moves and extremely boozy drinks, this San Francisco institution is a guaranteed fun night that'll have you two giggling for days afterwards.

Redwood Room in the Clift Hotel
Don't be deterred by Broke Ass Stuart's claim that it's mainly populated by high-end call girls looking to bag customers (although who are we to argue with history?). This is a classy, high-design establishment with a ton of history surrounding it–again, see Stuart's piece for reference–where your mom can mingle with older, successful guys ready to buy her a martini or two. If you want to keep it a girls' night, there are plenty of areas to take over so you and your ladies can snack and sip their tasty drinks. The atmosphere is definitely a little electric though, because as Broke Ass Stuart points out, when even the paintings on the walls want to sleep with each other, the night's tone is kind of set for the rest of us.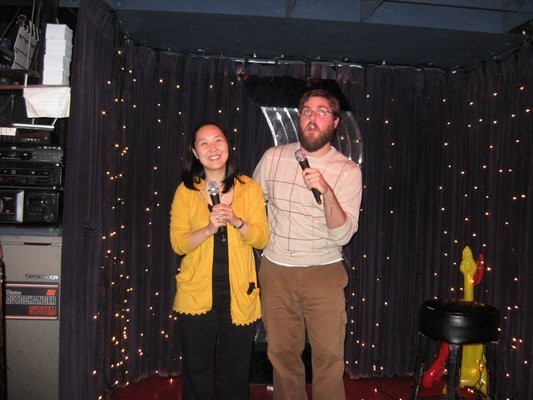 Photo via Yelp user Su K.

The Mint
So you suffered through an entire childhood of your mom singing along to radio while driving you to school. Help channel her inner Adele and take her to The Mint, which boasts one of the best karaoke song selections in the entire city. If she's intimidated by The Mint's stage-centric atmosphere, reassure her that the drinks are stiff and that pretty much everyone there is ready and willing to make an ass of themselves at this Market Street establishment. Once she sits through a few goofy renditions of Michael Bolton ballads or Frank Sinatra standbys, she'll get in the mood. You get special bonding points if you sing a duet with her.
On that same music tip, what mom would say no to a night at an old school jazz club? You could take her to Rasselas any night of the week and be surprised by who's on stage; they've got a constant rotation of up-and-coming jazz, Latin, world, funk, and R&B artists filling the audience's ears with sound (Tracy Chapman's even performed there!). Pair that with drinks and Ethiopian cuisine, and you've got a sophisticated way to show Mom San Francisco's jazz legacy.
Take the elevator to the top of the Sir Francis Drake Hotel and be rewarded with sky-high views overlooking Union Square (in case the men are nothing to write home about) and an old-fashioned vibe that won't make your mom feel out of her league. Book a VIP booth for the girls and splurge on bottle service, or groove to DJ beats sipping on cocktails from their menu featuring classic cocktails from every decade. Better yet, drag your mother out Sunday morning for that oh-so-San Francisco experience, the Sunday's a Drag brunch.

Balboa Café
Widely known as perhaps the premiere cougar hangout in SF, indulge your mom's curiosity (and maybe yours) and post up here for their classic burger and a few martinis to see what the fuss is all about. Get dolled up and have a blast watching waiters wearing crisp jackets and ties bustle about serving drinks and classic dishes, while experience its unique atmosphere, which is permeated by aging frat boys and the old-money elite both looking to have a good time. You might hear a cheesy pick-up line or two, but if nothing else, you'll have fun people watching and making fun of all the guys trying their hardest to find someone to go home with.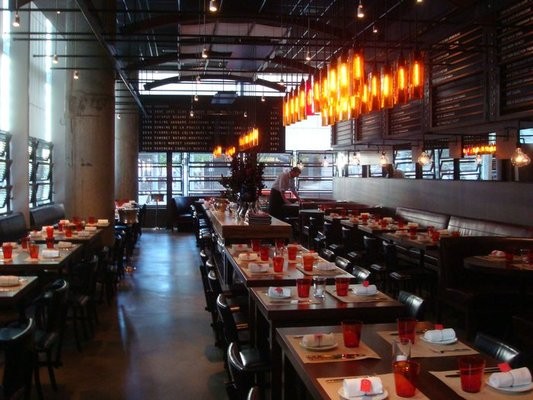 Photo via Yelp user Marti L.
This FiDi wine bar is practically a magnet for men in business suits looking for a little adventure after a hard day at the office. You and your mom can partake in the more mellow wine bar aspect of RN74, or simply hit up its happy hour, which is rumored to be replete with younger men looking to mingle with older women. If no sparks fly, a few items off the Michael Mina-created menu will fix everything.
If your mom isn't really the party animal type, take her to the ultra-classic Big 4 atop Nob Hill. It's a swanky spot that's meant to harken back to the glamorous days of San Francisco's dreamy Gold Rush era, so it's quite the grown-up spot, with hearty food and strong drinks to match. This means you and your mom won't have to yell over a ton of noise to have a good conversation–and you're likely to find distinguished older men who still have a twinkle in their eyes. And you can even make a spa day out of it; book appointments at the Nob Hill Spa, and you can still indulge in the lighter side of Big 4's special spa menu. Whether you venture to Big 4's bar looking for fun afterwards is up to you.
This destination spot is out of the way and simply gorgeous, housed in a vintage military barracks building and excelling in classic American cuisine with a Cali twist, of course. Sit on the deck on a nice day, and your mom will have no cause for complaint. It's perfect for the mom who doesn't want a late night, but still digs delicious food and the opportunity to enjoy old-fashioned cocktails for a mellow evening at one of the coolest spots in the city.