Christmas music, office holiday parties, Santa Con, and rain in the Bay may put us in a winter mood, but only one tradition truly signifies the start of the holiday season – Nutcracker! 
Did you know that San Francisco Ballet was the first professional company in America to perform the world-famous tree-sprouting, Clara-frolicking, Sugar Plum Fairy-twirling production?
Indeed, it was on Christmas Eve in 1944 when the American rendition of the Nutcracker debuted in San Francisco. With $1,000 costume budget (due to wartime economy and rationing), the dancers sewed their own tights, bought feathers and rhinestone necklaces from Goodwill, and fashioned the soldier's uniforms out of the former Cort Theater's red velvet stage curtains.
The SF Ballet has come a long way since then and this year's Nutcracker is hardly short on extraordinary details. Playing off of its rich SF history, there will be 100 painted Victorian windows in Act I, and the photos on the fireplace wall at the home in Act I are family photos of the founders of San Francisco Ballet, the Christensen Brothers. And, in the Act I battle scene (between the Mice and the Gingerbread soldiers), the giant fireplace stands 22 feet tall and 19 feet wide, about the size of two SF cable cars stacked on top of each other.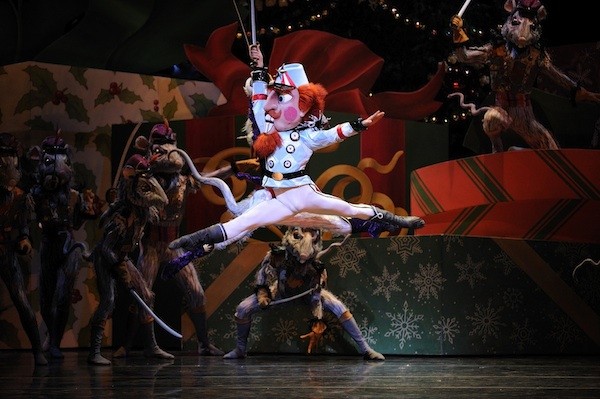 Want more impressive facts? One of the Snow Queen's tutus takes 80 hours to make (and five were created!), the gigantic Christmas tree holds 54 ornaments, and the biggest present under the tree is at least eight feet tall (somebody was very good this year).
If you're returning once again this year, expect to be mesmerized. If you haven't seen Nutcracker in awhile, go go go. If this production is any indication of what's in store for the 2013 season, we can't wait.
San Francisco Ballet's Nutcracker opens Friday, 12/7 at 7 p.m. Tickets range from $20 - $305, purchase here.  Look for family performances here (when kids can take photos with Nutcracker characters).