Back in July, one of our favorite new libations, Art in the Age's organic ROOT + SNAP held a cocktail competition pitting SF mixologists against one another in the quest for the most delicious cocktail using these two new liqueurs. And there's nothing SF bartenders love more than a chance to show off their skills. The creations were judged on presentation, aroma, taste and creativity. Who came out on top, you ask?
Rafael Jimenez Rivera of Hecho blew the competition away with his SNAP cocktail "El Charrito", which showcased his cocktail crafting skills. Stop by Hecho to try his tasty libation.

Morgan Schick of Nopa has seen a cocktail competition or two in his day, and is a very knowledge barman who has spent time at Michael Mina and other SF hot spots. His ROOT cocktail "The State in Schuylkill" is a boozy blend of ROOT, Batavia Arrack, peach brandy, bitters, and sparkling wine. Check out Nopa and try his winning ROOT cocktail.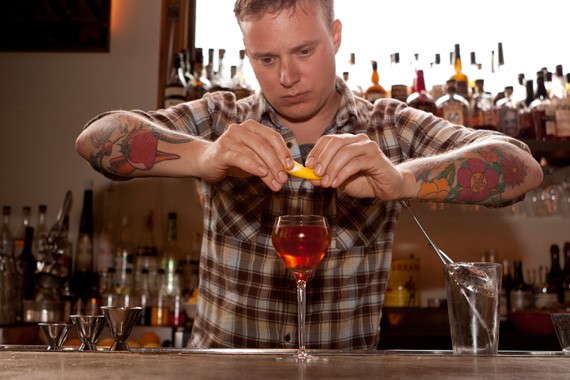 "The State in Schuylkill"
From Morgan Schick, of Nopa
1 oz. ROOT
1 oz. Batavia Arrack
1/2 oz. Peach brandy
2 dashes Angostura bitters
1 1/2 oz. Dry sparkling wine
Combine first four ingredients in punch cup. Add very cold sparkling wine.
Express the oils of a medallion of lime peel over the drink (cut the medallion to include a bit of flesh, thereby adding a few drops of lime juice when squeezed).
"El Charrito"                                                                                                   
by Rafael Jimenez Rivera of Hecho
1 oz. SNAP
1 oz. Penka Azul Anejo/ Or Chinaco Anejo
1/4 oz. Dimmi Liqueur
3 dashes Peychaud bitters
 
Build ingredients in cocktail glass, add ice, stir gently. Strain into rocks glass with one cube garnish with an orange twist.