By
I have my first thought about relocating to Portland eight hours after arriving, just after grabbing a cappuccino and berry-topped pastry at Ken's Artisan Bakery. It's raining, but I—like everyone else in town—am impervious in my high-performance rain jacket. The omnipresent winter rains give a visitor permission to drink too much excellent Stumptown coffee (the Blue Bottle equivalent, roasted in town and quite beloved), spend hours browsing the legendary Powell's Books, and goof off in the photo booth in the lobby of the Ace Hotel, the 3-year-old Pearl District spot that appeals to the younger set (rooms with turntables, free bikes for rent, and a hotel restaurant, Clyde Common, that makes a mean cocktail and does room service). Rooms with shared baths are only $95 and are in easy proximity to the Pearl District shops—Canoe and Alder and Co. for high-design housewares and Narcisse and Frances May for cute frocks.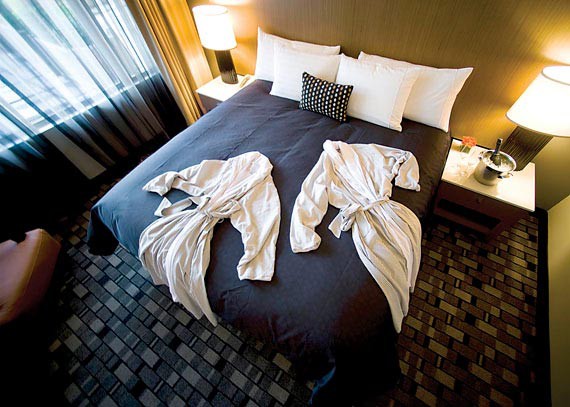 Photo from Hotel Fifty
Or book a room at Hotel Fifty, near the Westside Esplanade, a long path perfect for jogging, that runs along the river.
I think about moving to Portland again later that night, following a brilliant izakaya-style Japanese meal in the subterranean restaurant Biwa. After sampling the handmade pork gyoza, "Genghis Khan"–style lamb skewers, yakionigiri (grilled rice balls), pork-and-potato croquettes, housemade pickles and more, I pay the bill: $36. For dinner. For two. Then the cabbie driving me back to the hotel informs me that a one-bedroom in Portland rents for around $550 a month. He's not lying—two days later, after checking out Noun, an eclectic store in the southeast neighborhood that sells a curated assortment of vintage and new wares, I walk down a side street to discover a sweet Victorian with a two-bedroom apartment for rent—for $1,100.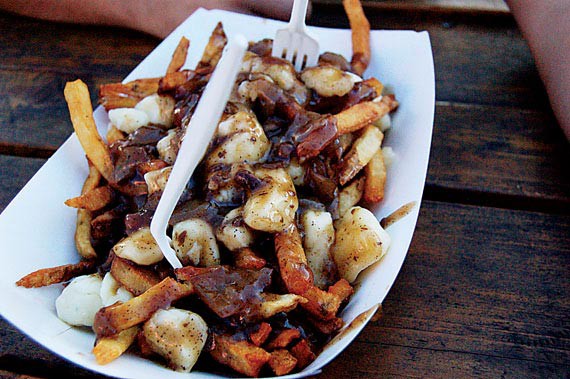 Photo from Potato Champion
I have suspicions that a move wouldn't cause much culture shock. Portlanders share many obsessions with San Franciscans—besides the fixation on great coffee, there's also an obsession with bicycles, backyard gardening, and chicken keeping. And then there's the food. Street-food-wise, Portland has San Francisco by the tail. Carts congregate in pods around parking lots, where you can sample Czech grilled eggplant, Thai green papaya salad, and all-American sandwiches. A favorite is Potato Champion, where you can get poutine—fries topped with cheddar curds and gravy—until 3 a.m.

But lest you think Portland's not capable of sophistication, a visit to Nostrana, Cathy Whims' Italian restaurant on SE Morrison Street, will remind you that the town has culinary chops. Whims (along with local chef-heroes Andy Rucker of Pok Pok and Naomi Pomeroy of Beast) was nominated for a 2010 James Beard award for Best Chef: Northwest. One taste of her lamb sausage with Italian plums and you'll know why.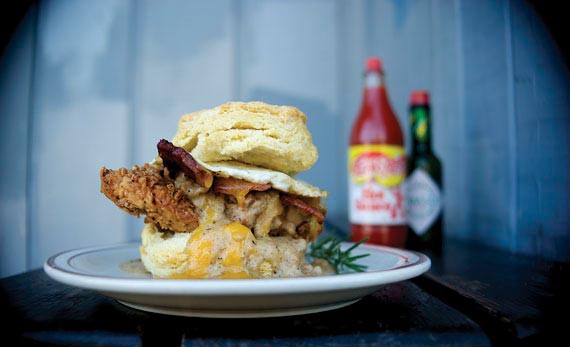 Photo by David Lantham Reamer
And the Saturday farmers market? They've got one too. You can stop for a biscuit sandwich from Pine State Biscuits (with fried chicken, if you dare), stock up on hazelnuts from Freddy Guys, and sample wares from countless vendors. Should the sun peek out while you're browsing, it's a short walk to Washington Park. It may be half the size of Golden Gate, but with its arboretum, rose and Japanese gardens, and zoo, it's enough to make you feel right at home—or consider relocating.
Ken's Artisan Bakery, 338 NW 21st Ave., 503-248-2202
Stumptown Coffee Roasters, five Portland locations
Powell's Books, 1005 W. Burnside St., 503-228-4651
Ace Hotel and Clyde Common, 1022 SW Stark St., 503-228-2277
Narcisse, 1015 SW Washington St., 503-224-2422
Frances May, 1013 SW Washington St., 503-227-3402
Hotel Fifty, 50 SW Morrison St., 503-221-0711
Biwa, 215 SE Ninth St., 503-239-8830
Noun, 3300 SE Belmont St., 503-253-0078
Potato Champion, SE 12th Street and Hawthorne Boulevard
Nostrana, 1401 SE Morrison St., 503-234-2427
Pine State Biscuits, Portland Farmers Market, SW Park Avenue and SW Montgomery Street, pinestatebiscuits.com,
Freddy Guys, Portland Farmers Market
Washington Park
DON'T MISS A BAY AREA BEAT! SUBSCRIBE TO OUR NEWSLETTER.