If your New Years plans include some South Lake Tahoe action (lil' skiing, lil' gambling), yet staying on the strip is not necessarily your speed, we'd suggest booking a cabin at Zephyr Cove Resort. It's located just a few miles up the highway, minutes way from the tables and the slopes of Heavenly, yet secluded enough to get a slice of Tahoe cozy.
Zephyr Cove hosts 29 dog-friendly, rustic cabins, right on the shores of the lake. The cabins feature full kitchenettes for pre and post slopes food-prep and a separate living room. In the ways of Tahoe-during-New Years, the cabins are surprisingly affordable (and sans house rental deposits): starting at $239 for a one-bedroom cabin and $389 for a two story, two bedroom cabin.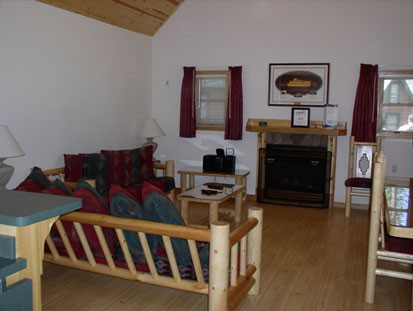 Zephyr Cove's probably best known for its (admittedly hokey, but still gorgeous) evening lake cruise rides aboard the MS Dixie. The Dixie is decked out with a full bar (hello Rum Runners), a dining area and a stage for getting your groove on (it's all very prom) to a live cover band (tunes along the lines of  "Sweet Home Alabama"), whilst the vessel skims the shores of the Tahoe basin. For something a little different than the regular bar/casino New Year's fare, rally a group of friends and ring in 2011 in the middle of the lake. If you still have the itch to gamble, take their complimentary shuttle over to the casinos after the cruise.  Their three hour New Years cruise is $109 and features dinner (think sirloin steak), drinks and dancing.
Zephyr Cove is also the launch point for one of the most renowned snowmobiling tours on the lake. They've got access to 25 miles of groomed trails, with cruises that take you nearly 9,000 feet above sea level. Celebs from the South Lake casinos (Zephyr once outfitted a crew of Atlanta Falcons for a tour, something I really wish we had photos of) often ride here, but if you stay at Zephyr, you'll just have to walk a few feet from your cabin to enjoy a New Years Day snowmobiling.
Check out rates and book your stay here. Act fast for New Years!