Occidental is one of those hardly-ever-heard-of tiny Bay Area towns. Do you know where it is? Quick. No idea? You're not alone, which in my book is an even bigger incentive to play a visit. Occidental is in Sonoma County, west of Sebastopol on the Bohemian Highway. At last count, its population barely topped 1,100. How many folks live in your apartment building?

Occidental's a 90 minute drive from San Francisco. Plan on taking a required rest break an hour or so into the trip at Wild Flour Bread in Freestone. You can grab the needed cup of coffee, but it's all about the carbs really. If you don't find something to love in the dozen or so types of breads, there's always scones and biscotti. The sticky bun bread is incredible and worth hitting the road early for. Plan accordingly, Wild Flour Bread is open just four days a week, Friday through Monday, cash or check only.

With breakfast taken care of, it's time to zip the Redwoods at Sonoma Canopy Tours. Over the next two-and-a-half hours you'll you fly across seven ziplines, one of which is more than 800 feet long, climb a spiral staircase and cross a couple of skybridges.
---
What makes this ziplining coarse so unique is its location, in the thick of Wine Country redwoods. A majority of the platforms are elevated, built up and in the canopy. While zipping you'll also learn about the environment around you. Coastal redwoods have shallow root systems, which means they tend to sway in the breeze. That means the platform you're standing on while waiting for your next zip - the one attached to the redwood - will tend to sway in the breeze too.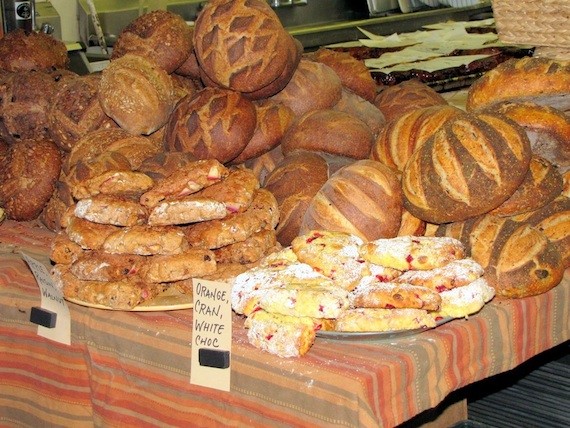 The goods from Wild Flour Bakery
Wear comfy clothes and good shoes. Tours go on rain or shine, so layers are a good bet. Sonoma Canopy Tours is good option for families with older kids. Riders must be at least 10 years old and weight a minimum of 70 pounds. Tours fill up fast, reservations are a good thing.

If you want to re-live the adventure in the comfort of your own home, you can also rent a hands free helmet camera to capture the possibly embarrassing and entertaining moments on video.

If the adrenaline rush has made you hungry, Union Hotel is popular with locals and visitors. With choices like pizza, pasta, burgers and salads even the picky eater in your group should be happy.

Can't get enough of the redwoods? Make the 20 minute drive to Armstrong Woods State Reserve where you can hike trails through the grove with trees 1400 years old.
It's an easy drive home, but if you want to make it a weekend, you've got plenty of options.  If you want to keep with the outdoor theme, consider camping at Johnson's Beach or Casini Ranch Family Campground. If roughing it isn't your style, the Occidental Hotel has a special weeknight rate for customers of Sonoma Canopy Tours.