At Healdsburg's Jordan Estate, over 900 acres—more than three-quarters of the property—remains untouched. Craggy oak trees stretch their branches over these rolling Sonoma hills, the same ones where the Pomo and Wappo Indians once hunted and foraged.
The road through the estate ends at the winery, a French Country–style chateau painted in soft yellows and tiled in red. Anyone can visit. Anyone can tour the cellar and cask room or hike the property with a reservation. To spend the night as French aristocracy, though; to feast on caviar and carefully prepared, hyperlocal bites in the sumptuous private dining room and spend the night luxuriating in soft linens before a roaring fireplace? You've gotta join the club.
---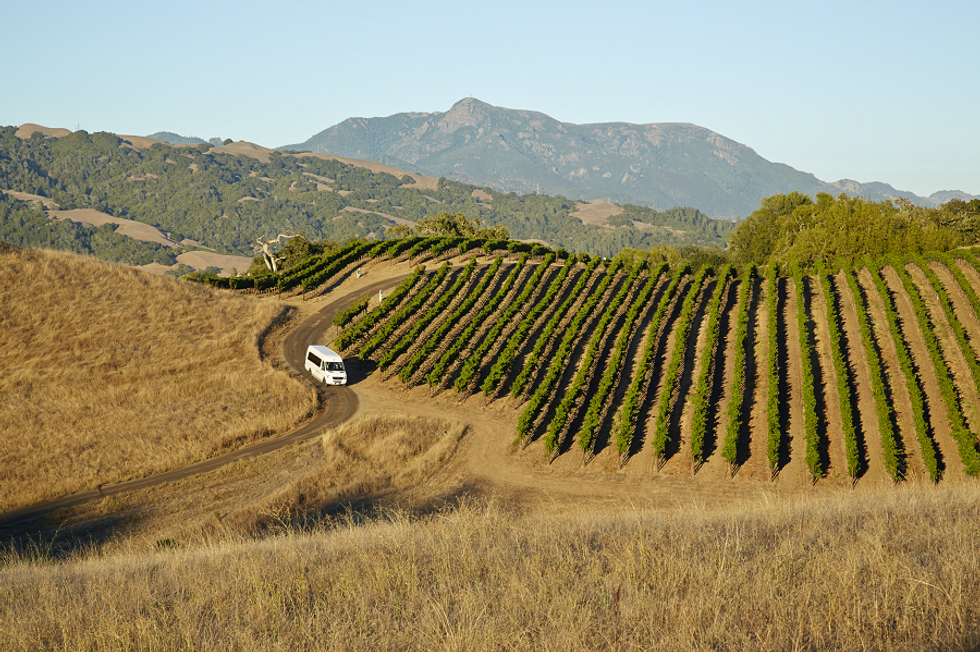 An estate tour through the 1200 acre property at Jordan Winery.(Courtesy of Jordan Winery)
Jordan Winery's loyalty program isn't your typical winery membership. You don't join for shipments of their 2014 Cabernet Sauvignon—a rich, velvety vintage with notes of blackberry and black cherries against a backdrop of subtle oak—or for the citrus blossom and passion fruit aromas of their 2016 Chardonnay.

Instead, it's more of a rewards club where spending on tasting tours, wine, and other goodies from the gift shop earns you points towards next-level experiences usually reserved for the rich and powerful.
Eat like a royal at Jordan Winery.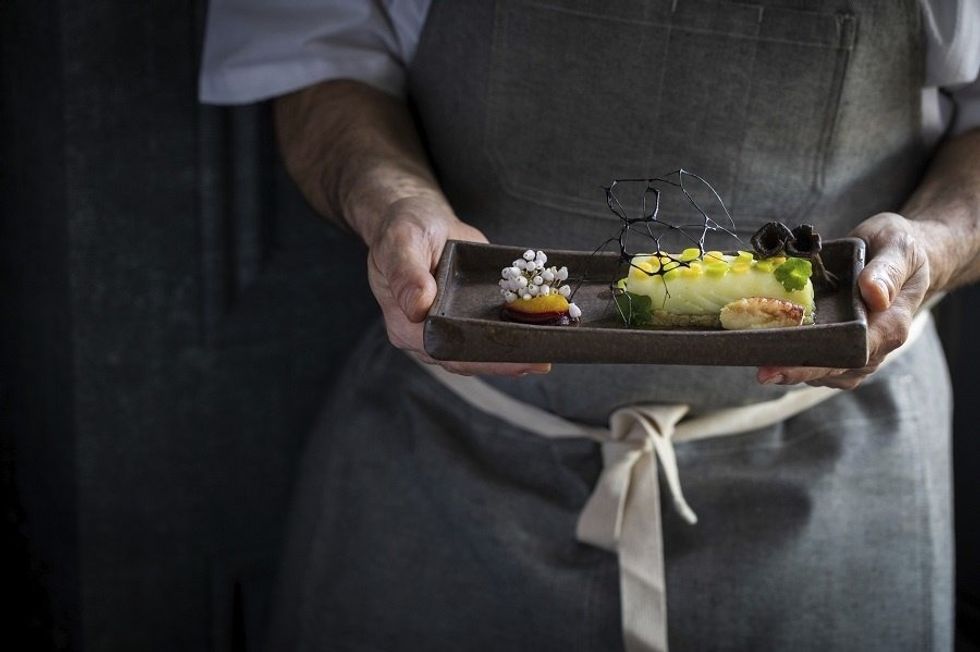 Chef Todd Knoll holds one of his culinary creations on a plate made from earth dug on the Jordan Estate.
(Courtesy of Jordan Winery)
In March, Jordan debuted the chateau's remodeled private dining room with a modern, earthly take on its 18th Century French design. The buttercup yellow walls and sherbet green fabric were replaced with elegant grays and leafy branch designs. Gold leaf drapes, velvet, and linen line the room's four tables, and custom pottery vases made from the estate's garden clay accent the room.
On the table, chef Todd Knoll, who helms the kitchen at Jordan, is experimenting with culinary creativity not just influenced by the Estate, but folded into it. "I have this thousand acres to play with. So I have the opportunity for getting hyperlocal," he says. Many of the same foods that the area's Native American tribes acquired show up in his dishes, including acorns, kama bulbs, porcini mushrooms, miner's lettuce, manzanita bark, and cat tails.
Knoll's creations, though, are far from spare. His dishes are complex, multilayered, and beautiful for everything from a simple wine tasting with hors d'oeuvres to casual Wine Country luncheons to decadent five-course dinners, not to mention seasonal culinary events like the olive harvest celebration. And because only Jordan members can attend his meals, he can be nimble and let his inspiration guide his cooking to build dishes like pork tenderloin with spring onions and sunchoke puree and koji-marinated venison loin with porcini mushrooms and dashi barley. "I'm constantly changing menus all the time, he says. "It's more than just the food on the plate, it's the whole story."
French Country Dreams: Stay at Jordan Winery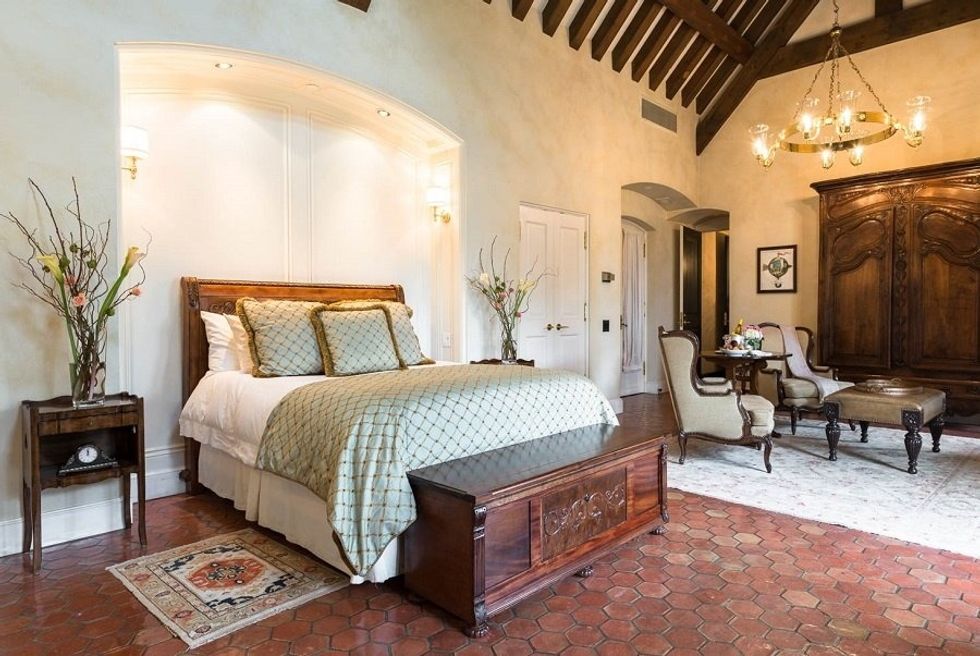 One of the Jordan chateau's three guest rooms.
(Courtesy of Jordan Winery)
Private doors in the chateau open up with the more wine you drink. It's not a hotel, it's something far better: A true taste of Sonoma royalty.
Upstairs, above the lavish dining room and the expansive cask room, above the gardens and the patio, Jordan reserves three chateau suites for its most loyal members where you can stay the night for a song ($100-$150 a night). Each is a lesson in country luxury, decorated in soft blues and taupes with exposed wooden beam ceilings and hexagonal-tiled terra-cotta floors. Plush chairs in the sitting room area face an 18th Century-styled fireplace beneath a simple chandelier. Expansive views of the estate's 1,200 acres and a garden-fresh continental breakfast are there upon waking. A two-bedroom guesthouse near the chateau is also available for overnight stays with transportation to and from Healdsburg.
These private experiences at Jordan are "not only an homage to Old World France," according to Geoffrey De Sousa, whose San Francisco firm redesigned the dining room, they are "also a portrait of the surrounding estate." A French world sought by many, but lived only by Jordan's members.
// Want to join the club? You are automatically enrolled and given 3,000 points when you join their mailing list. Jordan Winery, 1474 Alexander Valley Rd. (Healdsburg), jordanwinery.com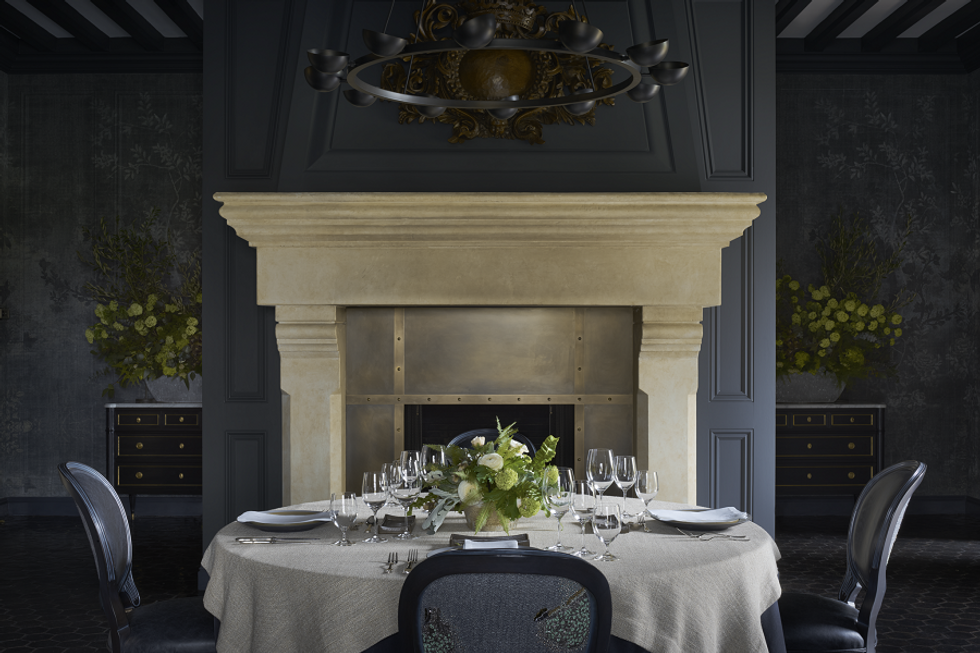 The redesigned private dining room at Jordan Winery.(Jose Manuel Alorda)