Whether you're a loud-proud club kid or prefer to bust your moves in the shower, most of us spend a good amount of our lives dancing. When done with confidence, it's one of the best ways to let go and enjoy life, if only for the duration of a song.

Shy about your skills? There are a variety of classes in the city teaching styles from classic to K-Pop. Grab a friend, get your dancing shoes on, and prepare to shake your thang.
---
Samba Dance with Live Percussion at ODC

Make like you're at Carnaval and learn this vivacious Brazilian dance at ODC, where live percussion guarantees you'll be immersed in an uptempo world. Leave your shoes at the door—this carefree dance is best done barefoot. // Fridays at 6pm, ODC Dance Commons, 351 Shotwell St. (Mission), odc.dance
What else they teach: Everything from jazz and ballet to flamenco and belly dancing.
K-Pop at City Dance
Yep, Korean pop music is still a thing—in fact, it's more popular than ever. Learn the specifics of the genre, which mixes jazz, rock, hip hop, and, of course, impossibly catchy pop. // Mondays at 7pm, City Dance, 10 Chase Ct. (SoMa), citydance.org
What else they teach: Hip hop, locking, tap and even flamenco
Hip Hop at Dance Mission

Build your confidence with some hard-hitting hip hop. At Dance Mission, Allan Frias' class will teach you some killer moves to your favorite club tunes. // Mondays at 6:30pm, Dance Mission Theater, 3316 24th St. (Mission), dancemission.com
What else they teach:
Pole Dancing at SF Pole & Dance
Pole dancing requires an incredible amount of strength, flexibility, and poise, so you'll definitely want to start with the basics. First get limber with a few key stretches, then move on to pole spins and floor work. You'll be choreographing exciting routines before you know it. // Thursdays at 5pm and Saturdays at 4:15pm, SF Pole & Dance, 301 8th St. (SoMa), sfpoleanddance.com
What else they teach: Vogue, Cuban Folkloric, Congolese, and Reggaeton Fusion among others.
Salsa at Tianne Frias
What better way to learn salsa than from a three-time world champion? Frias is passionate about her work and it shows in her teaching style, where she demonstrates various moves and helps you learn them to perfection. Try a class and learn how to move; it's one of the most social dance styles around, so you are sure to find yourself a salsa partner and new friends in no time. // Salsa by Tianne Frias, Mondays 7pm, Tuesdays 7pm, 1275 Connecticut St. (Potrero Hill), http://tiannefrias.com/salsa-classes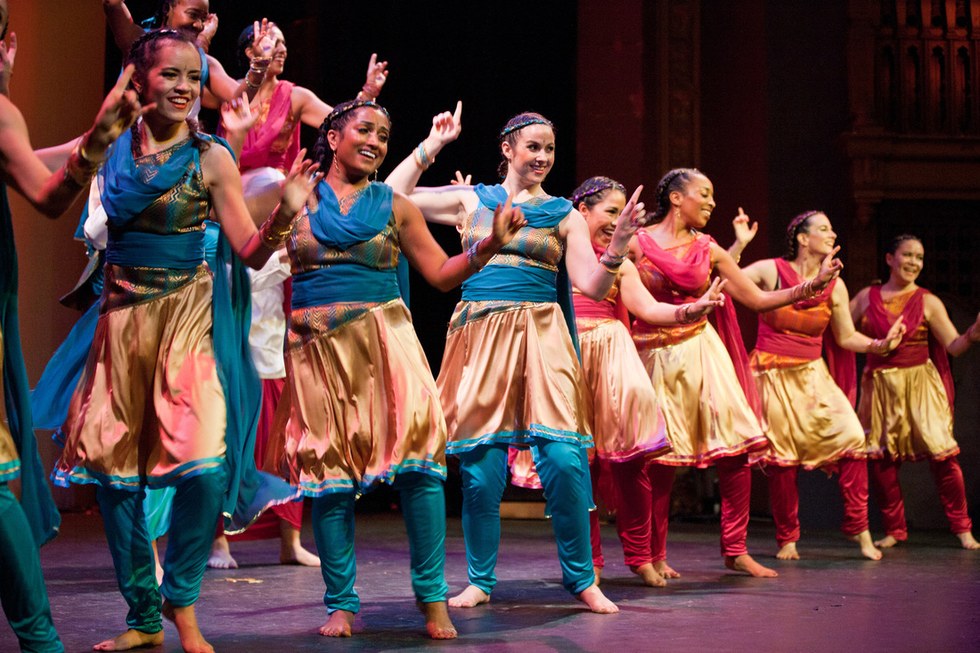 (Courtesy of duniyadance.com)
Bollywood at Duniya Dance & Drum Company
Learn some seriously fun footwork at Duniya's Bollywood classes, which combine fabulous Bollywood music with a variety of moves from Indian folk dances to modern hip hop. Combined, they form a diverse routine to make you dance like a star. // Thursdays at 7:45pm, ODC Dance Commons, 351 Shotwell St. (Mission), duniyadance.com/classes.html
What else they teach: Bhangra as well as West African drumming and dance.
Britney Spears Dance at Popstar Booty Camp
Admit it: You already know a Brit move or two. Pop Star Booty Camp exists exclusively for those who want to bop out to pop star hits. Learn the routine for Britney's "Toxic" and, in just a few weeks, you can perform the song at the Mission bar Balancoire. // Thursdays at 8:30pm, Pop Star Booty Camp,19 Heron St. (SoMa), popstarbootycamp.com
What else they teach: Beyonce!