Experiences are the new commodity, and the cannabis world is getting in on the action. As pot goes mainstream, devotees are coming out of the shadows to share herb together over a host of fun activities—yoga and fitness, salons and suppers, film festivals and even museum exhibitions. There's much to do here in the capitol of cannabis. Here's a start.
---
Don't see your fave? Email us with your suggestions!
The Path to Enlightenment: Dee Dussault's Ganja Yoga
It makes perfect sense that cannabis and yoga would work hand in hand—after all, what could be more relaxing than a little weed and a little downward dog? SF instructor Dee Dussault, the first person to bring this ancient combination to the United States, hosts her free-spirited Ganja Yoga practice at an artists' collective that feels worlds away from your office. If you're a beginner to pot or yoga, Dussault will educate you on various options, strains and potencies to find what works best for you, and her class is anything but intimidating, made up of a friendly crowd with mixed yoga skills. This is about mindfully using cannabis to deepen your practice, enhance self-awareness, feel your body, and be in an inner state through breath. Say om. —Sarah Hawthorne // $25 (medical marijuana card required), meetup.com
Beyond Dinner Parties: Sava Salons
You've heard tell of cannabis dinner parties and other cool happenings but weren't sure how to get on the list? The secret is simple: Find your tribe through a dispensary or provider that suits your own style, become a member, and wait for the invitations to roll in. Members of Sava are treated on the regular to spa events with cannabis-infused massages and decadent chef-prepared meals, paired with fine NorCal strains, in SF and Oakland. Soon, members will have the opportunity to attend the free Women's Wellness Series, an educational salon for ladies curious about cannabis for health. —Chloe Hennen // Sava Salons are open to members only; to join, go to getsava.com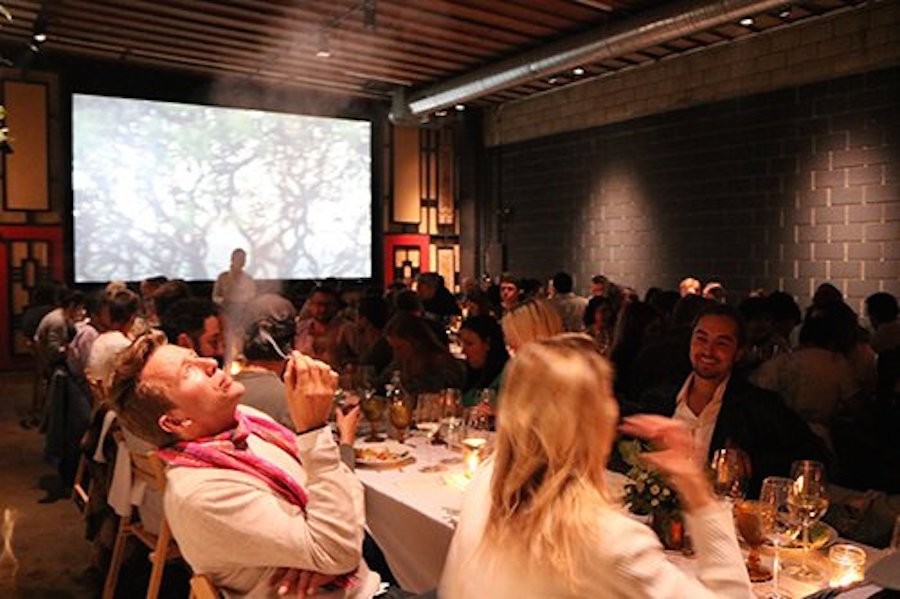 A Flow Kana flower, food, and wine tasting in collaboration with Outstanding in the Field.(Via @KCRWGoodFood)
Party of the Future: Flow Kana Salons
If you've never been to a party dedicated to the celebration of cannabis, add it to your bucket list. Last fall, I received my first invitation to a Flow Kana salon, held at a beautiful Piedmont manse with killer views of the Bay. I found myself in new territory, where an unusually mixed crowd of people (stoners, style mavens, farmers, journalists, and Brain Games host Jason Silva) mingled outside, despite a warm rain, drinking Happy Moose Juice (they had wine, but no one drank it), talking about everything from the cannabis strains in front of them to the connectivity of the universe. For its members, Flow Kana hosts about six salons each year—recent gatherings have included a trippy laser light show at Chabot Space & Science Center and a flower and food tasting in collaboration with Outstanding in the Field. You won't regret it. —C.H. // Flow Kana Salons are open to members who sign up at flowkana.com.
#Squadgoals: Women Grow, Bay Area Chapter
The Bay Area chapter of Women Grow makes it its mission to connect, empower, and educate ladies from San Francisco and Oakland who are curious about medical cannabis, considering entering the industry, or who are longtime enthusiasts and industry vets. The goal: to create a network of support for like-minded women in a male-dominated industry. —Andrea Brooks // womengrow.com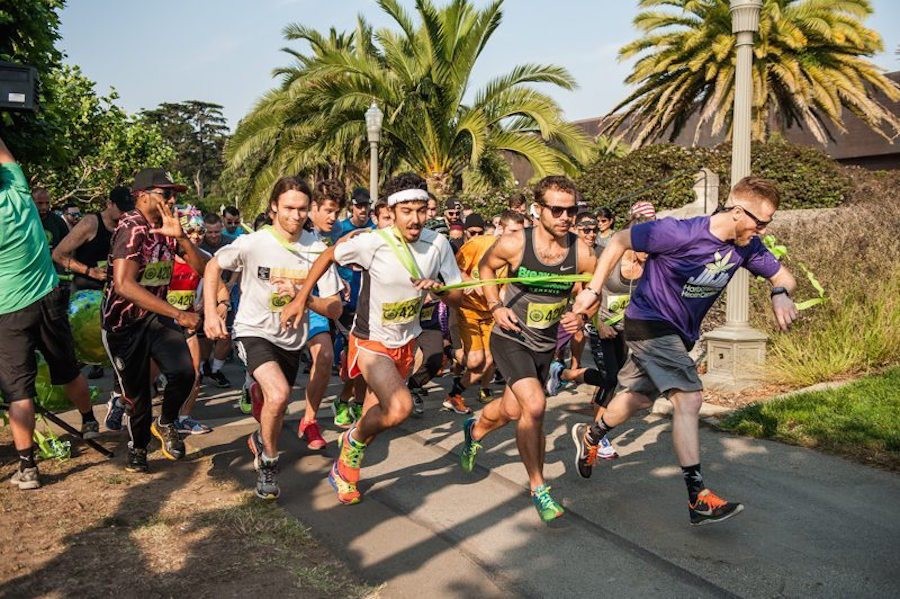 The 2015 420 Games in Golden Gate Park(Richard Haick, via SF Evergreen)
Stoners on the Run: The Four-Twenty Games
Think pot smokers are lazy? Think again. The Four-Twenty Games were created by a group of so-called stoners who set out to crush that stereotype and celebrate cannabis as part of a healthy lifestyle with an annual multi-city sporting event that includes a 4.2 mile fun run—as well as education, a beer garden, and live music. In 2016, the annual tour visited Seattle, Denver, Boulder, LA, Portland, and SF; look out for the 2017 schedule coming soon. —A.B. // 420 Games, 420games.org
Puff, Puff, Downward Dog: Sweet Leaf Yoga
Certified yoga instructor Aya-Nikole Cook welcomes yogis to her Oakland studio with a smoking of high-end hybrids followed by a 20-minute guided meditation that flows beautifully into a one-hour yoga asana practice. After making space in the body, mind and heart, fresh-pressed juice is served and a closing smoking ritual commences. Yogis, commune. —A.B. // $25 (includes top shelf cannabis); every other Sunday at 3215 Lakeshore Ave. (Oakland), hajicouture.com
Another Reason to Go to Wine Country: The Emerald Cup
December may be low season in Wine Country, but it's a great time for a weekender—hotel rooms are cheaper, even the good restaurants are empty, and oh yeah, The Emerald Cup is on. Each year, the real stoner crowd, about 21,000 dense, heads to the Sonoma County Fairgrounds for a homegrown yet world-class weed fair with an awards ceremony in the Hall of Flowers and more freebies than you can consume or carry. Founded in Mendocino by longtime growers eager for community at the end of the exhausting harvest, The Emerald Cup has become the world's largest competition for organically grown cannabis, and it's a legendary place to do some holiday shopping. Treat yo' self. —David Downs // The Emerald Cup, Dec. 10-11, 2016 at Sonoma County Fairgrounds (Santa Rosa), theemeraldcup.com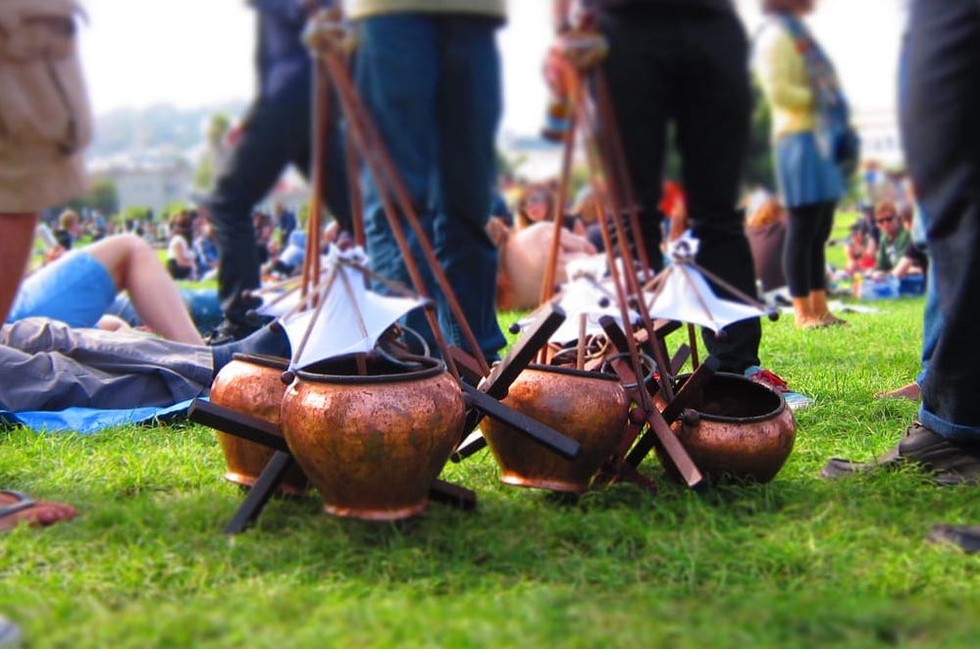 (Yelp.com)
Dolores Park Icon: The Truffle Man
A sunny day in Dolores Park wouldn't be complete without doling out a bit of cash to the hot guy (his real name is allegedly Trevor) in the straw hat toting golf-ball sized cannabis truffles in beautiful copper pots. Truffle Guy's treats come in six yummy flavors (coconut, cinnamon, pecan, ginger, espresso and mocha) and guarantee a good time in the grass. Just remember, these are homemade sweets with no recommended dosage—start with one and wait it out. —C.H. // 1 for $4; 3 for $10
--
Meet our Cannabis Guide Authors:


(From left to right)
Andrea Brooks is the San Francisco–based founder and CEO of Sava, an online marketplace for high-quality, hand-crafted cannabis goods.
David Downs is a San Francisco–based award-winning freelance journalist, best-selling author, and 7x7's Cannabis Insider columnist.
Jimi Devine has been involved in the cannabis industry since 2005. He writes for SFGate's "Smell the Truth," Cannabis Now, and more.
Amanda Reiman, PhD, is a cannabis expert, vegan, Oakland evangelist, and teaches classes on sex and drugs at UC Berkeley.
Flavia Cassani is a cannabis enthusiast, entrepreneur, Flow Kana cofounder, and environmental devotee.
Chloé Hennen is 7x7's editor in chief who got curious about cannabis in the Bay Area and decided to make this guide.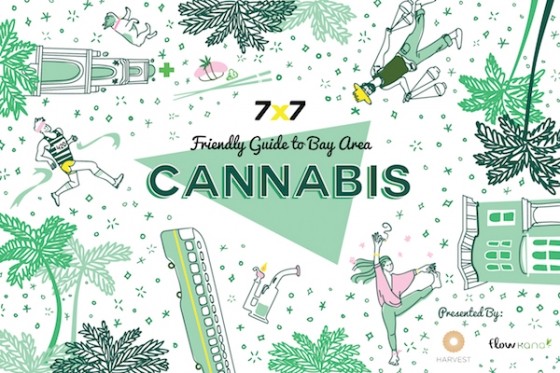 (Illustrations by Julia Barzizza)
Check out the rest of our Friendly Guide to Bay Area Cannabis for all the best local dispensaries, edibles, flowers, experiences + more!