The natural volcanic hot springs in Calistoga were originally discovered by the Wappo tribe more than 500 years ago; their rumored healing powers remain a draw today, along with venerable wineries, classy eateries, quirky shops and luxury resorts. Knowing this, we have just two words to describe this gem of a town: Napa, who?
---
The Most Stylish Stays in Calistoga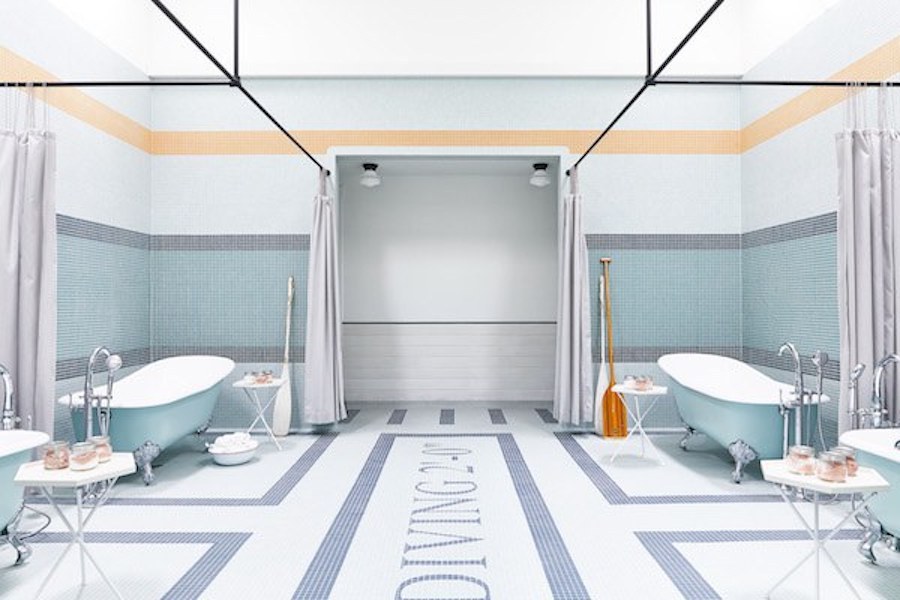 The European-style bath house offers a more modern (and cleaner) take on Calistoga's ubiquitous mud bath.
(Courtesy of Calistoga Motor Lodge & Spa)
Calistoga Motor Lodge & Spa
The new Calistoga Motor Lodge & Spa might not have all the bells and whistles of its fancy neighbors, but it does have three magical geothermal hot spring pools and is oozing with nostalgia and fun. This 1940s roadside motel has been given a midcentury modern makeover, with minimalist rooms inspired by the great American road trip, each outfitted with camper banquette seating (and a hoola hoop). Take advantage of a guided hike or bike ride offered in the mornings, or if you're not an early riser, cruiser rentals are free for the first two hours. Both lawn and analog games abound in an effort to nudge you to unplug. And don't leave without scheduling a treatment at the Moonacre Spa and Baths, designed as an ode to traditional European bath houses. We suggest the Perfectly Muddled treatment ($70), a refreshed spin on the classic mud bath that's offered throughout Calistoga. (We like this one better.) —Jess Lander // 1880 Lincoln Ave. (Calistoga), calistogamotorlodgeandspa.com
Indian Springs

When booking a stay in Calistoga, or really anywhere in the Napa Valley, hippie-dippie types with means pack their maxi dresses for Indian Springs Resort & Spa, which, without gushing too much, is really pretty magical. Witness the Olympic-sized swimming pool, filled with heated mineral water from the property's four natural geysers, as well as a smaller adults-only pool. Not a bit of luster has been lost in the wake of a recent expansion, which added 72 bohemian chic rooms housed in two-story buildings with private decks; three awesome two-bed, two-bath bungalows with yards for outdoor entertaining; and the restaurant, Sam's Social Club. Happily, all the new additions are respectful of the 17-acre property's laidback, natural vibe—there are still plenty of gardens, hammocks, walking paths, and lawn games (anyone for a game of croquet?). Hop on a Public bike and pedal over to Chateau Montelena (see next page), or bask in the the resort's most famous enchanted element, the mud bath. The spa at Indian Springs is among the loveliest around—post-treatment, pull up a chaise and say "om" at the tranquil Buddha Pond. —Chloé Hennen // 1712 Lincoln Ave (Calistoga), indianspringscalistoga.com
Solage
When I first stayed at Solage in 2007, its debut year, I remember being totally sold on its modern farmhouse architecture, a charming way to ease city folk into the country life. This time around, I am no less enchanted. The day we arrived, it was drizzling rain, and the first order of business was to get the fireplace in our private cabin roaring. Though modestly sized, the digs are efficiently designed, with a clever freestanding wall that does quadruple duty as a headboard, closet, mini kitchen, and bathroom vanity. The steam shower, lined in river rock for your reflexology needs, always smells faintly of sulphur due to the natural hot springs that the resort taps into for its renowned spa. Take it from me, frolicking in the spa's body-temp pool is utterly romantic in the rain; it's a great precursor to the signature mudslide treatment, a luxurious three-step process that includes coating the skin with essential oil-infused volcanic-ash mud; a warm soak in a claw foot tub; and a quick snooze induced by musical vibrations. —Leilani Marie Labong // 755 Silverado Trail N (Calistoga), solage.aubergeresorts.com