Best known as the home of Stanford University, Palo Alto is coming into its own as a global shopping and food destination.
With new shops and restaurants, the lively atmosphere of University Avenue is attracting more weekend travelers looking for excellent shopping opportunities, trendy eateries, and quiet nightcaps. For those evenings and weekends when the fog rolls over San Francisco, Palo Alto, located just an hour south by car, offers a nice escape. Whether you prefer to explore cultural happenings, get active outdoors or engage in a little retail therapy, Palo Alto has you covered.
---
EAT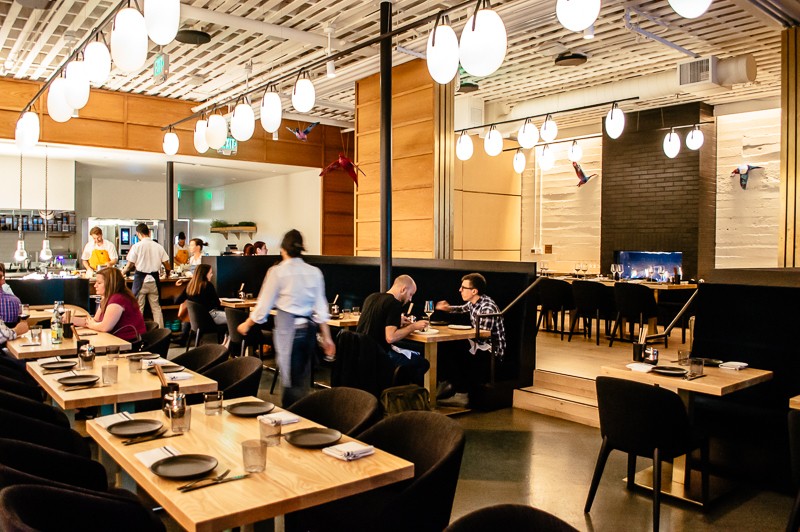 Photography by Ana Kamin
Bird Dog
With Bird Dog, Palo Alto has entered the world of the elevated-dining experience. Merging cuisines from North California and the Far East, chef Robbie Wilson creates contemporary dishes including the wood-grilled avocado with ponzu and wasabi, already on its way to reaching avocado-toast acclaim (OK, minus the toast), while the fried chicken thigh with green curry, egg yolk and smoked uni puts an Asian twist on the classic Southern plate. // 420 Ramona St. (Palo Alto), birddogpa.com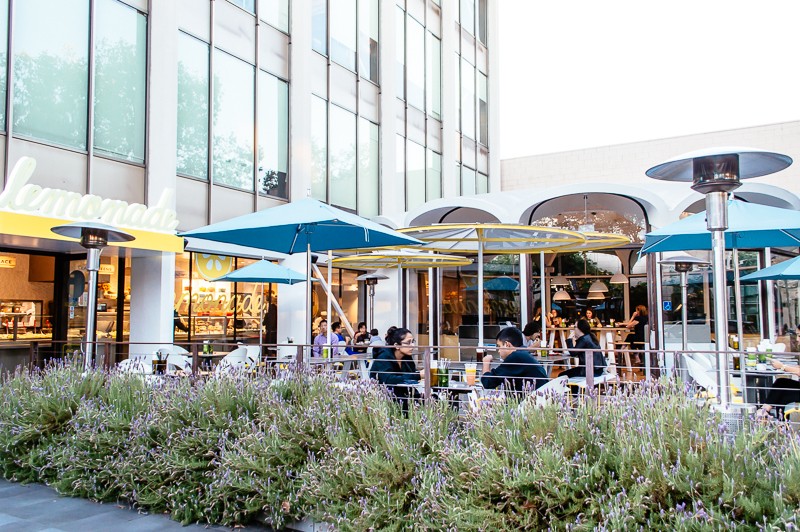 Photography by Ana Kamin
Lemonade
The Southern California-based cafeteria-style eatery has opened three locations in North California within a few months, and two more are in the works. Lemonade offers vegetables in all their glory, such as curried cauliflower with almond and raisins or the roasted butternut squash with lime corn, while the rest of the counter is filled with meat, seafood, soups, stews, salads and sandwiches. You must try turkey "El Tijuana"—a juicy turkey sando balanced with jicama slaw and queso fresco. And don't miss their signature lemonades (the blood-orange flavor is our current favorite) and be sure to add a super-sized macaron to your tray for dessert. // 151 University Ave. (Palo Alto), lemonadela.com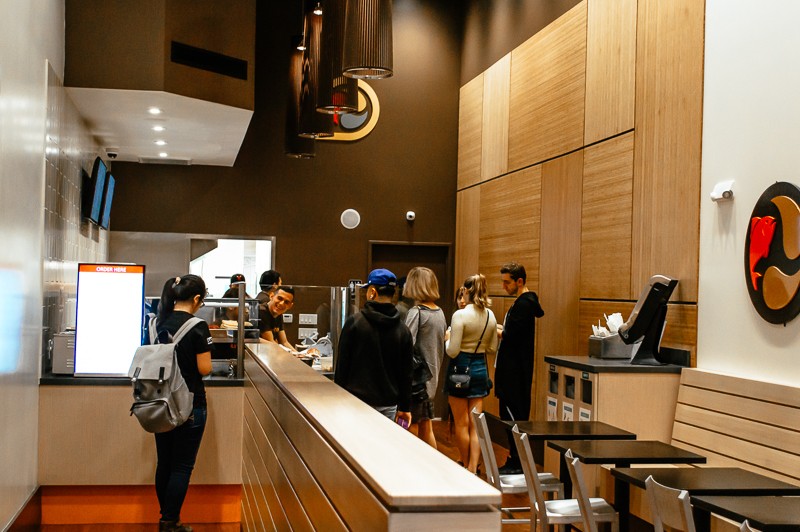 Photography by Ana Kamin
Sushirrito
Sushirrito may be the best invention since sliced bread, since it delivers the best of sushi in the form of a burrito—no chopsticks required. Using organic ingredients and blending different cultural flavors, you can choose from eight different rolls, including the Satori (hiramasa yellowtail, pickled red onion, ginger guac, red tobiko, and wasabi mayo) and the Sumo Crunch ( shrimp tempura, surimi crab, red tempura flakes, and sriracha aioli). // 448 University Ave. (Palo Alto), sushirrito.com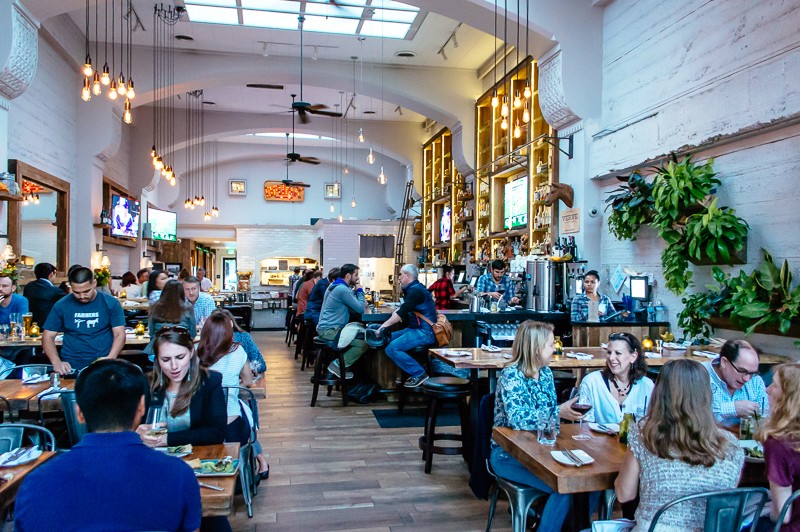 Photography by Ana Kamin
The Local Union 271

This hip, spacious warehouse with high ceilings, painted cement walls, rustic tables, ceiling fans and lots of plants offers a casual lunch and dinner that features dishes from all corners of California. From the lemon­ curry vegetable stir fry to grilled tacos, there is something for every hankering. Their commitment to sourcing local ingredients is foremost—they list all the local farms they work with directly on the menu.
// 271 University Ave. (Palo Alto),
localunion271.com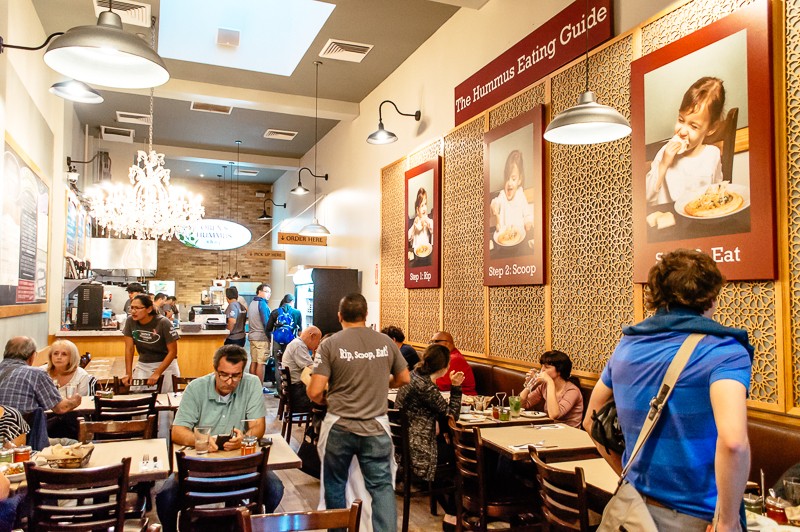 Photography by Ana Kamin
Oren's Hummus Shop

When Oren Dobronsky moved to Silicon Valley to work in the tech industry, he really missed the food from his hometown of Tel Aviv. So much so that he opened Oren's Hummus Shop. Today, the cozy restaurant is a gathering spot for locals, students and visitors alike in search of comforting plate packed with traditional Israeli fare. Choose from different hummus topped with everything from mushrooms to eggplant to lamb. You'd be remiss not to add a chicken skewer to your meal. // 261 University Ave. (Palo Alto), orenshummus.com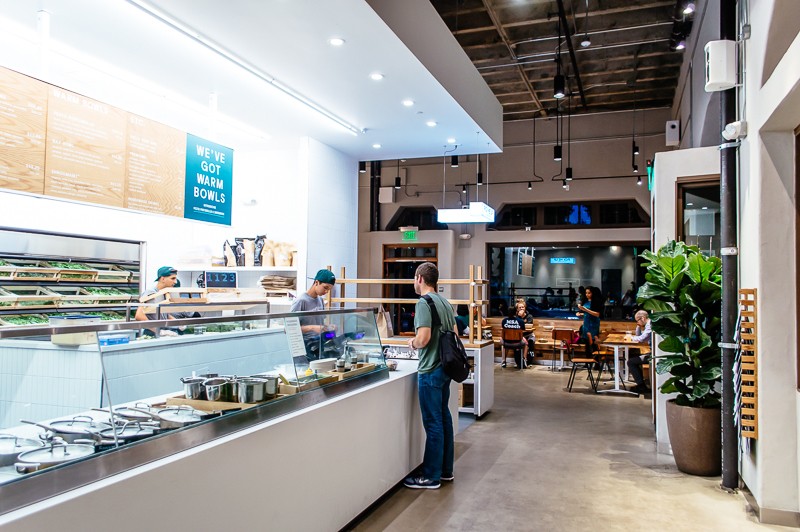 Photography by Ana Kamin
Sweetgreen

Sweetgreen is a healthy fast-casual addition to Palo Alto's restaurant scene. The salad bar offers customizable as well as premade bowls. We like the Shroomami bowl, stuffed with kale, raw beets, wild rice, and tofu. // 581 Ramona St #120 (Palo Alto), sweetgreen.com
True Kitchen
Opened this month in Palo Alto and Walnut Creek, True Food Kitchen is the third healthy, fast-casual chainlet to land in the Bay Area this year (after Sweetgreen and Lemonade). Serving up flavor-forward, East-meets-West cuisine that caters to vegans, vegetarians and those with gluten sensitivity, menu items are based on the anti-inflammatory diet principles of wellness superstar and father of integrative medicine Dr. Andrew Weil. We're currently obsessed with the ancient grains bowl, a wonderful mixture of grains, hemp seeds and miso-glazed sweet potato. And don't forget a slice of vegan, gluten-free squash pie for dessert. // 80 El Camino Real, Suite 1140 (Palo Alto), truefoodkitchen.com
COFFEE + TEA + SNACKS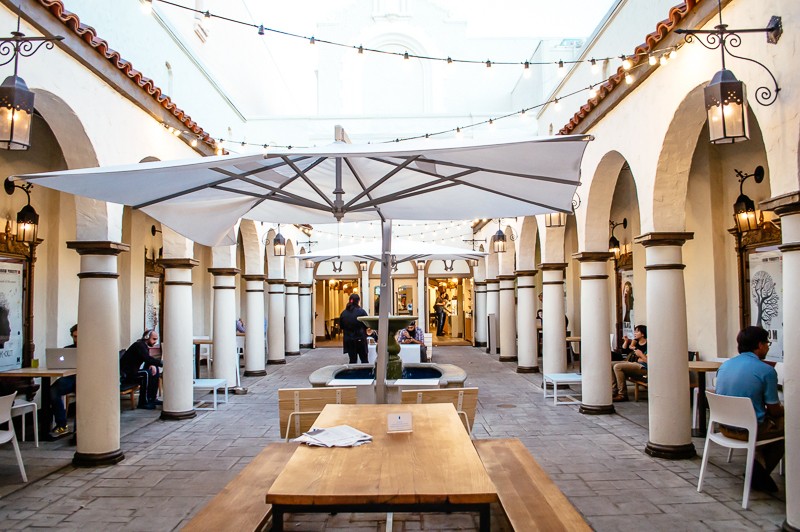 Photography by Ana Kamin
Blue Bottle

Set in the old Varsity Movie Theatre and opened in cooperation with the coworking hub HanaHaus, this Blue Bottle location is so far the most spacious, featuring an outdoor patio. In addition to their signature coffees, the cafe also offers breakfast, lunch, and early-dinner menu. // 456 University Ave. (Palo Alto), bluebottlecoffee.com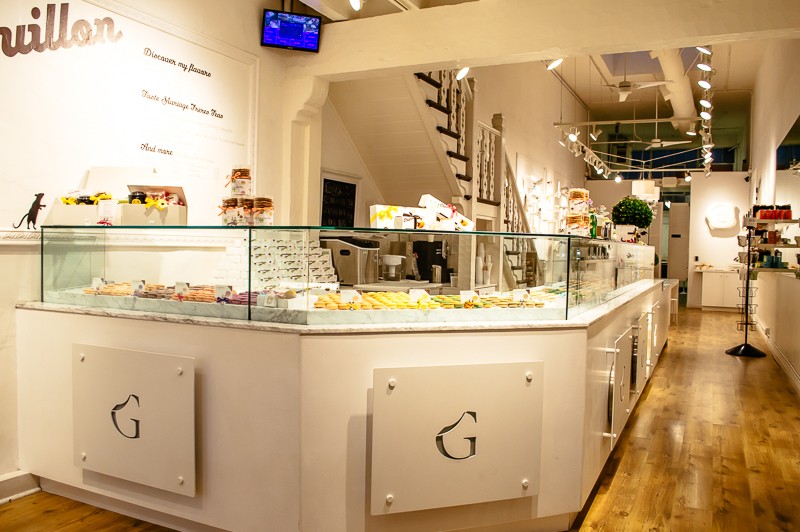 Photography by Ana Kamin
Chantal Guillon

The sleek interior has a feel of a jewelry boutique and the colorful macarons on display look like little gems. Nosh on time-tested classic such as Earl Grey and Persion Rose, or check out their seasonal offerings such as chestnut or hazelnut-yuzu. //
444 University Ave. (Palo Alto), chantalguillon.com



Tea Time
When the clock strikes 4 p.m., head to Tea Time for a cozy cup of tea and petite bites. Traditional English tea sandwiches such as cream cheese and mandarin jam or turkey with cranberry relish are just a few of the many combinations you can choose from, along with 120 loose-leaf teas, from classic English Breakfast to hard-to-find Dragonwell green tea. The menu also offers the classic butter scone and crumpets topped with strawberry preserves or shrimp and avocado. // 542 Ramona St. (Palo Alto), tea-time.com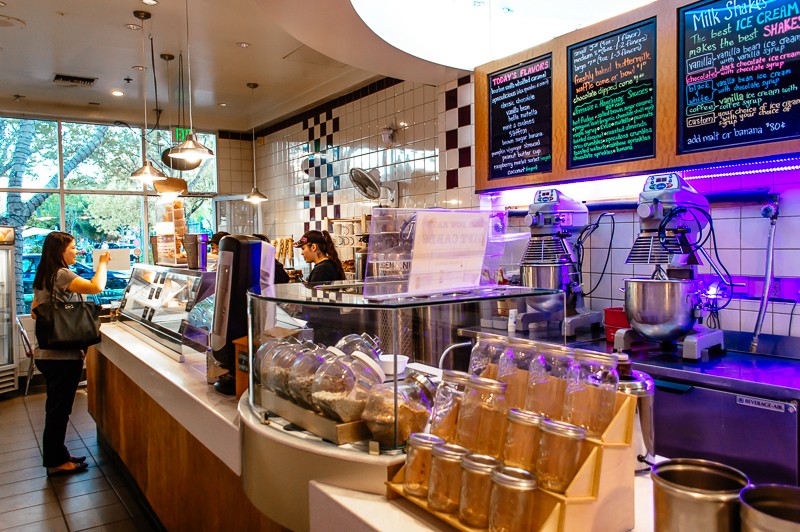 Photography by Ana Kamin
Scoop Microcreamery

The best way to stroll the University Avenue? With an ice-cream cone in your hand. Get a scoop or two at the Scoop Microcreamery. Try their bourbon vanilla with salted caramel swirl and pumpkin with ginger streusel. The mom-and-pop shop creates innovative flavors (Speculicious, a cream-and-speculoos addiction, is always our choice) and makes small batches daily with liquid nitrogen, a technique that makes the ice cream denser and more velvety than traditional churning methods. // 203 University Ave. (Palo Alto), scoopmicrocreamery.com
Town & Country Village
Just a short drive from downtown Palo Alto, the Town & Country Village is an elevated version of your standard suburban mall. Move over Auntie Annie's Pretzels—here you'll find Anya Fernald's Belcampo Butcher, where you can get fresh cuts for your next barbecue or check out their Thanksgiving menu if you don't feel like hassling with the turkey this year. Mayfield Cafe & Bakery is our favorite place to stock up on fresh bread for the weekend. // 855 El Camino Real (Palo Alto), tandcvillage.com

DRINKS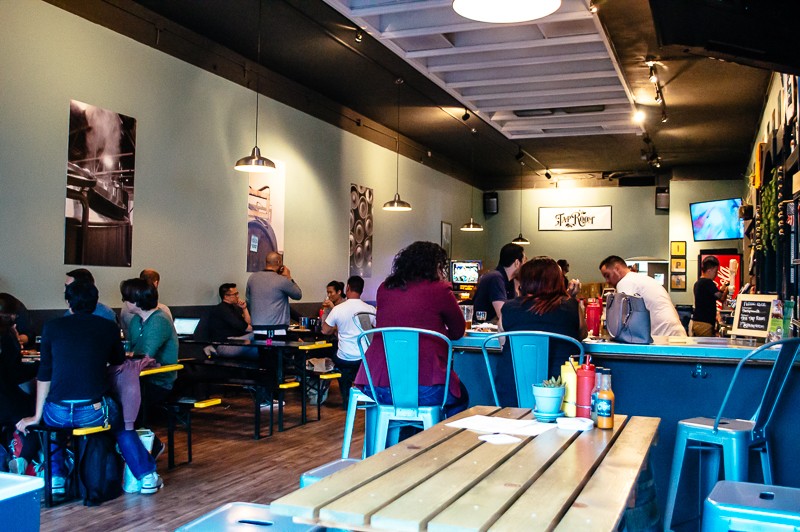 Photography by Ana Kamin
Palo Alto Brewing Company

Simply known as the Tap Room, this Palo Alto brewery, owned by Palo Alto native Kasim Syed, showcases its own 12 beers on tap, including the popular Hoppy Ending pale ale and the lesser-known Barley Legal coconut porter, but will also have guests beers in the rotation. The communal table invites you to join in for a beer, order some bar food and make new friends. // 233 University Ave. (Palo Alto), paloaltobrewing.com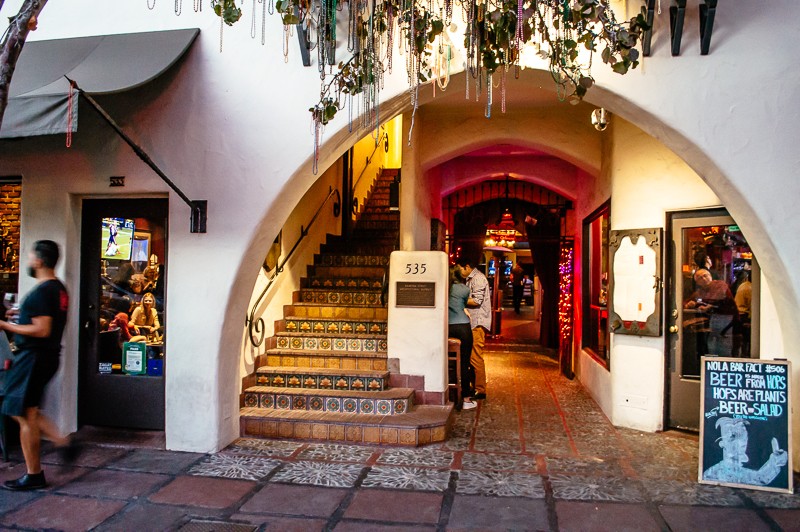 Photography by Ana Kamin
Nola

This New Orleans-inspired restaurant and bar is laid out over three floors. The French Quarter atmosphere is loud and lively and their food is spicy and delicious. We suggest a plate of fried chicken and waffles as a solid base for juicy cocktails to follow. The Nola hurricane is a stiff option, while the spicy watermelon margaritas are refreshing. // 535 Ramona St. (Palo Alto), nolas.com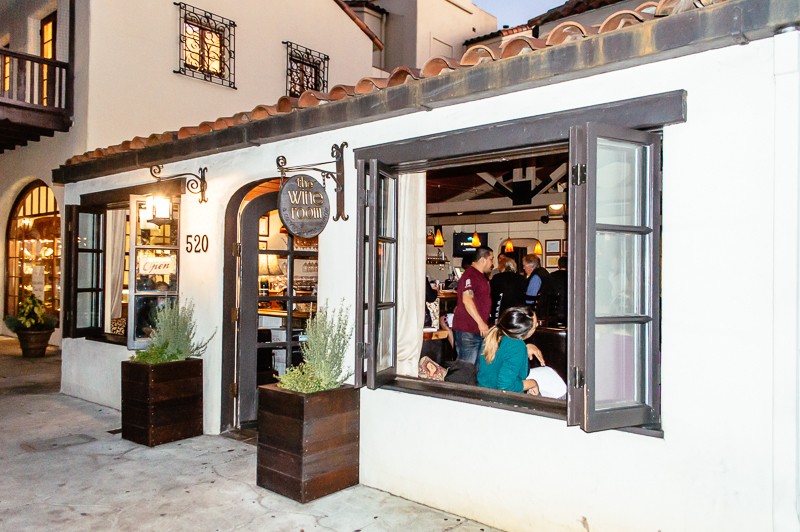 Photography by Ana Kamin
Wine Room

The interior of this cozy tasting room is a mix of Mediterranean and Moroccan styles, but the wine menu features bottles from all over the globe, such as Love Block Vintners pinot noir from New Zealand and Vermentino from Seghesio Family Vineyards in the Russian River Valley. A small snack menu features a cheese plate or smoked salmon carpaccio. // 520 Ramona St. (Palo Alto), thepawineroom.com
SHOP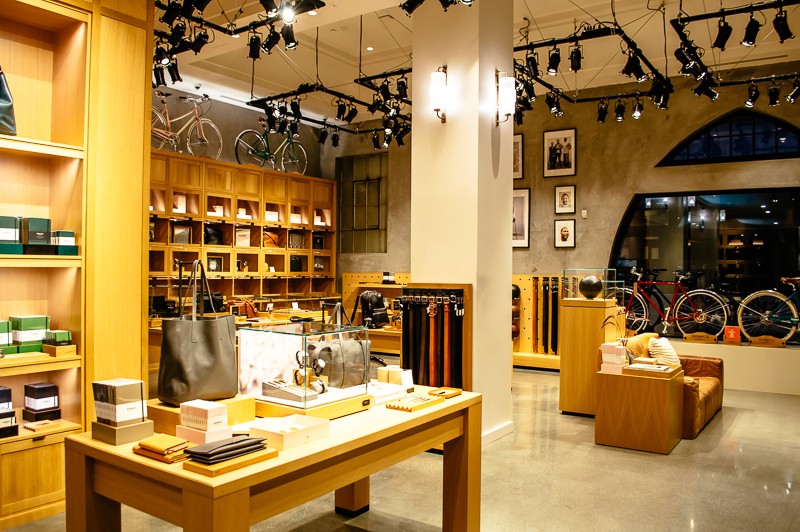 Photography by Ana Kamin
Shinola

It's always a balm for the soul to treat yourself at the Palo Alto outpost of the Detroit-based company, if not with a handcrafted watch, then at least with one of their beautifully crafted leather journals, made in Ann Arbor, MI by the family-owned Edwards Brothers Malloy, exclusively for Shinola. // 261 Hamilton Ave. (Palo Alto), shinola.com
Letter Perfect
Given that a handwritten note is the most sincere form of communication, Letter Perfect has been supplying the beautiful essentials for loving missives, from hand-painted watercolor birthday cards to customized wedding stationery, since 1982. // 384 University Ave. (Palo Alto), letterperfect.com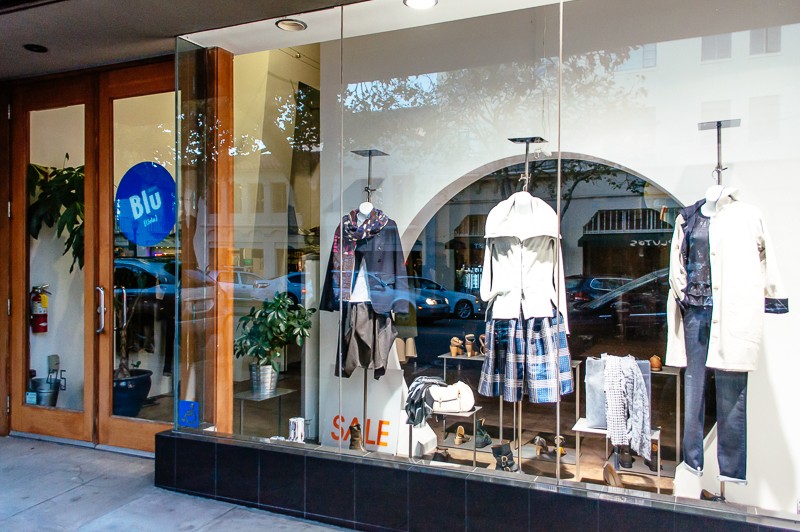 Photography by Ana Kamin
Cielo

Featuring international designers, Cielo carries women's clothes with modern lines and muted colors. If you are looking to add few high-end fashion pieces from hard-to-find designers such as Dries Van Noten, Yohji Yamamoto or Marni, this is the place to peek in. //
477 University Ave. (Palo Alto), cieloboutique.com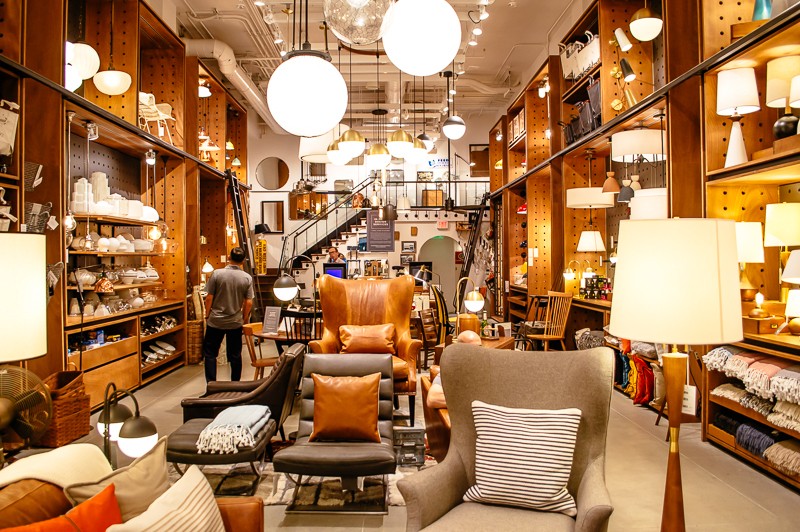 Photography by Ana Kamin
Rejuvenation

Entering Rejuvenation feels like entering a modern library of lighting. The dark wood shelves are stocked with classic Tiffany-style table lamps and modern sconces. They also have a great selection of home decor in the form of signage, clocks or vases. // 323 University Ave. (Palo Alto), rejuvenation.com
b8ta
Before you pull the trigger and splurge on your next Robodog, Skybuds (wireless headphones), or electric skateboard, go to b8ta, a test-and-try tech gadgets store. It's a great place to explore what the techies are working on. // 516 Bryant St. (Palo Alto), b8ta.com

PLAY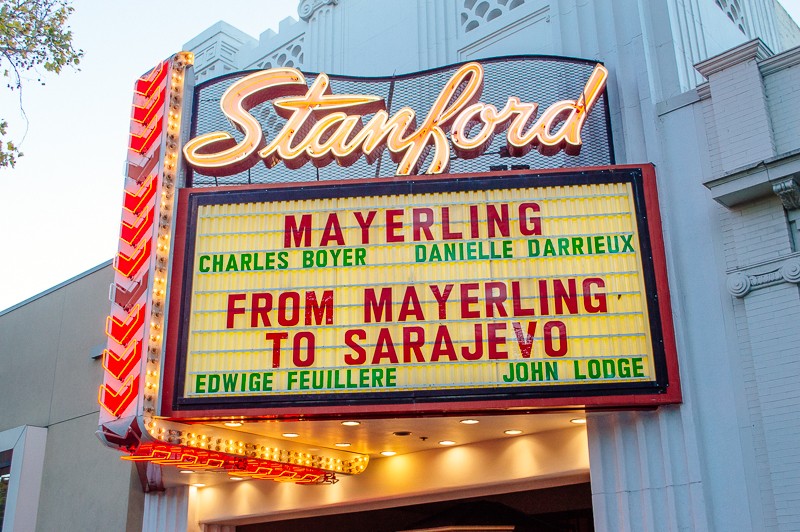 Photography by Ana Kamin
Stanford Movie Theater
Built in the 20s, this example of neo-classical Persian architecture screens independent and classic movies such as Aida with Sophia Loren or The Ladies' Man with Jerry Lewis. Coming this fall: Top Hat, the ultimate Ginger Rogers and Fred Astaire movie, and A Night at the Opera by director Sam Wood. // 221 University Ave. (Palo Alto), stanfordtheatre.org
Rodin Garden and Collection at Cantor Arts Center
The Rodin Garden displays 20 of the French sculptor's statues while the Center displays up to 200 Rodin pieces. Admission is always free, and they offer docent-led tours (also free). If you are in need for a bite, Cool Cafe next door serves lunch. // 328 Lomita Drive at Museum Way (Stanford), museum.stanford.edu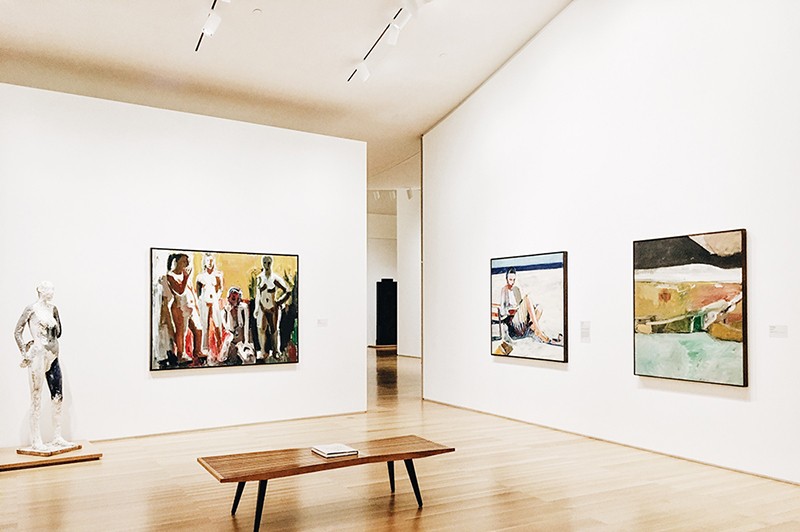 Photography by Ana Kamin
Anderson Collection at Stanford

No trip to Palo Alto is complete without admiring the outstanding Anderson Collection at Stanford University. The private collection is one of the largest in the world comprising 20th-century American art from the likes of Mark Rothko, Peter Alexander, and Frank Lobdell. The gallery displays permanent pieces such as Richard Diebenkorn's Ocean Park #60 and features rotating exhibits as well. This fall through August 201,7 the interdisciplinary artist Nick Cave will have on display his Soundsuits—full-body sized sculptures created of wooden sticks, sequins, buttons, metal, textiles, and other materials. // 314 Lomita Dr. (Stanford), anderson.stanford.edu
Pace Gallery
After a show-stopping but temporary pop-up gallery in Menlo Park, Pace has opened in a much smaller — but more permanent — gallery space nearby in downtown Palo Alto. Currently on display is an exhibition of works by Louise Nevelson, highlighting the artist's practice from the mid 1950s until her death in 1988. // 229 Hamilton Ave. (Palo Alto), pacegallery.com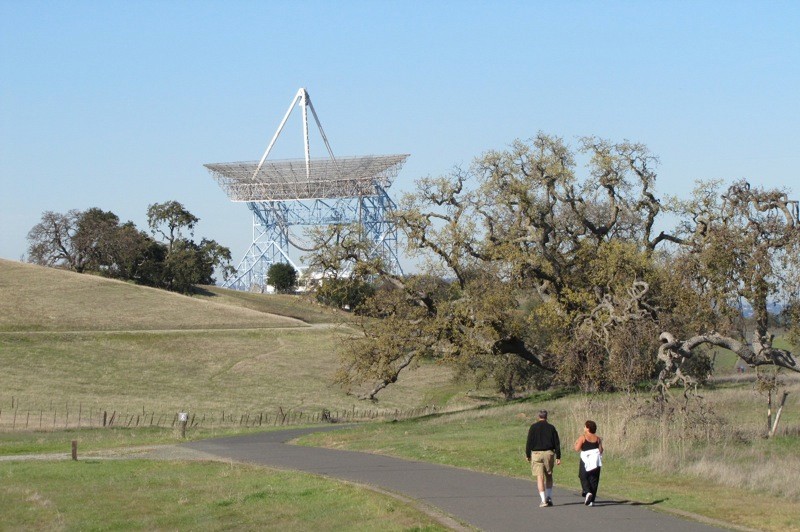 Photography by Ana Kamin
The Dish Hike

Up in the Stanford foothills, there is a 150-foot-diameter radio telescope, called the Dish. It's in use, but you can safely hike around it. Most of the Stanford-owned land is off limits to the public, but the 3.9-mile trail is free for everyone, and as far as its level of difficulty, we think it's a walk in the park.
Watercourse Way Spa
At Watercourse Way, a wellness center with massage and skin care services, you can also book an individual tub room featuring sauna and steam. If you're planning a day trip around it, follow the relaxing experience with a meal and a walk around the Stanford campus. // 165 Channing Ave. (Palo Alto), watercourseway.com
STAY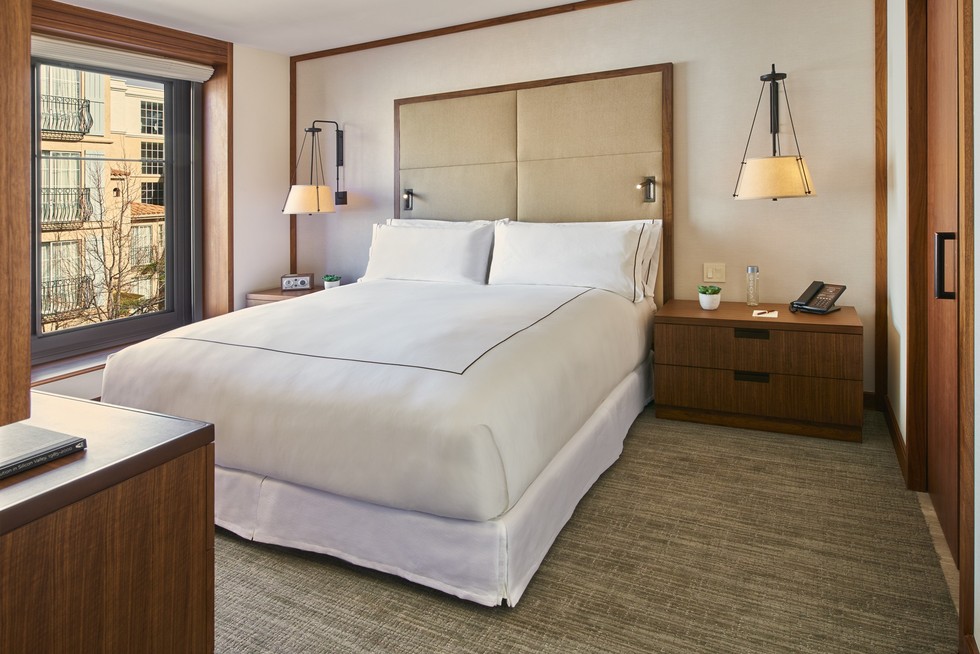 (Courtesy of The Clement Hotel)
The Clement Hotel
New to hotel row on El Camino Real, just across the street from campus, The Clement Hotel is an elevated boutique stay with just 23 one-bedroom suites tricked out with Frette linens, Nespresso machines, divinely deep soaking tubs, and plenty of high-tech amenities. The Clement is all-inclusive, so feel free to pop down to the kitchen any time, day or night, to grab a snack or a meal; or order your breakfast to be sent up to the rooftop pool. The rate also includes high-speed WiFi, valet parking, laundry, and even a nightly shoe shine service. This level of service comes with a price tag, but for traveling tech elite and proud Stanford parents with coin, this is home away from home. // 711 El Camino Real (Palo Alto), theclementpaloalto.com