Bianchi wears Dior in the penthouse at the Fairmont where she celebrated her 75th birthday & the 60th anniversary of Helpers
With Demi Moore at the opening of Wallis Annenberg Center for the Performing Arts, 2013
With Dita Von Teese and Jean Paul Gaultier at the Wilde Salome premiere, Castro Theatre,2012

---
In 2012, after months of experiencing what felt like "having a heart attack but several times a day," Joy Venturini Bianchi, the bespectacled grande dame of San Francisco's philanthropic circles and the longtime director of Helpers, a local charity dedicated to the care of the developmentally disabled, was diagnosed with a rare stage IV cancer, which had spread to her stomach and colon. The doctors projected that she had two weeks to live. "After hearing that you're going to die, your whole body shakes and 50 million things go through your mind," says Bianchi. "Heaven, hell, life, leaving life—it just goes on and on."
Even during the initial shock of the news, Bianchi's thoughts turned to the future of Helpers. Despite an ongoing search, Bianchi—who turned 75 on September 30, 2013—hadn't yet chosen a successor to carry on the tradition of providing respectful and uplifting care for people with intellectual disabilities. (Helpers' modus operandi is similar to that of L'Arche, an international organization founded by one of Bianchi's mentors, French humanitarian Jean Vanier.) "Don't the developmentally disabled also deserve a nurturing home environment, just like us?" Bianchi asks. "Why shouldn't they eat home-cooked meals instead of cold cereal? Why can't they have hobbies and even regular jobs? They can lead dignified, productive lives, too." Needless to say, leading the charge is not for the faint of heart.
Six months of chemotherapy left Bianchi feeling, in her words, "three-quarters dead," a mere shadow of her former self—the spunky glamour-puss and "party girl" who was out on the town nearly every night, dressed in all manner of couture, her trademark oversize Gucci glasses always the finishing touch. At the brink of mortality, she alleges that she saw the Angel of Death loitering near her bed.
Knowing this, perhaps the unknown author of a random (and now-nowhere-to-be-found) Yelp review, criticizing Bianchi for living the high life at the expense of her wards, may experience a moment of penitence for the harsh words. Helpers' board president Peggy Bachecki, who started working as a secretary for the charity nearly 50 years ago, recalls the incident: "Joy didn't understand how someone could say such things. When she's at parties, she's always working the room, telling people about Helpers, trying to get them involved." Anyone who's ever attended a fete with Bianchi knows this is an understatement. As soon as the you're-so-chic praises begin to chime, the businesswoman kicks into gear, passing out her card with a firm squeeze of the arm and strict instructions to come visit the Helpers House of Couture.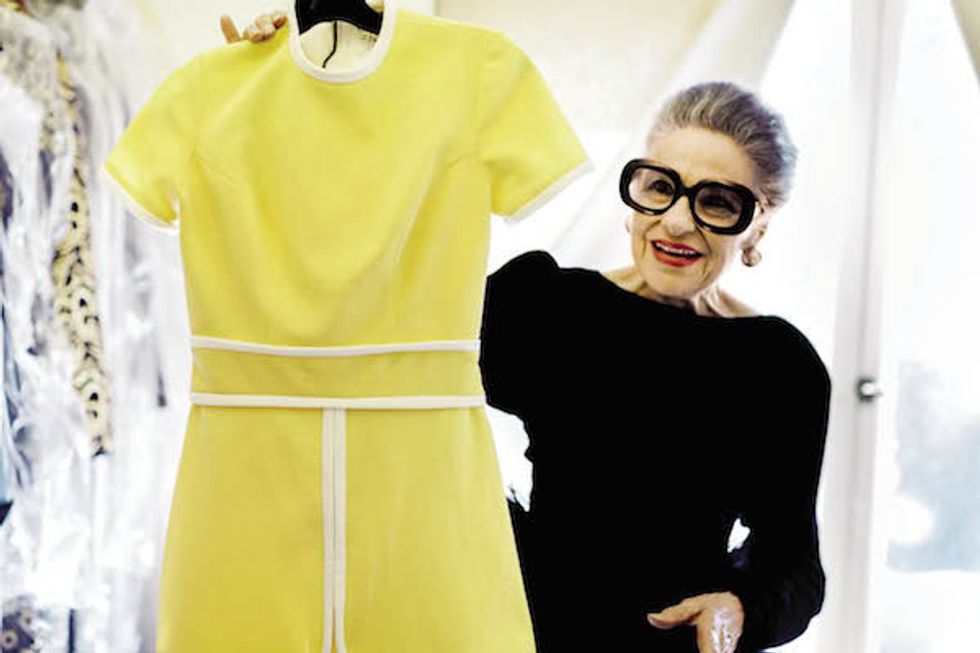 At Helpers House of Couture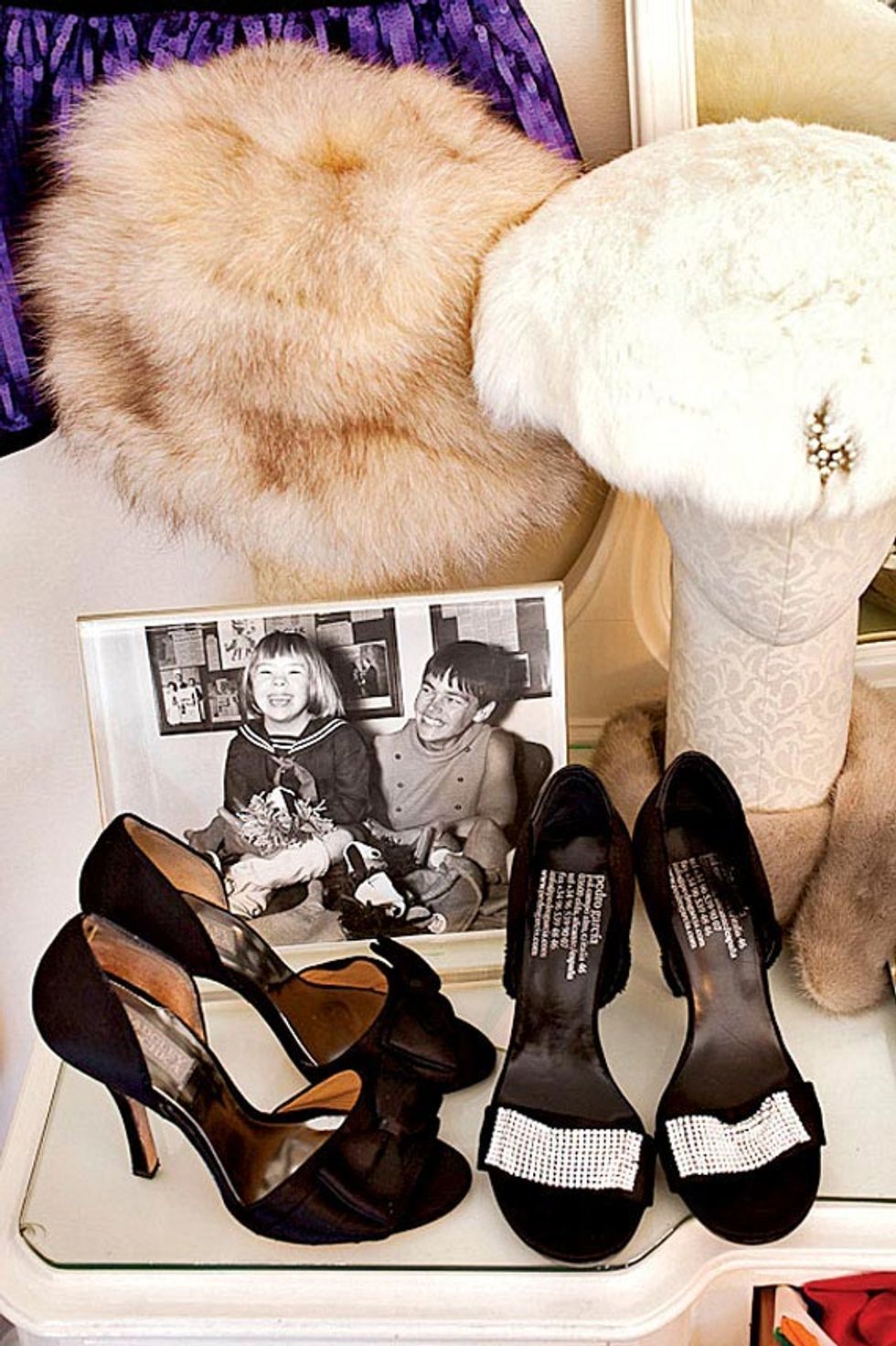 Seeing her in her element—out and about, radiant in the origami folds of a Dior jacket that no one else could wear with quite the same moxie—you would never guess at Bianchi's life behind the scenes. She blames her grim diagnosis on a decades-long addiction to diet soda—up to four cans of the corrosive elixir per day. Her oncologist—Dr. Donald Abrams, a specialist at the UCSF Osher Center for Integrative Medicine—placed her on a strict no-sugar, no-dairy, no-red meat regimen. But it's the treatment's star panacea that she believes is preventing a progression of the cancer: Every night at bedtime, Bianchi slips a grain of cannabis oil on her tongue, letting it dissolve as she drifts off to sleep. The patient reports that her eldest of two daughters, Lisa Oster, initially resisted the thought of her mother partaking of the controversial herbal remedy, saying something akin to "What's next, cocaine?"
Arguably, there is a miracle at work. The two-week deadline has passed, many times over. Bianchi's spirit seems newly revitalized. She speaks once again with unflappable authority. Throughout her life, she has survived several taxing milestones: a bitter divorce (a subject upon which she refuses to comment); a devastating tumble on a cobblestone street in London 25 years ago, for which she was hospitalized for 41 weeks and still wears braces around her legs and back; the closing of Helpers' three group homes, which required disabled residents to relocate to new institutions ("I felt nearly suicidal over it," she recalls); and cancer. "Joy would say, 'I can't die. I have too much to do,'" says Bachecki. "I would tell her, 'That inner drive is probably gonna get you through it.'"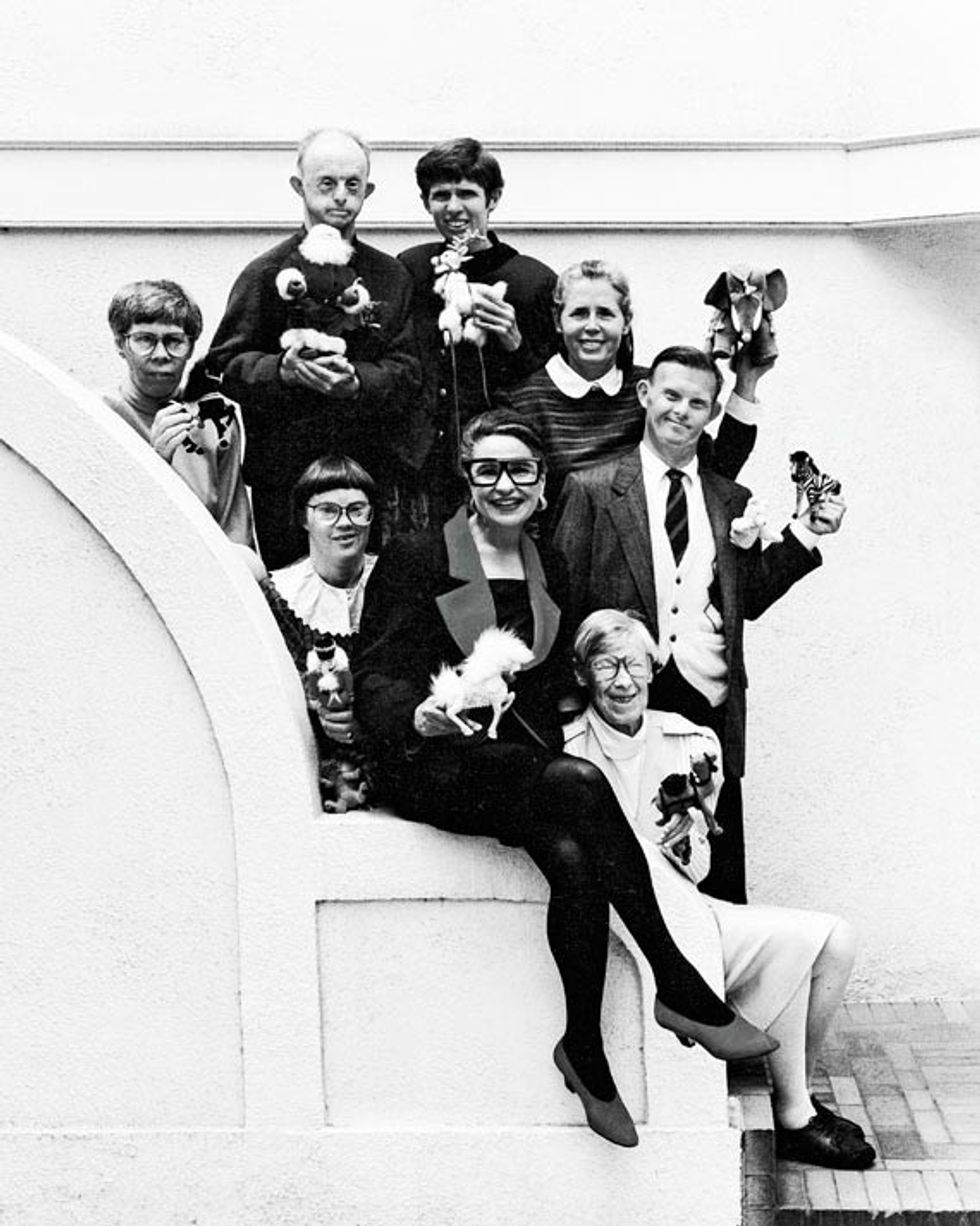 This vintage photo was used on the invitation for Bianchi's 75th birthday and Helpers' 60th anniversary fete.
Bianchi's strong sense of benevolence stems from childhood, a happy one by her own account. "I never knew prejudice," she says, recalling that her parents, Salvatore Ferragamo shoe designer Joseph Venturini and his wife, Josephine, would host small holiday gatherings for the African American school bus drivers who made sure their daughter traveled safely over city streets each day. What's more, Bianchi remembers that her cats would wait for her at the bus stop, perilously crossing Fillmore Street to do so, with the express purpose of chaperoning her walk home. A tall tale? Maybe. Or perhaps just early evidence of her gravitational pull.
Bianchi began volunteering at Helpers at its inception in 1953. She had been drawn to the innocent struggle of the developmentally disabled and decided to devote herself to being their staunch advocate. So in 2000, when the end drew nigh for the group homes—they had been open since the 1960s but lacked an appropriately dedicated house staff able to care for the residents—Bianchi, already in her early 60s, stepped into the role of full-time housemother, while she interviewed, she says, thousands of people for the job. A few made the cut, only to later disappoint. Undoubtedly, the decision not to medicate the residents, made by Bianchi and Helpers' longtime consulting psychiatrist, Dr. Anthony Stanton, made such a job more difficult, as these medications tend to calm the emotions. "I was just running myself into the ground," she says of her experience on the frontlines. But of course, she wouldn't have had it any other way. "When people are drugged, they can't be themselves," she says. "These people thrive on human connection. We want to build that, so they can find happiness in their true selves."
Some might wonder whether Bianchi would let the charity she loves suffer because she fancies herself irreplaceable—the hunt for a successor worthy of the director's chair has, as yet, been fruitless. Bianchi's friend of nearly 50 years, SF department store magnate Wilkes Bashford, pooh-poohs this notion: "The reality is that no one could do what Joy has done for the cause. No one is irreplaceable. But Joy is close to it."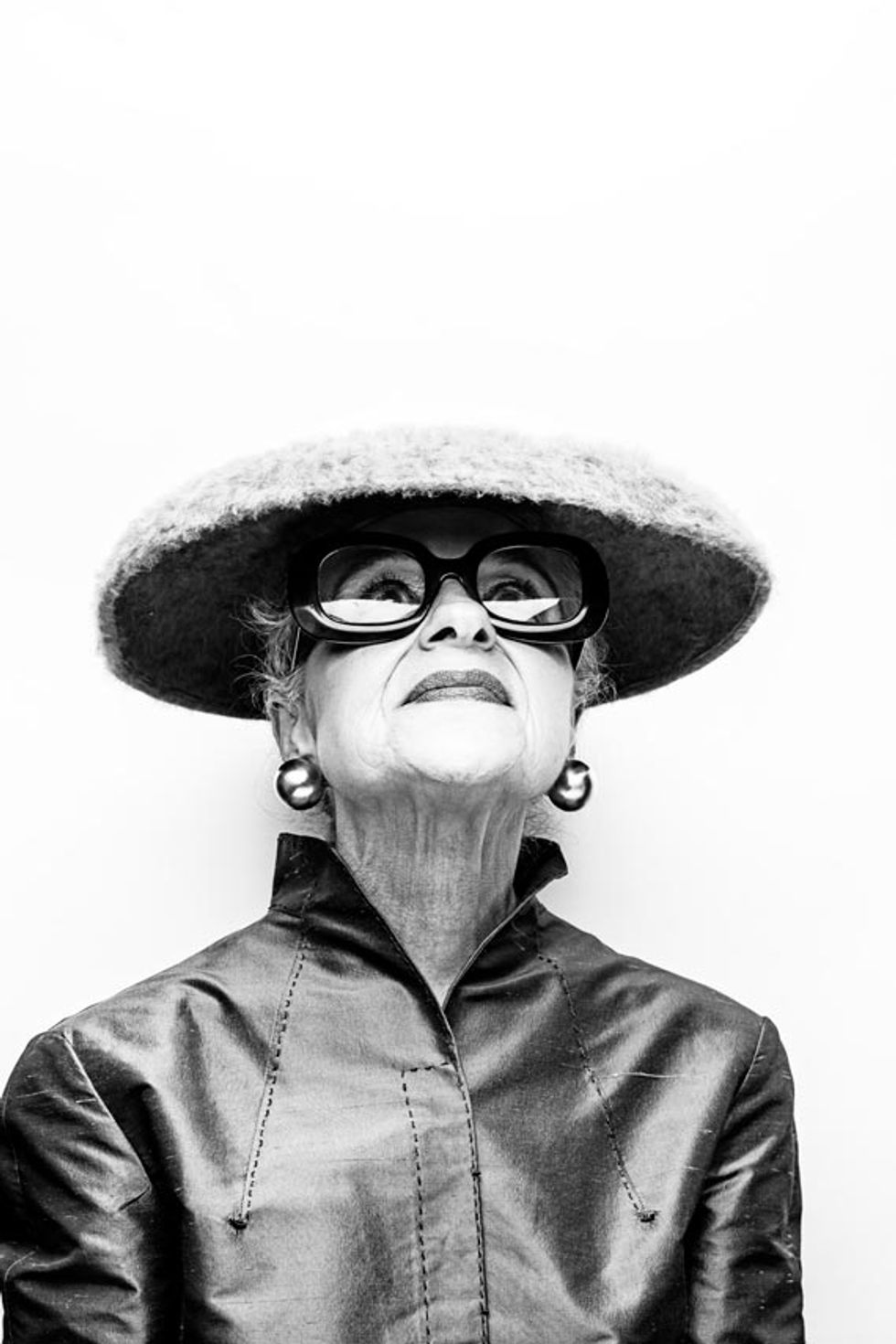 Always the lady, Bianchi is rarely without a hat and gloves.
Each day, Bianchi walks a half block from her home to the Helpers House of Couture on Fulton Street, where she curates an impressive inventory of donated high-end designer duds. It's the charity's top level of daily fundraising, followed by weekend garage sales and the Bazaar at Ghirardelli Square, where Helpers has resided since 1966 and enjoys a rent-free existence. (Bianchi's mother volunteered at the bazaar daily throughout the 1970s and '80s.) All proceeds are donated to such kindred organizations as SF's Woodside Learning Center, Laguna Honda Hospital, and the Tacoma Hope Farm and Gardens in Washington.
During a recent visit to the couture house, Bianchi shows off her new arrivals: a green sequined Pucci gown, an asymmetrical Lanvin LBD, gold Tom Ford gladiator sandals, and Christian Louboutin over-the-knee Seann Girl boots, complete with cell phone pocket and credit card slots. The last can be yours for the bargain price of $2,250 (retail: $3,795). The appointment-only shop is a clever way for Bianchi to raise money while indulging her love of fashion, also evident since childhood, when she'd don her Sunday best on any day of the week just to stand in the driveway and wave hello to passersby. To this day, she calls fashion a "celebration of life," diligently stripping off her braces and daytime orthopedic shoes in favor of heels and costume baubles for her rounds on the social circuit. Behind those great black-rimmed lenses, her eyes sparkle with mischievous delight when she tells of shocking local socialites with her wildly fashion-forward choices. Who says a 70-something woman can't wear an animal print or thigh-high boots?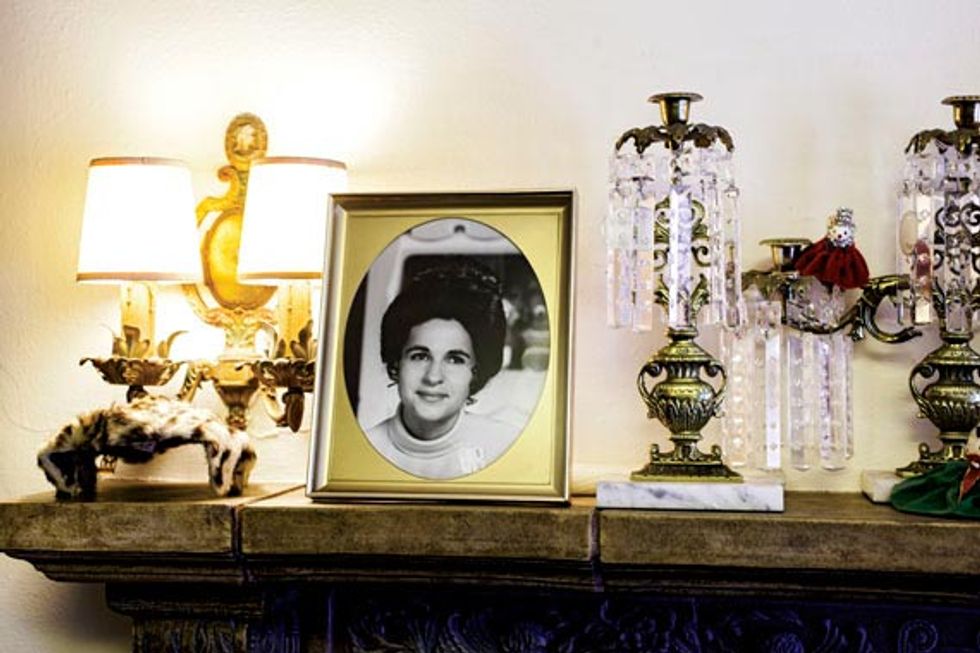 At Helpers House of Couture.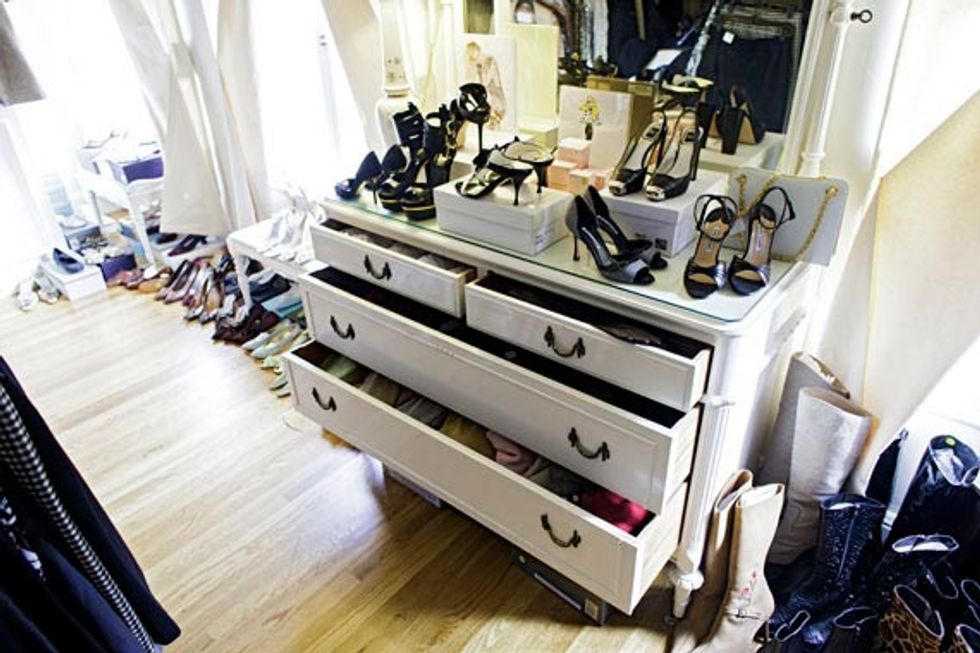 In October 2013, Bianchi feted her 75th birthday and Helpers' 60th anniversary with a lavish event at the Fairmont Hotel on Nob Hill, with such deep-pocketed guests as Tony Duquette protégé Hutton Wilkinson, and Christine and Phil Bronstein. But Bashford jokes that the bars on Castro Street emptied for the occasion—to wit, the style icon is a magnet for doting gay men. (One partygoer called Bianchi a "fag hag extraordinaire"—flattery that would no doubt amuse her.) The sprightly birthday girl (she often signs her text messages "Joyous") wore a cherry-red Ralph Rucci gown, a modern spin on a kimono that was as much an affirmation of life as it was a fashion statement.
That night, she delivered a lengthy, politically savvy speech in classic it's-my-party style. State Senator Mark Leno, who visited Bianchi on Sundays during the depths of her illness and was instrumental in securing her first appointment with Dr. Abrams, says, "She spoke from the heart and recognized everyone who had been part of her success. If I had to 'Monday morning quarterback' the evening's program, I wouldn't change a thing."
A couple of weeks after the party, Bianchi traveled to Los Angeles for the opening gala of the Wallis Annenberg Center for the Performing Arts, where she walked the red carpet in a full-length crystal-beaded Tom Ford gown (she sported comfy athletic socks to make the jaunt from her nearby hotel more bearable but ditched them in a bush a block away from the event). On her iPhone, she pulls up a playful photo of her and Demi Moore wearing each other's glasses at the party. "She said she loved my dress," says Bianchi, who undoubtedly used the compliment as a segue to introduce the Brat Pack beauty to Helpers.
Later in the night, when she met legendary actor and civil rights activist Sidney Poitier, she was genuinely humbled, her thoughts centering once again on the community she's championed with her own brand of civil rights activism. "We're all the same," she says. "When it comes time for us to meet God, there we are, stripped of everything. Bingo."
This article was published in 7x7's December/January issue. Click here to subscribe.