Walking into the din of dozens of women excitedly waiting for the Built by Bliss: Building a Brand Without Losing Yourself panel conversation hosted by Dosist and The Assembly, I felt, to be honest, lousy. But that was soon to change.
I was entering The Assembly, this beautiful light-filled space crowded with well-dressed, successful women, and my interior felt so very disconnected from my uplifting surroundings. My brain was still fixated on my recent booze-soaked birthday, my dissatisfaction with my professional life, and an overall blah feeling that seemed to reverberate out from my core. I knew I desperately needed the lift from an empowering event celebrating badass ladies, with a little cannabis on the side. I didn't expect to leave with happy tears in my eyes, so thankful for an event that spoke to that challenged the blahness—and me.
---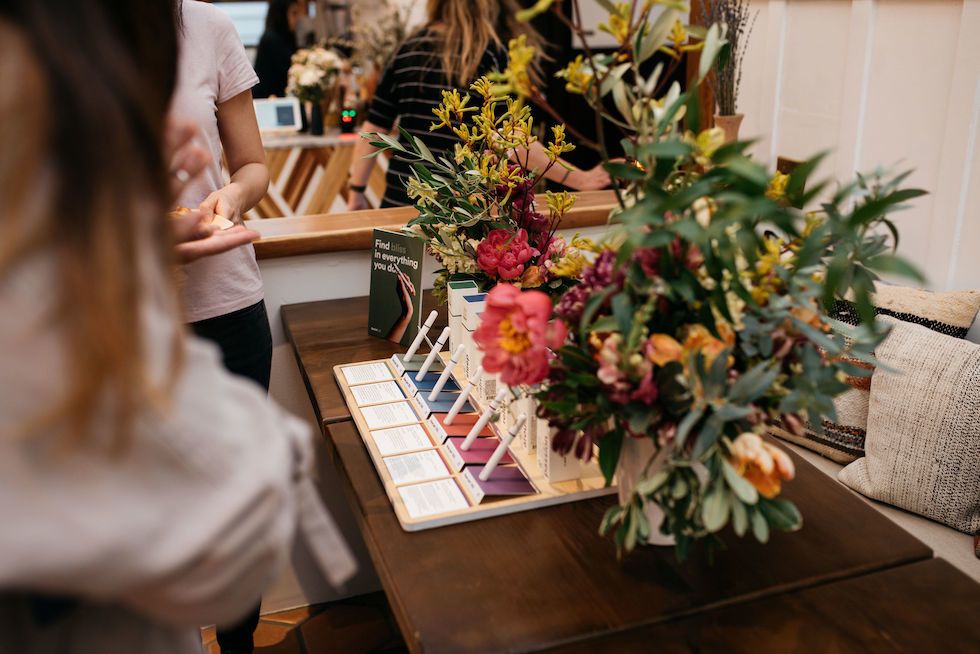 Dosist's line of six thoughtfully blended cannabis vape pens.(Caitlin Hannan, @cru.creative)
The kick-off to a yearlong partnership between wellness brand Dosist and women's clubhouse and workspace The Assembly, aimed at curating shared experiences around concepts of self-care, the Built by Bliss panel conversation was hosted by Assembly cofounder and CEO Molly Goodson and featured three fearless female entrepreneurs: Jen Gotch, founder and chief creative officer for ban.do; Helen Johannesen, owner of Helen's Wines; and Lauren Ash, founder of Black Girl in Om. There was pizza from Pizzeria Delfina and free-flowing wine, and Dosist's signature wellness concierge experience was on-hand to help those new to the brand discover its sleek 2.25 milligram dose pens (and those already acquainted, like I was, to learn about a different blend).

What separates Dosist from other cannabis products on the market is the brand's focus on wellness, using scientific research to develop specific cannabis formulations blended with terpenes to deliver targeted benefits minus the loopy high most people associate with marijuana. Dosist currently offers six different formulas with varying ratios of THC to CBD, all carefully doled out via vapor technology in a very chic white pen that buzzes after roughly three seconds to signal the recommended dose. Forget overdoing it, struggling to discern the difference between indica and sativa, or navigating a traditional (and decidedly unattractive) smoking apparatus. Dosist makes experiencing the benefits of cannabis easy, and I desperately needed a little ease that night.
Due to my penchant for working through my feelings at the gym, I've always opted for Dosist's Relief pen, a CBD-rich formula designed to deliver reprieve from pain and muscle soreness with a 2:1 THC to CBD ratio. But given my mood on this particular day, that wasn't going to cut it. So I scoped out the Bliss, a 9:1 THC to CBD blend complemented with uplifting terpenes. Hey, I'll take all the blissy uplift I can get.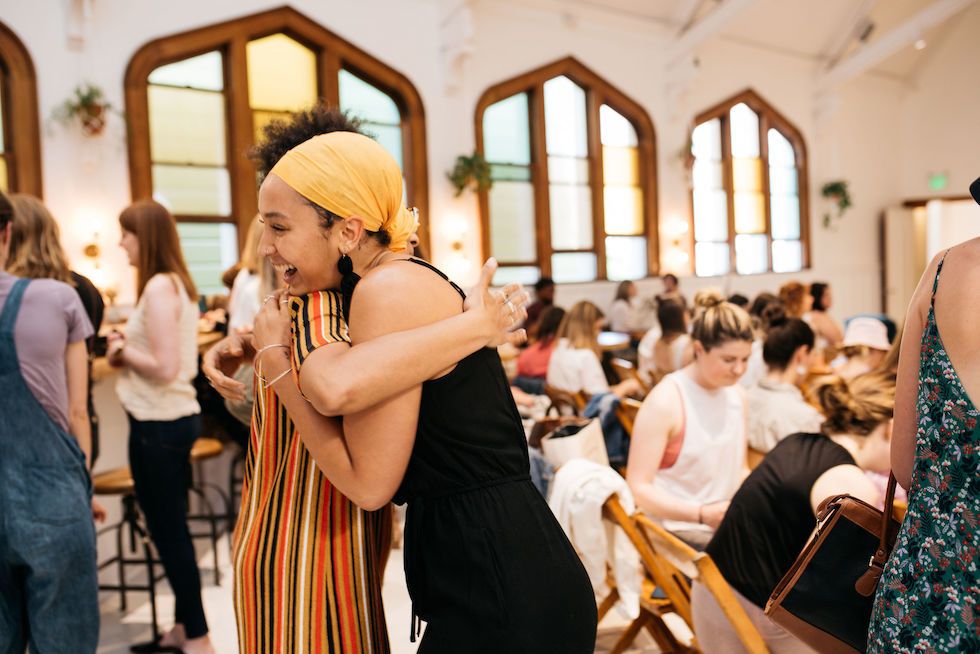 Inside The Assembly, the event was basically a love fest.(Caitlin Hannan, @cru.creative)
Relaxed but still deep in my own thoughts, I found my perch on a wooden stool and watched as the panel of women walked out to Lizzo's "Truth Hurts." "Good start. What followed was an hour-and-a-half long conversation that involved plenty of laughter, solid truths, and sound advice. I found myself furiously scribbling down quotes and nuggets of wisdom that struck a chord.

"I spent my whole year searching for my dream job to discover it didn't exist," Ash admitted, when discussing her journey to founding Black Girl in Om. I've spent 32 years doing that, I thought.
"I'm just making shit up," said Johannesen, with a laugh. Same, girl, same.
While the discussion wound from how these women started as entrepreneurs to building out teams to how they define their work currently, the combination of humor with deep truths resulted in a conversation that extended beyond just work. I nodded, I laughed, I pretended I had just yawned when a particular answer hit a little too close to home and my eyes began to well with tears.
"I have to hit below rock bottom to realize I'm driving myself into the ground," shared Gotch during a candid moment around mental health, balance, and vulnerability. I've never recognized myself more in a someone else's words.
I left the event, put on Oprah's Supersoul Conversations (thanks Lauren Ash!), and proceeded to openly weep on my drive home. It was a strange form of catharsis I wouldn't have allowed myself without the help of Dosist, The Assembly, and the three lovely women who bared a piece of themselves in front of a room full of strangers. And when the next Dosist event pops up on The Assembly's calendar? You better believe I'll be the first to sign up—box of tissues at the ready. —Kristen Haney
// For more information on Dosist, go to dosist.com.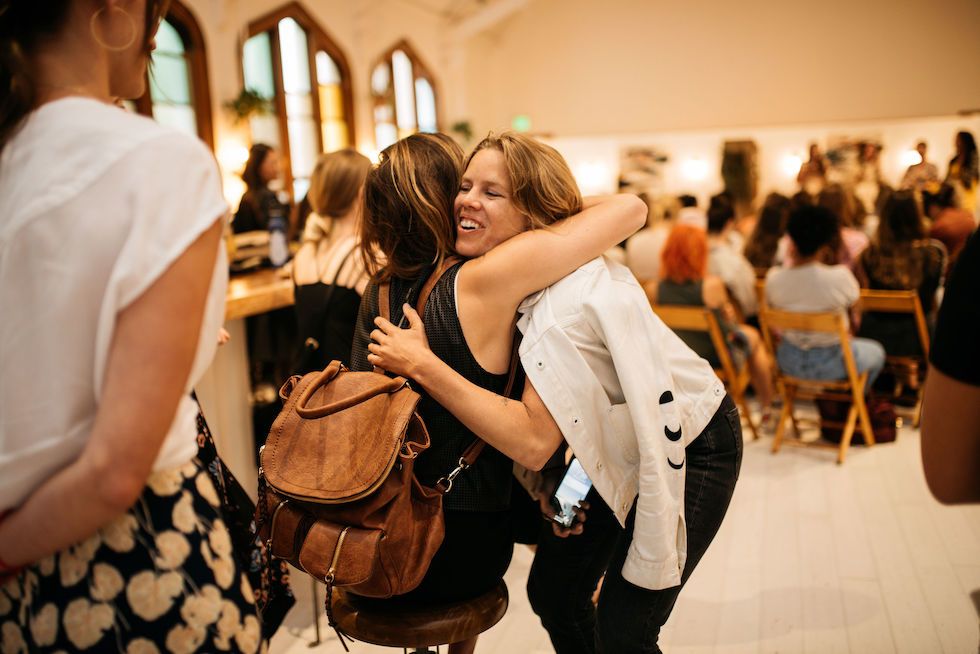 Again with the love fest.(Caitlin Hannan, @cru.creative)