Santa Fe had us at "Margarita Trail," but The City Different doesn't just run on tequila.
It brings the heat with its chile-infused Southwestern cooking, boasts one the most vibrant art scenes in the country, and remains deeply connected to its Native American roots. Not to mention it is damn photogenic.
---
Eat & Drink: The Chile Capitol of the U.S.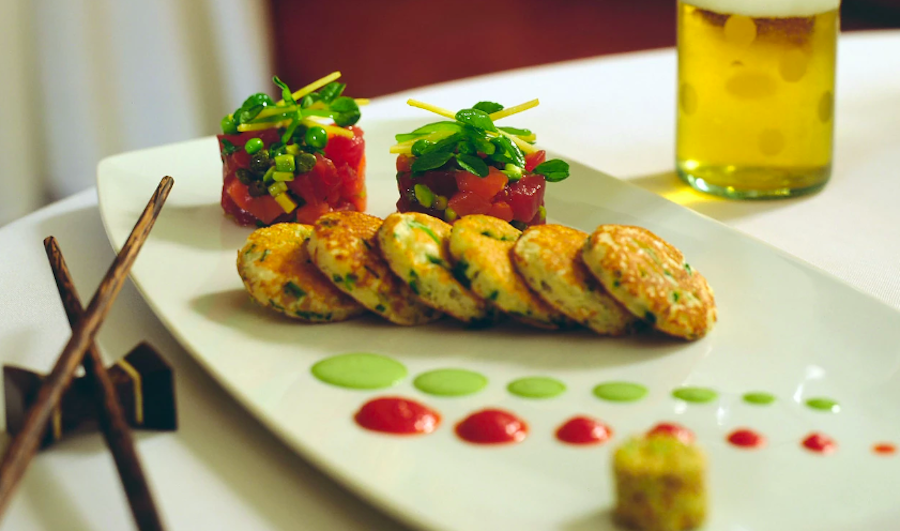 (Courtesy of Geronimo)
There are a few Santa Fe staples that you must seek out on your New Mexican visit. Look for these dishes on the local menus: corn pancakes, frito pie, green chili cheeseburgers, and your salsa served Christmas-style (red and green chiles combined).
Ask anyone where to eat in Santa Fe and they'll tell you Cafe Pasqual's (121 Don Gaspar). This small, colorful cafe covered with hand-painted Mexican tiles and murals oozes local flare. Open for breakfast, lunch, and dinner, there's often a line (they seat just 50), but it's nothing you haven't seen in the Bay Area. The green chile cheese bison burger is next-level and the corn pancakes are literally life changing. // From the outside, Geronimo (724 Canyon Rd.) is totally unassuming, but inside the cozy, yet elegant 1756 adobe home, a table at Santa Fe's most talked-about fine dining establishment awaits. The hospitality is world-class and executive chef Sllin Cruz gives classic American dishes the fiery Santa Fe treatment. Case in point: the green chili mac & cheese and Mesquite grilled Maine lobster tails. // You're guaranteed a killer and authentic New Mexican meal at family-run La Choza (905 Alarid St.). Their award-winning chili is featured in just about every dish, from enchiladas to clam chowder (don't knock it 'til you try it), and they've got 20 margarita variations to choose from. La Choza's sister restaurant, The Shed (113 ½ E. Palace Avenue), is a Santa Fe landmark that has been serving their famous red chili enchiladas since 1953. // El Parasol (1833 Cerrillos Rd.) is where the locals flock after an especially boozy night. These cheap and crispy greaseball tacos are a Santa Fe tradition—and just what the doctor ordered when tequila gets the best of you.
Speaking of tequila, Santa Fe was allegedly the first place in the world to import the spirit from Mexico, so the town has laid claim to an actual Margarita Trail. There are 31 margaritas along the trail—all made with 100 percent agave tequila—like Anasazi Restaurant & Bar's (113 Washington Ave.) Sandia y Pepino, made with watermelon and cucumber purée and served with a chili lime salt rim. Download the app ($3.99 and it comes with recipes) to get $1 off each margarita, plus win prizes when you sip a certain amount (five margs gets you a T-shirt). // If tequila isn't your friend, Second Street Brewery (1814 Second St.), the city's first brewery, makes more than 60 handcrafted beers, ranging from kolsch to pale ale to a series of bitters. That may sound overwhelming, but the expert staff members are all cicerone certified (it's like being a sommelier of beer) and can lead you to the perfect pint. Or, you can simply choose based on best name. We like the sound of Red & Yellow Armadillo.