Looking and feeling your best comes from the inside.
So take care of your whole body with our arsenal of Bay Area health and wellness resources including yoga and fitness classes, healthy meal plans, relaxing massages, energy healers, chiropractors, sound baths, and even holistic vets for your BFF. We've curated the best of it all. Go forth, and be well.
---
(From the editors: This guide was originally published in January 2017 and has been updated in 2018 to reflect the latest news and closures.)
Eat Up: Healthy Meal Delivery, Restaurants, Juice Cleanses + More in the Bay Area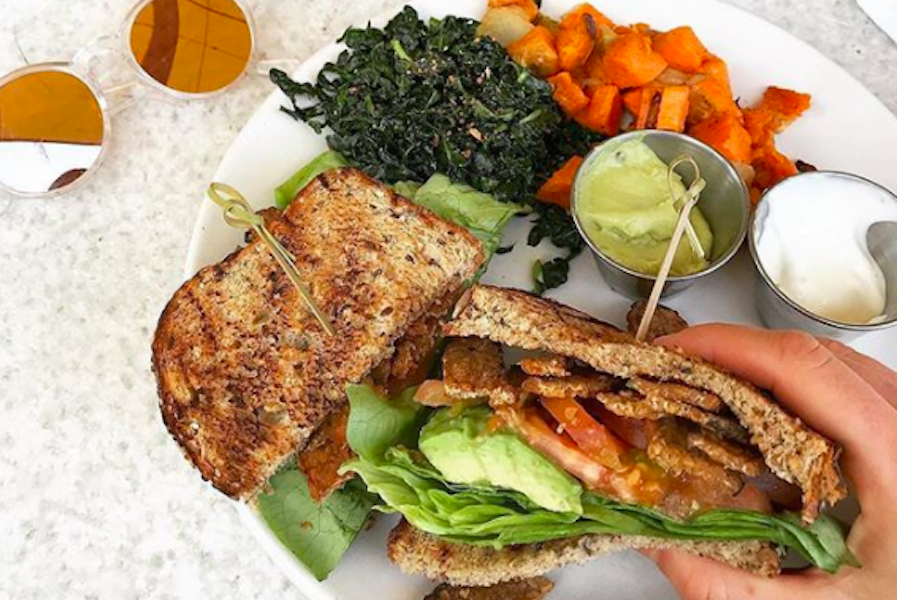 True Food Kitchen, inspired by the teachings of health guru Dr. Andrew Weil, serves up delish healthy fare such as this T.L.T. made of tempeh, lettuce, and tomato.
(Jani Gross, courtesy of @true_food_kitchen)
HEALTHY MEAL DELIVERY

Sakara Life launched its nutrition-focused meal delivery program in the Bay Area in 2016 after finding success in NYC and L.A. Big name celebs (ahem, Gwyneth Paltrow, Kate Hudson and Chrissy Teigen) are hooked on the brand's delicious plant-based and organic meals. // All the gluten- and dairy-free meals at Methodology are customized to suit your body type, personal preferences, health goals, and allergies. // Thistle also delivers GF and DF meals, as well as cold-pressed juices, to the homes and offices of busy, health-conscious foodies all around the Bay Area. // Once a week, Purple Carrot ships everything you need to prepare quick-and-easy vegetarian meals in 40 minutes or less. // Berkeley-based Three Stone Hearth's weekly menu features nutrient-rich foods with maximum digestibility such as black bean chili, cottage pie with cauliflower mash, and even maple-vanilla tapioca pudding. // Sprig delivers super-healthy meals such as grilled chicken with marinara and spaghetti squash made from organic and sustainably sourced ingredients. // Sun Basket drops off pre-measured, farm-fresh ingredients and easy recipes at your door. Choose from a variety of different dishes such as pan-seared wild salmon and pork blade chop with paleo and gluten-free options (we love their zebra eggplant bowl). // Green Tiffin takes meal delivery to another level with plant-based sustainable food, eco-friendly delivery (e-bike), and reusable double-decker "tiffins" that come in a burlap sack that keeps food cold and creates zero waste. Their menu consists of vegan eats loaded with flavor—this week's menu has spinach chia-goji salad and falafel burger; ola pakora and eggplant parmigiana; and feta frittata and pumpkin pea curry. // Those seeking vegetarian meals will be thrilled to discover Veestro. Their 100 percent plant-based, organic, non-GMO, and chef-prepared entrees and juices are available a la carte, in meal packs, and there's even a gluten-free feast and weight loss menu plan. On the menu are black bean pasta alfredro, Indian kamut stew, and red curry. // If you want to put a little legwork in, Terra's Kitchen will provide everything you need, while still allowing you to feel like a Top Chef champ. Choose from 40 mouthwatering recipes created by their culinary team each week, and receive chopped ingredients with recipe cards. The options range from simpler eats to gourmet items like pesto goat cheese vegetable flatbreads. They also have pre-portioned meal kits as well as paleo, vegetarian, and gluten-free options. // The Cupboard SF is a one-woman show. Rachael Gorjestani has been cooking up healthy meals from her kitchen to deliver to anyone and everyone wants a pre-made, homemade healthy lunch—in singles or packs of four. // Farm Hill offers veggie options, grain bowls, dishes from Dosa, smoothies, and protein power packs. // Luke's Local has meal plans and pre-packed lunch boxes made by professional chefs with sustainable ingredients. They even have a house butcher. // Model Meals offers an array of options including grain-free, Whole 30-compatible, local, and organic meals delivered two days a week.
RESTAURANTS WITH VEGAN + GLUTEN-FREE FOCUS
Locally sourced and globally inspired, the menu at Millenium (5912 College Ave, Oakland) is constantly evolving. // Souley Vegan (301 Broadway, Oakland) is full of traditional Southern flavors; chow down on seitan steaks, sweet potato waffles, battered kale, and fried okra. // Shizen (370 14th St, Mission) prepares authentic Japanese dishes free of seafood, meat, dairy, or any other animal byproduct. Try their kale and beet salads, smoked bean curd and grilled mushroom skewers, and intricate sushi rolls made with spicy tofuna (that's faux tuna), avocado, and chili tobiko. // San Francisco's newest healthy addition, Little Gem (400 Grove St, Hayes Valley), comes from chef Dave Cruz (formerly of Ad Hoc) and offers a menu that's gluten-, dairy- and refined sugar-free. Little Gem wins for its morning salads that promise a green start to the day. // Serving up flavor-forward cuisine that caters to vegans, vegetarians and those with gluten sensitivity, menu items at True Food Kitchen (180 El Camino Real, Palo Alto and 120 Broadway Lane, Walnut Creek) are based on the anti-inflammatory diet principles of wellness superstar and father of integrative medicine Dr. Andrew Weil. // For dessert, Pepples Donut Farm (6037 San Pablo Ave, Oakland), a strictly vegan donut maker, will put any sweet tooth at ease with their grand selection of fried, filled, and glazed decadence or grab a sweet vegan treat and a individual pot of tea at the ever-popular Timeless Coffee Roasters and Bakery (4252 Piedmont Ave, Oakland) in Oakland. // The Butcher's Son has an ever changing menu with a variety of house-made "meats" and "cheeses" that will make you rethink what it means to be vegan. Their plant-based takes on deli classics and delectable pastries include meatball grinders, fried chicken, pulled pork and bacon patty melts. // Head over to Gracias Madre for vegan Taco Tuesdays and gorge on fried cauliflower with cashew-based queso in a warm tortilla. // Eat at Oakland's Shangri-La (4001 Linden St. and 4905 Telegraph Ave.), you only have two options: moderate or full and you'll get a hearty soup, endless kukicha tea, and a heaping plate of deliciously cooked greens, legumes, and veggies. // At Ananda Fuara (1298 Market St, Civic Center), spiritual guru Sri Chinmoy creates vegetarian and vegan eats like mushroom ravioli, curries, and mushroom burgers. // Prefer to cook it yourself? Gluten Free Forever, a quarterly magazine based in San Francisco, collects recipes from top chefs, tutorials for mastering gluten-free cooking, and a whole lot of stunning photography. GFF's founder/editor, Erika Lenkert, also curated 7x7's Big GF: 50 Downright Delicious Gluten-Free Eats in SF.
ULTIMATE JUICE CLEANSES
If a lifestyle reset is what you're looking for, Urban Remedy's Metta-morphosis will address body, mind, and spirit with its combination of green juices and real foods (there is chewing!), plus wellness shots, tinctures, coffee, and tea. // Adorably presented, Can Can Cleanse's mason jar-packed cleanse options range from all juice, mostly green, to mostly juice with some nut milk and a light dinner salad. // The Classic Reset is Project Juice's liquid-only cleanse that helps get rid of pesky cravings and fire up your newfound clean-eating habits. Six bottles include a D-Tox blend of chlorophyll, mint, green apple, and young coconut water, as well as the signature indulgence, Cashew Mylk. // If you're an experienced cleanser looking to up your juice-fast game, Juice Shop's Pro Cleanse offers an all-green organic vegetable juice cleanse with no fruit added. // Pressed Juicery has three different cleanse options: for first time cleansers and athletes (rich in protein and complex carbohydrates); those who want a balanced cleanse and juices with high efficacy; and their most intense, lowest calorie option for experienced cleansers. // Regenerate without feeling overly fatigued or starved with Happy Moose Juice. Try their full or mini cleanses packed with antioxidants, vitamins, and living enzymes to restore balance.
HEALING BONE BROTH
Your favorite Bay Area-based sustainable butcher-restaurant Belcampo Meat Co. (1998 Polk St, Nob Hill) has two bone broth options—organic beef and pork bones, or organic chicken and turkey carcasses and vegetables—simmered for a minimum of 20 hours to extract all the beneficial collagens from the bones. Enjoy a cup over brunch, or get a 28oz. container for $16. // Proposition Chicken's (1750 Market St, Mid-Market) broth really pushes the health agenda: Their $5 cup of chicken bone broth is simmered with another miracle elixir, apple cider vinegar, for 24 hours. // With a slew of healthy, organic fare, it's no surprise that As Quoted (3613 Sacramento St, Presidio Heights) also has their very own bone broth, made with pasture-raised chicken, chives, and Jacobsen sea salt. // Cooked in small, slow batches, and seasoned with organic veggies, seaweed and sea salt, Broth Baby delivers delicious doses of protein and minerals to your door. // Cafe Umami (2224 MacArthur Blvd, Oakland) offers Broth Baby's brew with a little something extra: Their broth bowl has brown rice, mushrooms, blanched spinach, burdock pickle, sauerkraut, and a dash of nori-gomasio. Don't miss the broffee, that's right—bone broth-infused coffee. // Mission Heirloom's (2085 Vine St, Berkeley) house-seasoned bone broth is made with the most highly gelatinous bones they can find; and they blend all the collagen and soft cartilage from the bones back into the broth so it's as nutrient-rich as possible (imagine the glowing skin and hair you'll have). Pop in for a cup of sipping bone broth in their outdoor garden (add a sous vide egg for some extra oomph), or grab a jar to take home.
COFFEE ALTERNATIVES

Tea is the new coffee at Samovar Tea Lounge (411 Valencia St, Mission), where latte lovers can grab a wonderfully nuanced chai, which simmers all day in handmade copper urns; a shot of creamy, grassy matcha; or a turmeric latte with a fresh crack of black pepper on top. // Asha Tea House's (2086 University Ave, Berkeley) Pineapple Oolong, a sweet delicate tea paired with fresh seasonal fruit puree, is perfect for days when it's too hot for coffee. // Meanwhile, Boba Guys (8 Octavia St #308, Hayes Valley) focuses on ethically sourced and local ingredients for the highest-quality boba tea in town. Ask for yours with almond milk and honey instead of sugar. // For a tea education, cozy up to the bar at Chinatown's Vital Tea Leaf (509 Grant Ave, Chinatown), where the Blue People Oolong offers a solid coffee alternative with an added kick of sweet ginseng. // Not feeling tea? An Espresso Date Shake at Nourish Cafe (189 6th Ave, Richmond)—made with banana, dark roast coffee, cacao, dates, almond milk, and a pinch of sea salt—will get you through the day. // Head over to the Tea House of the Sacred Heart at the Center SF for a zenned-out Esalen-like experience. You can also do some yoga and learn about cannabis consciousness and biomimicry.
LOCAL HONEY
Marshall's Farm (159 Lombard Rd, American Canyon) harvests small quantities of gourmet honey from seasonal blooms (eucalyptus, star thistle, wildflower, and blackberry) in the microclimates of the San Francisco Bay Area. Pick up a jar at Whole Foods or Bi-Rite. // Steve Gentry of Steve's Bees specializes in raising local honeybee survivor stock (bees that can thrive in the local ecology). Find him selling honey, beeswax and propolis, candles, soap, lip balm, and hand salve at farmers markets in Orinda, San Ramon, Danville and Walnut Creek. // Bay Area Bee Company manages each of its hives without the use of pesticides, antibiotics or other chemicals, using hand-raised queens for optimal hive strength. Get it at Rainbow Grocery, Berkeley Natural, and Good Earth.
Keep clicking for the best massages, acupuncture, and energy healing.