San Franciscans understand what Shel Silverstein meant when he wrote, "somebody has to go polish the stars."
In the past, the Tenderloin alleyways have looked a little too much like forgotten dreams and despair. It's no doubt that the neighborhood has carried the most questionable reputation in SF, but the gentrification in recent years has given the Tenderloin some much-needed hope and polish. There is an undeniable charm in the grit and potential for luxury in the griminess. It can be beautiful when what's unapologetically old is juxtaposed against what is obviously modern, and the Tenderloin illustrates that.
---
The Best Eats in the Tenderloin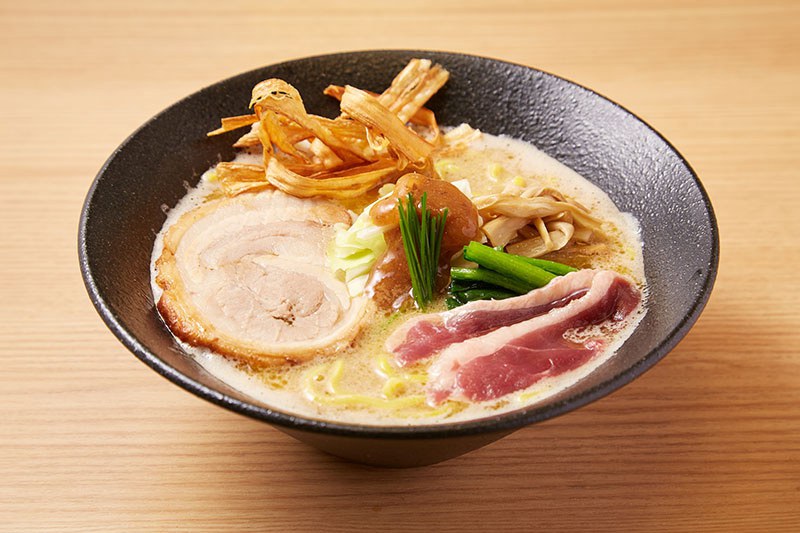 Tori Paitan from Mensho Tokyo.
Brenda's French Soul Food (652 Polk St.) has a line out the door of regulars who have a hankering for the genuine NOLA beignets and shrimp-and-grits.
Rusty's Southern (750 Ellis St.) brings more southern comfort—Georgia fried chicken, Texas barbecue and Louisiana catfish. The crispy fried chicken and brunswick stew are best paired with a sweet tea, but try a beer from their decently large selection if that's what you are feeling!
Elephant Sushi (380 Golden Gate Ave and 705 Geary St.) is a must-try fusion sushi spot. The sushi chefs pride themselves on creatively mixing together unlikely flavors to create unique, "fancy" plates. The narrow, intimate eatery is known for its extremely fresh trout which is raved to need no soy sauce or extra flavor.
Join the crowd at Mensho Tokyo (672 Geary St.) for a taste of Tokyo's modern ramen scene. Patient foodies and lovers of all things authentic will revel in the Spicy Tori Paitan, which is one of their richest dishes. The line moves quickly so don't fret!
Check out Chambers (601 Eddy St.) at the Phoenix Hotel for small plates like their "drunken nachos" or ahi tuna as well as a satisfying selection of sandwiches, wraps and burgers. The marquis signage, "Be amazing," is guaranteed to spark your interest in bottomless mimosas on Saturdays.
Kin Khao (55 Cyril Magnin St.) in the Parc 55 hotel recently received a Michelin star for its zestful menu including favorites like their house made curries. Try the rabbit green curry with apple eggplants.
Farmerbrown (25 Mason St.) is notable for its all-you-can-eat live jazz brunch (try the andouille sausage and fried egg sandwich) and moody rustic decor featuring table candles and a sign resembling that from a shabby chic barn.
Redford (673 Geary St.) takes traditional American pleasures such whiskey and comfort food and heightens them with an upscale twist. Redford's dim and fly ambiance is magnetic.
You cannot miss The Chairman's (670 Larkin St.) black, white and red panda logo. This innovative spot is famous for its bao buns, light fluffy slider-sized buns served with a variety of meats including pork belly, spicy chicken and tofu. They also have rice bowls for those who are not feeling finger food!
Tratto (501 Geary St.) is a refined Italian trattoria whose house made gnocchi and butternut squash ravioli are legendary. The atmosphere equipped with film noir displays, custom art and tile floors, looks like a traditional Tuscan trattoria. Chronic brunchers will love the $14 bottomless mimosas on the weekends.
Click through for trendy watering holes, hot hotels and hangouts.