San Franciscans understand what Shel Silverstein meant when he wrote, "somebody has to go polish the stars."
In the past, the Tenderloin alleyways have looked a little too much like forgotten dreams and despair. It's no doubt that the neighborhood has carried the most questionable reputation in SF, but the gentrification in recent years has given the Tenderloin some much-needed hope and polish. There is an undeniable charm in the grit and potential for luxury in the griminess. It can be beautiful when what's unapologetically old is juxtaposed against what is obviously modern, and the Tenderloin illustrates that.
---
Hang After Hours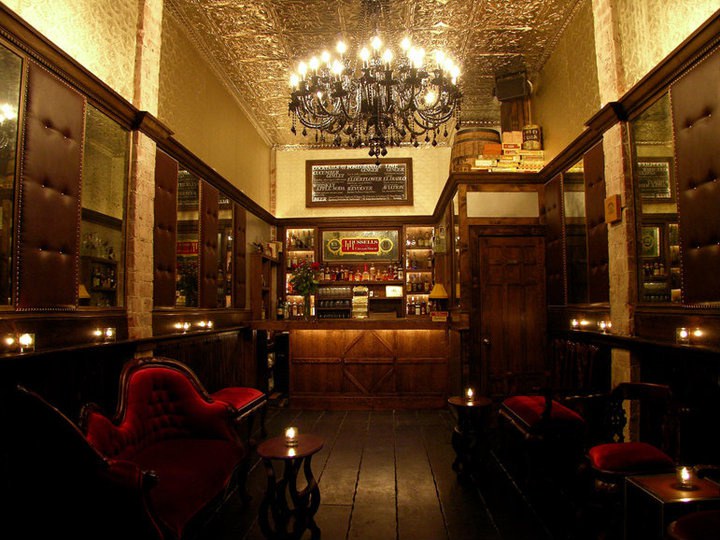 You'll need a password to get into Bourbon & Branch.
Black Cat (400 Eddy St.) is craft-beer-in-narrow-glasses by day and an underground vibey jazz club by night. Head here in your swanky oxfords for a horn-, sax- and charcuterie-fueled night in a dark, sleek atmosphere.
800 Larkin (800 Larkin St.) was once a sports bar famous for hosting a parade of the TL's most debaucherous locals. A local favorite, this now bougied-up space with a mural of a typical bar scene and dim red lights above boudoir photographs, is one where you'll want to kick back on the couch and watch sports on the big screen or play a game of pool. Be sure to order a Tic Tac shot, their popular red-bull, OJ, and clementine Svedka bomb, and enjoy the almost-nightly DJ presence, bringing in an array of old and new school jams.
Nite Cap (699 O'Farrell St.), a fashionable yet straightforward bar filled with friendly regulars and a lengthy happy hour including shot and beer specials such as the $9 bartender's choice. Head one block down O'Farrell in either direction for a post-Nite Cap burrito at El Tesoro or Los Colores.
Bourbon & Branch (501 Jones St.) channels a speakeasy from the Prohibition era. This popular spot has a multitude of secret rooms and a list of house rules that ask visitors to put their phones away, refrain from ordering cliche cocktails and avoid taking photographs.
When the allure of the mysterious is strong and you've got a feel for one speakeasy, why not find another one within it? There's no playin' around in Wilson & Wilson (501 Jones St.), a hideout inside of Bourbon & Branch that resembles a detectives lair. This space is prefered for private parties and reservations and yes, there is a password to enter.
Swig (561 Geary St.) is a happy hour haven to corporate types on the weekdays and really gets popping just before midnight on the weekends when the roaring live music ranging from jazz to "top 40" draws crowds from off the street towards the magnetic dance floor (the free cover doesn't hurt either).
While Jones (620 Jones St.) doesn't technically consider the Tenderloin home, this indoor-outdoor spot is the crème de la crème of trendy nighttime spaces. Taking the traditional and making it modern, Jones' entrance is a tall black carved door with an overhead camera. The young professional crowd presents endless networking opportunities! Jones serves drinks and bar bites but takes cash only!
Get crafty (in terms of beer and cider, that is) surrounded by oaky decor at Beer Basement (222 Hyde St.). This casual lounge is open every evening and features a large rotating draft selection from such local small-batch breweries as Mission Trail and AleSmith. They often have stand up comedy on Fridays.
On the outside, Whitechapel (600 Polk St.) looks like a historical London train station. Once you enter, you're immersed in Victorian decor and privy to the largest gin selection in North America. Try their famous "Stolen Valor" cocktail make of Tanqueray, mezcal, hayman's sloe gin, cynar 70, vanilla orange bitters and absinthe.
Click through for stunning hotels and cultural activities.