For more than a decade, 7x7's annual Hot 20 has honored the Bay Area's best and brightest people in every field—arts and letters, gastronomy, technology, politics, science, philanthropy, sports, health...it goes on.
Our 2017 feature benefits from a bit of refresh thanks to our co-curator Gina Pell, the content chief at TheWhat whose recently coined term Perennials has been making a global splash. This year's Perennials edition promises you'll meet intriguing new people, and celebrates innovators of literally all ages. Get to know an extraordinary 15-year-old artist-activist, and get reacquainted with a legendary chef who, at 74 years young, just opened his second restaurant. But first, find out what it means to be a Perennial. Take it away, Gina.
---
--
In October 2016, I published an article, "Meet The Perennials", introducing a term I had coined to describe a mindset of ever-blooming, curious people of all ages who have an insatiable thirst for learning, defy stereotype, constantly push up against their growing edge, and never let their age limit their behavior, interests, or social groups. Perennials don't define themselves by their year of birth, they focus on what interests and excites them. We live in a time that allows us to transcend linear thinking in the same way hyperlinks broke us out of a prescribed narrative with a beginning, middle, and end. We're capable of more than simply following the social script from birth to death, punctuated by milestones of school, work, marriage, children, and retirement. Millennials, Generation X, Baby Boomers: These classifications are a failed way to categorize people. Perennials march to the beat of their own drum and find connections between themselves and the world around them, based on interest not age.

When Chloe Hennen, 7x7s editor-in-chief, asked me to help curate the Hot 20: Perennials Edition, I thought of Bay Area people who exemplified this spirit of creativity, independence, compassion, intelligence, and innovation. The result is a list of people of all ages—some you may already know, others who may be under the radar—who will pique your curiosity no matter how old you are. —Gina Pell


The Lens Crafter: Tabitha Soren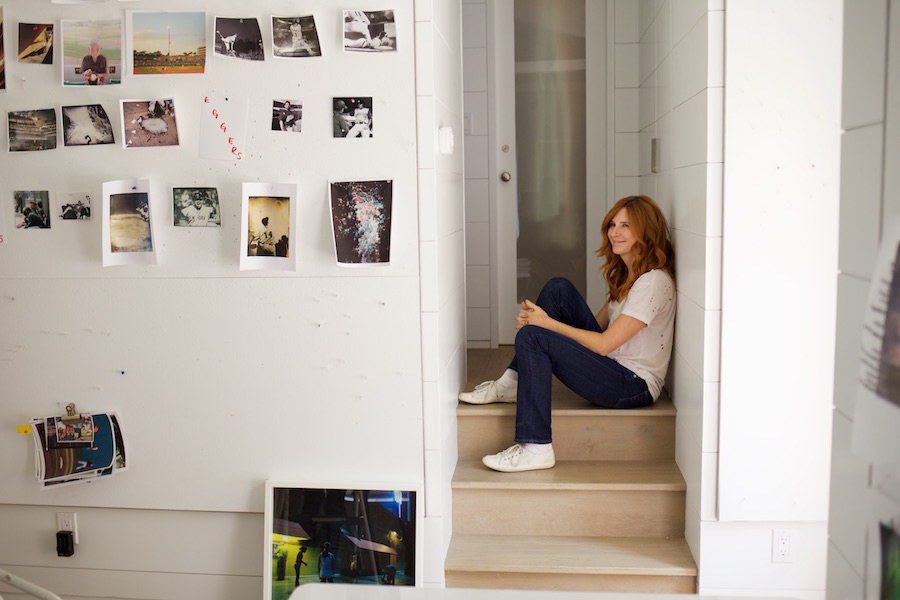 (Photo courtesy of Lou Noble)
But don't put Baby in a corner. Soren long ago established herself as a masterful fine art photographer, a second career that, in some ways, isn't so different from her first: The Berkeley-based pop culture icon still aims to expose the nuances of her subjects, be they ocean waves or minor league baseball players (she published a book on the latter in 2002), by seeking out their imperfections.
Her recent monograph, Fantasy Life, published by Aperture with a short story by Dave Eggers, delves more deeply into America's favorite pastime; a show of the same title, on view at San Francisco City Hall through February 2018, features nearly 200 photographs of the San Francisco Giants.
Her work also resides in the collections of Oakland Museum of California (OMCA), Los Angeles County Museum of Art (LACMA), and other prestigious acronyms. Look for her upcoming series As Far As You Know, a three-dimensional take on photography that promises yet another delightful departure. // tabithasoren.com
What are you curious about?
"I'm curious about how everyone navigates the difficult twists and turns of everyday living. The act of photographing is a response to how I attempt to consciously manage the uncontrollable possibilities that exist in life. When I'm shooting, I'm not just accepting of imperfection—I'm looking for it. Everything that moves or captivates me can be found in the place where things go wrong or fall short. I just spent 15 years photographing 21 baseball players who were drafted by the MLB. Five out of the 21 made it to the majors. That means 19 of them fell short."
What challenges you?
"I think how people are feeling really took over the election. Feelings decided who people voted for. It wasn't about which candidate had better policies. My art is isn't protest art, but it is about feeling and analyzing and visualizing psychological states. I'd like to create solidarity with the work—not make statements about right or wrong behavior. We are all just trying to stay afloat and our negative emotions—anxiety, dread, fear, doubt, depression, anger, loneliness—are not individual experiences…even if we're not in the same political party."
What inspires you?
"Other female artists inspire me. Way back in 1985, the Guggenheim had zero solo shows by women artists. The Metropolitan Museum of Art had zero. The Whitney? Also zero. SFMOMA? Also zero. The Museum of Modern Art (in New York) had two. In 2015, the Guggenheim had one solo show by a woman artist. The Metropolitan Museum of Art had one. In 2015, 30 long years later, the Whitney also had one. The Museum of Modern Art (in New York) had two. SFMOMA didn't have any that year, either. They did give solo shows to Julia Margaret Cameron, Eve Hesse, Lee Miller, Diane Arbus (twice), Francesca Woodman, Cindy Sherman and Frida Kahlo, but over the period of 19 years. You get the idea. So, yes, I take a huge amount of inspiration from female artists who solider on despite being creative, often juggling children and working in an art world that on balance, doesn't give them the recognition they deserve. And yes, I can't believe we're still talking about this either."