For more than a decade, 7x7's annual Hot 20 has honored the Bay Area's best and brightest people in every field—arts and letters, gastronomy, technology, politics, science, philanthropy, sports, health...it goes on.
Our 2017 feature benefits from a bit of refresh thanks to our co-curator Gina Pell, the content chief at TheWhat whose recently coined term Perennials has been making a global splash. This year's Perennials edition promises you'll meet intriguing new people, and celebrates innovators of literally all ages. Get to know an extraordinary 15-year-old artist-activist, and get reacquainted with a legendary chef who, at 74 years young, just opened his second restaurant. But first, find out what it means to be a Perennial. Take it away, Gina.
---
--
In October 2016, I published an article, "Meet The Perennials", introducing a term I had coined to describe a mindset of ever-blooming, curious people of all ages who have an insatiable thirst for learning, defy stereotype, constantly push up against their growing edge, and never let their age limit their behavior, interests, or social groups. Perennials don't define themselves by their year of birth, they focus on what interests and excites them. We live in a time that allows us to transcend linear thinking in the same way hyperlinks broke us out of a prescribed narrative with a beginning, middle, and end. We're capable of more than simply following the social script from birth to death, punctuated by milestones of school, work, marriage, children, and retirement. Millennials, Generation X, Baby Boomers: These classifications are a failed way to categorize people. Perennials march to the beat of their own drum and find connections between themselves and the world around them, based on interest not age.

When Chloe Hennen, 7x7s editor-in-chief, asked me to help curate the Hot 20: Perennials Edition, I thought of Bay Area people who exemplified this spirit of creativity, independence, compassion, intelligence, and innovation. The result is a list of people of all ages—some you may already know, others who may be under the radar—who will pique your curiosity no matter how old you are. —Gina Pell


The Prodigy: Kyle Trefny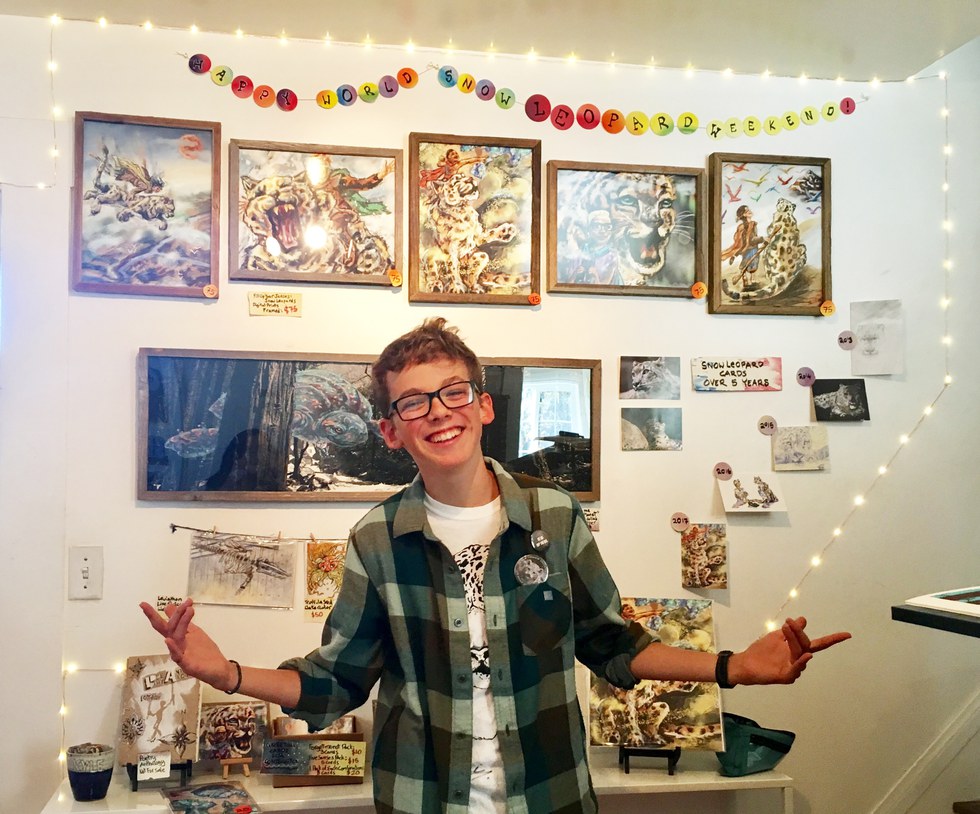 (Courtesy of Sasha Cravis)
We believe this child is the future.
At first glance, 15-year-old Kyle Trefny is a skinny, bespectacled teen. Enrolled at Ruth Asawa SOTA, he's the sustainability director for his school's student government, a cofounder of SOTA's environmental club, and has a special knack for painting that he has shared with ArtSpan Open Studios-goers for the past two years. An above-average teen, you might say. But then you would watch a YouTube interview with Trefny or, even better, have a conversation with him, and it would begin to sink in: The kid is extraordinary.
His earnest love of nature and wildlife has motivated Trefny to become a voice for Planet Earth, and at a ripe young age, he discovered the key that many adults struggle to find—that is, how to do what you love and also save the world. In paintings that often depict dreamlike adventures of children and animals, especially his beloved snow leopard, Trefny channels his talents as an artist to raise awareness and funding for animal conservation efforts, donating 100 percent of his sales ($5,000 so far) to related causes. // etsy.com/shop/PawArtWorks
What are you curious about?
"I'm curious if my grandchildren will ever see a living snow leopard. A rhino. A mission blue butterfly. I'm curious if the skies will still be clear enough to show my grandchildren the constellations. Will they play in nature like I did? As they grow up, will there be any nature left? Or will I be reading my grandkids Dr. Suess' The Lorax and have to admit to them that the last Truffula Tree was already chopped. Maybe our digital age and the years young people spend on screens will erase memories of what's outside. That's not the world I want to live in, and not the world any future generation deserves to inherit. As I'm growing up in San Francisco, I've been fortunate to have parenting and education that highlighted time outdoors among sand, trees and trails. I've gotten to have my breath taken by brown bears at the zoo and fireflies in the woods. Those early experiences heavily influence my inspiration today. My concerns fuel my motivation. I use that inspiration and motivation to make artwork that captures childhood, bridging reality and dreams. Our system needs us to remember childhood, when we asked "how?" and "why?" Those questions are essential to progress and change. In my artwork, I portray endangered species and children together. I paint young people to represent the future. I hope to inspire people with my work. For those who might see my pieces, or who received one of the greeting cards I make, I hope my artwork is a calling. A summoning to get outside into nature, open the mind and invite in connections to the wilderness, to childhood and to change. I hope I can feed an ambition to search for and to plant those final Truffula seeds and grow a forest for nature and for all the grandchildren to come."
Who are your heroes?
"My heroes are local, inside my home, at my school, my neighborhood and the Bay area. My mom is a special ed teacher and my dad is in public radio; both inspire me to want to do something good for the world. My happy and fun side comes from my twin sister Erin. I gain confidence and courage from my grandmothers, the strongest women I know. Up the block, artists Eric and Annie of 3 Fish Studios are like a second family to me, so generous and empowering, playing a special role in my journey and helping me and my cause. At my high school, Ruth Asawa SOTA, my close friend Grace leads the Environmental Club with me and constantly inspires me with her passion. I will always look up to my Student Government teacher Aliya for determination and creativity. North in Sonoma, Rodney and Darla of the Snow Leopard Conservancy motivate me with their lifelong devotion to a cause and a purpose. All these wonderful human beings make the places and people they touch better, and I'm so grateful for them. Cheers to the ones spreading happiness through San Francisco, and on Earth!"
What's your advice to those who want to change the world?
"My advice to people who want to change the world is to believe that it's never too soon or too late to begin. If you don't know where to start, take a deep breath. Go outside. Read new books. Read new books outside! Keep your eyes open and you'll find like-minded ideas and people who want to make positive change, for we're always stronger together. It wasn't easy for me to start a PawArtWorks site on Etsy, make greeting cards for snow leopards, or begin environmental clubs at my schools. But I love it, so I stuck to it, and with the help of those around me, those passions are stoking change. Find a cause or a mission you love, commit to it, and you'll never tire. There's two sayings I'd like to share for those who want to change the world. The first is classic yet relevant, and has been spoken many times by many people. It reads, 'If not us, who? If not now, when?' It relates to a Hopi Elder saying: 'We are the ones we have been waiting for.' Change, it's up to us. Lace up your shoes, forget expectations or rules, and for the sake of the past, the present and the future, let's be difference-makers and begin."