For more than a decade, 7x7's annual Hot 20 has honored the Bay Area's best and brightest people in every field—arts and letters, gastronomy, technology, politics, science, philanthropy, sports, health...it goes on.
Our 2017 feature benefits from a bit of refresh thanks to our co-curator Gina Pell, the content chief at TheWhat whose recently coined term Perennials has been making a global splash. This year's Perennials edition promises you'll meet intriguing new people, and celebrates innovators of literally all ages. Get to know an extraordinary 15-year-old artist-activist, and get reacquainted with a legendary chef who, at 74 years young, just opened his second restaurant. But first, find out what it means to be a Perennial. Take it away, Gina.
---
--
In October 2016, I published an article, "Meet The Perennials", introducing a term I had coined to describe a mindset of ever-blooming, curious people of all ages who have an insatiable thirst for learning, defy stereotype, constantly push up against their growing edge, and never let their age limit their behavior, interests, or social groups. Perennials don't define themselves by their year of birth, they focus on what interests and excites them. We live in a time that allows us to transcend linear thinking in the same way hyperlinks broke us out of a prescribed narrative with a beginning, middle, and end. We're capable of more than simply following the social script from birth to death, punctuated by milestones of school, work, marriage, children, and retirement. Millennials, Generation X, Baby Boomers: These classifications are a failed way to categorize people. Perennials march to the beat of their own drum and find connections between themselves and the world around them, based on interest not age.

When Chloe Hennen, 7x7s editor-in-chief, asked me to help curate the Hot 20: Perennials Edition, I thought of Bay Area people who exemplified this spirit of creativity, independence, compassion, intelligence, and innovation. The result is a list of people of all ages—some you may already know, others who may be under the radar—who will pique your curiosity no matter how old you are. —Gina Pell


The Cultivators: Katina and Kyle Connaughton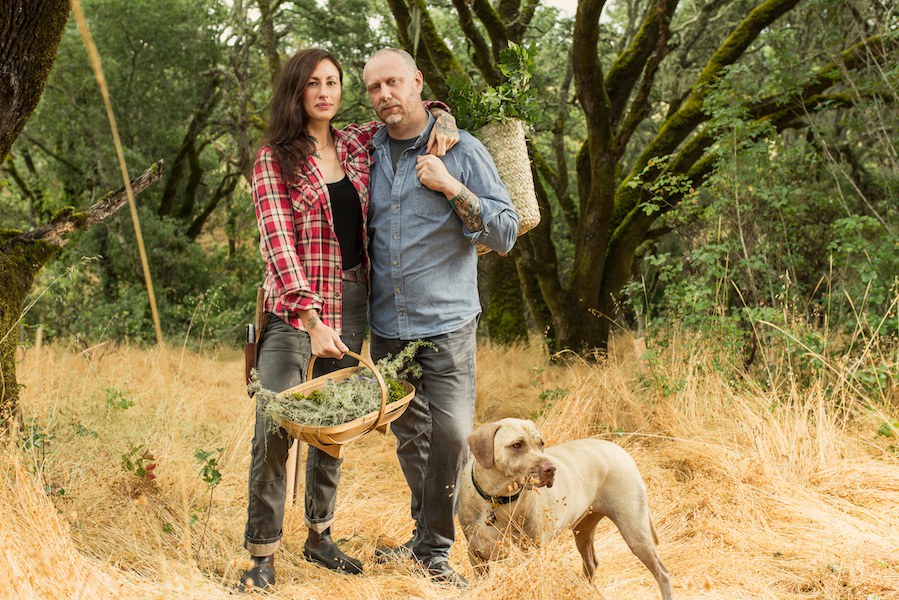 (Roman Cho)
There are themes that Northern California gourmands know all too well—seasonal, farm-to-table, precious multi-hundred-dollar tasting menus abound here in the most golden part of the state—so when a new fine restaurant/farm/inn opened in Wine Country touting all the usual, it should have been easy for most of us to simply shrug our shoulders and make a mental note to eat there, someday, maybe.
But "writing off SingleThread would be a mistake" as The New York Times said this summer; and of course, that's not what happened anyway. Katina and Kyle Connaughton's high-minded undertaking turns out to be uniquely lovely—not just the biggest thing to happen in Healdsburg lately, but actually the most important restaurant to open in any NorCal zip code in the past year, bar none—Vogue called it the most anticipated new restaurant in America (emphasis ours). Still in it's first year, the restaurant has already earned two shiny Michelin stars.
Each of SingleThread's many components are mesmerizingly complex: Under Katina's care, the five-acre sustainable Russian River Valley farm raises everything from cattle to heritage Japanese produce; the dining room—outfitted with creamy banquettes, walnut-and-brushed-metal tables, modern lanterns and minimalist flowering branches—is both perfectly inviting and worthy of the $293 meal ticket; the exquisite 11 courses of impossibly fresh Japanese-inflected Wine Country fare from Kyle's fully exposed kitchen is served in handcrafted donabe pottery; and a handful of modern, meditative guest rooms secure the promise of a completely lavish night out. But there is just one common thread that brings all this together: the Connaughtons' devotion to omotenashi (the next-level Japanese concept of selfless hospitality), and to each other, is apparent in every bite and moment. // singlethreadfarms.com
What are you curious about?
Kyle: "I'm always curious about the underlying science of cooking and better understanding it to cook better food, but my primary curiosities now revolve more around things that we can do or not do to affect the experience of the guest and make it more enjoyable. How do things such as light, sound, floral, interactions with our team all impact their enjoyment?"
Katina: "I'm curious about everything, however nature is always at the height of it. I'm intrigued with melding ancient and contemporary farming techniques and applying them to see how they differ from crop to crop throughout the seasons. I'm curious about growing rare Japanese varietals here in our California climate. I'm curious about the form and function of natural materials and how to best translate their beauty from the natural world into our dining room and guest rooms."
Describe the moment you found your calling.
Kyle: "Oh wow, that is easy and vivid! After a trip to Japan, my Dad took me for sushi when I was nine years old. I sat in front of the chef and watched everything he did and loved everything he made. We tried piece after piece. That was it. I told my Dad right then that, whatever it was he was doing, that was what I wanted to do. Thirty-two years later, I still feel the exact same way."
Katina: "I don't think for me there was one specific moment where I felt I had found my calling. My calling surfaced slowly in waves throughout the years of traveling, aging, and discovery."
Who are your heroes?
Kyle: "So many. A great mentor, Kyoto Kaiseki. Chef Yoshihiro Murata. My other two chefs and mentors Michel Bras and Heston Blumenthal. There are too many...this article couldn't be long enough to fit them all in."
Katina: "My heroes are those around me who live and work with integrity, follow their heart, and continue to strive to make a difference in the world. I'm so fortunate to have built my life around my heroes."
The greatest joy in life is _____.
Kyle: "Working side by side with my wife and our daughters. Watching my wife's hard work translate as vegetables that come into our kitchen and floral in our restaurant. Anything that is delivered from my wife's farm to our kitchen fills me with the same happiness."
Katina: "I'm going to have to echo Kyle's sentiment here. Nothing brings me more joy than to share my days and nights with Kyle and our girls. Kyle's creativity and innate sensibilities inspire me to no end."
Your last meal would be...
Kyle: "A meal with my wife and daughters gathered around a simmering donabe hot pot."
Katina: "If Kyle's preparing it and our daughters are present, I'd die a happy woman."