Filled with beautiful, pastel-colored homes and overflowing with runners, bikers, picnickers, and promenaders, the Marina is a great neighborhood to have a fun night out, window shop, have a leisurely Sunday brunch, or just enjoy a spectacular view of the Golden Gate Bridge. 
---
EAT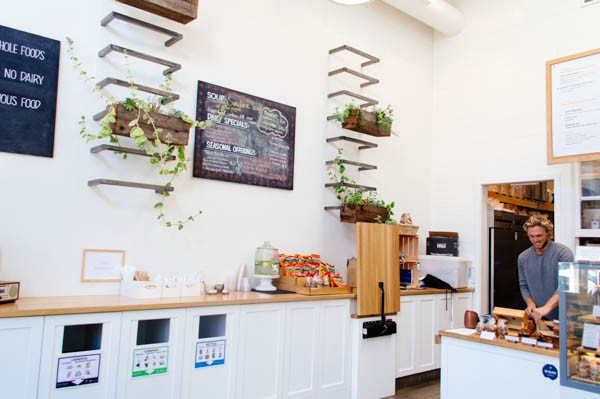 Seed and Salt will take care of all your dietary restrictions (everything is gluten- and dairy-free as well as vegetarian), while filling you with nourishing and delicious soups, salads, wraps, and pastries. Plus, the gorgeous white interior with wooden details is the perfect spot to escape the bustle of the street and indulge in an eggplant BLT. // 2240 Chestnut St, seedandsalt.com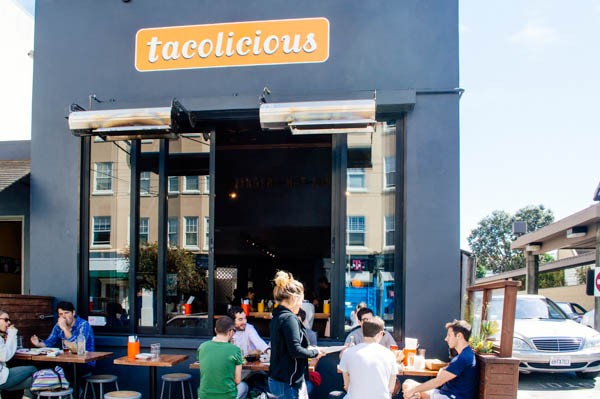 This taco joint has long been a Marina favorite and the ever-present line out the door is proof. If you're lucky enough, snag a seat outside and do some people watching while nibbling on made-to-order guacamole and fried sweet plantains as appetizers. When it's taco time, you can't go wrong with their shot-and-a-beer braised chicken or chicken in mole colorado.  // 2031 Chestnut St, tacolicious.com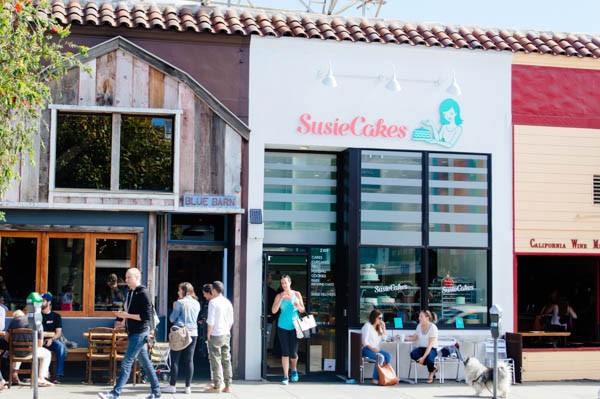 Blue Barn boasts an amazing salad menu, offering combinations of locally-sourced ingredients that you could never come up with on your own. While space is limited, you can always grab a sleek white to-go box, walk a few blocks to the Marina Green, and have a small picnic on the grass. // 2105 Chestnut St, bluebarngourmet.com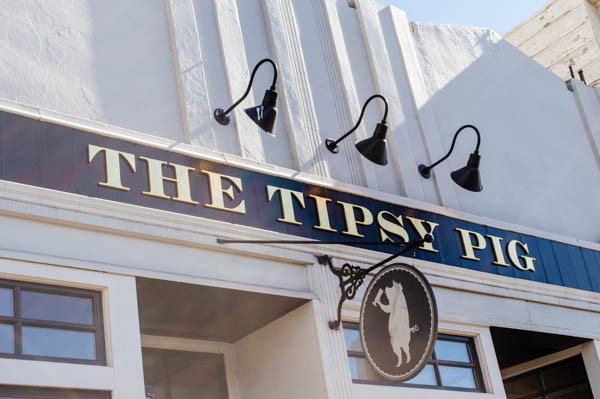 The name says it all, yet the Marina just wouldn't be the same without this beloved gastropub. Serving rustic food as a solid foundation for the inevitable drinks to come, this is the place you go to have fun all night long. // 2231 Chestnut St, thetipsypigsf.com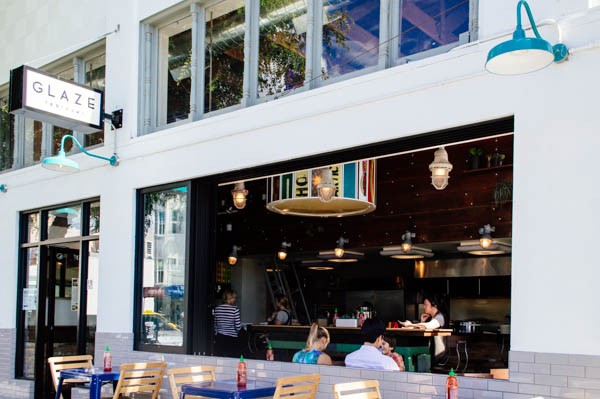 Glaze Teriyaki opened its doors this past May in the former All-Star Donuts space serving up mix-and-match teriyaki dishes in a casual-trendy setting. A few outdoor tables are available to take your meal al fresco, and if you need to satisfy a sweet tooth, they're stocked with Dynamo Donuts. // 2095 Chestnut St., glazeteriyaki.com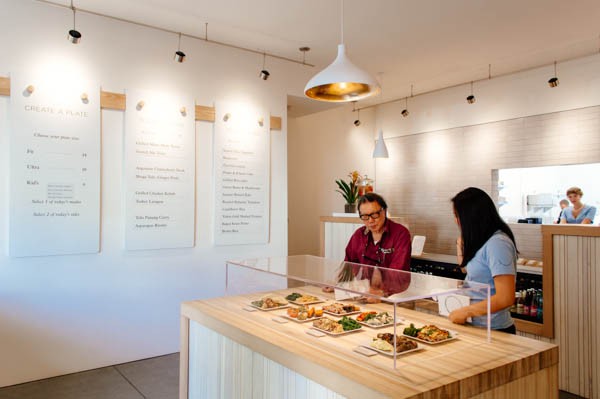 Barely two-months-old, Plate is the new go-to stop for healthy, organic, take-out options. Eight main dishes and twelve side dishes are cooked daily by Plate's chefs and guests can customize their own plate. From paleo to vegan, there's something for every trendy diet. Order via the app, online, phone, or in-store, pick it up when it's ready, reheat at home, and bring the ceramic plate back for $1 credit. // 3251 Pierce St, platesf.com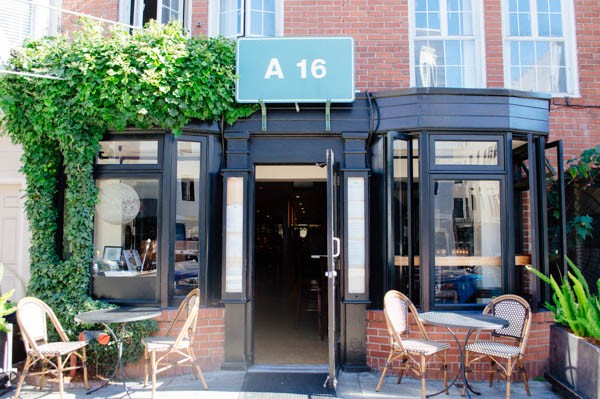 Influenced by the cuisine of Italy's Campania region, A16 has perfected the Neapolitan pizza and home-made pasta. Straight from the wood-burning oven with a crisp edge, A16's pizza is one of the best in the Bay Area and a great spot for special occasions in a relaxed ambience. Fun fact: A16 is named after the highway that connects Naples and Canosa, Puglia in Italy. Cute! // 2355 Chestnut St, a16sf.com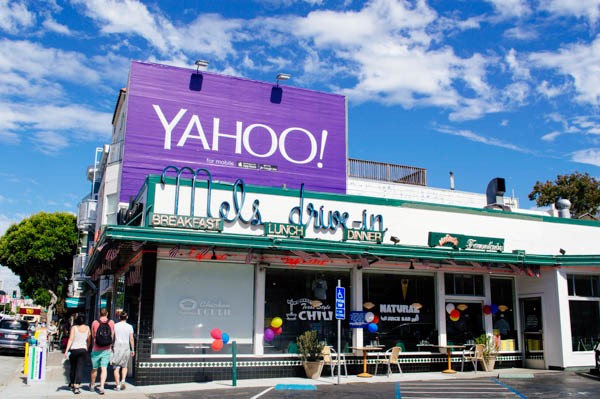 If you're looking for burgers and all that jazz, then head to Mel's Drive In, the legendary diner that had appeared in quite a few Hollywood movies. Tourists and locals alike love Mel's and you can usually spot a group of friends remembering the good ol' fifties while sharing shakes and fries. // 2165 Lombard St, melsdrive-in.com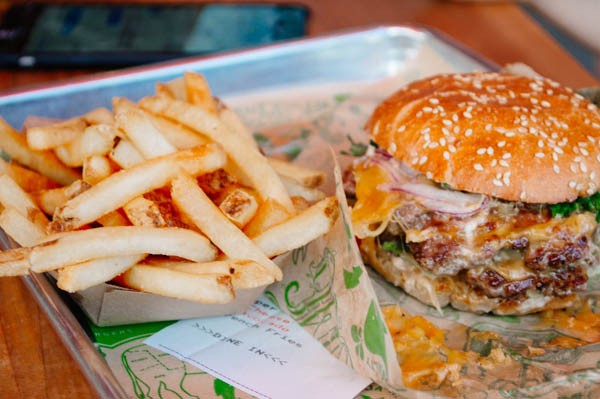 Winner of 7x7's Best Burger and Best Cheap Eat, Super Duper is a great spot to get fueled and ready for a long night out in the Marina. // 2203 Chestnut St, superduperburgers.com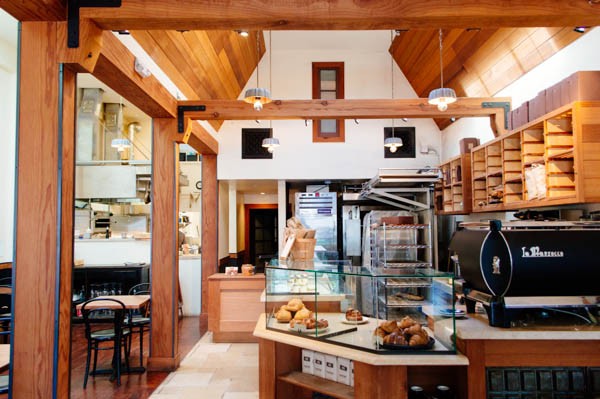 Le Marais' uncomplicated and quick, French-inspired menu is the easiest and most delicious way to start any morning in the Marina. Bacon-gruyere toast with an over-easy egg and the onion jam croissant are just a couple of our favorites, but you'll just have to try their heavenly, buttery, flaky pastry creations for yourself. // 2066 Chestnut St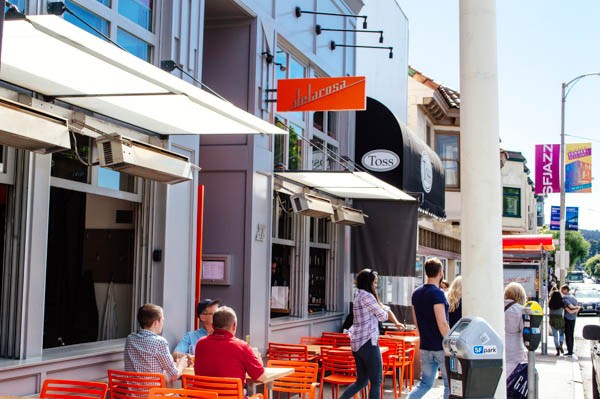 For the quintessential brunch experience a lá Marina, Delarosa is your best bet. The line might get a bit long, but the Pizza Carbonara is worth the wait. Wash it down with spicy Bloody Mary. // 2175 Chestnut St, delarosasf.com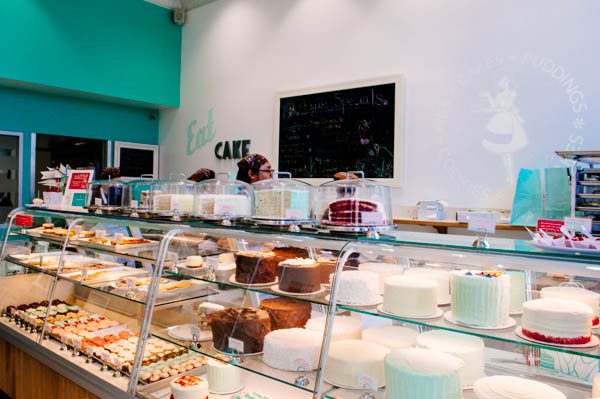 Cakes and cupcakes galore is the motto at this old fashioned bakery. At the entrance, you'll be stunned by the shelves upon shelves of cakes and trays full of cupcakes and cookies. Not to mention how the cream-filled air will influence your shopping behavior. Treat yourself to some buttery, sweet, guilty pleasures. // 2109 Chestnut St, susiecakes.com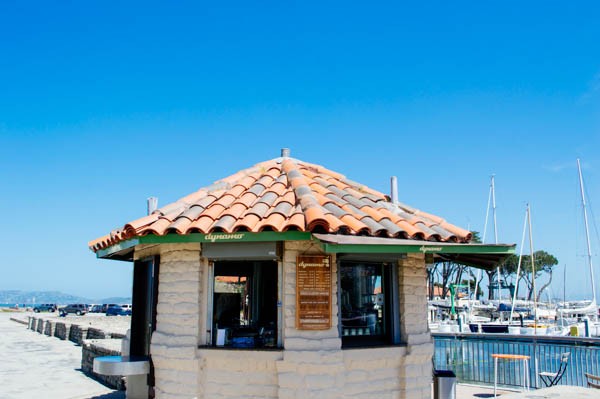 There's always room left for a donut from Dynamo. Nestled in the old kiosk at the Yacht Harbor, our favorite donut shack is the perfect pit-stop to get back all the calories you might have lost from a long walk at the Crissy Field. // Marina Yacht Harbor, dynamodonut.com
SHOP
While this local company—creator of the softest-shirt-ever— is busy conquering the rest of the nation, we still like to frequent the original shop on Chestnut for bright tees and colorful prints. // 2209 Chestnut St, marinelayer.com
Embrace preppy with bags and clothes in bold colors and prints from Toss Design (and don't forget to have everything from your coin purse to nightshirt monogramed). Toss Designs outfits preppy fashionistas for a weekend getaway and all days in between. // 2185 Chestnut St, tossdesigns.com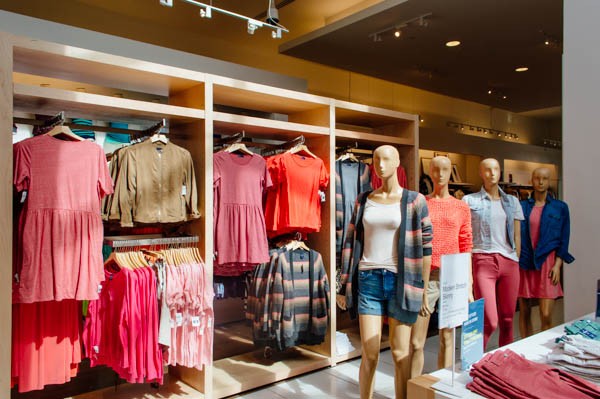 While now a national gem, we still love to shop at the GAP on Chestnut Street. It carries all sizes, there is almost never a line at the fitting rooms, everything is in its place and you won't run into masses. Say yes to a calm shopping experience. // 2159 Chestnut St, gap.com
Even plants look fit and healthy in the Marina. From a fig fiddle leaf tree to tomato seeds, Sloat Garden Center has all you need to green up your home and keep your botanicals alive. // 3237 Pierce St, sloatgardens.com
TO-DO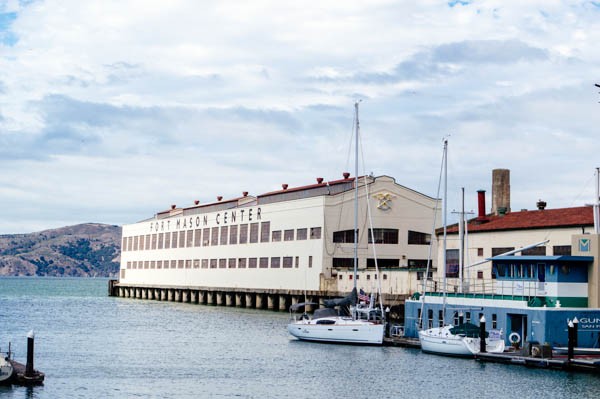 What used to be a military base by the sea, is today a bastion of culture, good eats,and events. Fort Mason hosts annual fairs such as the Renegade Craft Fair, Big Book Sale, West Coast Craft, Eat Drink SF, and many others. On Friday evenings, food truck lovers flock to Off-The Grid for street food specialties with live music and every Sunday, from 9:30am to 1:30pm, you can fill your straw bags with fresh produces from more than 35 stands at the Farmers Market. //  2 Marina Blvd, fortmason.org
Fitness Court at the Marina Green
Don't be ashamed to show off your new, hard-earned abs at the Marina Green Fitness Court built by the National Fitness Campaign, which encourages people to get and stay healthy and live a more active life by building public outdoor circuit-training systems. The suggested "7 movements in 7 minutes" exercise will pump up your heart rate and build up your muscles with a sweeping view of the Golden Gate Bridge. No gym can beat that. // Marina Boulevard
What once was a U.S. Post Office Department Airfield, is today a green lawn and promenade to run, bike, play soccer, or to practice your kite-flying skills.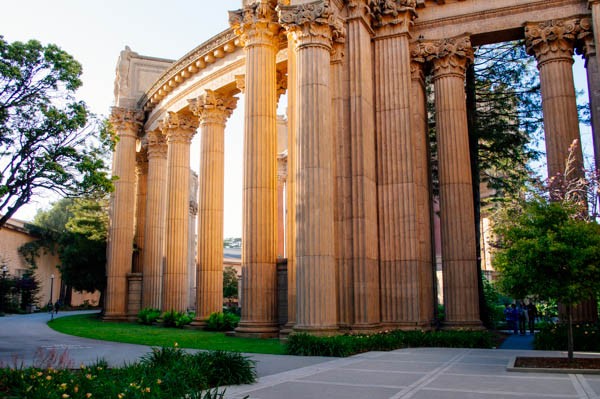 Build for the World Expo in 1915, the Palace of Fine Arts is a romantic San Francisco landmark, with Greek columns, a pond, and enough lawn to spread your blanket. Head there on Saturday, bring some snacks, and watch all the happy couples take their wedding pictures. Don't forget the tissues. // 3301 Lyon St, palaceoffineart.org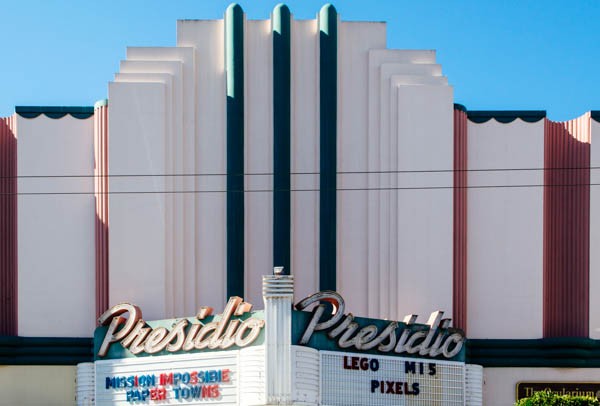 Movie titles are changed by hand at the Presidio Movie Theater and the neon vintage sign on the pastel art-deco building still glows brightly after decades of use. The theater might not be your IMAX Triple Surround experience, but cozy enough for your midday movie date. // 2340 Chestnut St, lntsf.com