Most of us have a favorite food truck or two—the one in that small alley where we often grab lunch, or one among the many in mobile food purveyor roundups such as Off the Grid or SoMa StrEat Food.
But when it comes to OG food trucks in San Francisco, the best of the best, the one we regularly track down, there's one name at the tip of our watering tongues: Señor Sisig. Now, the brand's cult offering of Filipino fusion eats is available at their first brick-and-mortar restaurant in the Mission.
---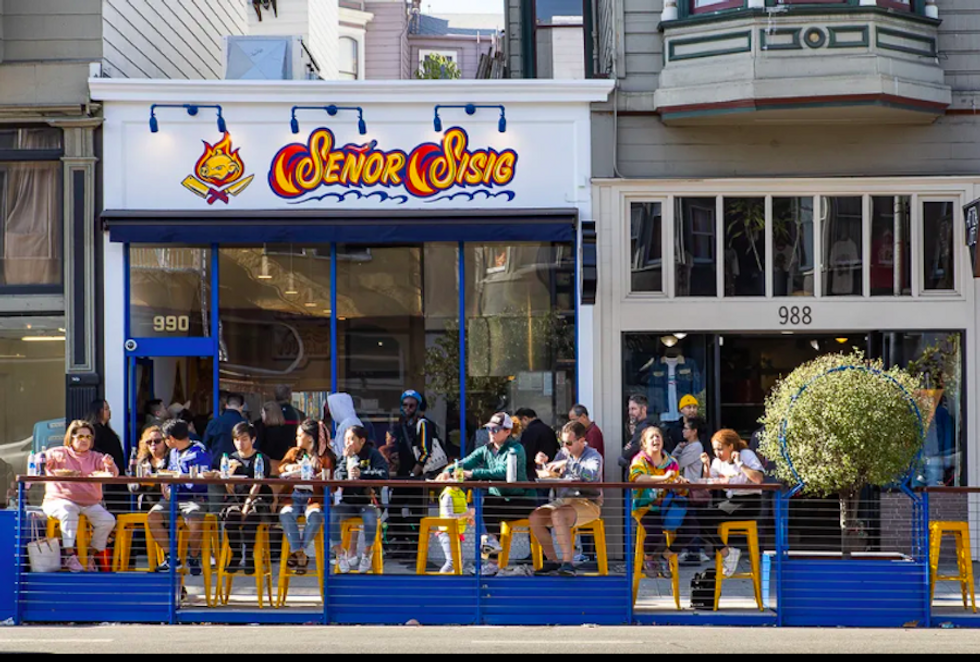 (Photography by Sarah Chorey)
Señor Sisig first rolled out back in June 2010, just a month after the first-ever Off the Grid event. In recent years, the brand's popularity has allowed it to expand to two trucks, then three, then four...until finally six Señor Sisig trucks could be found serving up grub around the Bay Area.

What's the secret sauce? Well for starters, they offer a rare taste of Filipino fare, especially in their signature sisig pork, which they work into various traditionally Mexican-style dishes; and then there's the eye-catching, fiery pig logo that has helped lodge the brand into our collective memories. It also doesn't hurt that the founders, high school buddies Evan Kidera and Gil Payumo, are easy to root for—nice guys and genuine friends, they just wanted to introduce amazing Filipino food to the masses.
Nine years into their game, Kidera and Payumo thought it was time to open a legitimate restaurant, and the right space popped up on the southern stretch of Valencia Street.
While the first thing you may notice is the line around the corner, that familiar primary-hued logo announces the blue-and-white painted storefront. Inside, white walls and a vibrant porky mural lend a fun, playful vibe—same for the patio out back, where another mural, by artist Aaron Kai, depicts the founders with their food truck against a colorful city scene.
When you arrive at the counter, you may be tempted to order your usual because you think you know just what to expect—and yes, you'll find Señor Sisig's classic burritos, tacos, nachos, and fries, all with your choice of pork, chicken, or tofu sisig or tocino (bacon). But keep an open mind because there are additions to the menu in honor of this new space: Try the Sisig Cali-Changa burrito, nacho-rrones, crunchy tostadas, and even sisig crunch-a-dillas. They're also serving Filipino beers, wine, and a Filipino lemonade called a "freckled calamansi" with strawberries.
Cap your visit with something sweet: The Ube-horchata soft serve is made with buffalo milk and, with its impossibly pretty purple hue, seems readymade for Instagram.
(Photography by Sarah Chorey)
Speaking of crunchy, the salty-spicy housemade chicharrones, with a light seasoning of chili and lime, are the perfect accompaniment.
// Señor Sisig, 990 Valencia St. (Mission), senorsisig.com