In a city that fetishizes everything it eats and drinks, it was inevitable that what it smokes would be next. To this end, SPARC (San Francisco Patient and Resource Center), SF's latest medicinal marijuana dispensary, has brought the cannabis club to a new level.
---
From the outside, the facility is a glimmer of modern design among a stretch of SoMa residential hotels and donut shops. The windows—a graphic mix of blue and white opaque glass framed in black metal—represent the genetic code of THC. Inside, the light-filled space calls to mind a spa or chic apothecary.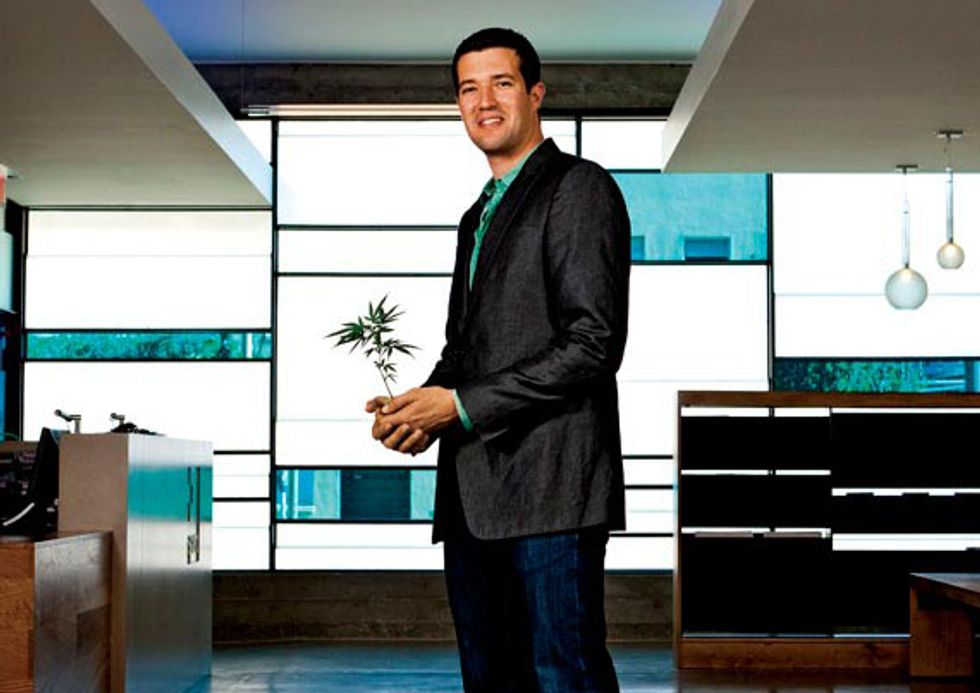 Erich Pearson
SPARC started in 2001 as a group of small collectives serving low-income patients suffering from chronic conditions and terminal illnesses, but this new facility is the group's dream come true. "There's a dungeon feel at a lot of other places," says Erich Pearson, collective cofounder and the vision behind the clinic. "We didn't want a thug factor. Even our security guard is a woman"—albeit a 6-foot-2 woman with a double black belt.

Dressed in a button-down, vest, crisp jeans and boat shoes, Pearson looks nothing like the stereotype of a pot grower. But he's been cultivating medicinal marijuana since he moved here from Indiana in 1998, after Prop 215 passed. One day two years back, he was hanging out in South Park and met metalworker and designer Larissa Sand of Sand Studios. "I'd always admired the design of the door to her studio," he says. Pearson found out that she had designed restaurants, including Universal Cafe, as well as residences, and asked her to collaborate.

Like all cannabis clubs in California, SPARC requires a doctor's recommendation and ID to become a member. But once you're in, the dispensary offers free classes on everything from meditation to ayurveda. There's also a vapor lounge where people can relax and get to know each other. Low-standing tables made of salvaged white oak are topped with vaporizers, which allow patients to inhale THC without the carcinogens of smoke. On the other side of the room, display cabinets showcase handblown glass dishes holding the cannabis. Sand's clean design has made all sorts of patients feel at home. Pearson is proud of the fact that more than 20 percent of SPARC's patients are female. Sand isn't one of them though. "Since I don't smoke, I looked at herbal shops and tea shops, for design inspiration" she says. "I was comparing it to winemaking."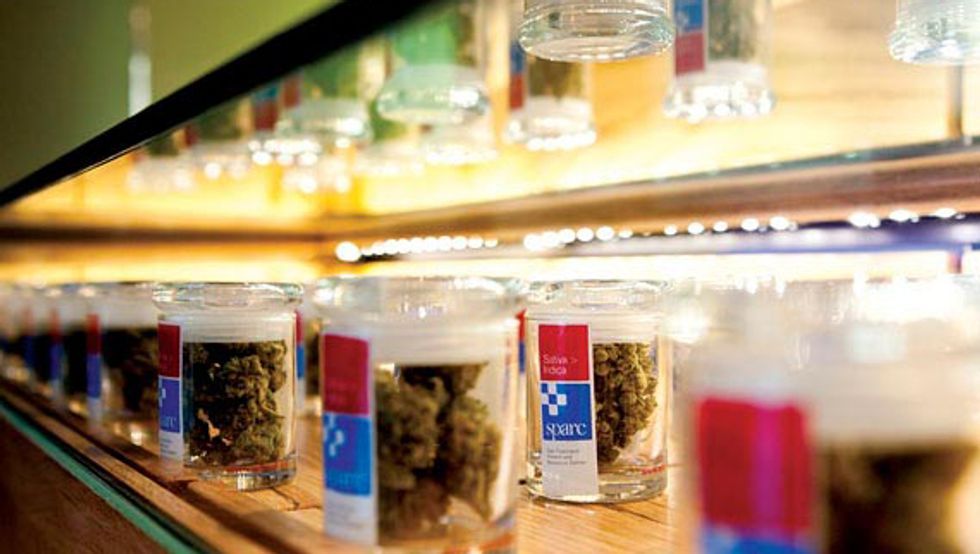 It's notable that SPARC cultivates more than 70 percent of their cannabis themselves, and it's free of pesticides. Because cannabis cultivation is not government regulated, the names of the different strains—Trainwreck, Chemdog, Green Dragon—belie their fancy new digs. "It sucks that we have to use those names," says Pearson. "But from a medical point of view, it's important to maintain consistency."
SPARC
1256 Mission St., 415-252-7727