It's a new year, a new you—and a new 5K PR.
Let's be clear—the more detailed you are with your intentions, the more likely you'll see them to fruition. And a racing PR is far more rewarding than being able to wash laundry off your abdominals. Here are 12 Bay Area races in 2017 to set your fitness goals upon. Remember, summer bodies are made in the winter!
---
Kaiser Permanente San Francisco Half-Marathon and 5K (5K and half marathon)
Presented by Pamakids Running Club, this race is filled with scenic views, post-race treats, and free massages if you cross the finish line. It's an incredibly popular half marathon too—so be sure to get to the starting line early to claim your place! // Starting Point: Golden Gate Park (Outer Sunset), getfitkpsf.com
Race Date: February 5th, 2017
Editor's Tip: Both courses are certified by USA Track and Field, with a 3.1-mile marker (5K) to help racers push for new PRs (the sloping course doesn't hurt either).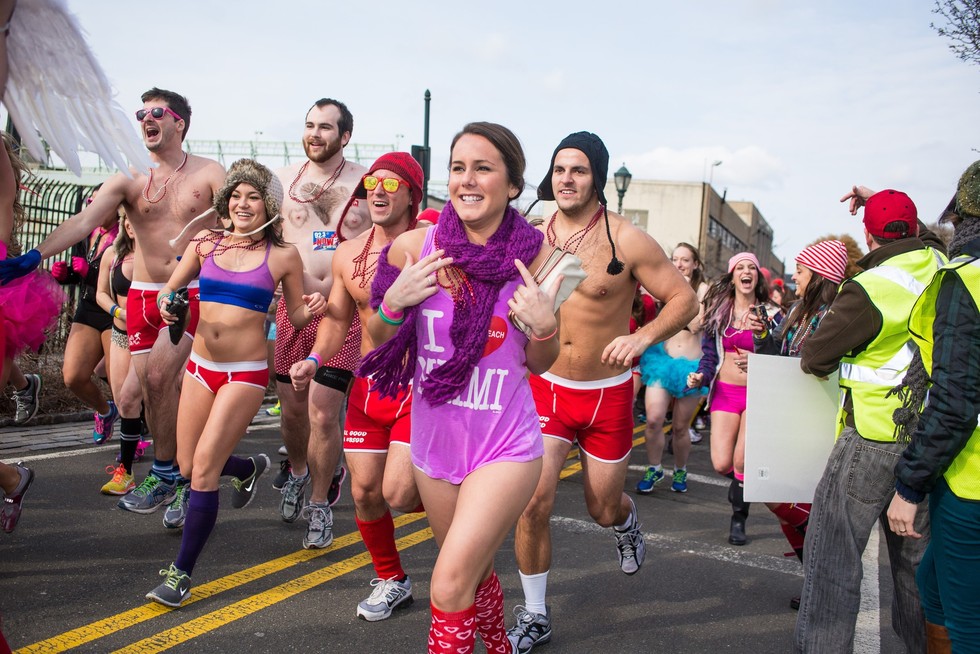 (Courtesy of Cupid's)
Cupid's Undie Run (NSFW fun mile)
No shirt, no pants? No problem! Cupid's is a mile-ish fun run where minimalism takes on a whole new meaning. It's a completely body-positive, charitable, fun experience that's maybe not for the whole family. Benefiting the Children's Tumor Foundation (CTF), your $25 racing registration goes toward important neurofibromatosis research. Bring out your bedroom best for the sake of science and philanthropy! // Starting Point: Pedro's Cantina, 128 King St. (China Basin), cupidsundierun.org

Race Date: February 18th, 2017
Editor's Tip: Bring a coat or something warm to slip into afterwards for the after-race booze and snacks.
Golden Gate Relay (480-mile-long relay)
Now in its 93rd year, this race is touted as California's longest party, spanning 36 cities, stretching from Napa all the way down to San Jose. Each runner is expected to run somewhere between three- and eight-miles for each leg of the relay. // Starting Point: TBD, therelay.com

Race Date: May 6th–7th, 2017
Editor's Tip: Keep in mind that most of the runners are expected to run three legs each. Each team consists of about 12 runners.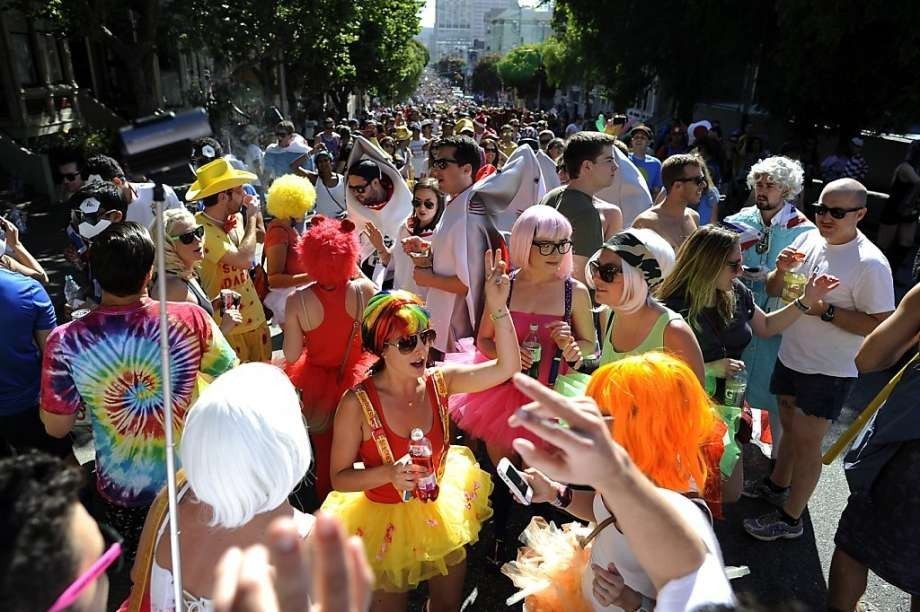 (Courtesy of SF Gate)
Bay to Breakers (12k)

Bay to Breakers is a costumed 12K full of merriment and boozy beverages. Starting near the Embarcadero and snaking all the way to Ocean Beach, Bay to Breakers is one of the longest-running foot races in the US. // Starting Point: Howard and Main St. (SoMa), baytobreakers.com

Race Day: May 21st, 2017
Editor's Tip: Body paint is cool, but never race with it on. Because of how the paint clogs pores, you can easily overheat because your body can't cool itself through sweating.
San Francisco's Front Runners Pride Run (5k and 10k)
The Bay's LGBT running club, San Francisco's Front Runners, hosts an annual Pride Run every year, celebrating all things wonderful, weird, and wild about running and inclusivity. Be bold, be brave. When all else fails, run like Beyonce's watching. // Starting Point: TBD, sffr.org
Race Date: June 24th, 2017
Editor's tip: The Pride Run is a chip-timed race, a great opportunity to gauge how well you've trained.
Golden Gate Half: "Conquer The Bridge" (5-mile, 30k, 50k, half and full marathon)
Combing through some of the best trails this side of the Pacific, the Golden Gate Half Marathon (GGH) is, admittedly, not a race for the couch-to-5K runner; the shortest distance offered is five-miles, and even then you'll endure some pretty tough hills. That said, GGH is a great run to dedicate yourself to. And because the starting gun won't go off until July 2017, you've got time to get your beast mode into full swing! // Starting Point: Aquatic Park Water Front (Fisherman's Wharf), runsf.com
Race date: July 8th, 2017
Editor's Training Tip: It's best not to do more than three marathons per year to avoid injury. It usually takes an average of three to four months for your body to fully recover.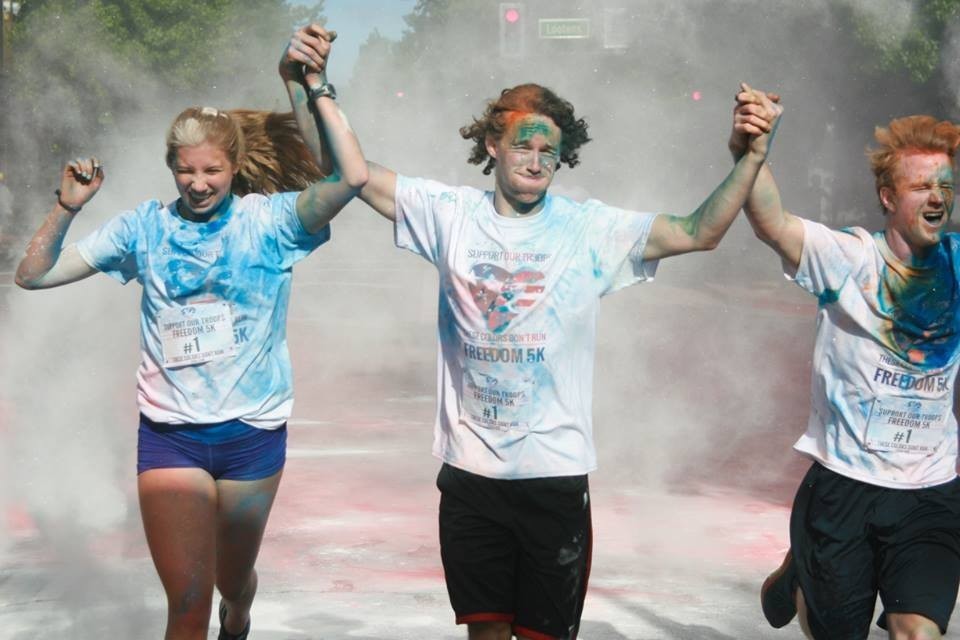 (Photo courtesy of colorstride.com)
Color Stride: "Illuminate Your Soul" (5K family run)
Inspired by the ever-colorful Holi Festival of India—a celebration rooted in the power of good intentions and how they will always overshadow evil—Color Stride is untimed, so feel free to have fun with it. When you're running (dancing) in clouds of non-toxic cornstarch and food coloring, who cares about quarter-mile splits? // Starting Point: TBD, colorstride.com
Race Date: July 4th, 2017 (San Rafael)
Editor's Tip: This is a great place to introduce friends and family to racing in a completely easygoing environment. (P.S. the color comes out of your clothes...mostly. Leave your favorite racing top at home.)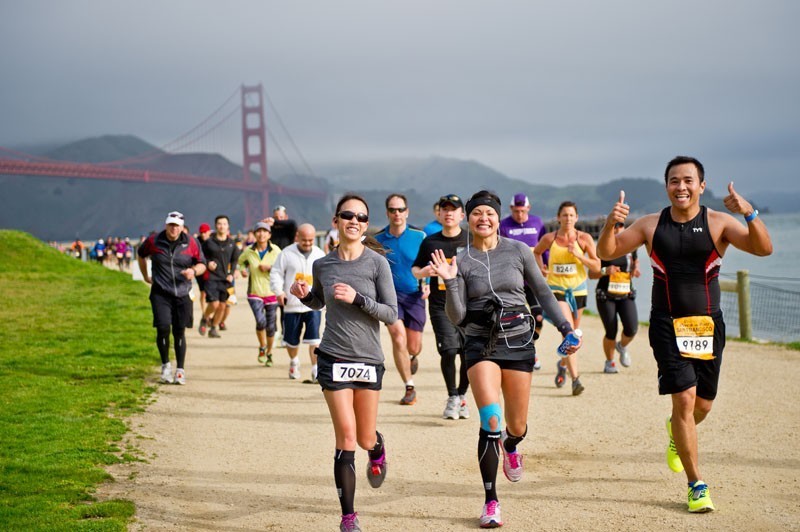 (Photo courtesy of competitor.com)
The San Francisco Marathon (Half marathon, full marathon, ultra marathon)

No list of foot races would be complete without the San Francisco Marathon. Coaxing thousands and thousands of runners to the Bay Area from all over the globe, the 2017 event marks the race's 40th anniversary! With views of The Presidio and GGB pushing runners through 26.2 miles of the city's most challenging inclines (miles fourteen through seventeen are rough), the SF Marathon is the Godfather of all running events running this side of The Bay. // Start Point: Mission Street and The Embarcadero (SoMa), thesfmarathon.com

Race Date: July 23rd, 2017
Editor's Tip: Complex carbs are your best friend for endurance endeavors. Be sure to have the ubiquitous "carb-loaded pasta meal" prior to race day. (5K runners, you'll be fine with just a normal-size meal.)
Golden Gate Half: The Town and The Livermore (Half marathons)

The latter two of the three GGH half marathons are iconic for a myriad of reasons—the views, the people, the nostalgia, the wine—the GGHS (Golden Gate Half Series) is a long-running favorite of serial ultra runners. (And there's free alcohol afterward with post-race treats!) This extraordinary running challenge is a must-do for any ambitious local athlete...and wino. // Start Point: TBD, runlive.com and runoak.com
Race Date: August 17th, 2017 (Oakland) and March 26th, 2017 (Livermore)
Editor's Tip: These races are jam-packed. Try to start as close to the front of your wave as possible.
(Photo courtesy of swimbikerun.com)
10K on the Bay (5k and 10K)

It's just got a nice ring to it, doesn't it? This moderate race is a favorite among Bay Area runners for its relatively level course and breathtaking views of the Hayward Shoreline. (This course is probably one of your best bets for setting a 5K or 10K PR.) // Starting Point: Hayward Shoreline Interpretive Center, 4901 Breakwater Ave. (Hayward), 10konthebay.org
Race date: August 27th, 2017
Editor's Tip: 5Ks and 10Ks are great precursor runs for the longer, more difficult half- and full-marathon races. Get a few of these under your belt before attempting those longer runs.
Giants Race (Kids race, 5K, 10k, half marathon)
You had us at "after-race drinks at AT&T Park." Truly a race geared toward all age groups and skill levels, Giants Race makes a perfect family outing! After the race, be sure to checkout some of the expos showcasing the team's products and services. (Think of shopping as your cool down.) // Starting Point: AT&T Center, 24 Willie Mays Plaza (SoMa), race-sfgiants.com
Race date: August 27th, 2017
Editor's Tip: Running high-mileage weeks at 12- or 13-years-old is generally considered OK for girls and boys. That said, really young kiddos should never attempt such feats.
(Photo Courtesy of sfgate.com)
Muckfest: San Francisco (Obstacle course 5k)

Muckfest 2017 will be filled with shake-and-quakes, "spider webs" (electrical wiring), and a swing set. Bring a friend or build a team, and get ready to help one another out through thick and thin over the span of 3.1-miles! (Register early, Muckfest sells out quick!) // Starting Point: Solano County Fairgrounds, 900 Fairgrounds Dr. (Vallejo), nationalmssociety.org

Race Date: September 30th, 2017
Editor's Tip: Muckfest and mud races are notorious for destroying watches and more. Best leave your Apple products at home.