"Whenever I see postcards of France, it's always a picture of the Eiffel Tower. Or in London, it's the Eye. And in San Francisco, it's the Golden Gate Bridge. But how often do you actually see the Golden Gate Bridge when you're living in the Bay Area?"

That's Jena Dominique, a Bay Area native who's making it her mission to share authentic views of the places we live and visit, starting with her own home town, through scavenger hunts and postcards of landmarks as seen through the eyes of locals.
---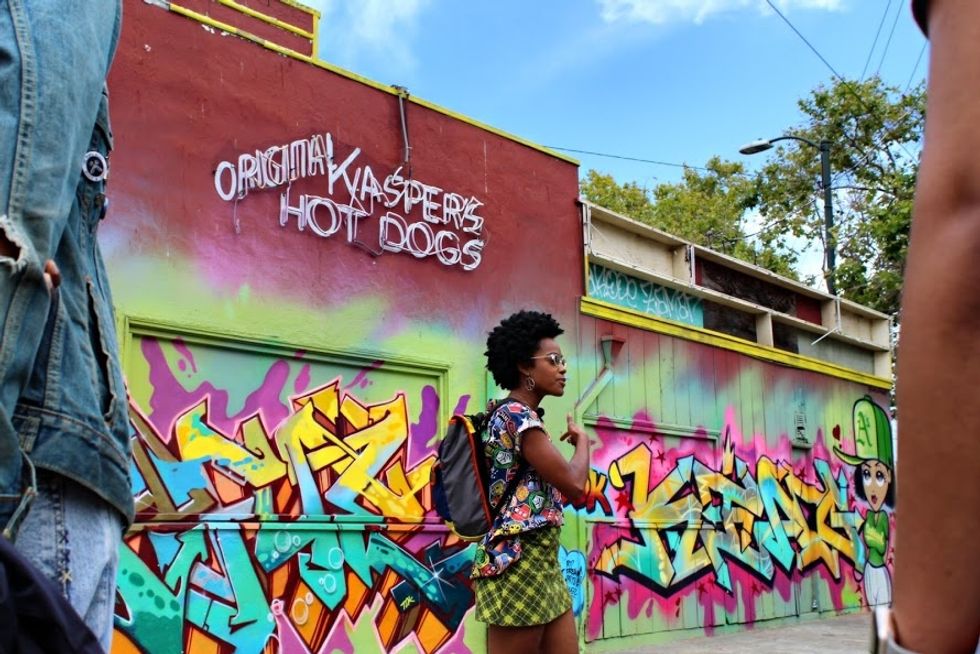 Jena Dominique highlights local street art during her tours of Temescal in Oakland.(Megan Cheek)
Before she launched her business, StreetSalad.Co, Dominique traveled the world post-college, and lived in South Africa for a spell. Ever on the hunt for postcards that captured her experience, she began photographing and printing her own.

"Whenever my friends were planning trips, they'd turn to me for places to go and things to see. Instead of giving them the typical touristy list, I wanted them to experience these places like locals. So, I started taking photos of my favorite local spots, putting them on postcards, and writing 'Go here!'"
The idea was a hit with her friends, and now, back in Oakland, Dominique has been sharing similar adventures in her own backyard for the past two years, leading walking tours through Temescal where she stops by her favorite murals, shops, eateries, and bars during what she calls postcard scavenger hunts.
"I've taken all the photos that are printed on these postcards. I plop them down on the table at the start of our scavenger hunt, and tell the group, alright, let's go find them. Street Salad is a mixture of all things local—local artists, murals, food, and businesses specific to Oakland."
Her favorite place to start: the MacArthur BART station. Given this is where Nia Wilson was murdered in 2018, the venue comes as a surprise to some—it's not your standard tour guide fare.
"When I told my Mom, a former Oakland Raiderette, I was putting together a tour through Temescal, the first thing she said was, 'But why you gotta start at the MacArthur station?!' And that's exactly why—to shift perspectives and change the way people think about this neighborhood," she says.
As our tour group stood in this spot where Wilson died, Dominique explained: "I'm not telling you this to darken the day, but rather to tell you that bad things can happen anywhere. It doesn't define a place, and I'm going to show you the real beauty of Temescal."
We spent the next two hours tasting local brews at Arthur Mac's, learning about local artists and gaining all the Oaktown knowledge. Dominique brought the art to life by telling us the why behind the pictures.
As she held up a postcard depicting a vibrant skull mural against a city trash can carrying the same painting, Dominique told us the story behind the work: "Juan Lopez is turning garbage into beauty." Why? "He did it for the kids. Lopez realized the city views aren't that great when you're only a couple feet tall. So he put murals on bins that will be seen from a child's point of view."
Dominique doesn't know exactly where Street Salad Co. is headed, but for her, that's the excitement of being an entrepreneur. "I never envisioned myself as a tour guide," she says. "I see myself more as a translator. I get to tell the story of a city I love, and I know this is just the beginning."
// To book a scavenger hunt with Dominique, go to airbnb.com/experiences.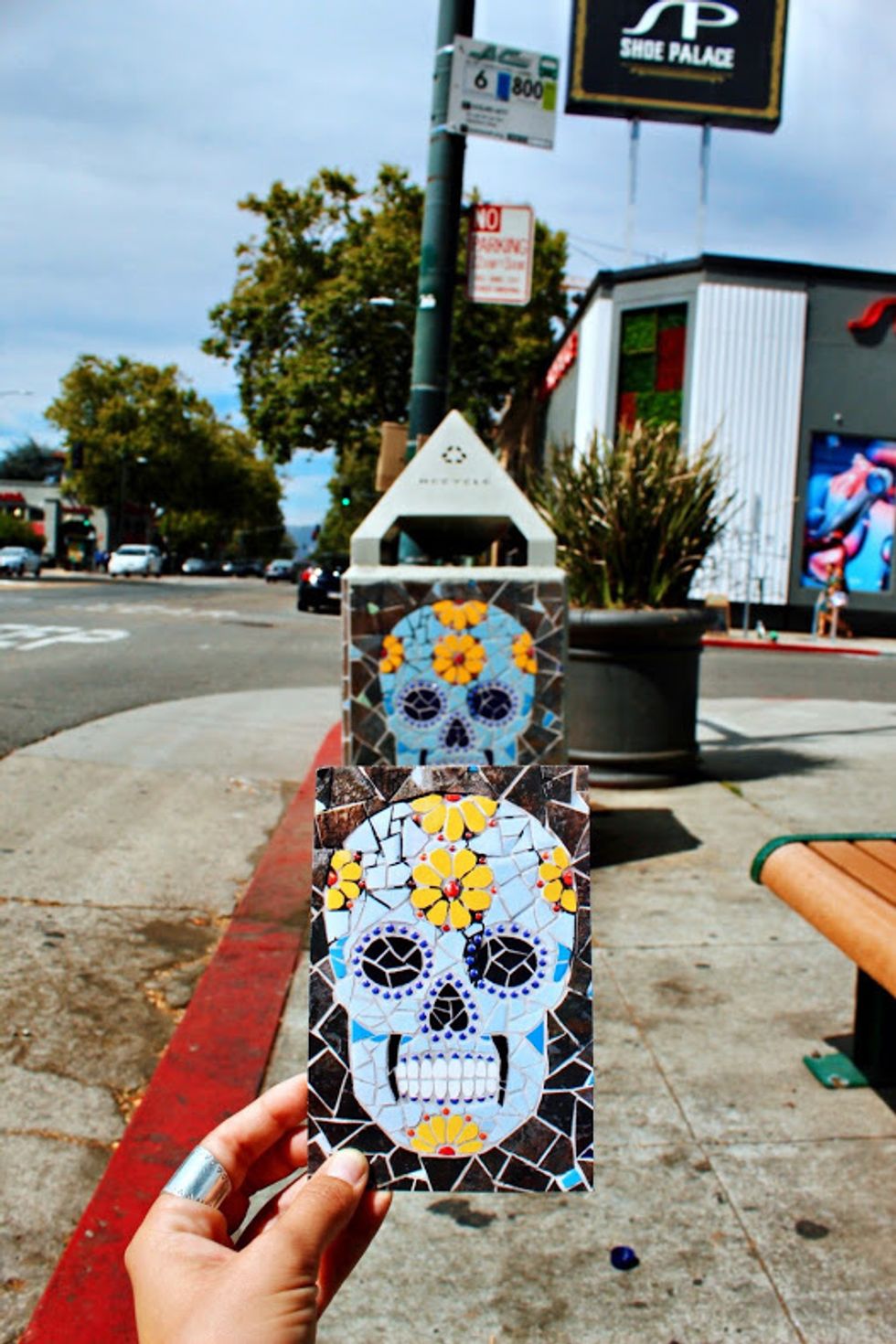 Dominique's postcard depicting Juan Lopez's trash can art in Oakland.(Megan Cheek)
This editorial feature is the second in a series celebrating women entrepreneurs. See our first post, on GoPro Dogs founder ingrid Gordon. The series is sponsored by Sava, a women-founded, women-led company that makes it their mission to support other women-owned businesses. Sava founders Andrea Brooks and Amanda Denz have created a different kind of cannabis experience, one with high-quality standards, transparency in sourcing, education around the plant, and strong customer support. They've sought out partnerships with women who make exceptional cannabis products, and as a result, half the brands you'll find in Sava's online marketplace are women-owned. Shop the complete offering at getsava.com.