"When I first moved to San Francisco, my friends always wanted to go out to Thai restaurants, but I refused—the food never tasted as good as I remembered it from home."
That's Ranida Thammarin, aka Sunshine, who's shedding light on authentic Thai cooking from her home kitchen, in a converted church in the Mission.
---
Her story begins in 2006, when Thammarin, who was working an unfulfilling gig as a financial planner in Thailand, had just experienced a breakup.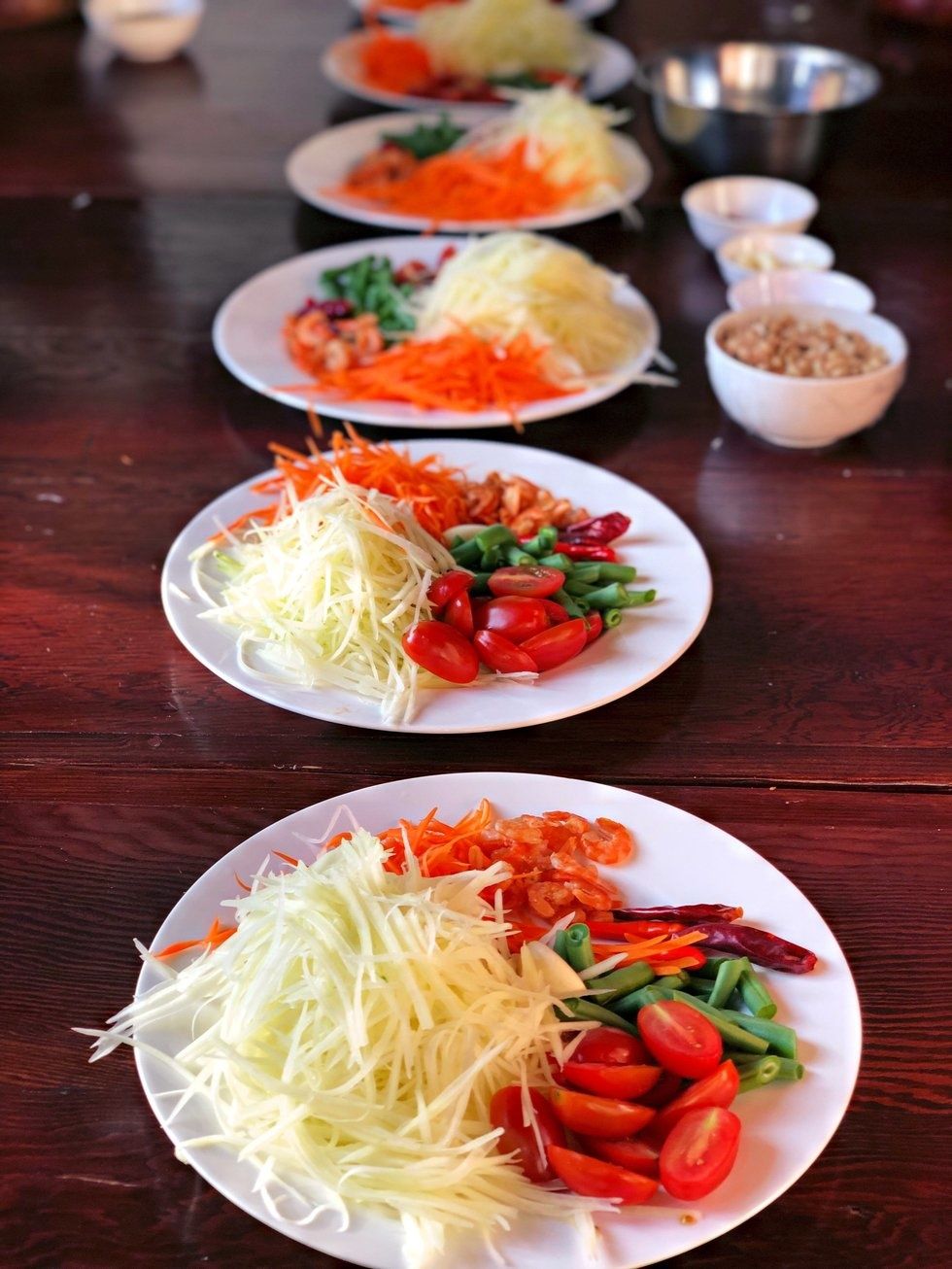 Papaya salad is among the classic recipes.(Megan Cheek)
"There's a very romantic movie from the '90s about a Thai couple living in San Francisco," she laughs. "The girl comes to San Francisco to find her boyfriend. I had just gone through a breakup, so I decided I should move to San Francisco, too!"

And so, Ranida changed her name to Sunshine and bought a one-way ticket to SF in search of her happily ever after. She booked a hotel in the Tenderloin, and then her fairytale lost its sheen. "It was dirty, there were a lot of homeless people, I only saw big pad Thai noodles, and I thought, this is San Francisco?"
Now at home in the Mission where old church windows shine ample light upon a lofty space decorated with Thai-inspired art, the girl who grew up cooking with her mother and sisters in the northeastern province Udon Thani has hosted more than 800 students for her Thai cooking classes.
"Once I started cooking for my friends, they started inviting their friends over and then those people invited their coworkers over—that was eight years ago." Now, she hosts groups from some of the world's largest tech companies, you know, like Apple, Uber, Slack, and Square.
Thammarin, of course, knows good Thai food, and she has created dozens of recipes, from shrimp pad thai to dumplings to mango sticky rice to macaroons, and promises every class is different. "What I love most about Thai food is the ever-changing flavor," she says. "You can have spicy and sweet all in one bite."

But one of the most exciting parts of Thammarin's job is meeting new friends from around the world: During our visit, students in attendance hailed from The Netherlands and Switzerland as well as from across the Bay Area. Introductions were made as we prepped our veggies and fish sauce. Laurel Komos, a Chicago to SF transplant, said, "This is a great way to get out and meet new people. If nothing else, I get to enjoy some delicious food with a very entertaining teacher."
Sunshine does live up to her name. Her class is full of laughs and, by the end of each night, new friendships have been made.
"The best part of this journey is the people I meet along the way." she smiles. "I love when customers come back year after year. I now have friends all around the world."
// To book a cooking class with Sunshine Thammarin, go to sunshine-dineanddance.blogspot.com.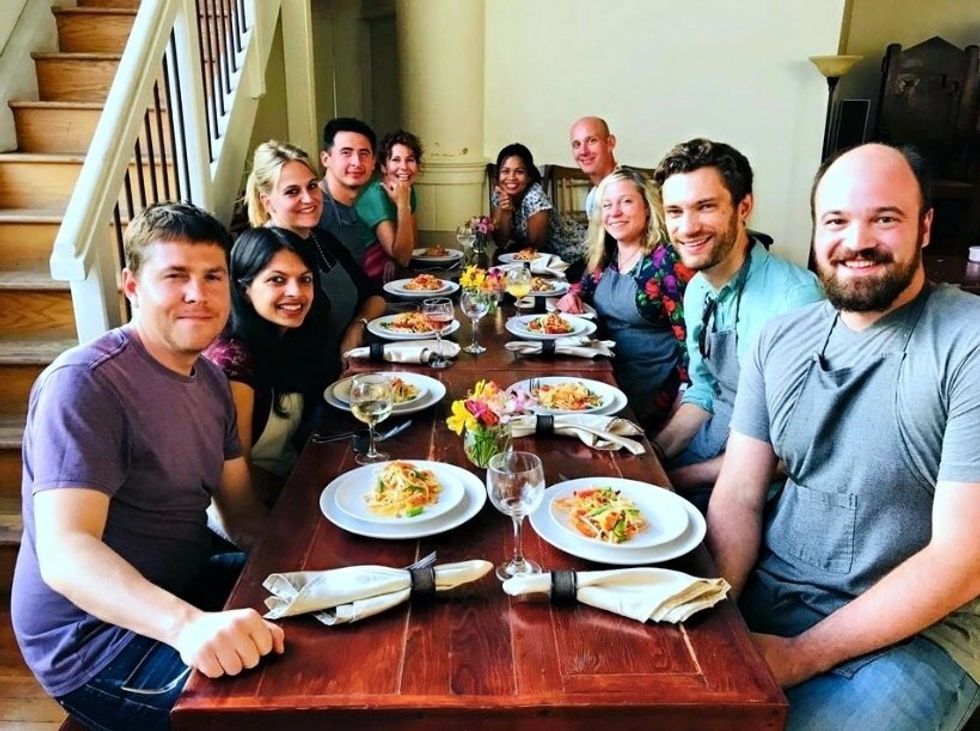 Classes turn into dinner parties with an array of guests from all over the world.(Megan Cheek)
This editorial feature is the third in a series celebrating women entrepreneurs. See our most recent post, on Oakland's StreetSalad founder Jena Dominique. The series is sponsored by Sava, a women-founded, women-led company that makes it their mission to support other women-owned businesses. Sava founders Andrea Brooks and Amanda Denz have created a different kind of cannabis experience, one with high-quality standards, transparency in sourcing, education around the plant, and strong customer support. They've sought out partnerships with women who make exceptional cannabis products, and as a result, half the brands you'll find in Sava's online marketplace are women-owned. Shop the complete offering at getsava.com.