It's all in the hair. Our 2016 guide to the best cuts, color, blowouts and more will keep you looking salon-fresh yearround.
---
Balayage @ Archer Salon
Archer Salon is a quiet haven just off bustling Grant Avenue. But don't let the cozy vibe fool you—expert colorists, stylists, and aestheticians run the salon like a well-oiled machine. For baby blonde highlights, owner Gari Cuevas is the pro; for the balayage experience, C.K. Karkhanis knows best. —Michaela D'Artois // Balayage ($225) at Archer Salon, 33 Grant Ave. (Union Square), archersalon.com
Color and Styling @ Barrow Salon
Adorned with art by local Lena Wolff, this salon is a mecca for good hair on the West Coast. Proprietor and stylist Michelle Snyder has cultivated a talented team with experience from New York Fashion Week and beyond: Barbara Thompson is our color expert of choice. Sit back with a made-to-order cup of coffee or a generously poured glass of bubbly while she does all the work. —Kristen Philipkoski // Color and styling ($100) at Barrow Salon, 256 Sutter St., 4th Floor (FiDi), barrowsalon.com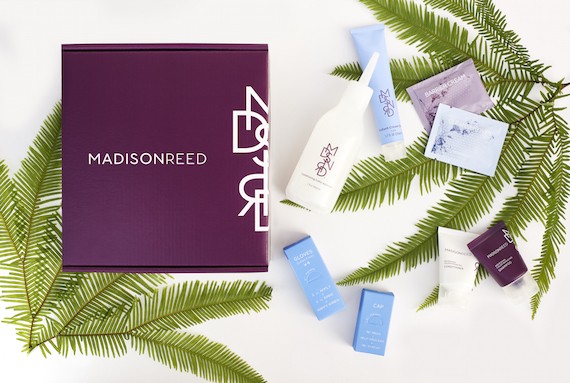 (Madison Reed's hair color box kit comes with everything you need to DIY at home, including gloves, barrier cream, a cleaning cloth, and the brand's own shampoo and conditioner.)
DIY Color @ Madison Reed
Glorious home hair color that doesn't leave you smelling like a lab rat? Yes, please! We're big fans of this SoMa-based hair care brand's ammonia-, resorcinol-, PPD-, and paraben-free colors that leave our hair soft and silky. And this year, there are more new products to love, including the color reviving gloss (you don't even need to color your hair to go crazy for this $30 shine-boosting treat) and a $30 root touch-up powder (what grays?). If you're coloring your hair at home but aren't yet a Madison Reed convert, give their color translator a try: Simply enter your current brand and shade, and MR will match your hue...only without all the smelly toxic chemicals. —Chloé Hennen // Color kit ($20 for subscribers, $25 for one-time orders) at Madison Reed, madison-reed.com
Blowout @ Bloom Blow Dry Bar
Bloom Blow Dry Bar (say that 10 times fast!) is our go-to when only beachy waves will do. Summon your inner surfer chick and chill out during the shampoo—only Unite's cruelty-free products will touch your tresses in this salon—and read magazines on an iPad while they give you that perfect, tousled blow dry. When you emerge, beware of catcalls. // Bloom Blow Out ($45) at Bloom Blow Dry Bar, 819 Ulloa St. (Forest Hill), bloomblowdrybar.com

Haircut @ DiPietro Todd Salon
When it's time for a chop, we need to know who we can trust. At this mainstay salon, the dependable team of well-trained stylists has a warm chairside manner and deft scissor hands that effortlessly style magazine cover-worthy hairdos. —M.D. // Haircut ($105) at diPietro Todd Salon, 177 Post St., 2nd Floor (Union Square), dipietrotodd.com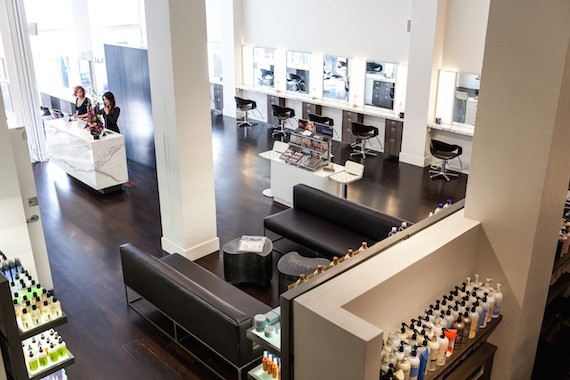 (Cinta Salon's revamped Grant Avenue interior. Photo: Kristian Melom)
Ecaille Color @ Cinta Salon
Whether it's balyage or pastel tresses they seek, trend-conscious style mavens look to this Grant Avenue mainstay (which has undergone a lovely renovation in recent years) to keep their locks au courant. This spring and summer, it's ecaille (French for tortoiseshell) color that Cinta's most stylish customers are after. Similar to balyage, the color treatment goes for a multitextural effect by painting or foiling both cool and warm tones on each strand of hair. Gisele is a fan, and so are we. —C.H. // Ecaille ($100-206) at Cinta Salon, 23 Grant Ave. (Union Square), cinta.com
Precision Haircut @ Cowboys & Angels
With more than 20 years in business, Cowboys and Angels has amassed a serious cult following for their chic cuts and team of international stylists, including owners David Tolls, Louise Baranowski, and Tracey McAllister. The bright, airy salon and laid-back vibe belie their precision haircuts, designed to help even the most unruly strands fall effortlessly into place. Imagine that—a salon-perfect style that mere mortals can replicate at home. // Precision haircut ($100) at Cowboys and Angels, 207 Powell St., Suite 400 (Union Square), cowboysandangelssf.com
Blowout @ Dry Bar
We book our appointments through DryBar's easy-to-use app. The upbeat Pac Heights salon has pop music on the stereo and classic chick flicks on the flat screen. Choose from seven styles in their lookbook, including the wavy Dirty Martini (a favorite). Enjoy coffee or champers while the stylist works on your locks for a $40 flat fee. It's as easy, and addictive, as that. —Emily Holt // Blowout ($40) at Dry Bar, 123 Kearny St. (FiDi), thedrybar.com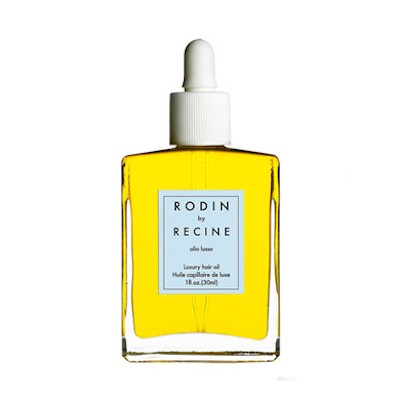 Enrich your locks with Recine's luxury hair oil infused with calendula, sweet almond, sunflower oil, and more ($65 at Veer & Wander).

Color and Styling @ Veer & Wander
Salon-meets-apothecary Veer & Wander is our go-to for expert hairstyling and artisanal skincare products, makeup, and aromatic candles. (Strike a match to the 6 Brady Street wick, redolent of black tea and sweet tobacco.) Owner and stylist Connie McGrath is a known expert in both cut and color: Pick up some of her tricks of the trade during public workshops on Tuesdays. —Sarah Medina // Women's Cut ($85) at Veer & Wander, 6 Brady St. (SoMa), veerandwander.com
Organic Tomato Hair Mask @ Edo Salon
Dumping tomato sauce on your head may sound like only a small step up from mayonnaise, but this organic treatment at Edo Salon promises to deliver a hearty dose of vitamins C and E, as well as protein extract from the tomato's base. Those damned split ends will meet their maker. —Anthony Rogers // Organic Tomato Hair Mask ($85) at Edo Salon, 601 Haight St. (Lower Haight), edosalon.com
Color Consultation @ Hedy Lavinsky
Here's a stylist who will give it to you straight, no chaser. Hedy Lavinsky, a graduate from the Cinta Aveda Institute, coaches her clients to make wise color choices for their hair types. Whether you want light highlights or full-on color melts, Lavinsky promises you will love your look. Don't hesitate to show your Pinterest board—she'll make you look like the mermaid of your dreams. —A.R. // Color Consultation (complimentary) with Hedy Lavinsky, 1506 Vallejo St. (Marina), hedylavinsky.com
Ombré Color @ Solid Gold Salon
Owners Diane and Calvin pride themselves on their mastery of color, and on hand-picking their impressive roster of stylists, after 11 years in the industry. Refreshments and touch-ups are complimentary. —A.R. // Ombré color ($225) at Solid Gold Salon, 812 Sutter St. (Nob Hill), solidgoldsalon.com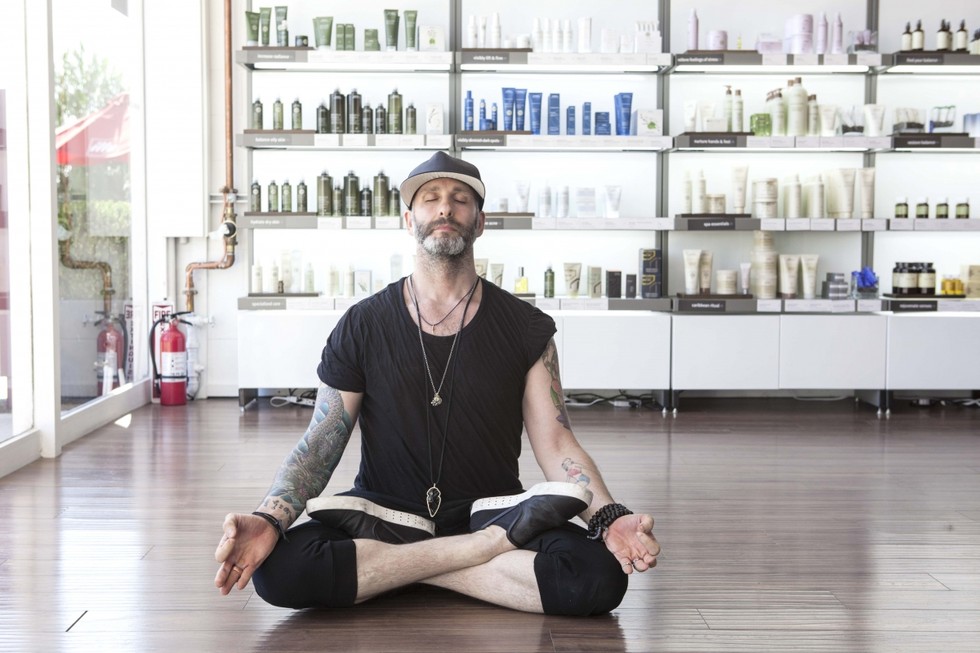 Haircut @ Spoke & Weal
A haircut from sought-after celebrity stylist Jon Reyman is akin to a religious rite: He has a deific instinct about what our hair needs and how its shape can take your look up a few notches. His unusual practice of lightning-fast dry cuts is easily the best thing you could do for your locks. —S.M. // Haircut ($65-$250) at Spoke and Weal, 850 Greenwich St. (Russian Hill), spokeandweal.com
Spotless @ Marilyn Jaeger Skincare
Those pesky in-growns have met their match in Marilyn Jaeger's Spotless, a green tea–infused miracle potion that relieves skin of evil red bumps post-shaving and waxing thanks to the patented molecule called Qusome, which penetrates deep to dissolve the bacteria that causes in-grown hairs and blemishes. // Spotless ($19-$99) at Marilyn Jaeger Skincare, 3384 Sacramento St. (Presidio Heights) and 5257 College Ave. (Rockridge), marilynjaegerskincare.com
Brow Bar @ Benefit Cosmetics
Benefit's brow bars have become famous for their fast and flattering signature wax. Its countless Bay Area locations (SF, Marin, Oakland, Burlingame and beyond) are staffed with licensed professionals, all highly trained in the art of brow shaping and makeup application. Get groomed and dolled up in one quick go. // Brow Bar @ Benefit Cosmetics (multiple locations), benefitcosmetics.com
At-Home Brows @ Bianca Rubi
When we need an emergency brow fix and don't time to hit the salon, we call Bianca Rubi to rescue us. She arrives at our door armed with wax and tweezers for the perfect pick-me-up. She'll even freshen up our makeup before a big night out. —M.D. // At-home brows ($50, by appointment) and makeup application ($150), biancadrubi@gmail.com or (510) 894-5547.
Sugar Waxing @ Habit
San Francisco's first wax-only salon, this gorgeous Cow Hollow studio offers sugar waxing—a favorite among Habit's dedicated clients. The treatment is slightly more expensive than a standard wax, but gentler and less painful. We appreciate Habit's unparalleled discretion: Upon making an appointment, we received a code for the private entrance. —K.P. // Sugar waxing ($20-$75) at Habit, 3212 Fillmore St. (Cow Hollow), waxhabit.com
Waxing @ La Tira
This four-room specialty salon eases the physical and mental pain of waxing with its cheerful decor, a soothing Enya-free soundtrack, and a friendly staff who experlty applies (and strips away) quick-drying hard wax for minimal redness. Wax on. —E.H. // La Tira, 1301 Church St. (Noe Valley), latirawaxstudio.com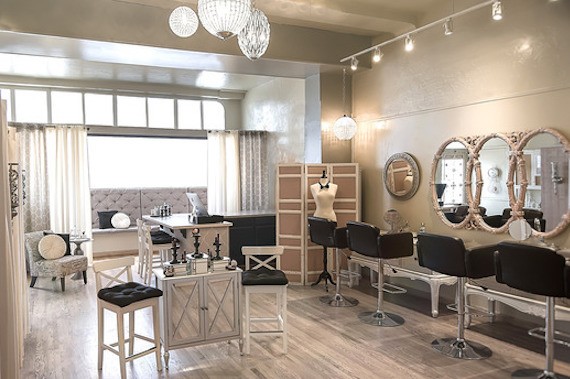 (Courtesy of The Social Beauty Co.)
Brazilian Wax @ The Social Beauty Co.
The Social Beauty Co. is the sassy girl's go-to for, shall we say, more intimate services such as the Sweet Spot—a surprisingly painless Brazilian wax—and its follow-up companion, The Pretty Kitty, which treats stubborn in-growns. Mink lash extensions, makeup, and blowouts are also on the menu. These girls know how to pamper. —M.D. // Brazilian wax ($32-$66) at The Social Beauty Co. (Marina), thesocialbeautyco.com
Brow Threading @ Zaza Nail Spa
For those who use Retinol as part of their skincare regimen, brow waxing can be a dangerous prospect. Threading, a Middle Eastern technique that magically pulls out hair from the root by twisting it around a cotton thread, is a good alternative. The skilled threaders at Zaza deftly shape brows in less than 10 minutes, making the whole process a coffee-break endeavor with results that can last up to six weeks. —Leilani Marie Labong // Brow threading ($25) at Zaza Nail Spa, 543 Second St. (SoMa), zazanailspa.com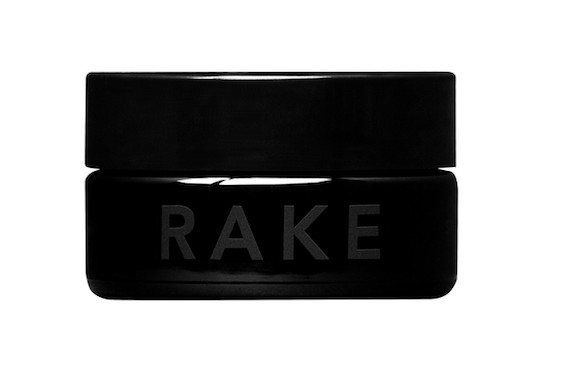 Rake @ GM Reverie
This whipped styling balm is offers lightweight support and structure for "lived-in" hair, with no sticky residue. Handcrafted by California's own GM Reverie, Rake uses only the fine botanical ingredients. // Rake styling balm ($36) at GM Reverie, gmreverie.com
Tend to your tips and toes with our 2016 guide to the Bay Area's chicest and safest nail salons, best products, treatments and more.