The extra-long cold and rainy season (and the stormy political climate) has us stressed out, dried out, and in need of a serious refresh. So, we've polished up our annual Guide to Bay Area Beauty with a bevy of new body treatments, facials, hair trends, mani/pedis, makeup, products, and more at the best spas, salons, and boutiques around. There's something for everyone—you too, guys. So, put your best spring foot forward.
---
TRESSED TO KILL: The Hottest Haircuts, Color & Blowouts in San Francisco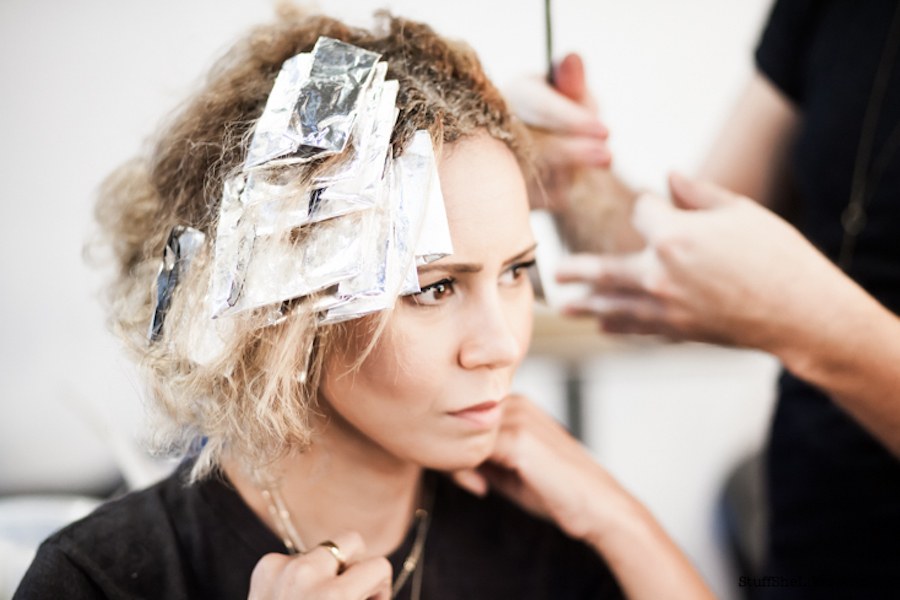 (via Stuff She Likes)
HAIRCUTS

In San Francisco: If beautiful everyday hair is what you're after, ORO (305 Grant Ave. Floor 2, Union Square) is your BFF. Founded and led by superstar stylist Jarr Von Samuel, the comfortable surroundings of the space reflects the staff's focus on creating cuts (starting at $75) and color that are lived-in, wearable, a little sexy, and 100 percent you. // For 20-plus years, Joseph Cozza Salon (77 Maiden Ln, Floor 2, FiDi) has been a hotspot for the city's top-coiffed ladies and gents who like their hair services to feel luxurious. Go for meticulous cuts ($80–$160 for women), a myriad of color options, and extensions. // A haircut from sought-after celebrity stylist Jon Reyman of Spoke and Weal (850 Greenwich St, Russion Hill) is akin to a religious rite: He has a deific instinct about what our hair needs and how its shape can take your look up a few notches. His unusual practice of lightning-fast dry cuts ($65-$250) is easily the best thing you could do for your locks. // Salon-meets-apothecary Veer & Wander (6 Brady St, SoMa) is our go-to for expert hairstyling and artisanal skincare products, makeup, and aromatic candles. Owner and stylist Connie McGrath is a known expert in both cut ($85) and color—pick up some of her tricks of the trade during public workshops on Tuesdays. // With more than 20 years in business, Cowboys and Angels (207 Powell St, Suite 400, Union Square) has amassed a serious cult following for its chic cuts and team of international stylists, including owners David Tolls, Louise Baranowski, and Tracey McAllister. The bright, airy salon and laid-back vibe belie the precision haircuts ($100), designed to help even the most unruly strands fall effortlessly into place. // When it's time for a chop, we need to know who we can trust. At mainstay salon diPietro Todd, (177 Post St, 2nd Floor, Union Square) the well-trained stylists have warm chairside vibes and deft scissor hands (starting at $105). // If you dream of gorgeous voluminous hair and bouncy layers, join the club—and then head to Population (537 Divisadero St, Alamo Square). Local bloggers and cool girls swear by this place. Want to save a few bucks? Become a hair model: Every Monday from 11am to 3pm, women's cuts are $25; men's are $20 and partial highlights are $40. // David James (600 Fillmore St, Alamo Square) is a welcoming salon co-owned by brothers Daniel and David Karvaseles, hair gods trained in the Vidal Sassoon haircutting method. Along with sleek cuts and killer highlights, the siblings and their staff have a very clear philosophy: "We believe in being honest with you so that what we deliver will make you feel like your best self every day." We're all for tough hair love.
COLOR
In San Francisco: Archer Salon (33 Grant Ave, Union Square) is a quiet haven just off bustling Grant Avenue. But don't let the cozy vibe fool you—expert colorists, stylists, and aestheticians run the salon like a well-oiled machine. For baby blonde highlights, owner Gari Cuevas is the pro; for banging balayage ($225), the masterful C.K. Karkhanis knows best. And for a meticulous cut? Savanna's our girl. // Along with the sunny environs and reasonable prices, senior colorist Lori Dylan is one of the main reasons to visit Posh Salon & Blow Dry Boutique (2444 Fillmore St, Pacific Heights). Particularly amazing with every shade of blonde (platinum to sun-kissed), she has more than 15 years working her magic with balayage, highlights and all-over color (partial highlights start at $155). // The tag ine at boutique salon Hair Collective (11 Tillman Pl, 5th Floor, FiDi) is "where hair happens in San Francisco." It's spot on for so many reasons, beginning with the skilled scissors and balayage brushes of partners George Falcon and James Mackey. We're particularly blown away with the color services—we're talking the kind of highlights, blondes and ombres that will elicit Instagram likes aplenty (partial highlights start at $165). // In the same way we like to dine where off-duty chefs do, we want to get our hair chopped where stylists go. Harper Paige Salon (11 Tillman Pl, 2nd Floor, FiDi) is one such place and the "dream child" of two former colorists from Cowboys and Angels—Katie Casey and Marie Warden. Color reigns supreme (tints start at $100). // Here's a stylist who will give it to you straight, no chaser: Hedy Lavinsky (1506 Vallejo St, Marina), a graduate from the Cinta Aveda Institute, coaches her clients to make wise color choices for their hair types. Whether you want light highlights or full-on color melts, Lavinsky promises you will love your look (color consultations are complimentary). Don't hesitate to show your Pinterest board—she'll make you look like the mermaid of your dreams. // Trend-conscious style mavens look to the Grant Avenue mainstay Cinta (23 Grant Ave, Union Square) to keep their locks au courant—balyage (surface balyage starts at $105) and pastel tresses (color starts at $86) are still the look this spring. // Barrow Salon (256 Sutter St, 4tth Floor, FiDi) is a mecca for good hair on the West Coast. Proprietor and stylist Michelle Snyder has cultivated a talented team with experience from New York Fashion Week and beyond: Barbara Thompson is our color expert of choice. Sit back with a made-to-order cup of coffee or a generously poured glass of bubbly while she does all the work (color and styling starting at $100).
BLOWOUTS
In San Francisco: Bloom Blow Dry Bar (819 Ulloa St, Forest Hill) is our go-to when only beachy waves will do. Summon your inner surfer chick and chill out during the shampoo—only Unite's cruelty-free products will touch your tresses in this salon—and read magazines on an iPad while receiving that perfect, tousled blow dry ($45). // We book our Drybar (1908 Fillmore St, Pac Heights) appointments through its easy-to-use app. The upbeat Pac Heights salon has pop music on the stereo and classic chick flicks on the flatscreen. Choose from seven blowout styles ($40) in its lookbook, including the wavy Dirty Martini (a favorite). Enjoy coffee or champers while the stylist works on your locks, It's as easy, and addictive, as that.
EXTENSIONS + SPECIAL TREATMENTS
In San Francisco: Hair extensions are the name of the game at Milvali Salon & Cosmetics (2040 St, Marina), which offers both micro-link and tape-in extensions. Whether you're looking for a natural look or an over-the-top Kardashian coif, the stylists got your back hair. // Dumping tomato sauce on your head may sound like only a small step up from mayonnaise, but the Organic Tomato Hair Mask ($85) at Edo Salon (601 Haight St, Lower Haight) promises to deliver a hearty dose of vitamins C and E, as well as protein extract from the tomato's base. Those damned split ends will meet their maker. // We're not sure how hip Dekko salon (1325 Indiana St, Potrero Hill), with a loft-like space and peaceful vibe, manages to stay under the radar after 15 years, but we do know that the creative cuts and color services make us happy. This is your go-to for Brazilian Keratin Treatments ($300) and Thermal Reconditioning ($500). // Now there's even more to love at the happy hair place known as Patrick Evan Salon (55 Grant Ave, Union Square). The busy and buzzy salon just added 13 more stylist chairs and expanded to another floor. Its crackerjack team of stylists serve up virtually every service under the sun, including, notably, Japanese hair straightening, extensions, Keratin smoothing treatments and more.
Online: Glorious home hair color that doesn't leave you smelling like a lab rat? Yes, please! We're big fans of the SoMa-based Madison Reed's ammonia-, resorcinol-, PPD-, and paraben-free colors that leave our hair soft and silky. And this year, there are more new products to love, including the just-released line of Vivids, including brilliant red shades of the Radiant Cream Color and Bombshells, perfect non-harsh lightening for blondes and light brown heads. If you're coloring your hair at home but aren't yet a Madison Reed convert, give their color translator a try: Simply enter your current brand and shade, and MR will match your hue...only without all the smelly toxic chemicals (color kit is $20 for subscribers, $25 for one-time orders).

NEXT: Brow Waxing, Threading, Brazilians + More