The holidays are here and you're probably shopping for presents. Imagine if you could step back in time to shop San Francisco's chicest department stores 20, 50, or even 100 years ago. Here, take our time machine to tour through four fabulous shopping meccas that were once the jewels of Union Square.

---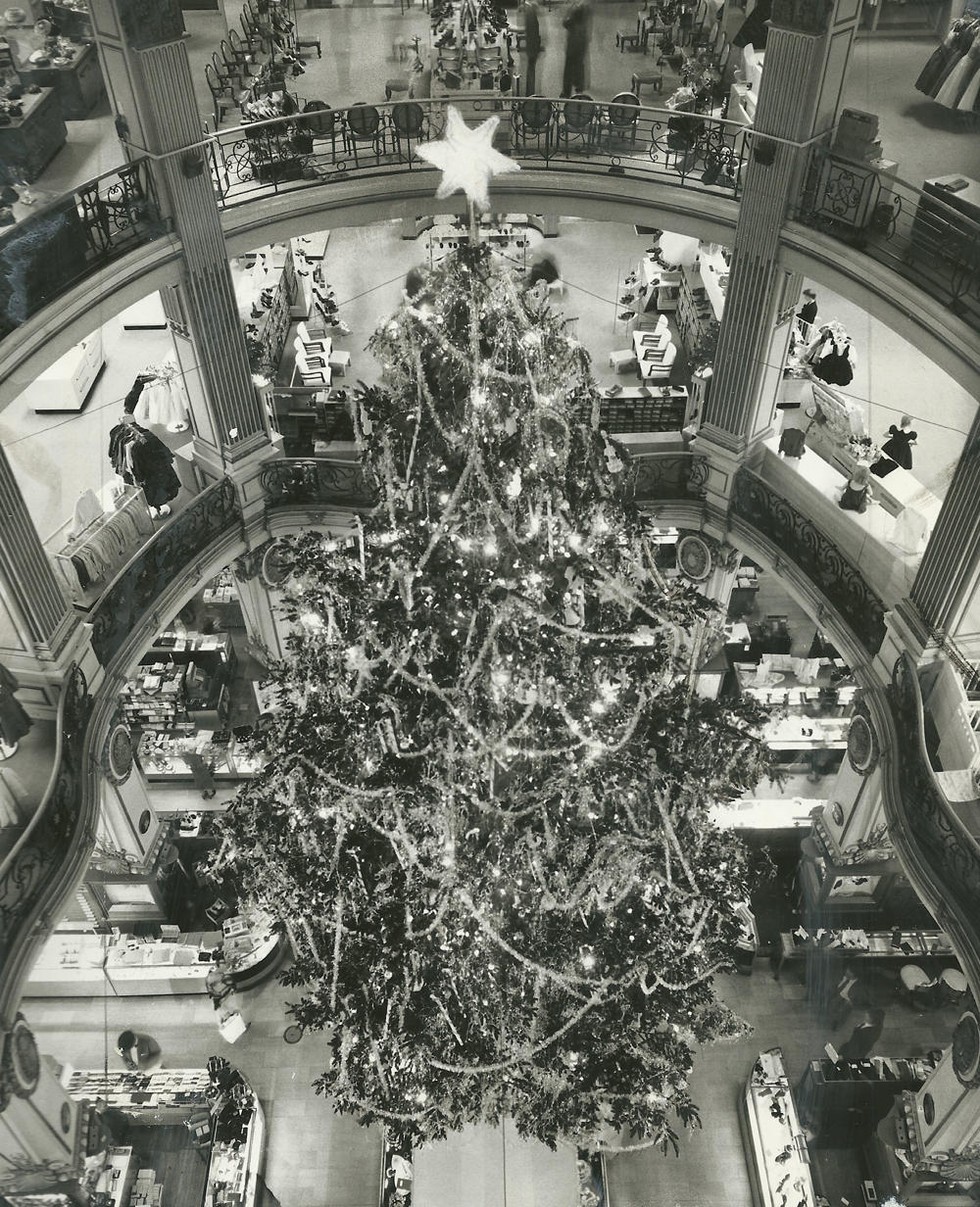 The Christmas tree at City of Paris remains an icon of Union Square holidays today, towering toward the original stained-glass dome at what is now Neiman Marcus.(Courtesy of SFGate)
City of Paris Dry Goods Co., Geary and Stockton Streets
The story of City of Paris began on a ship in 1850. Felix Verdier arrived in San Francisco on a vessel called Ville de Paris, carrying with him such luxury goods as lace, silk, Champagne, Cognac, and fine wines. Before Verdier could take his cargo off of the ship, he sold it to locals on rowboats. In 1851, after a trip back to France to restock, Verdier opened a storefront at 152 Kearny Street; he later moved to the Beaux-Arts building, designed by Clinton Day and built in 1896, at Geary and Stockton. This building survived the 1906 earthquake and fire, although it was damaged. In 1909, the store was reopened with its trademark stained-glass dome. Each year, City of Paris' towering Christmas tree would draw shoppers in for first-rate dry goods and wines such as Château Smith-Haut-Lafitte, 1928 and Château Latour Haut Brion 1925. Sold to Neiman Marcus in 1971, the building was demolished in 1980, despite public efforts to preserve it. But the glorious dome was preserved and now plays host to fashionable ladies dining on bubbly and popovers in Neiman's beloved Rotunda.
Did you know? The City of Paris' 40-foot Christmas tree was placed under the rotunda every year, and became known as The City's official Christmas tree.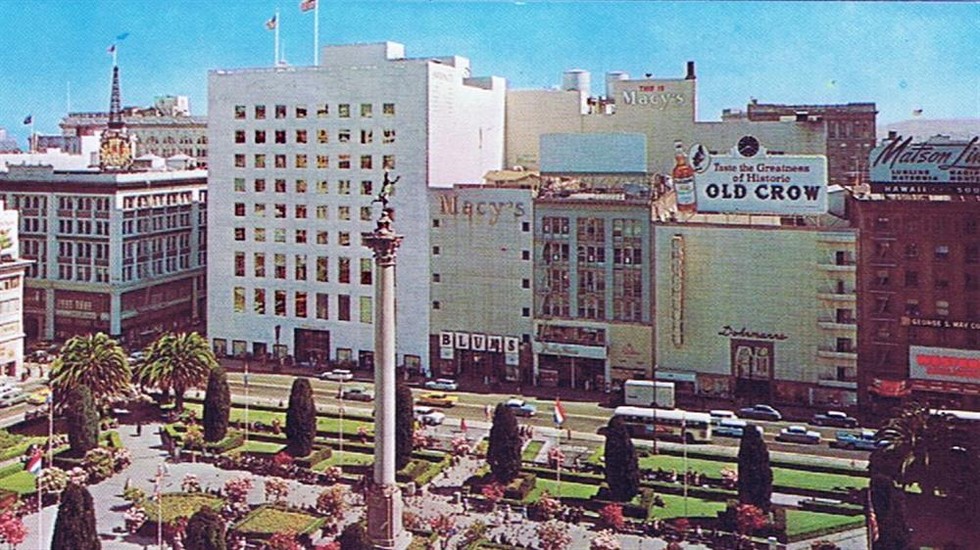 I. Magnin was housed in the white marble building, designed by famous SF architect Timothy Pflueger, that now houses Louis Vuitton and Macy's West. (Photo circa the early 1960s; Courtesy of Reel SF)
I. Magnin, 135 Stockton Street
I. Magnin was founded in 1876 by Mary Ann Cohen Magnin, who named the store after her husband Isaac. While the store first sold lotions and high-end infant wear, it expanded to include bridal wear and fashions imported from Paris. The 1906 earthquake and fire destroyed the original Market Street location built in 1877; rebuilding occurred at 50 Grant Avenue in 1912. The famed white marble Union Square store, designed by Timothy Pflueger, opened in 1948 at Geary and Stockton, and became a glamorous destination that carried many haute couture labels. Christmas shoppers would have plucked only the finest from Louis Vuitton, Hermès, Yves Saint Laurent, Rive Gauche, and Fendi. In 1988, Macy's bought I. Magnin and eventually closed the brand in 1994. The original I. Magnin entrance is now part of the Louis Vuitton boutique, while the rest of the building houses Macy's West.
Did you know? A secret surviving piece of the original I. Magnin is the green marble bathroom on the sixth floor of Macy's.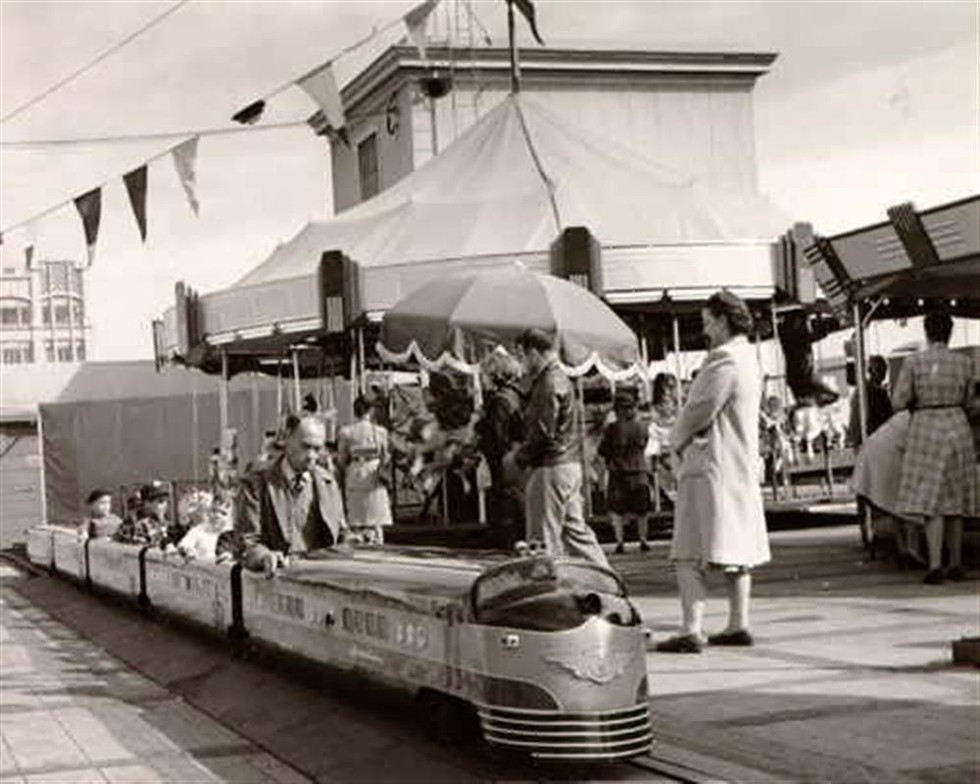 Train rides on the rooftop of The Emporium were popular during the holidays(Photo circa 1947; courtesy of SFPL)
The Emporium, 835 Market Street


The Emporium, founded by Adolph Feiss and designed by Albert Pissis, made its debut in San Francisco in 1896. Although it survived the 1906 earthquake, fires required the building to be rebuilt in 1908. Through many mergers and incarnations, The Emporium continued to offer quality goods from brands including Liz Claiborne, Waterford, Estee Lauder, and Levi's. A popular holiday happening was the rooftop holiday carnival, which featured two Santas, elves, a merry-go-round, train and Ferris wheel. The Emporium went the way of I. Magnin—it was acquired by Macy's in 1995, and closed for good one year later.
Did you know? The glass dome from the Emporium was preserved when Westfield San Francisco Centre was built, and is still there today.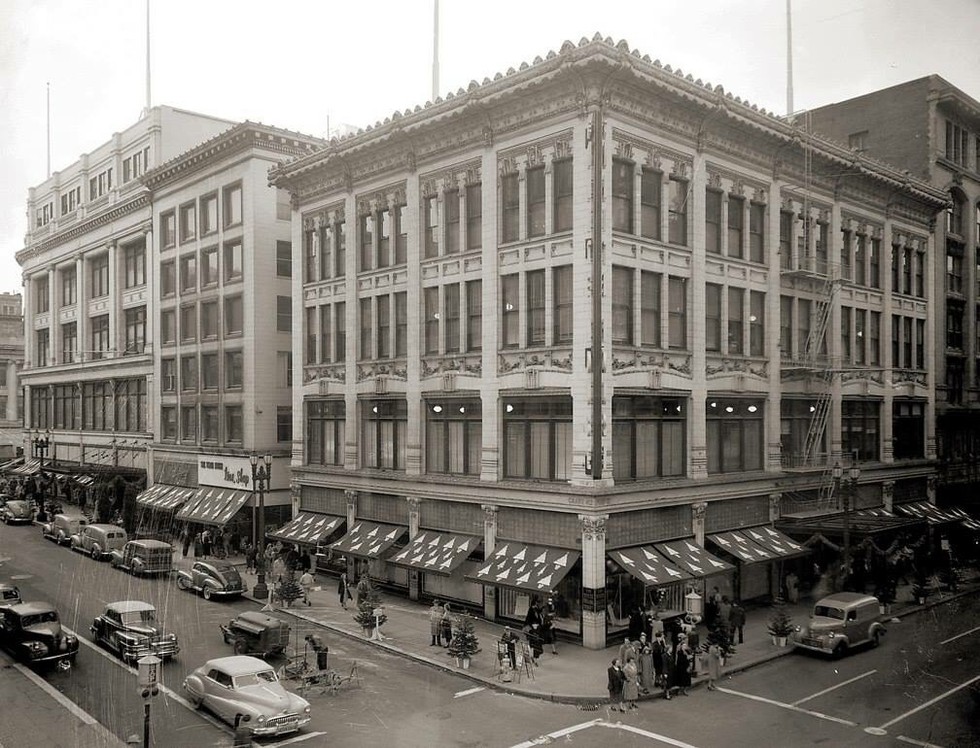 The White House, circa 1948(Via Pinterest)
The White House, 256 Grant Avenue


Rafael Weil's The White House was established in 1879 at Kearny and Post Streets. According to the Daily Alta, "Many a lady went away crazy to possess some of the nice things seen" in the dry goods store. The building was damaged in the 1906 quake so, in 1909, Weil moved his business to Grant Avenue. The Beaux-Arts building, also designed by Albert Pissis, personified chic French style. It not only resembled Parisian stores and imported goods from France, but also featured an elegant Parisian-style tearoom as well as art galleries. The White House closed its doors in 1965. Today, the building is home to Banana Republic and the White House parking garage.
Did you know? The White House was the first dry goods house in San Francisco, carrying fabric, thread, and clothing, and was originally known as J. W. Davidson Dry Goods Store.