Climbing Marin County's Mount Tamalpais has been a cycling challenge since bicycles began rolling over the first paved roads up this fabled mountain. More than fifty years ago, some serious riders from The California Road Club inaugurated the first timed race up from Stinson Beach The 50th iteration of this classic is slated for a 9 am start on September 15, 2012 and will be hosted by Golden Gate Velo Club. Details can be found here and the race is limited to 660 participants in 14 categories, ranging from pros to public. A big FYI here is the course record, which is 37:26. Not that we are trying to intimidate you. It's a mere 12.1 miles and 2,033 feet. Easy. Really.

If you're not up for going shoulder to shoulder with the masses, this still makes for a challenging climb any time or day of the week (the start of public category is infamous for horrendous crashes as the wannabe racers mix it).

The ride begins in the parking lot of the former Stinson Beach State Park, now part of the GGNRA and heads north on Hwy. 1 alongside the Bolinas Lagoon. If you're not racing, you may see sea lions basking on the mudflats. After a four-mile warm-up you'll reach an unmarked intersection at the north end of the lagoon – this is the Bolinas Fairfax Rd. It's unmarked because the Bolinas locals like it that way and officials have given up erecting signs only to have them disappear. You'll make a right here and immediately cross (with care) a metal-railed cattle guard and begin the ascent. The Bo-Fax road is not a busy road, but it does lack a center line so you'll always need to be attentive, particularly for descending cyclists.

The first couple of miles are pretty open and as the road snakes up you'll find yourself in your lowest gears, as the grade averages 7.1% for the 1436 feet up to the next cattle guard in 3.9 miles. Some welcome shade comes in the higher reaches and when you reach the intersection with Ridgecrest Blvd., you'll be in amongst towering redwoods (and dripping wet if it's foggy). Make a right turn here for a very brief respite of a flat road with a little downhill before the next challenge, the Seven Sisters (often referred to as the Seven Bitches). The profile numbers might suggest this is somehow easier than the previous climbing you've done, at 558 feet and 2.3% overall grade but it's those brief moments at 12% that can test you, especially after 40 minutes at race pace.




I personally prefer to climb them in thick fog; somehow it seems easier not seeing potential pain rising ahead. The entire hillclimb is rated a category two climb on Strava with a men's best time of 41:12 and women's at 52:13 as of this writing, but to put this into perspective, the median Strava men's time approximately is 1:07:55 for all 772 riders.

The last few miles are easy, and offer outstanding views of Stinson Beach, the Marin Headlands and the City beyond. On clear days, the Farallon Islands may be seen in distance 30 miles away. The road here may seem very familiar – it's been the backdrop for a bazillion auto commercials.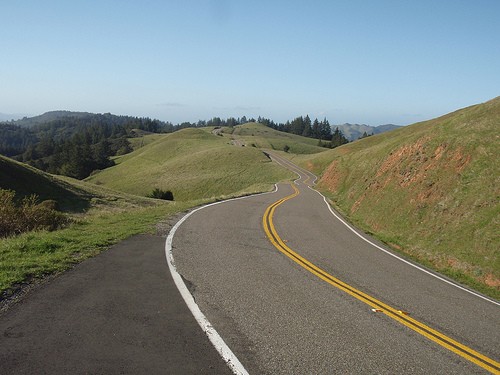 Photo via lhoriman on Flickr.com

While you can drive out to Stinson to make this ride, a bigger day would be to combine it with the Stinson Beach Loop ride, which starts at the Studio Velo Bike Shop in Tam Valley off Hwy. 101. For a great perspective on riding the Mt. Tam Hill Climb as a racer, check out this great post on PezCyclingNews.com.