Medellín (pronounced Meh-de-jihn), situated in a valley in the Andes Mountains, is known for being mercurial, both in its clima and its character.
The locals refer to the climate here as "eternal spring"—unpredictable yet often good, and changing from day to day, or even from hour to hour. The weather is as much a feature to observe as anything else. One day, as I returned to my Airbnb to change shoes to walk the afternoon away, my internal barometer went off and I said to the doorman that it looked like rain. He looked outside, smiled and shook his head no. Not two minutes later, through the window in my place up on the 15th floor, I watched an enormous dark storm cloud appear over the mountaintop, bringing with it a thunderstorm and, within minutes, whiteout conditions as blinding as a blizzard. The thunder didn't feel like it came from above, but rather from all around. And in another few minutes, the storm retreated, leaving the city and the air absolutely clean and refreshed. I made my way into a day considerably less humid and more comfortable than it had been an hour prior. The improbable strength of a storm coming to life and then moving so quickly while still able to instill a sense of awe was a moment of almost magical realism I won't soon forget.
---
Colombia's second largest city (with a population of four million or so, it's about half the size of Bogotá), Medellín has weathered its share of other kinds of storms, with a rocky and troubled history that includes a civil war and a drug cartel problem that once threatened to swallow it whole. But those particular thunderclaps, it seems, are firmly in the past. Today Medellín feels unusual and special in a way one doesn't vibe too often—and it's not just the ridiculous views, but also rather a people thing. There is something garrulous yet sotto voce at work here. One could too easily call it chill, but chill is a note not a chord; what's happening in Medellín seems more like a chord. I think cultures that survive crazy and bruising times are somehow more elastic and compelling as a result.
The food here is great and varied, with both traditional and contemporary fare being well represented, but it would be wrong not to mention that Medellín is also a gin town. Come prepared.
If you have allergies or any propensity toward asthma, I would recommend bringing an inhaler or nose spray with you. The city sits in a valley and there is a fair amount of traffic with few if any electric vehicles—it can get smoggy fairly quickly. And while the ever -moving rain showers can take care of this in an instant, it's always good to have a plan b in your pocket.
Neighborhoods + Where to Stay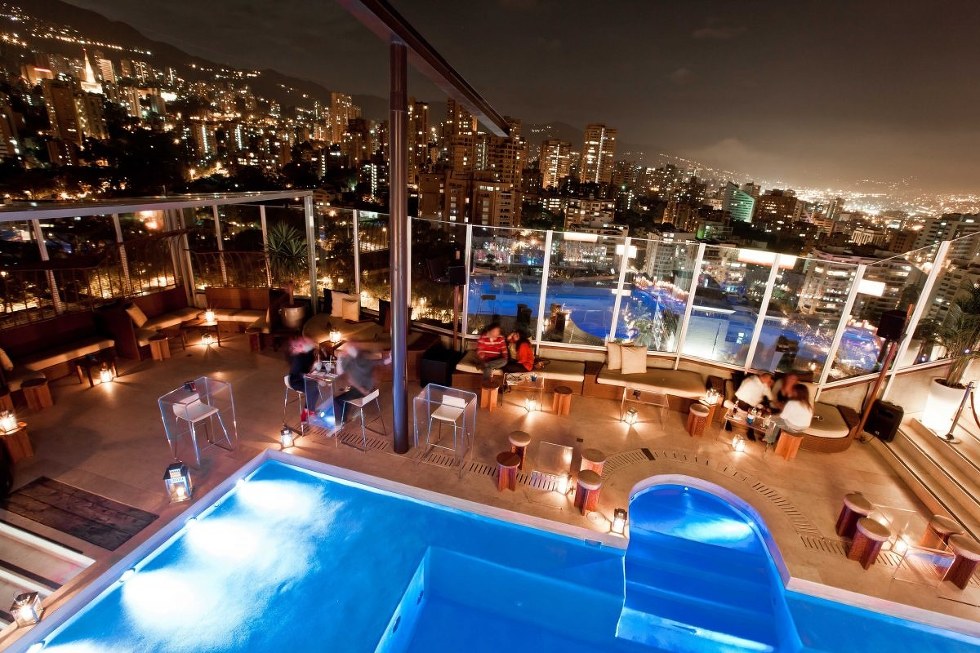 No wonder the rooftop bar at the Charlee Lifestyle Hotel in Poblado is popular—look at those views!
(Courtesy of the hotel)
Most visitors stay in El Poblado, a neighborhood filled with hotels, restaurants and shopping. It's nice and welcoming, no question, but in some ways feels like its been formatted to resemble similar neighborhoods in cities all over the world, you know, the ones looking to leverage tourist numbers. That said, the Charlee Lifestyle Hotel distinguishes itself from the other more corporate-seeming hotels in the area, with a three-dimensional and textural wooden façade that not only makes it stand out from its surroundings but lures in some of the native doves, giving it the impression of an aerie. The rooftop bar is quite popular.
Not too far from the Poblado is Manila, a neighborhood that leans toward the quiet and leafy side of things. Slightly upscale, it's very walkable, and close enough to public transportation to get you anywhere within the city quickly. (You may find that both taxi and Uber drivers have some trouble navigating—they will get you there, but it may take some extra consultation with Google to figure out the at-times-baffling system of carreras, calles and transverses that make up the maps of Colombian cities.) My Airbnb, on the 15th floor of the fittingly named San Francisco building, offered a stunning view of the city, and its changing weather, from the deck. From there you could meditate on the carpet of flickering lights up and down the hillsides in the distance at night, and so I did, while listening to Spotify ("No Place Like London" from the original Broadway soundtrack of Sweeney Todd, followed by the Steely Dan song, "Aja"), thus fulfilling a bucket list combination I didn't even know was waiting to be checked off.
The residential neighborhood of Laureles is also a good bet. It lacks a lot of obvious infrastructure designed to lure tourists, but is very comfortable, walkable and close to Carrera 70 in the Estadio area. Not too far from the Universidad UP, this is the up-and-coming—some might say already there—food and nightlife area for those in the know seeking an alternative to Poblado.
Eat + Drink
Pizzeria Olivia
In Manila, Pizzeria Olivia is a smallish, almost open-air restaurant specializing mainly in pastas and, of course, pizzas. While no one is going to make the case that pizza is Colombian, it is its own universal language, and the pizza here is elevated in terms of the care and quality of the ingredients, and the number of different meat, vegetable and fish combinations. But it's the selection of fresh, dried and stuffed pastas that really stand out—the ravioli relleno de tocineta, alcachofa y ricotta (ravioli stuffed with bacon, artichoke and ricotta) is superb when paired with the housemade pomodoro sauce. But Olivia has another card up its sleeve, and it can be found on the cocktail menu: the Gin and Tonic Olivia, made with Hendricks gin and ocean tonic water and a scattering of organic rose petals and juniper berries in and among the ice cubes. It looks and tastes like summer, so prepare to be beguiled. Pizzeria Olivia also has locations in the Laureles neighborhood and Envigado; while the website is in Spanish, English menus are available. // pizzeriaolivia.co, instagram.com/pizzeriaolivia
Tomasa y Al Alma
Despite being fertile ground for some of the most prized coffee beans in the world, the coffee culture in Colombia, like in much of Latin America, is surprisingly subdued—sometimes it feels almost nonexistent. Without multiple locations Tomasa y Al Alma roasts and serves its own with know-how without calling too much attention to the fact. If good coffee is your game, this is for you. But did I mention the breakfasts? They serve a complete line of them, including some very fetching bagel and croissant situations. Order one that comes with avocado and your day will be made (the avocados in Colombia are so delicious they almost qualify as profound.) For a relaxed hangout vibe in a cottage that wants to be a tree house when it grows up, head to the Manila location. // facebook.com/tomasayalalma, instagram.com/tomasayalalma.
Carmen
Carmen Angel and Rob Pevitts, the husband and wife team behind Carmen, have Bay Area roots. Angel graduated from UC Santa Cruz, and both of them studied at Le Cordon Bleu in San Francisco before heading to Colombia to make their future. At this El Poblado restaurant, everything is very well calibrated, from the food and cocktails to the service (to say nothing of the casually handsome waiter quotient). If the gin and tonic at Pizzeria Olivia tastes like summer, Carmen's tastes like spring, leaning toward citrus with sweet and bitter notes buried deep in the mix. While the tacos Coreanos (Korean-style galbi-marinated beef with spicy purple cabbage, carrot kimchi, asian pear, and grilled little gems on corn and cilantro tortillas) would not be out of place at Namu Gaji, the Pez Negro feels like something you would not find in the San Francisco food scene: The fish of the day is sautéed in black olive oil until it develops a black crust that's almost meat-y in terms of flavor and structure; it sits atop black truffle agnolotti, black kale, and roasted tomatoes. It's the only time I've ever ordered fish that I thought, "Hmmm, I would love a good red with this." The flavor is that bold. If you're game, finish off the meal with an after-dinner glass of Parce rum, a Colombian variety that somehow manages to taste as smooth and burnished as a good Cognac. // carmenmedellin.com, instagram.com/carmenrestaurante
3 Tipicos
Among other Colombian specialties, 3 Tipicos is known for its ajiaco (pronounced ahi-yako), a really robust potato and chicken soup served in two parts: the bowl of soup itself, and the plate loaded with toppings—corn cake, rice, plantains, avocado, capers and cream. Do it like a local and eat some soup followed by forkfuls of the extras. The waiter suggested I segue from a spoonful of the soup with a few capers mixed with the cream; he was right. The place gets packed on a Sunday afternoon, which seems to be Colombians' traditional day for going out to eat ajiaco—Colombian comfort food at its finest. // 3tipicos.com, instagram.com/3tipicos
Things to Do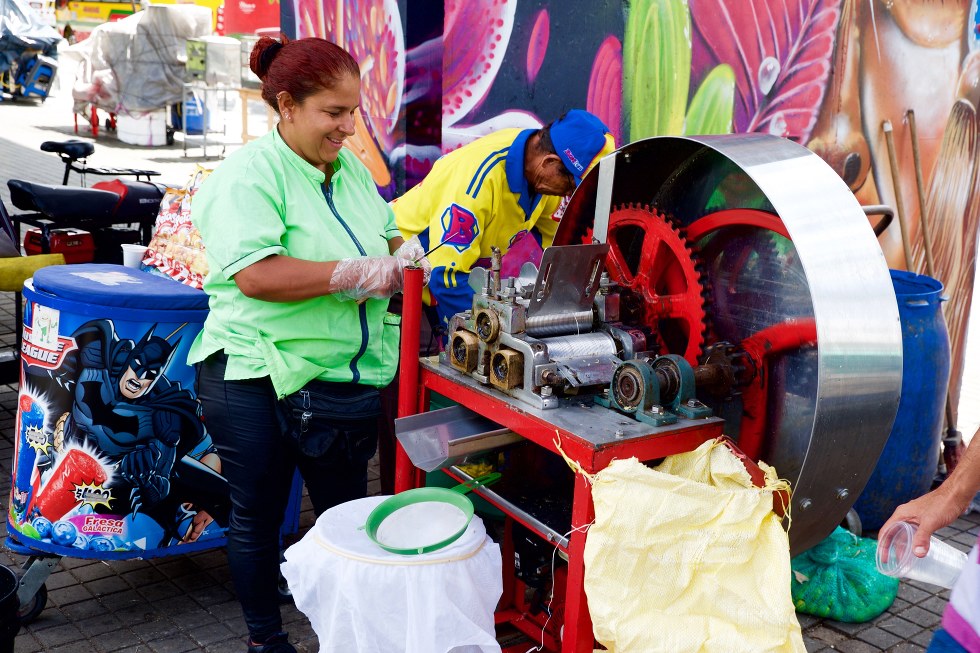 Sugar cane and limes being pressed into fresh juice called guarapo.
(Rebecca Timbers)
Ride
Medellín is a many faceted city, and feels knowable, or at least potentially knowable in a way that Bogotá does not. To really embrace it, you need to see and experience it both from a bird's eye view and from a man-on-the-street's eye view. Absolutely the best way to do this is with Medellín Bike Tour, led by founder Daniel Egger-Belandria, who goes by Dan—a super affable guy born in Venezuela but raised in the Midwest. Dan knows the area and the history like the back of his hand. Let's put it this way: It's not everyday you take a five-hour bike tour of a city high in the Andes that kicks your ass but also involves stopping for juice made from stalks of sugarcane and limes by a woman beneath an overpass. You'll bike some tough-ish hills and through the Botanical Gardens where iguanas hang out in the trees and the turtles collect on rocks to sun themselves. Do yourself a favor and avoid getting hammered or staying out late the night before. Believe me, the cervezas after the ride are going to be a lot more meaningful than any you had the night before. // medellinbiketour.com
When Medellín leveraged inventive city planners and designers to solve the seemingly intractable problem of access to Comuna 13, located high up on the city's hillside, a people-moving art project happened. Once saturated with violence, guerrillas and drug traffickers, the 12,000-resident Comuna 13, also known as San Javier, is a neighborhood isolated by roads so steep that driving there was almost impossible, isolating the community almost as if it were a prison. The solution? A giant 384-meter orange-roofed escalator that scales the mountain in six sections. See it for yourself in a journey that takes just six minutes. As you make your way up each section, look for the graffiti murals that mark your journey. Opened in 2011, the development has become a model for urban planning around the world.
Art
There's lots to see museum-wise, that's for sure. Not to be missed is the lovely, lovely atmosphere of Museo de Antioquia, located at Plaza Botero. Though the plaza itself can be a little rough and daunting, the interior of the museum is an oasis of calm and stillness. The courtyard garden with an open roof is especially nice to dip into as you move through. Look for the work of Colombian painter Eladio Vélez, who has a special way of capturing the faces and situations of women. // museodeantioquia.co
Shop
Based in Medellin and selling its wares in New York, Strada In Voga spotlights Colombian designers with a focus, on our visit, on fantastic shirts and onesies for men that are really cool (if perhaps challenging for some). // stradainvoga.com, instagram.com/stradainvoga
Andres Pajon, a fashion house out of Medellin, promises a collection "full of fantasy." Take a look at their clothes and you will see exactly what they mean—imagine Colombian-born Shakira or a '70s to '80s era Jerry Hall doing justice to these superb concoctions of style and glamour. // andrespajon.com/about, instagram.com/andrespajon