San Francisco is demanding its drinkers know their Damnation from their Pranqster—an education best gained on the road.
---
Fast becoming a true beer connoisseur's town (see Monk's Kettle, La Trappe, Toronado, Social Kitchen and Brewery), San Francisco is starting to expect more of its beer drinkers. This dawned on me the other day as I sheepishly fell back on my usual Sierra Nevada order. Clearly, the time had come to embark on a vision quest of the hedonistic variety: a tasting tour of craft breweries.

The first order of business was a stop in at the Lower Haight's Toronado—the original beer church—to "bro down" with some of its bartenders. Midday on a sunny Friday, the place is a dark and intimidating dude's club, but once bartender Stephen Spybrook realized I was there to solicit his expertise, he relaxed, fired up his Rate:Beer iPhone app, and dropped some words of wisdom. Well, sort of.

"The most annoying thing is when people come in here and ask me what they should order," said Spybrook. I nodded as if I would never stoop so low. "They want me to choose something for them." Like some sort of beer guru, he looked me in the eye and said, "I want you to want to learn. So you're just going to have to go taste them yourself."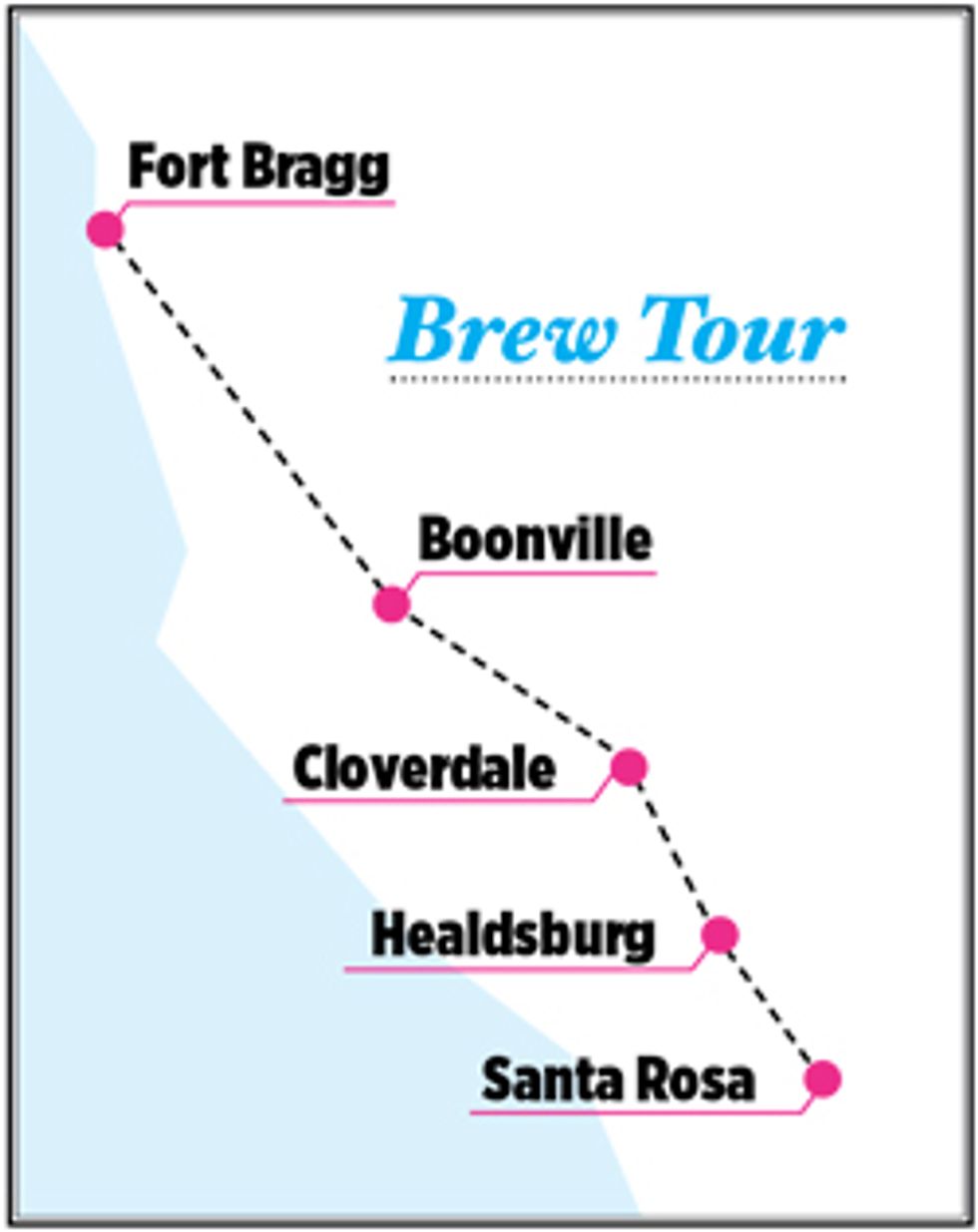 On his orders, I loaded up my iPod with backroads-friendly music—some old (The Band) and some new (The Black Keys)—grabbed a couple of girlfriends to assist with designated driving, filled up the tank, and got ready to find myself in the suds.
DAY ONE: FORT BRAGG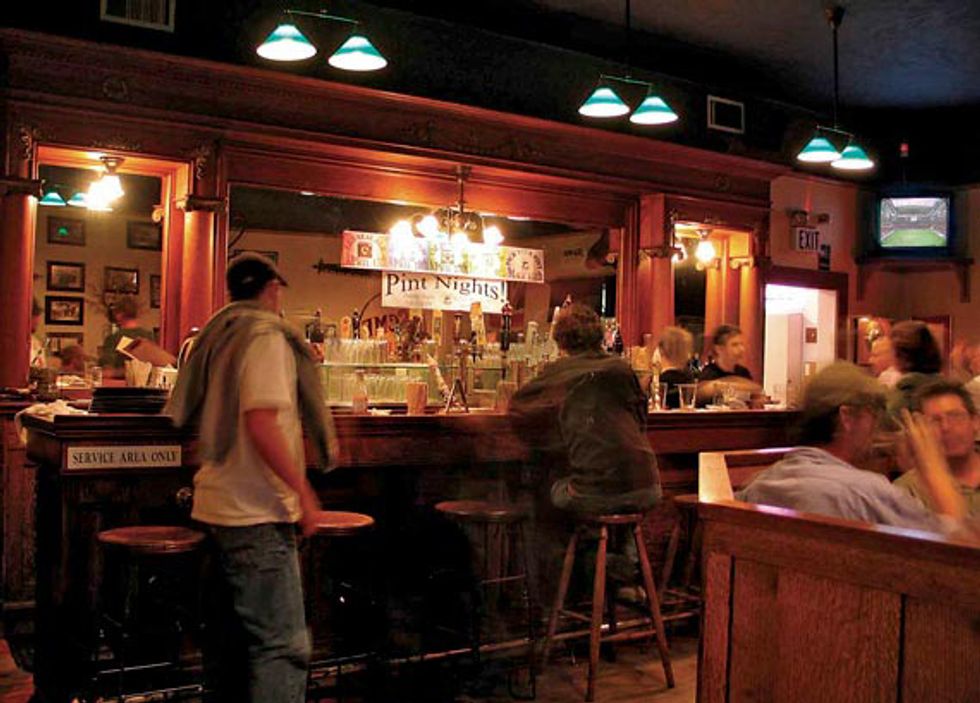 North Coast Brewing photo by Dave Matthews
We headed north past Mendocino to Fort Bragg, a town known for logging, abalone diving, and the North Coast Brewing Company (N. Main St., Fort Bragg, 707-964-2739, northcoastbrewing.com). Its moose-head-flanked tasting room is the type of joint you picture fishermen wandering into from the bluffs. North Coast's beers—Red Seal Ale, Scrimshaw Pilsner, Blue Star, and Acme Pale Ale—make their way to SF taps in earnest. But it's their Pranqster (a Belgian-style golden ale), Brother Thelonious (a Belgian-style abbey ale), and Le Merle (a rustic ale) that wield the power to instantly turn you into a beer snob. I've typically shied away from darker beers, but the Old Rasputin Imperial Stout—pitch black, with notes of coffee and chocolate—is one that I'll be revisiting on future foggy nights.

After we had our fill, we headed down the street to check into the Beachcomber Motel (1111 N. Main St., Fort Bragg, 707-964-2402, thebeachcombermotel.com), a cozy, no-frills motel overlooking the ocean. In the morning, we got up early to take the path straight from our room to Glass Beach, a spot that pretty much begs you to start an Etsy store or at least get into the Zen of beach-glass collecting.


DAY TWO: BOONVILLE
Inland from Fort Bragg lies Boonville, the infamously quirky town of 700 with its own dialect called Boontling. We checked into the Boonville Hotel (14050 Highway 128, Boonville, 707-895-2210, boonvillehotel.com), housed in a B&B comprising eight unique rooms, plus a bungalow and a studio, each designed with works from local artists. In the morning, homemade scones are served and in the evening, the restaurant, Table 128, cooks up family-style dinners created, as they put it, by "whim and season."

We headed across the street to Anderson Valley Brewing Company (17700 Highway 253, Boonville, 707-895-2337, avbc.com), housed on 30 acres of idyllic, rough-and-tumble heaven that also happens to have a picnic area and a disc golf course. Their fascinating tour lead us through a skunky-smelling hops garden (hops are a cousin of marijuana) as well as the entire beer-making process.

ABVC recently began putting its well-known Boont Amber Ale into cans, an increasing trend in the craft industry. Besides being more environmentally friendly, cans are also better for the beer. The light that comes through glass bottles speeds up the oxidation process, which can adversely affect the taste, whereas a can is like a mini-keg, keeping the beer nice and fresh.

We sampled their Poleeko Gold Pale (crisp, dry, light), Hop Ottin IPA (which ratebeer.com correctly calls "a rattlesnake looking for a fight"), Barney Flats Oatmeal Stout and the nutmeg-y Winter Solstice. Back at Toronado, Spybrook had recommended we try some more experimental brews. So I made sure to also try 3-Way, an attempt at barrel-aging, and Horse Tongue, a wheat beer that was forgotten and found by a horse in AVBC's barn after it had aged too long.






DAY THREE: HEALDSBURG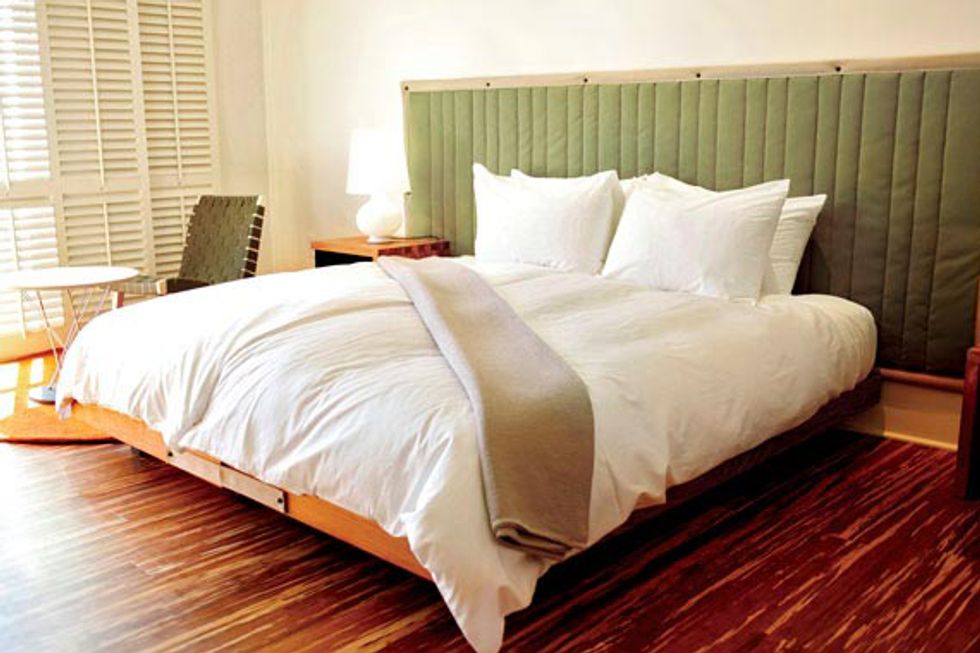 The Oasis that is H2 Hotel in Healdsburg
The next morning, we drove the hour or so to Healdsburg, checked into the new H2 Hotel (219 Healdsburg Ave., Healdsburg, 707-922-5251, h2hotel.com), and readied ourselves for some eco-pampering. The LEED gold-certified hotel has a living roof and a fleet of bikes for renting, and it features sustainable and organic everything.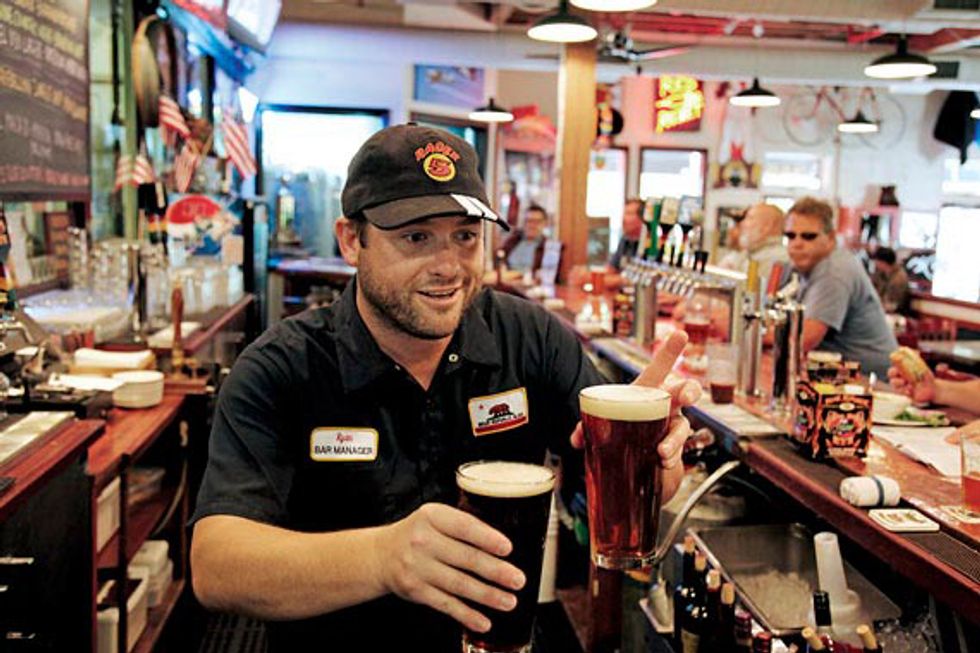 Bear Republic makes manly beer.
Down the street is Bear Republic Brewery (345 Healdsburg Ave., 707-433-2337, bearrepublic.com), a veritable homage to Sears Point racing culture—a taste of machismo that's echoed in their intense beers. I sampled a Mach 10, an assertive and extreme Double Imperial IPA, and the hefty Big Bear Black Stout. In SF, I've made the mistake of having one too many Racer 5s (which seem to be on tap everywhere), but that's nothing compared to Bear's APEX, a strong, experimental brew that tips the hops scale into the red zone.
DAY FOUR: SANTA ROSA AND PETALUMA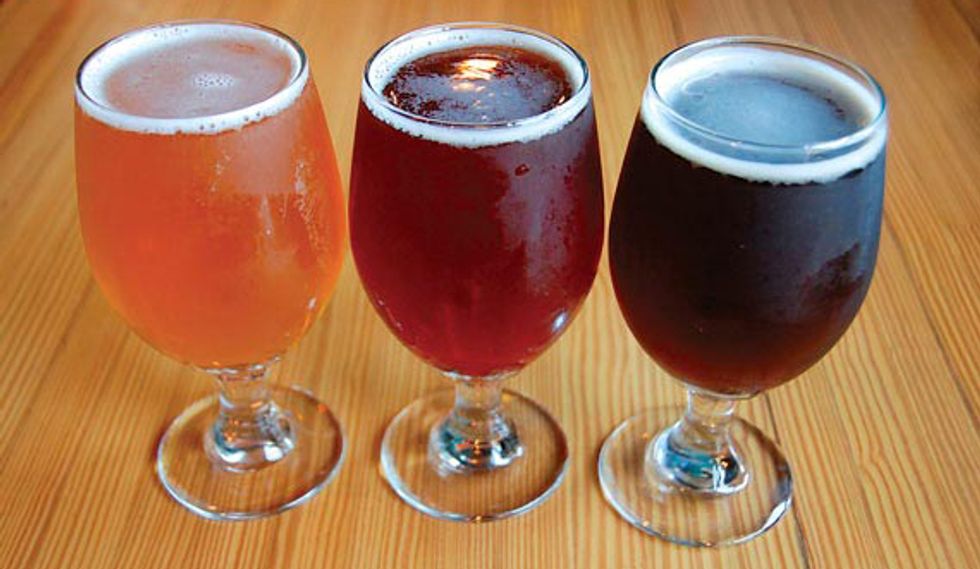 A melange of Russian River Brewing Company sours. Photo by Damone Tighe.
The next morning, we headed down to Santa Rosa to the Russian River Brewing Company (725 Fourth St., Santa Rosa, 707-545-2337, russianriverbrewing.com), considered by many to be one of the best in Northern California.
In the quest for the hoppiest beer—a badge of pride for many West Coast craft brewers—Russian River's Pliny the Elder has long been a benchmark. It claimed the No. 2 spot this year on BeerAdvocate's "Top 100 Beers on Planet Earth," outranked only by Westvleteren 12, made by Trappist monks in Belgium. But instead of finding a love for hops at Russian River, I discovered my penchant for Belgian sours. One called Temptation—fermented with a special strain of yeast and aged for a year in French oak Chardonnay barrels—was like nothing I've ever tasted, with hints of tart cherry and oak.
In fact, we sampled all the Belgians at Russian River. There are more than a dozen varieties, most of which end in "-tion"—Redemption, Damnation, Supplication, Perdition, Mortification, to name a few—and they give a good taste of the current West Coast trend of aging beers in repurposed oak wine barrels from nearby wineries.
On the way home, we stopped in Petaluma to visit Lagunitas Brewing Company (1280 N. McDowell Blvd., Petaluma, 707-778-8776, lagunitas.com). Don't let the office park entryway dissuade you. A grove of picnic tables, daily live music, and a laid-back "beer sanctuary" await.
Lagunitas' Hop Stoopid was named when their brewer lamented that the West Coast hops craze "is just stupid." This baby's got 102 IBUs (International Bitterness Units)—for comparison's sake, Coors has 8—it's a bitter beast. When I was ready to move on to something a little more sessionable (my new favorite beer term that basically means something you can drink a lot of without your head exploding), I opted for their Farmhouse Ale.

I returned to SF armed with enough beer knowledge to strut into Toronado with confidence. I felt good about that night's order: a Damnation, a Temptation and an Old No. 38 Stout from North Coast Brewing Company.

I came to realize my preference is not for hopped-up beers, trendy though they may be. "I'm over hops myself," Spybrook surprisingly admitted to me. "I haven't had an IPA for years."




This doesn't mean I've given up my original order altogether. I'll always pay my respects to Sierra Nevada. After all, they were one of the pioneers of this whole California craft-beer movement in the first place.