Mothers everywhere aren't the only people rejoicing over the newest trend in haute cuisine. Chefs around the city keep finding new and delicious use for vegetables...in your desserts, of all places. Sure, carrot cake and zucchini muffins have been on everyone's radar for years, but this latest craze takes a more sophisticated approach. We're relieved that, for once, we don't have to finish our veggies before digging into dessert. 
---
Bar Tartine (pictured above)
Maybe it's because their sister bakery focuses on the sweet stuff, or maybe they're just particularly ahead of the curve. Whatever the case, Bar Tartine's dessert menu is all about vegetables. Try their unexpected offerings like Turo cheesecake with carrots and sunflower seeds, and a spin on the Greek dip, tzatziki: cucumber sorbet, yoghurt sorbet, lemon curd, and burnt bread crumbs. Their rose geranium custard, served with currants, flowering herbs, and celery will have you happily chowing down those veggies.
We can argue for days over the legitimacy of calling tomato a vegetable, but where cooking is concerned, we treat this fruit as savory. Chefs Evan and Sarah Rich ignore the traditional approach to tomatoes in their tomato tart tatin served with white chocolate and basil sorbet. The sweet and savory flavors blend perfectly in this unique dish.
We're all accustomed to cornbread as a sweet-and-savory treat. Whether it's served with honey or chili, it has many uses at mealtime. But Absinthe glorifies the traditional cornbread in their caramelized corn genoise, an Italian sponge cake. They serve this light, thin cake with iced vanilla buttermilk, blueberry compote, and corn pastry cream.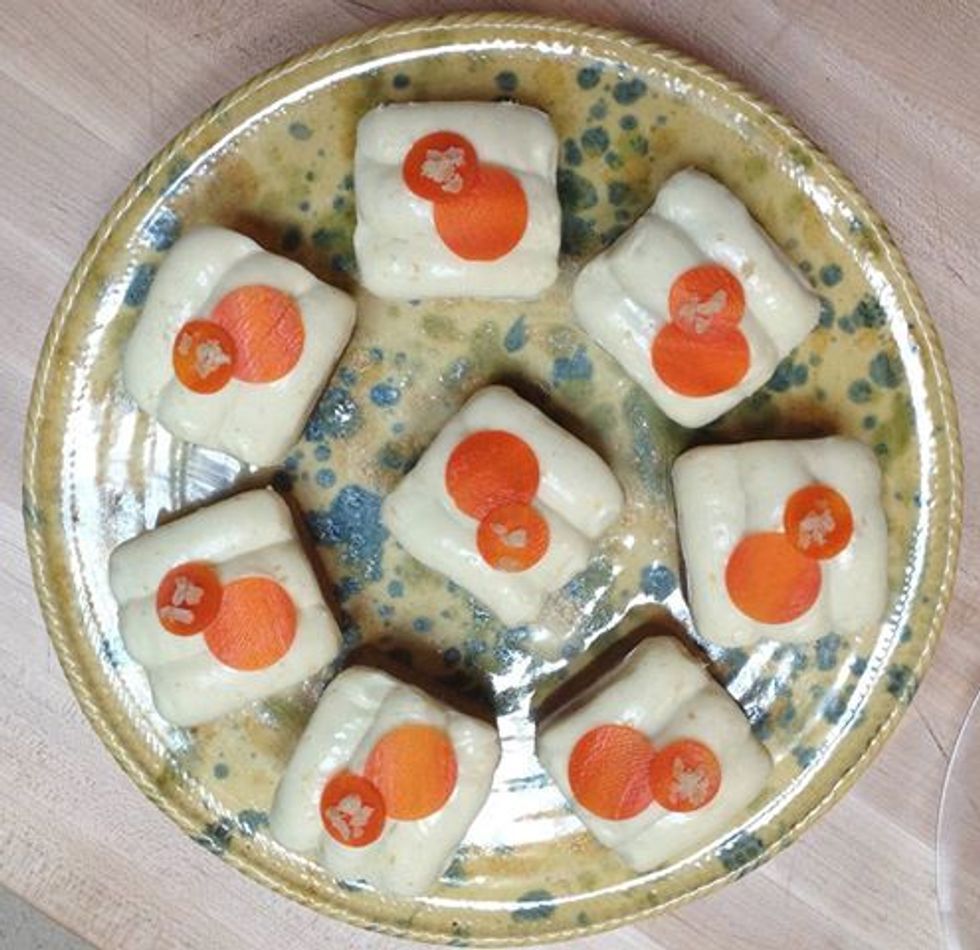 photo from Facebook

San Francisco's newest French-inspired bakery, located in the Marina, creates artisanal breads, cakes, tarts, and Viennoiserie using locally sourced, organic ingredients. So it's no wonder that, with the bounty of fresh produce in San Francisco, Le Marais offers a menu full of fruit and vegetable driven pastries. Try their carrot crème petit gateaux or their vegetable tart. 
Or, Eat Your Veggies in Ice Cream
Smitten, Bi-Rite, and Humphry Slocombe were ahead of the sweetened vegetable craze way before chefs started embracing it. Flavors such as Bi-Rite's basil or Smitten's sweet corn with summer berries highlight seasonal vegetables. But Humphry Slocombe takes it away with their strawberry black olive, sweet summer corn, and strawberry candied jalapeño ice cream; as well as their carrot mango, cucumber ice milk, and golden beet saffron sorbets.