Fontus, a new self-filling water bottle from industrial designer Kristof Retezar could revolutionize how you bike around the City. 
---
The bike-mounted water bottle collects moisture from the air and condenses it into safe-to-drink, pure H2O. The device harvests up to 0.5 liters in an hour when under the right climatic conditions (and in foggy SF, it's always the right conditions).
"After more than 30 experiments, I finally achieved a constant drop-flow of one drop of condensed water per minute," says Retezar. While that may not be enough to quench your thirst after a measly ten-minute commute, it could mean all the difference in a cross-city trek.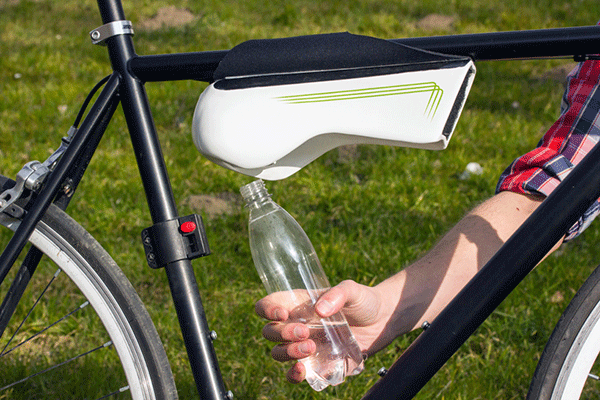 In more scientific terms, the device separates water molecules from air particles and stores the liquid in a connectable bottle. A small, divided-in-two peltier element cooler is powered by solar cell energy to cool down the upperside and heat the bottom. Wind enters the lower section at high speed and cools it down. The air then moves to the upper chamber where it is stopped by little perforated walls in order to separate the particles. The droplets then flow through a pipe to be stored in a container.
But all you really need to know is that you'll never be without water again on a long bike ride. Cheers!