Christmas is almost here. And if you haven't gotten your gifts yet, I hope you're freaking out. You should be! But perhaps the person whose gift you wish to wrap is a caffeine fiend. Or just likes tasty drinks, and well-designed gear to serve it in. Here are five gifts to delight the coffee lover in your life. Two are decidedly local, three are not. All are awesome.
---
Barefoot Coffee Hawaiian Ka'ú Typica, $24
Most Hawaiian coffee is terrible. Sure, that Kona bag may cost a lot, but odds are it's been sitting on a shelf longer than the football trophies at a performing arts magnet high school. Barefoot's Hawaiian release, on the other hand, is a fresh warm breeze. The highly-selective, hand-picked lot yielded only 137 pounds, so there's not much of it. What's more, Barefoot only roasts the beans every Wednesday, and you have to have your orders in by Tuesday at 3pm to score it. (Meaning if you want in on next week's order, act fast.) For $24 you get a mere 8oz. True, that's right up there with Hacienda Esmerelda prices, but it's an excellent bean and excellent roast. Moreover, Barefoot ships it in a collectible tin that your sweetie can re-use to store other beans, tea, or, um, weed in. 

Coava Coffee Kone, $50 I love making coffee in my Chemex. Love. It. But there are two big downsides to the paper filters: they create a lot of waste, and they can impart a distinctive  flavor to your brew. The Kone is a stainless steel filter that sits in your Chemex (or V60). It's both reusable, and utterly devoid of any flavors that might leach into your drink. I've been using one for the past week, and it's a revelation. It allows sediment and oils to pass through that paper filters out, leaving you with a much more robust coffee. It's similar in flavor to French Press, but without nearly as much sediment. And because you can more readily experiment with temperature, extraction time and grind size, it gives you more control than a press. It's not for everyone, but for the coffee fanatic, this is a great tool in an arsenal.


If you want to make great brewed coffee at home, you need two things: a pour over system (like a V60, Clever, Chemex or Beehouse) and a swan neck kettle. (Or, you know, a vac pot. But who wants to clean that every morning?) The Hario kettle is a masterpiece. You can heat water in it directly on your range, or add it from a hot pot. Either way, it lets you comfortably pour hot water at a steady, slow rate of speed, at exactly the point you want it in your dripper of ground beans. But better yet it's just flat-out beautiful. It looks like a small stainless beehive that sits on your counter, with that graceful swan neck that gives you so much control. You can pick one up at any number of cafés in San Francisco, Blue Bottle typically has them in stock.
Four Barrel Limited Edition Travel Mugs, $10-$20


You've probably seen those ceramic travel mugs with silicone lids that look like to-go paper cups.  They're great for coffee to-go, but the plain white ones long ago lost their novelty. Four Barrel, however, is bringing the style, with a series of limited edition mugs printed with some of the café's most familiar faces. First up is Scamp, Four Barrel's resident "rat dog." (Their term, not mine, don't flame me!) They're going to continue the line with the, er, mugs of four different baristas printed on the mugs. Those will be $10 each. Clearly Scamp comes at a premium.  It's completely dope, and if you love me you will buy me the entire line. 


33 Coffees Journal, $4 each, or 3 for $10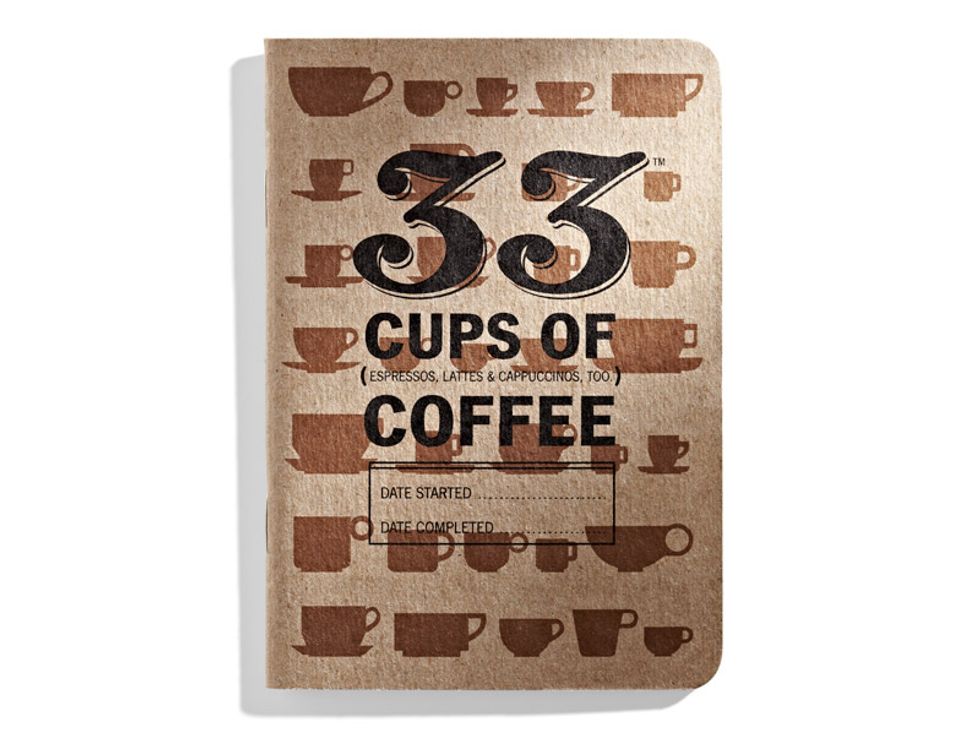 This little pocket-sized journal makes a great companion for your tasting adventures. It has fields to track each coffee's roaster, origin, producer, price, brewing method and more, with a generous notes field and a cool little "tasting wheel" so you can scribble a line drawing that denotes the major features of each coffee. It's both innovative, and well-deisgned, meaning not only will you find it useful, but it will also wow your giftee's companions, assuming your giftee's companions are also coffee geeks.