Gadget geeks and tech connoisseurs alike flocked to Las Vegas last week for the Consumer Electronics Show (CES), the largest annual consumer tech trade show in the world. Featuring 3,600 exhibitors showcasing their latest products, the event never ceases to impress with both innovative and outlandish creations.
---
It's no easy thing to stand out at a show so vast and pioneering, but here are 10 of the coolest things we saw debut this year that could revolutionize 2016. 
1. LG's Rollable OLED Display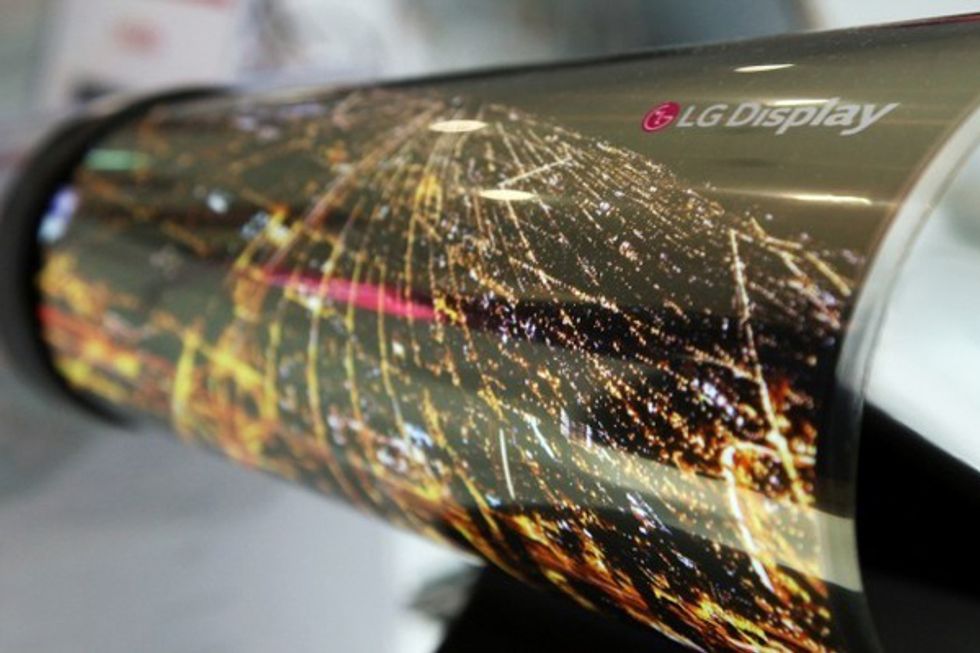 (Photo courtesy of Android Community)
Flexible TV displays have already been seen in various forms, but LG's functioning 18-inch OLED prototype was undeniably impressive. The result of nearly 10 years of development, the paper-thin 810x1200 res display folds like a piece of paper, promising a future where we can just roll up the screen we're using and tuck it into our pocket or bag and take it wherever we please. This new tech can transform smartphones, TVs, and tablets. 
2. The Human-Sized Drone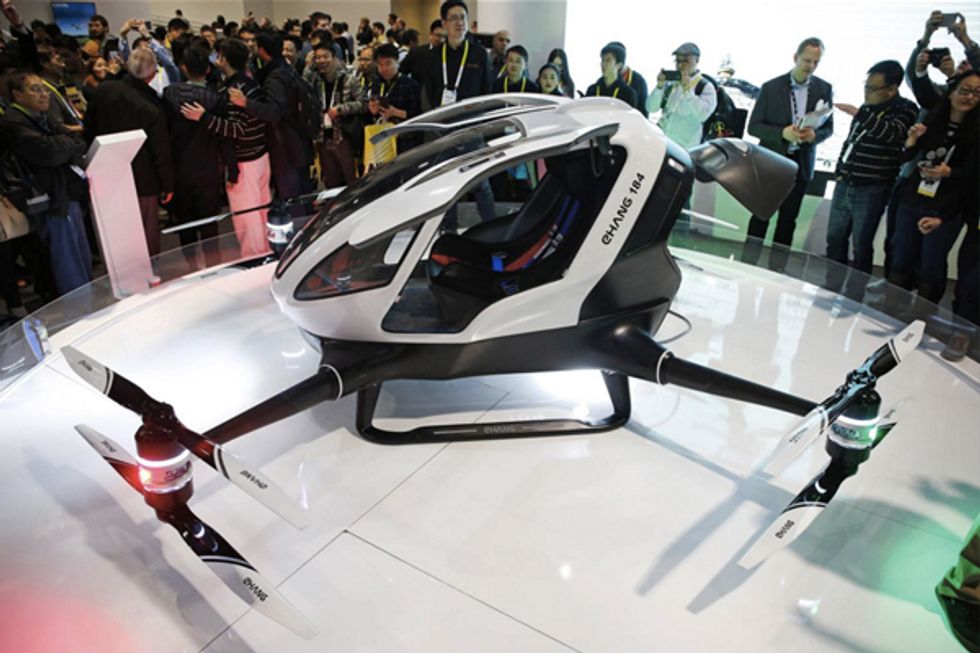 (Photo courtesy of NBC)
The EHang 184 is an autonomous drone that can carry one passenger for 23 minutes at 60 mph. Built by Chinese UAV company EHang, the drone basically looks like a giant DJI Inspire with gull-wing doors and fold up arms. Needless to say, it stole the show at CES. 

3. Part Hoverboard, Part Robot Butler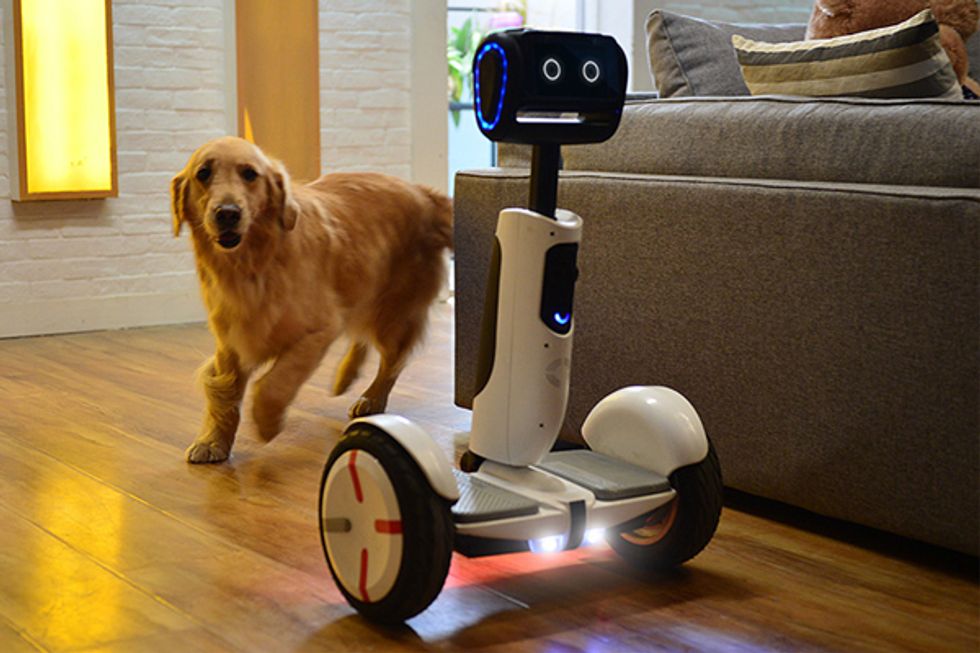 (Photo courtesy of HIGHSNOBIETY)
Segway's Advanced Personal Robot hides away while you ride on its two wheels, but can pop up and bring you a drink or carry your groceries the moment you step off again. Customers can turn the robot into pretty much anything with the option to attach arms or other appendages. The brainchild of Segway, Intel, and Xiaomi, this little robot has big plans for the future including working with developers all over the globe to be able to see in the dark, respond to voice commands, and become better and cuter all around.
4. A Wearable, Foldable Theater System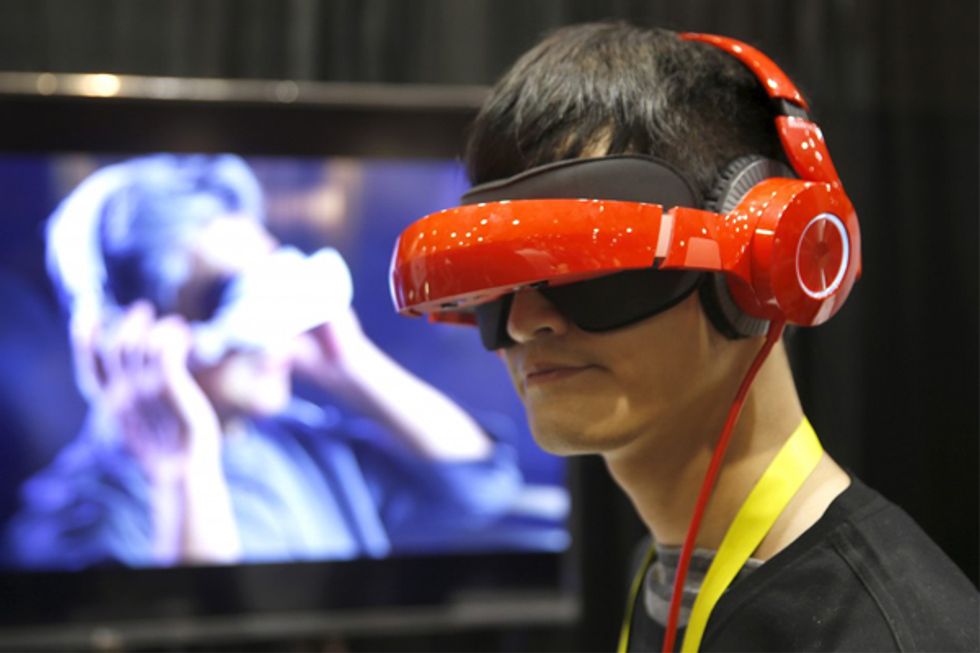 (Photo courtesy of Steve Marcus/Reuters)
The Royole-X Smart Mobile is the smallest theater system ever. A foldable headset that melds noise-canceling headphones and goggles, the device streams movies from Netflix, Amazon Video, Hulu and YouTube, and plays videos from PlayStation, Xbox, Wii, Apple and Google. The Royole-X even has customizable, prescription vision controls that you can relax, glasses free. 
5. 360-Degree Action Camera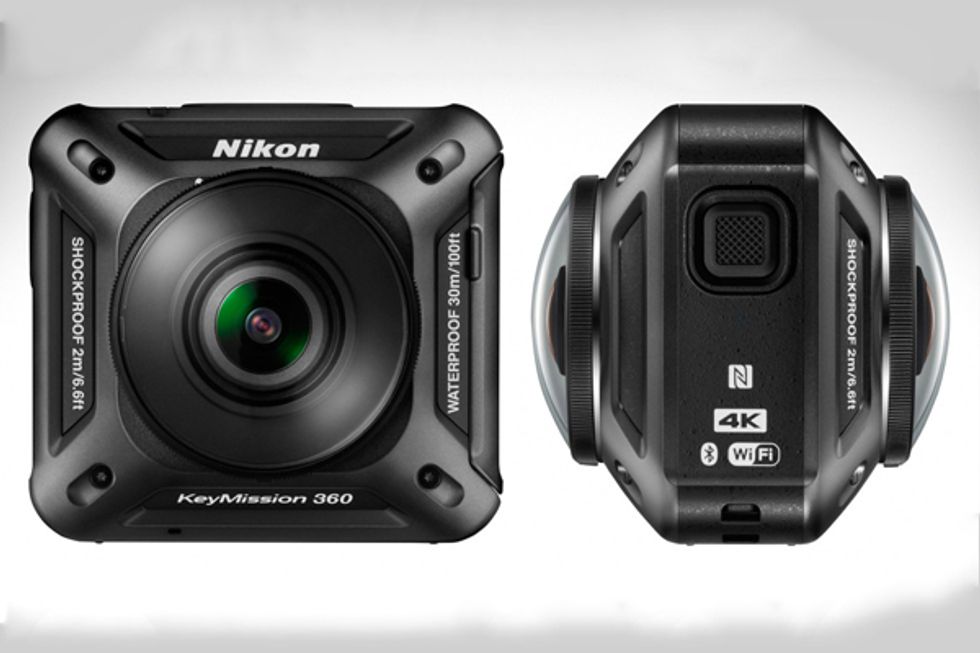 Nikon's KeyMission360 maintains the same shape as other action cameras, but packs a heftier load of features including two lenses, one on each side of the device to record interactive 360-degree video. Equipped with Wi-Fi, Bluetooth and NFC, the camera records in 4K with custom image stabilization and stitching software to create true 360-degree video sans complex rigs or editing tricks. Oh yeah, and it stands up well in terms of durability with the ability to survive being submerged in up to 100 feet of water and is shock proof up to 6 meters.
6. An Alarm Clock That Plays To Your Weaknesses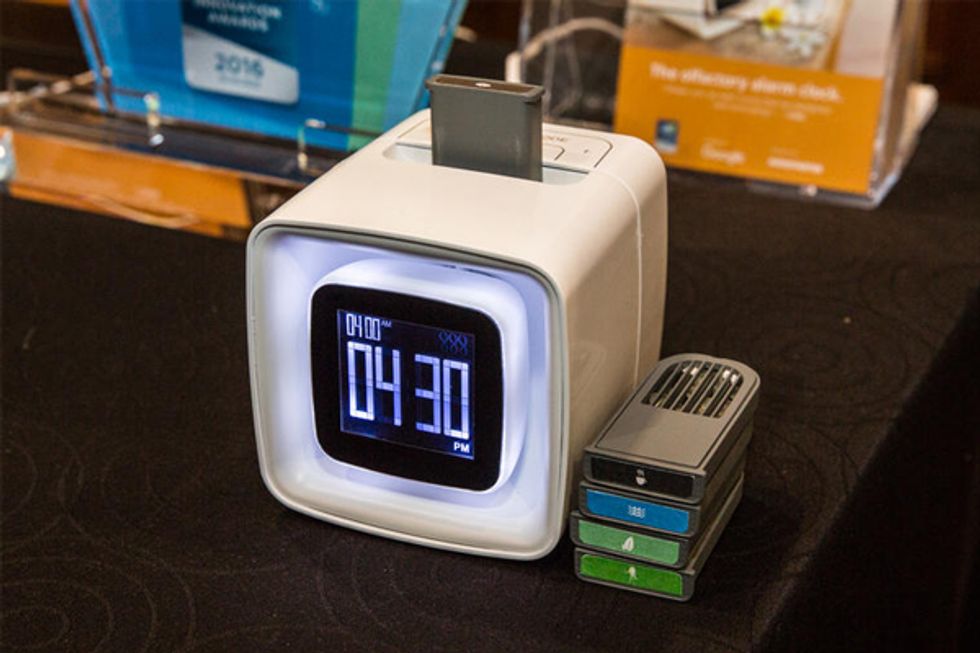 What's more enticing than the scent of fresh-brewed coffee to get you up in the morning? Well, how about money? Or maybe mint? The Sensorwake alarm clock diffuses the scent of your choice at your appointed time of waking with preset cartridges you just stick in to the top of the clock…like an N64.
7. A Wearable, Redefined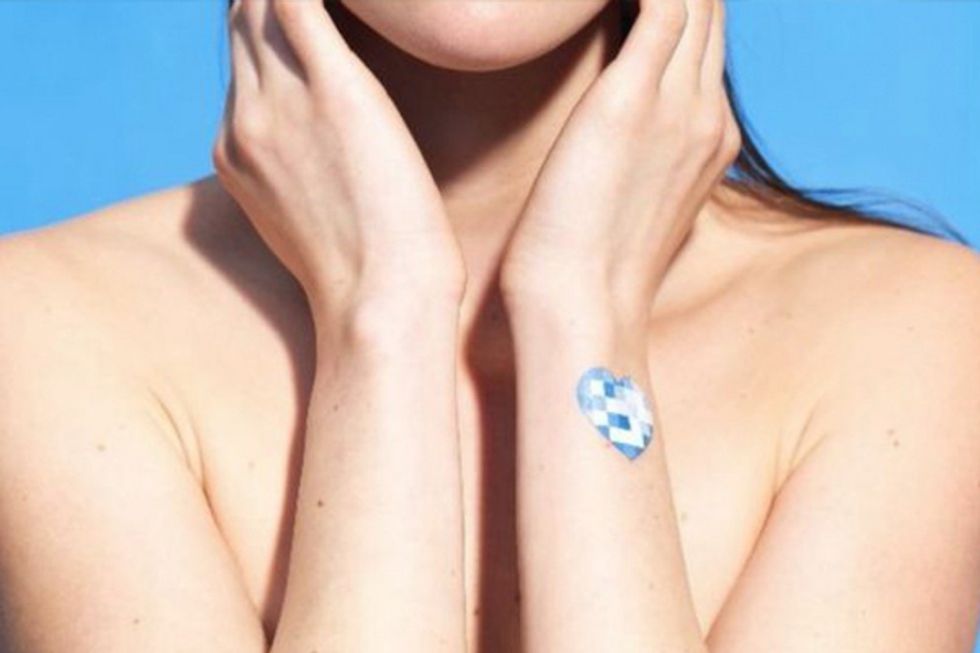 (Photo courtesy of L'Oreal)
L'Oreal's My UV Patch transforms our perception of wearables and what they are capable of achieving. The blue heart smart patch can be placed anywhere on the user and track how often you're exposing yourself to to harmful UV rays. Photosensitive blue dye on the patch changes colors when exposed to varying amount of UV rays. Once its colors change, users will be prompted to take a photo and upload it to L'Oreal's app to break down and evaluate the data.
8. Fly Your Camera Like a Plane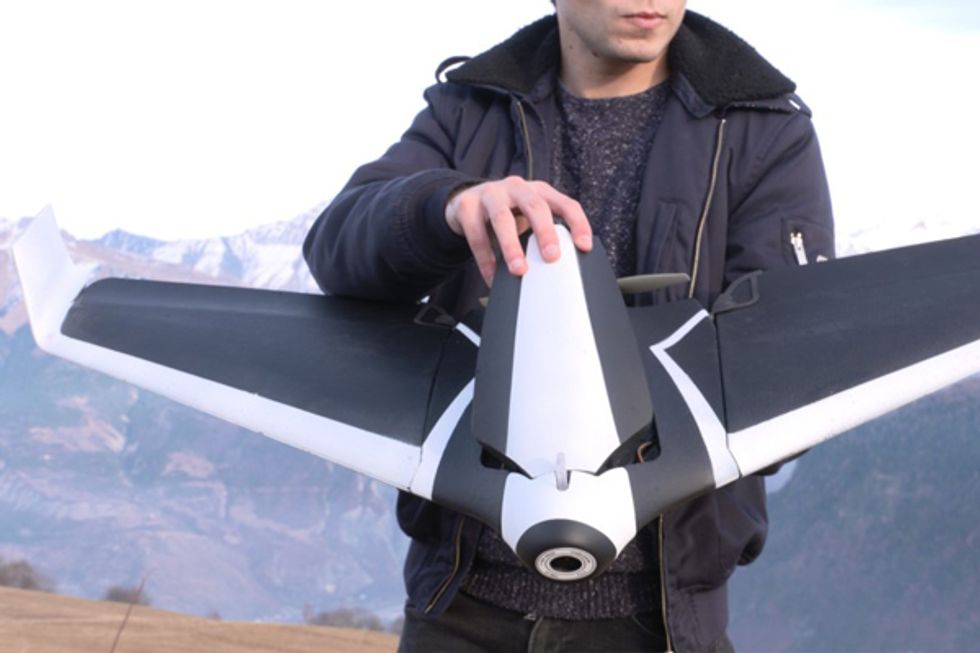 (Photo courtesy of Parrot)
Amusingly called the Disco, Parrot's latest release is far more energy efficient than a quadcopter with its single-propellor design. The 700-gram UAV can scale landscapes at 50 mph for up to 45 minutes at a time, while carrying a 14-megapixel, 1080p camera (the same one used in its Bebop 2 quadcopter). Taking on the shape of a plane, the Disco just needs to be tossed in the air, and its autopilot and A.I. take it from there.
9. A Robot That Folds Your Clothes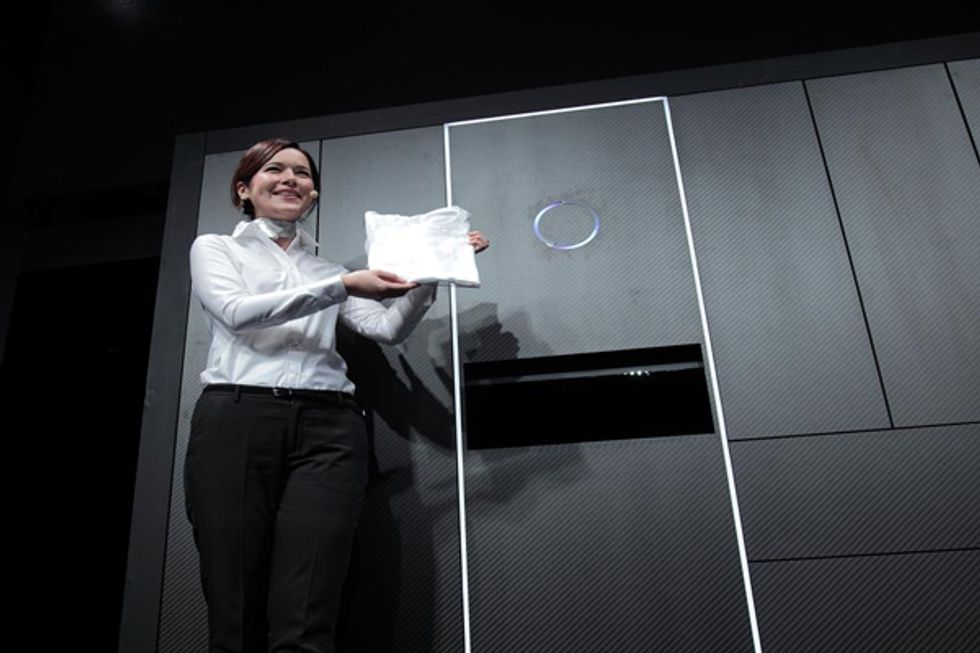 (Photo courtesy of Wall Street Journal)
Moving beyond machines that only wash our clothes, Seven Dreamers' Laundroid will analyze an article of clothing you throw at it and fold it accordingly. Demo videos show that it takes roughly 5 minutes for the robot to fold one item, and it needs to be loaded with each article of clothing individually. So for now it may still be more efficient to fold your own laundry, but the idea is that Laundroid will double as storage and incorporated into select Panasonic washers and dryers in the next two years. Just picture it: dumping your laundry into the wash and come back in 40 minutes to find flawlessly folded clothes.
10. The Smart Light Bub Takes a New Form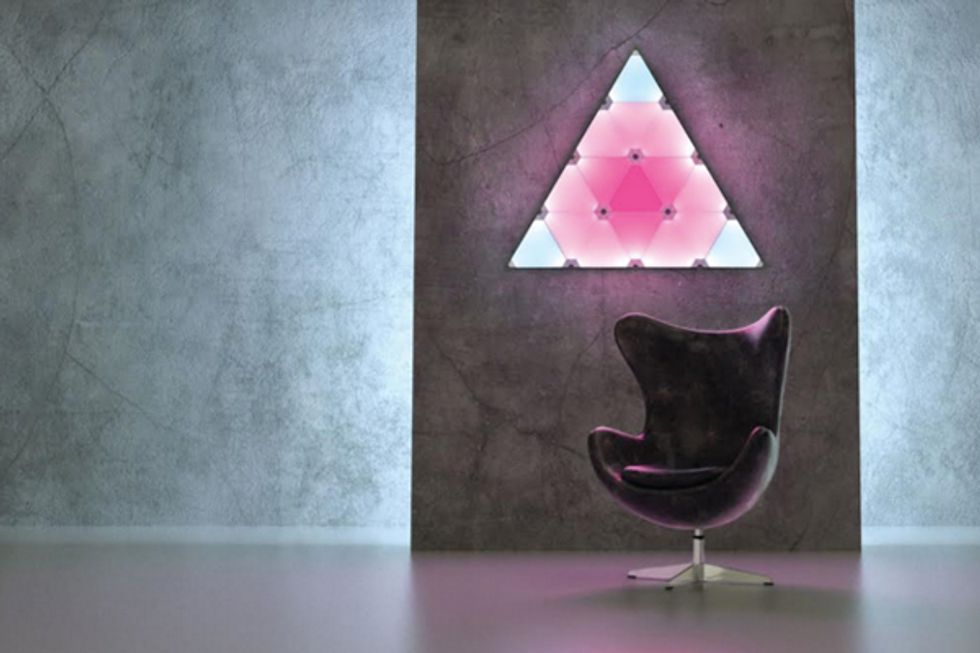 (Photo courtesy of Nanoleaf)
The best tech aims to flawlessly blend or disappear into its surroundings. Nanoleaf, known for  their 3D-printed light bulbs, are now looking to ditch the bulb altogether. The Nanoleaf Aurora, is a smart lighting kit made up on triangular LED panels that can be arranged any which way on your wall with programmable colors and effects that can be changed on your phone.