Who says music can't be both intellectually stimulating and shamelessly fun? 
---
Certainly not anyone familiar with YACHT, the uber-expressive, brainy, pop-fortified quintet from Portland (and also L.A. and Austin, which they explained via a PowerPoint presentation last night. Yes, you read that correctly). YACHT — which returned to the Bay Area last night with a sold-out gig at The Independent just a month after their TI Music Fest slot — is perhaps one of the clearest examples that a band, with the right amount of camp and winking exuberance, can host a raucous party while also clearly laying out some sophisticated ideas. Oh, and plenty of interpretive and synchronized dance helps.
Bandleaders Jona Bechtolt and Claire L. Evans spent much of the night exploring the stage, using their own instruments as dance props, and generally appearing possessed by artistic spirit. Evans, looking like a maiden in her white dress (while the other four bandmembers wore button-up black shirts and pants), was a spectacle to behold, at once sultry and athletic, and with a clearly enunciated vocal panache.
Rarely do we encounter such specific subject matter in the vagaries of modern indie rock as we did with YACHT last night. A handful of their songs explicitly ponder existential ideas about the Great Beyond in "The Afterlife" and "Ring the Bell," with its less-than-dogmatic chorus: "Will we go to heaven? / or will we go to hell? / It's my understanding that neither are real." Each of those songs come from the 2009 album See Mystery Lights, which largely sticks to this theme of dialectical spiritual wondering, sung in no uncertain manner.
But just try to remain still during each of those conceptual and hook-rich songs. Same goes for "Psychic City," the single from See Mystery Lights, played Thursday as an encore. Its tribalistic, wordless chorus runs counterpoint to a clever verse about past lives spent in surreal cities of the voodoo variety.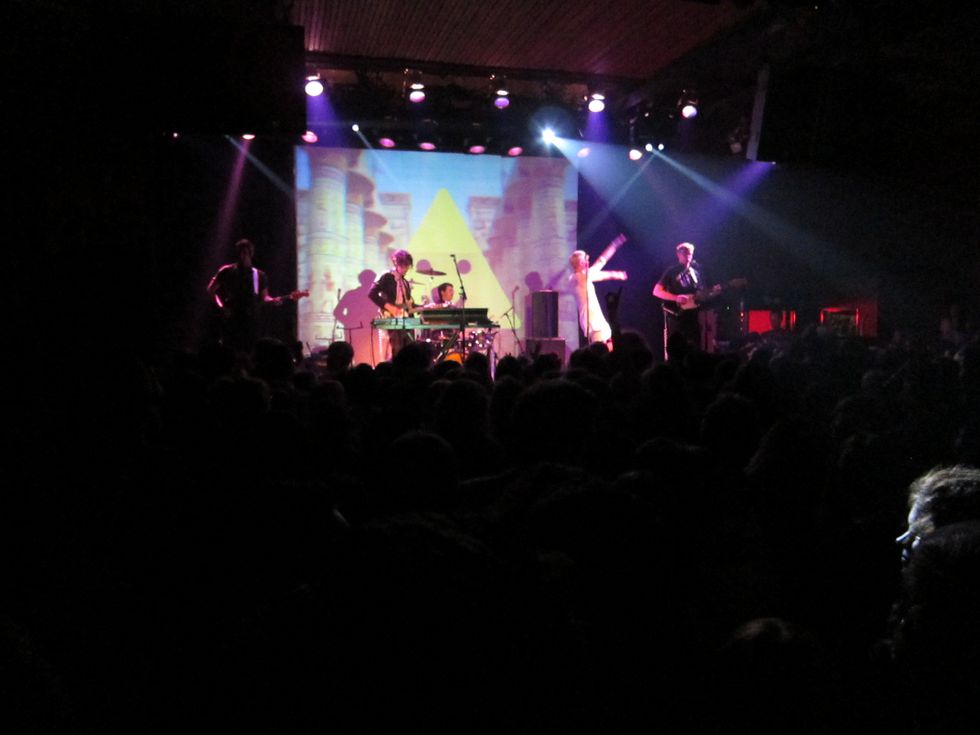 On YACHT's latest album Shangri-La, the theme is different but the effect is the same: equal parts cognitive and physical stimulation. On "Dystopia (The Earth is on Fire)," the Bloodhound Gang is channeled in only superficial ways when they sing "The Earth is on fire / we don't need no water let the motherfucker burn," eventually working their way to a point about human negligence and a future dystopian-disaster scenario. On the other side of the coin, the band envisioned an alternate universe on "Utopia," with Rob "Bobby Birdman" Kieswetter's scatterbrained bass line accelerated to the Nth degree.
YACHT's theatrics went well beyond interpretive dance. The band led a Q+A session, shared the aforementioned PowerPoint presentation outlining their general background information and their rules for the evening (or lack thereof), shared confessionals about their surreal current tour with the traveling kid-pop carnival Yo Gabba Gabba Live! (which Bechtolt described as being akin to taking acid and going on a Japanese game show).
All in all it was a have-your-cake-and-eat-it-too, multidisciplinary kind of night–the kind of mind-body aerobic exercise we could all use more of.
@ChrisTrenchard