Many people don't pay much attention to the lighting in their kitchen. So long as there is enough light for tasks, most people are content. However, there are some simple rules that may dramatically improve the ambiance and appearance of your kitchen.
Of course, as with any other lighting scheme, layers of light must be used. But there are some other considerations, from the finish of the cabinetry and types of light sources used to fixture placement and lighting controls that can make a big difference.
---
Utilize Lighting Layers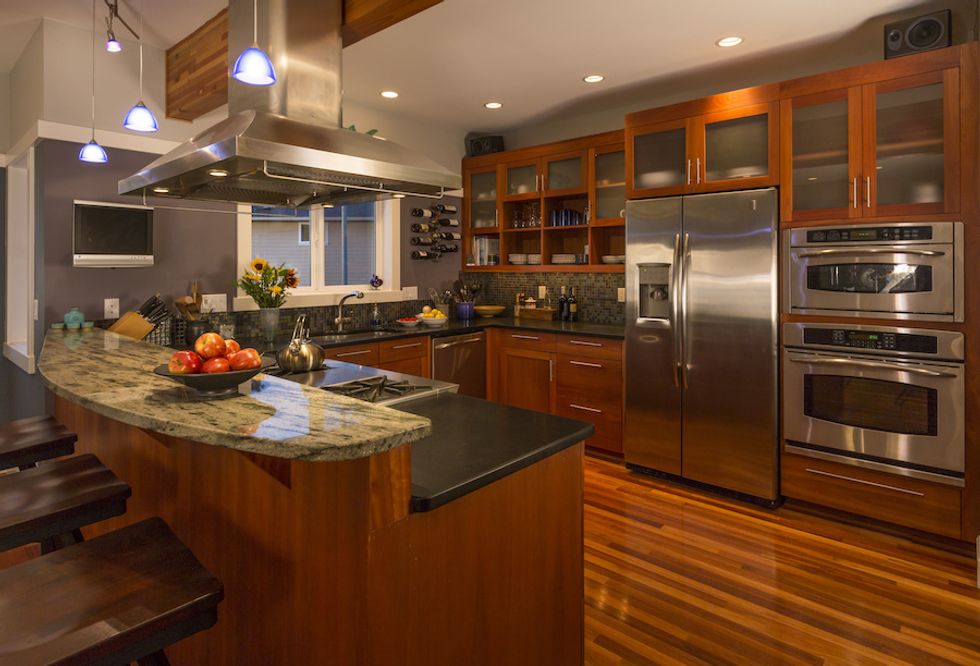 Ambient lighting is the overall lighting in a room. Install fixtures above the cabinets to create a warm, welcoming atmosphere in your kitchen. You can also use ambient lighting to eliminate dark corners by placing recessed fixtures over walkways and workspaces. Bring depth and dimension to your kitchen with accent lighting.
By placing a fixture between your head and work surface, such as the counter, for task lighting so that you can see well enough to safely cut vegetables. Or install LED strips under-cabinet lights to perform kitchen activities.
​Brighten it Up
It's okay to flood your kitchen with light because it's an area for working, eating, and conversing. So, it's necessary to have bright illumination. Increase illumination with recessed lighting around the edge of the ceiling and pendants over kitchen islands. Be careful about uneven lighting in the kitchen, however. Don't use a single ceiling-mounted fixture or you will bring too much light to some areas and too little light others. Recessed lights along the ceiling not only provide adequate illumination, as we mentioned before, but also eliminate those dark areas.

​Eliminate Glare
Dark cabinets may require more fixtures or watts for adequate lighting, unless their surface is reflective. Shiny surfaces, like high-glaze countertops, work better because light bounces off the surface, providing brighter illumination. However, in all white kitchens, stay away from shiny surfaces.

​Don't Block the View
Hanging your lighting fixtures too low can obstruct your workspace, making it difficult to engage in your kitchen tasks. It also takes up more space. Instead, hang pendants about 30-36 inches above your island. You'll have more room and a better view of your surroundings.

​Install Dimmers
All your lights must be connected to dimmers. Separate dimmers for each lighting layer allows you to control light intensity to create your desired atmosphere. Under-cabinet lights are typically used for tasks and pendants for focal points. Choose whether to combine these lights for illumination or separately for mood. Transform your brightly lit kitchen that you just used for cooking to a dim setting for a romantic dinner for two.

Spacing Pendant Fixtures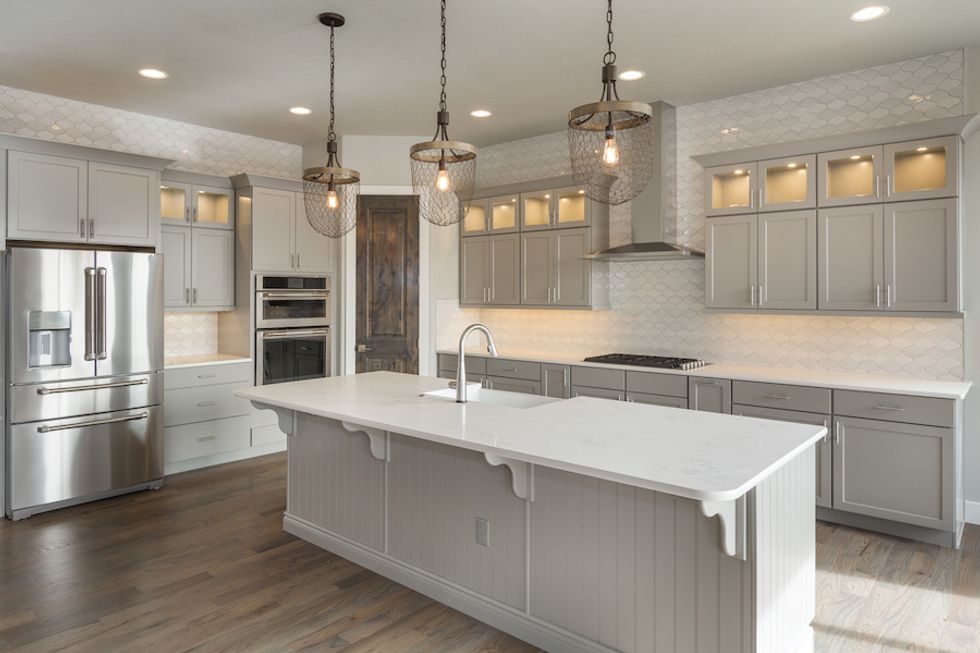 Large islands should have 3 pendants above it, with each fixture spaced 20 inches apart from the center of the island. For smaller islands, install 2 pendants, leaving 30 inches between fixtures. When installing recessed lights, you'll need to calculate the distance between each light. Simply divide the ceiling height in half for the distance in feet. However, if your ceiling is 8ft tall, then space the recessed lights 4ft apart.

Think Bulbs
Lighting is not just about the fixtures; it's also the bulbs you use. Edison bulbs give your kitchen a unique touch while supplying the right amount of lighting. Create task lighting over an island by placing a row of pendant fixtures with exposed Edison bulbs across the length of a counter. The bulb can also add style. For example, glass pendants with Edison bulbs work well in a vintage-styled kitchens.

​Decorative Lighting Fixtures
Add glamour to your kitchen with decorative lighting. Try an unconventional route with pot lights in different styles and colors, such as sleek black. Your fixture should be a beautiful addition to the room, so add lights with unique designs and create an attractive focal point.

​Streamlined Fixtures
Your fixtures should enhance the look of your kitchen and complement its architecture. Match the fixtures with the theme of your kitchen. Install fixtures that blend seamlessly with the area. If your kitchen has an industrial theme, then add lights of the same style.

Natural Light
Take advantage of windows. Using natural light saves energy and money. Make sure to use the right kind of window treatment. Supplement the natural light with strategically placed recessed and task lighting.