Do you have what it takes to finish this monster of a burrito?

---
Neil DeGrasse Tyson Gets Into a Rap Battle With B.o.B. Over Flat Earth Theory, NPR
A Twitter spat between astrophysicist Neil deGrasse Tyson and rapper B.o.B. over the flat Earth theory has turned into a full-blown rap battle (and it's way better than Drake vs. Meek Mill). B.o.B, whom you might know from his hits "Airplanes," "Nothin' On You" and "Strange Clouds," kicked things off Monday when he started tweeting about how he believes the Earth is flat. He also tweeted about why he believes NASA is hiding the truth about the edge of the world. And he shared several meaningless diagrams about the planet including one about flight routes. Read more.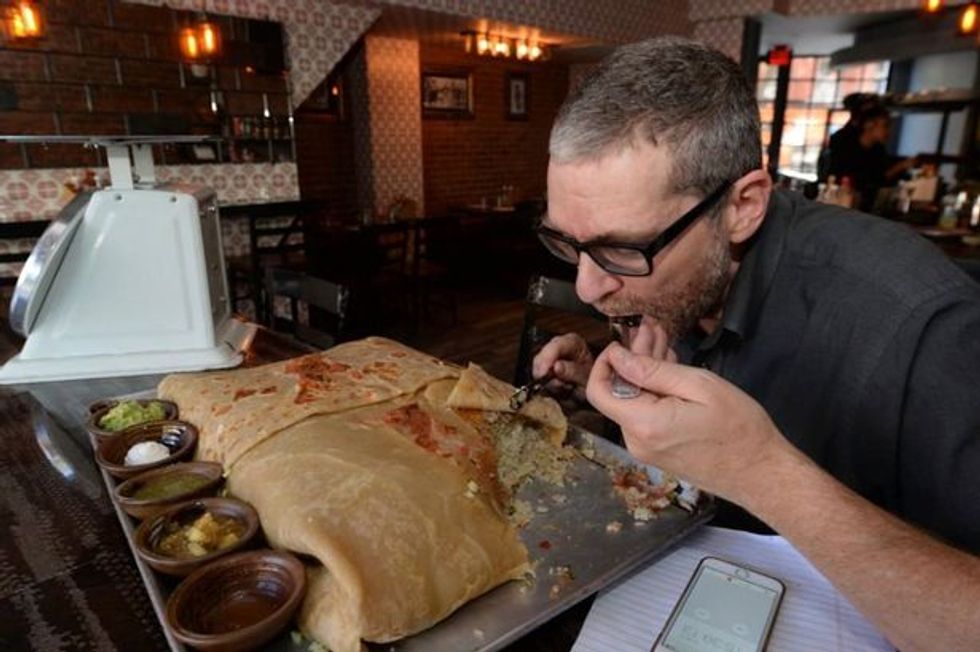 U.K. Reporter Gersh Kuntzman attempts the challenge. (photo via New York Daily News)
Finish This 30-lb Burrito Challenge. Win Part of a Restaurant, CNBC
A 30-pound burrito and one margarita are the only things standing between you and owning part of a restaurant.
That's the pitch one Mexican restaurant in Brooklyn has for the brave at heart (and stomach). For $150, Don Chingon patrons can take a stab at eating the toddler-size burrito made with steak, chicken, pork, rice, beans, salsa and drinking a ghost pepper margarita. Upon successful completion, the challenge's winner will get 10 percent ownership of the restaurant. Read more. 
'The Birth of a Nation' Just Landed the Biggest Distribution Deal in Sundance History, Color Lines
Fox Searchlight purchased Nate Parker's The Birth of a Nation for $17.5 million dollars. The sale—the result of an overnight bidding war after the film's Sundance Film Festival screening—set the record for most expensive film purchase ever made at the Sundance Film Festival. The Birth of a Nation dramatizes Nat Turner's leadership of an armed rebellion to free enslaved African-Americans in antebellum Virginia. Parker, who stars as Turner, also produced, co-wrote, directed and partially financed the film. The film also stars Gabrielle Union, Aja Naomi King, and Armie Hammer. Read more.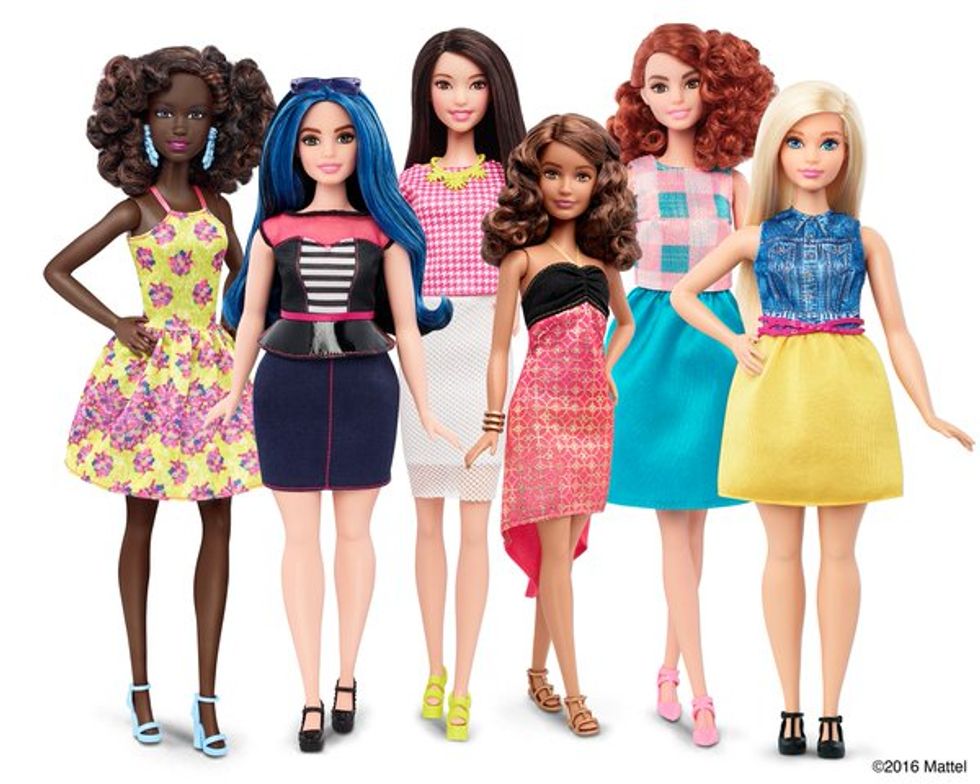 Barbie Introduces New Curvy, Tall and Petite Dolls, ABC News
The slim-waisted, blonde-haired Barbie doll of the past was joined today by new dolls that come in three new body types and a variety of skin tones, hairstyles and outfits. Tall, curvy and petite are the body types now available in the newly-expanded Barbie Fashionistas line. In addition to the new body types, which will be sold alongside the original Barbie model, the Fashionistas doll line also includes seven skin tones, 22 eye colors and 24 hairstyles, according to Mattel.
Read more. 
Ladies' Senate: Only Female Lawmakers Show up in D.C. to Run Chamber After Weekend Blizzard, CNN
Senator Lisa Murkowski looked around the Senate floor and noticed something was a little... off.  "Something is genuinely different," she told the few assembled lawmakers during Tuesday's short morning session. Back at work after last weekend's snowstorm shuttered the federal government, the Republican senator from Alaska noted that she shared something in common with every single person in the room. No, Republicans and Democrats didn't magically come together during the weather break and agree on something. Every single person in the room was a woman. Read more. 
Turn Your Sonogram into a Doll of Your Unborn Baby with 3D printing, NY Daily News
It's called Baby: Boo, but Boo, Baby is more like it. A U.K. company offers the most lifelike doll imaginable. It's a rendering of the unborn, for when a sonogram just won't do. "People either hate it or love it," says Katie Kermode, owner of Baby: Boo. "I think it will take two or three years for it to become normal." Kermode's Lancashire company, in England's northwest, is one of the first taking 4D images from a scan and sending them off to a 3D printer to have a mold made. It can then be mounted into a wall hanging or displayed like a statuette. Read more.