There's nothing quite like warm water to melt away stress, and San Franciscans undoubtedly love a good soak. If you can't get away to one of our region's glorious natural hot springs, don't fret, there is a hot tub near you.
Of course, SF spas take the bathing experience above and beyond, also offering massages, steam rooms, saunas, and tea. Here's where to warm up and chill out.
Onsen
Part Japanese-style bath house and part tea room, the Tenderloin's Onsen is flooded with warm, natural light. Lush plants surround the 104-degree communal soaking pool, and a redwood and cedar sauna, steam room, cold plunge, and showers are also available for extra relaxation. Cuddle up in a plush robe and enjoy a hot cup of tea, or go all out with a massage or acupuncture. Peckish afterward? Order light, seasonal Asian fare at the restaurant. // 466 Eddy St. (Tenderloin); reservations ($35/bath) are available at onsensf.com.
Pearl Spa
If you haven't yet tried a Korean spa, think of it as beauty initiation (er, hazing really). The scrubs are implemented with militant force but promise to leave you with rejuvenated, glowing skin—as do Pearl's 24-karat-gold full-body experience. This women-only oasis has a hot jetted jacuzzi, a cold tub, sauna, steam room, and areas to just chill, but do also try the offerings more unique to Korean spa culture: Let a pool of marble-sized clay balls massages your aching muscles, or balance your energy and blood sugar levels in the Himalayan salt room. // 1654 Post St. (Japantown); reservations ($35 general admission) are available at pearlspasf.com.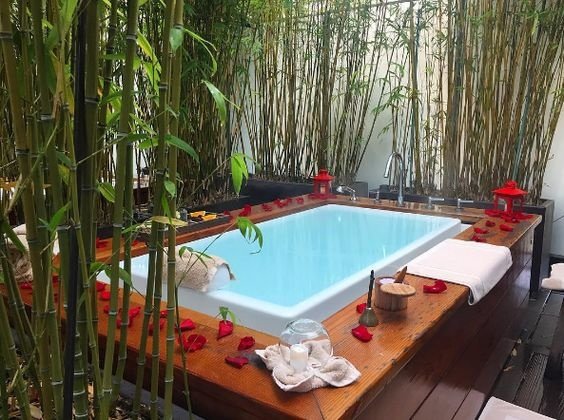 Indulge in a bathing ritual at Hotel Vitale.(Courtesy of Hotel Vitale)
Spa Vitale

An oldie but a goodie, Spa Vitale still delights us with its bamboo-encircled rooftop soaking tubs where all it takes is 50 minutes and a glass of prosecco to help us mellow out. The bathing rituals here are infused with lavender milk and sea salts to soothe aching muscles and come with an herbal beverage, fresh fruit, and cucumber slices and a cool cloth for your eyes. Take it all in with panoramic views of the city. // 8 Mission St. (Embarcadero), reservations ($95-$190 for a bathing ritual) can be made at jdvhotels.com.
Archimedes Banya
Archimedes Banya offers an assortment of global spa treatments: You can have a soak, scrub and sweat it out with Turkish Hamman–style bathing, Japanese furo soaking tubs, and a Finnish dry sauna. Couples can also share the pleasure and pain of the Russian-style venik platza, a massage-slash-light-beating with tree branches in a steam room. // 748 Innes Ave. (Bayview), reservations ($47 for a basic pass) are available at banyasf.com.
Kabuki Springs and Spa
The recent addition of CBD-infused massage, promising an aromatic and anti-inflammatory experience, is reason enough to revisit the beloved Kabuki bath house, where communal hot tubs, a cold plunge, steam room and sauna promise you'll feel refreshed. In need of some deeper pampering? Try one of their worldly services like a matcha body wrap, an Abhyanga oil massage with Shirodhara, or the Javanese Lulur—a traditional Indonesian ritual with a massage, turmeric and rice body scrub, a moisturizing yogurt application, and exotic flower bath. // 1750 Geary Blvd. (Japantown), reservations ($30 for the communal bath) are available at kabukisprings.com.