Art advisor Tom O'Connor helped Suzette Curtis and her husband find pieces to suit both their new home and their personalities
The Ken Fulk-designed backdrop of stark white & glossy black is a dramatic backdrop for bold art and furniture with serene lines

---
Suzette Curtis and her husband have a sizable collection of works by Banksy, the British street artist. Being smart collectors, they always ensure they're buying the real McCoy by working with Banksy's authentication organization, Pest Control. "The name of the place tells you that he doesn't take people like us very seriously," says Curtis, also a London native. "We are the pests." And that's exactly what the couple loves about him. Conversely, when they fancied some work by a well-known San Francisco–based street artist, they attended a talk he gave at the Berkeley Art Museum and quickly determined his work was not for them. "He was incredibly pretentious and took himself so seriously we couldn't bear to have it in our house," recalls Curtis.
This collecting philosophy has resulted in a home filled with winks, nods, and a couple hundred scantily clad sunbathing Sicilians. From Massimo Vitali to Wayne Thiebaud to Andy Warhol, the works that line the walls present a world that is colorful, clever, and never dreary—adjectives that could just as accurately describe the couple.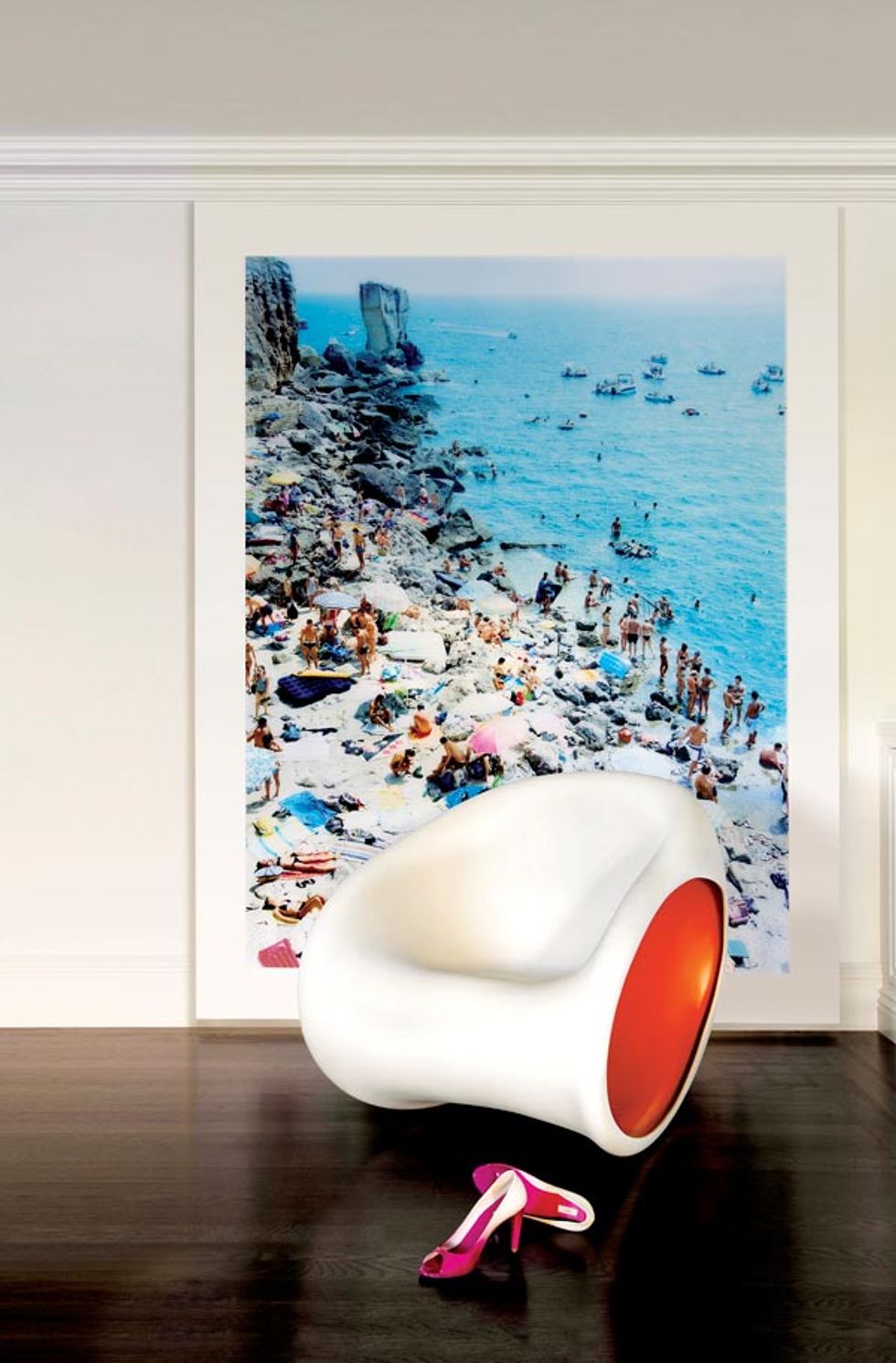 "I wanted the living room to be populated with people," says Curtis. So, Massimo Vitali's Sicilian beach scene was an obvious choice. Designer Matthew Leverone further played to his clients' love of fun with such whimsical furnishings as this Ron Arad rocking chair.
They met 10 years ago while working for competing computer companies. When those rival businesses merged, so did they. In 2012, they moved with their three young children into their present home: a stately 8,000-square-foot Presidio Heights stunner, previously owned by a tech super couple and decorated by design luminary Ken Fulk. The family arrived with their own dream team: art adviser Tom O'Connor and designer Matthew Leverone. O'Connor was a kindred spirit whom they had met at a neighborhood party—they hit it off when Curtis volunteered her husband to dress up as Arnold Schwarzenegger for a campy serenade ("I loved them instantly," says O'Connor), and their friendship was made official when O'Connor gave them sage advice on a sculpture they were considering ("Pass. It's overpriced."). He was soon accompanying the couple to art auctions and events, such as Art Basel Miami Beach, to beef up their collection. Meanwhile, Leverone was sourcing statement pieces—such as Oskar Zieta's Chippensteel chair, Frank Gehry's molded polymer coffee table, and a custom sideboard in nuclear orange—informed by his clients' taste in art. "Once I saw their collection, I knew they were willing to go there," says Leverone of the bolder items he picked for the house.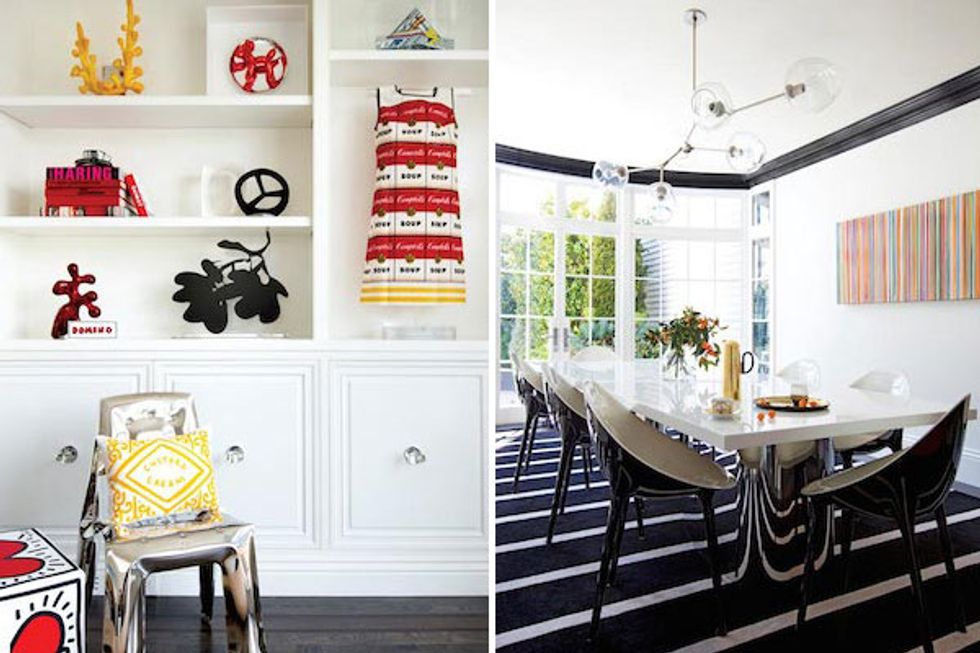 (Left): The living room shelves are home to ceramic sculptures by Matt Gil and The Souper Dress by Andy Warhol. A Blow Up sheet metal chair by Oskar Zieta blurs the line between Pop Art and playful design. (Right): In their previous house, this Markus Linnenbrink drip painting was in the bedroom, and Curtis wasn't wild about the piece. But when she hung it in the dining room, she fell in love with it all over again. "It was like this house was waiting for our art," she says.
The design process was a fairly quick one, thanks in part to the quality canvas they started with. "The former homeowners have great taste, and Ken Fulk is a design genius," says Curtis. "I can't thank them enough for the time and trouble they saved me." The walls, ceilings, and floors were mostly left the same—including an entryway done in nine coats of British racing green automotive paint and a stark white dining room with inky black moldings. "Every wall had gorgeous, thoughtful textures—things you don't find every day of the week," says Curtis. To work with their collection and their personalities, Fulk's exuberance needed a dash of Leverone's restraint. The majority of furnishings and textiles Leverone brought in were decidedly modern and neutral in order to let the artwork shine. "With this project, we started with the art, and the furnishings came in to complement that," says Leverone. "In most projects, it's the other way around. I really appreciated working with people who put the art first."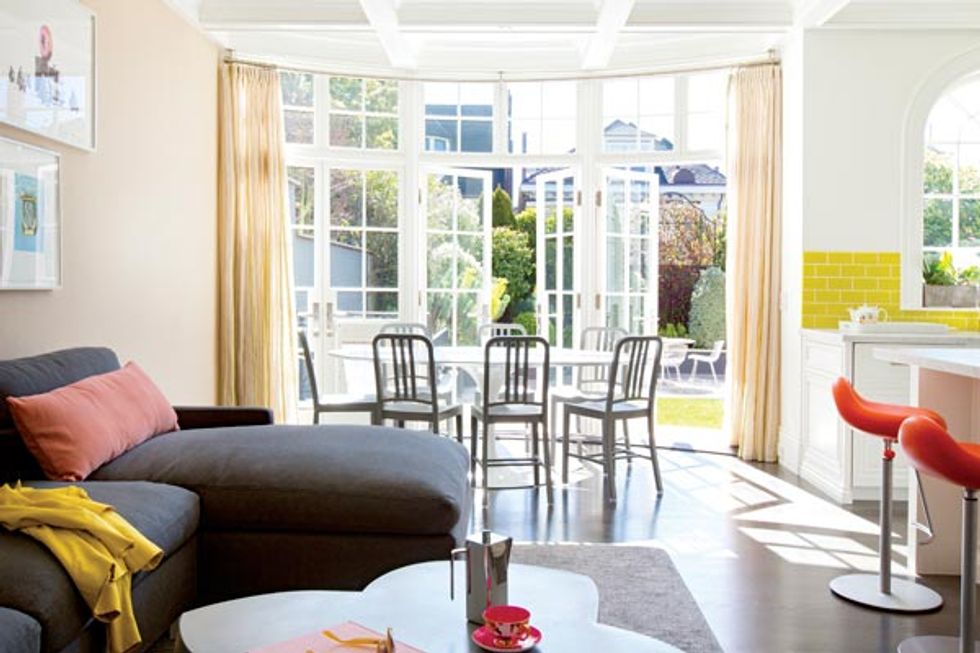 The combination sitting room and kitchen is meant for living: classic Emeco chairs offer sunny seating options; an overstuffed sectional sits beneath a wall of framed prints by Banksy, Wayne Thiebaud, and David Hockney; and an indoor-outdoor coffee table by Frank Gehry is practically bullet proof.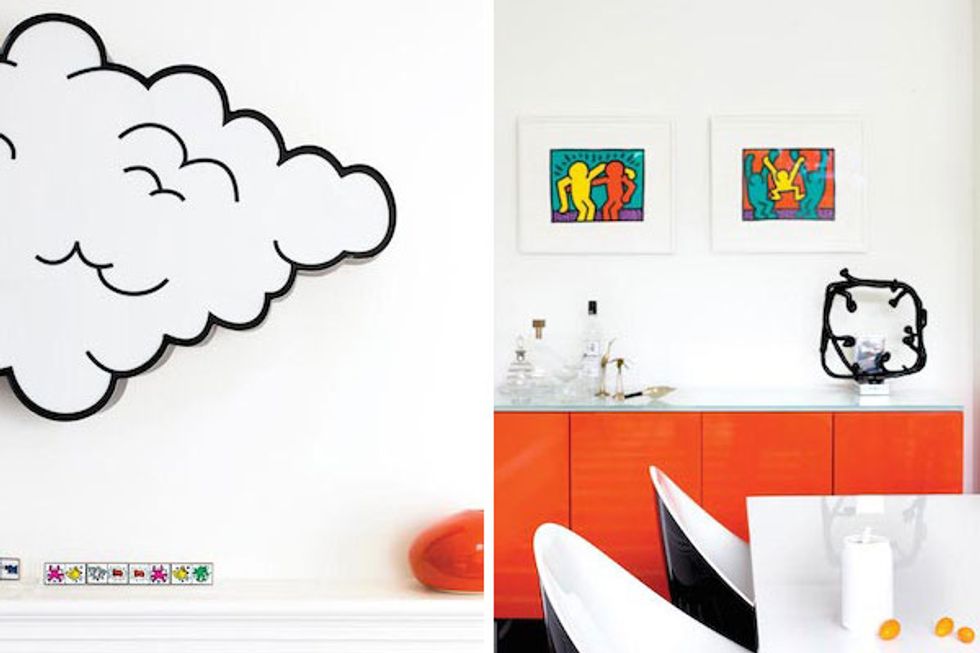 O'Connor spotted this cloud sculpture by Sanford Biggers at the Chicago Art Fair. He knew instantly that his clients would love it. Throughout the house, art and design interact in impactful ways. Leverone custom-designed the orange sideboard, which picks up the hue in a pair of Keith Haring prints. A high-gloss black Matt Gil sculpture complements Kartell's Super Impossible dining chairs.
This "art first" philosophy was carried out in different rooms in different ways. It was decided that the living room—which Curtis worried was at risk of becoming a formal, infrequently visited space—was to be "populated with people." She started with a Massimo Vitali photograph of hundreds of bathers on a beach in Sicily. Next, a trio of portraits by Alex Katz was installed above the sofa. Finally, a dress sculpted out of Campbell's soup cans by Andy Warhol was placed near the window—providing an ethereal silhouette and an ever-present guest for a family who loves a good gathering. "We always match art to the mood of the room," says Curtis. "The kitchen is for being social [more than a dozen prints of different styles mix and mingle on the wall], the dining room is for eating, drinking, and being merry [an exuberant drip painting by Markus Linnenbrink and two colorful Keith Haring prints grace the space], and the entryway sets the tone and says hello [a portrait of an orangutan by Warhol welcomes guests]."
O'Connor emphasizes that all of the works were acquired with a space in mind. "They buy because they love the work and the artist, but they always know where it will go," says O'Connor. Place and passion seem to be the only things driving the couple's acquisitions. "We don't buy for financial reasons. We just buy what we love," says Curtis. "It's very emotional. You can read up on the artists, and you can educate yourself. But for me, it's about that visceral reaction. You have to have that pull."
This article was published in 7x7's April issue. Click here to subscribe.