Plus, a new art installation points to San Francisco's 19 sister cities (did you know we had that many?), "songversations" are the new Burning Man–esque craze among the tech elite, and the #epicfail that is the Bayview's hyper-expensive Willie Brown Jr. Middle School gets a feature in Wired.
This and more to chew on over weekend brunch.
---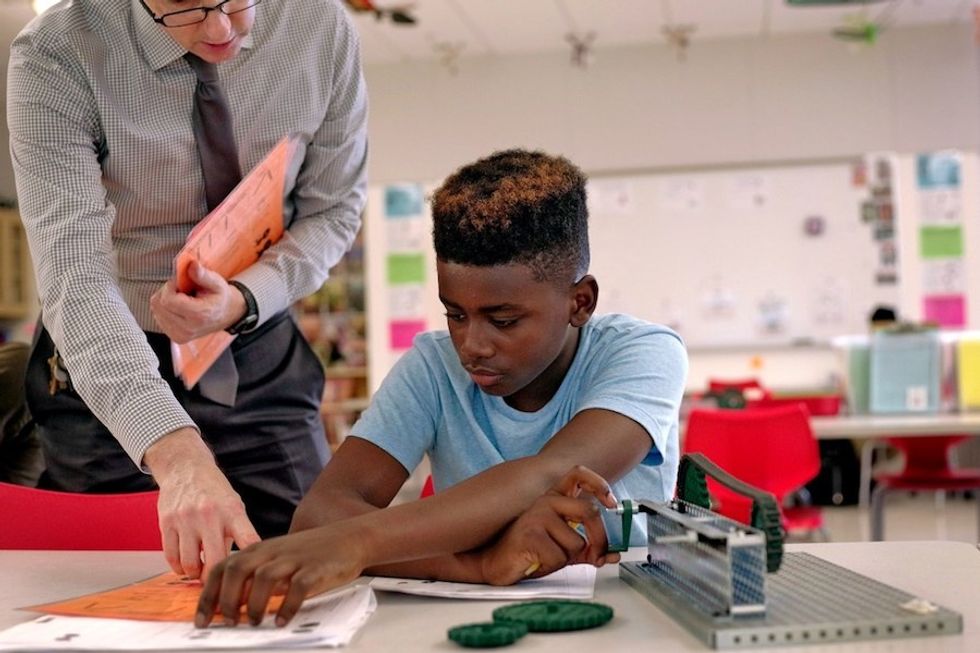 Robotics teacher James Robertson with a student at Willie Brown Jr. Middle School.(Preston Gannaway, Courtesy of Wired)
How the Startup Mentality Failed Kids in San Francisco, Wired

If you don't have kids, or if education isn't the highest priority on your list of pet causes, then you may have missed the #epicfail that is the Bayview's Willie Brown Jr. Middle School. When it opened in the fall of 2015, it was the most expensive new public school in San Francisco history, with $54 million donated by the biggest names in tech and business to fund a STEM-focused school for largely underserved low-income kids. And then it flopped—big time. Read more.
New art installation points the way to SF's 19 sister cities, SF Curbed
Did you know that Manila, Amman, and Assisi are all sister cities to San Francisco? Neither did we! Study up on our urban siblings with this new art installation near Powell Street Station. Read more.


Tech Elites Recreate Burning Man Inside Their Living Rooms, The New York Times
"Tech elites who are looking for more than extra zeros in their bank statements are finding it in an unlikely place: so-called songversations, emotion-heavy gatherings that combine philosophical rap sessions with improvised music, run by a ukulele-strumming songstress who describes herself as a "heartist. Branded as "Soul Salons," they import the cosmic-explorer sensibility of Burning Man's dusty playa into the cozy living rooms of prominent entrepreneurs, where they sing freestyle on topics as diverse as environmental degradation and heartbreak. Think of it as a free-jazz equivalent of an Esalen retreat." (Eye roll.) Read more.
Former Cal Grad Student Finds Home and Community on Four Wheels, KQED
"I had bounced around the bay, chasing stories while studying at the UC Berkeley Graduate School of Journalism. I worked the night shift at Whole Foods in San Francisco, and went to school during the day for a year before deciding to quit the job, the rent and the long commute, and buy an RV last summer." Read more.
SF's appalling street life repels residents — now it's driven away a convention, San Francisco Chronicle
A Chicago-based medical association has been holding its big conference (big to the tune of about $40 million dollars) at SF's Moscone Center every few years since the 1980s. But not anymore. Apparently our homeless crisis is a turn-off. Ya think? Read more.