When a Wine Country trip beckons, the destination on everyone's lips as of late is Healdsburg, namely for the collective of hip young things opening restaurants, shops, and tasting rooms one after the next in and around the charming small-town square. Here's how to do HBG like a pro.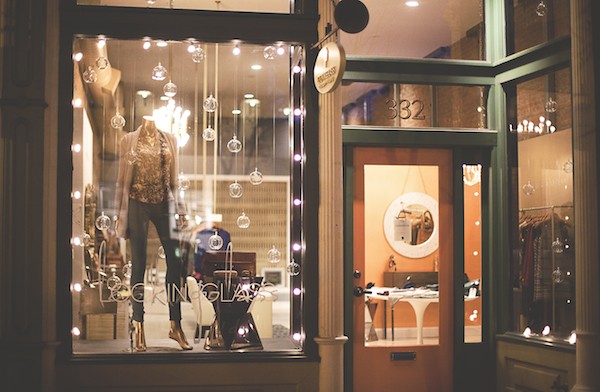 (Photo via Looking Glass)
---
SHOP
Bachelorettes and Sunday strollers alike will find their happy place at this contemporary boutique, which combines the best of Wine Country and city style: the shop-cum-tasting room offers Champagne while you peruse an urbanites' wishlist of designer duds from Current/Elliott, Rag & Bone, Vince, and more. // 332 Healdsburg Ave., lookingglasshbg.com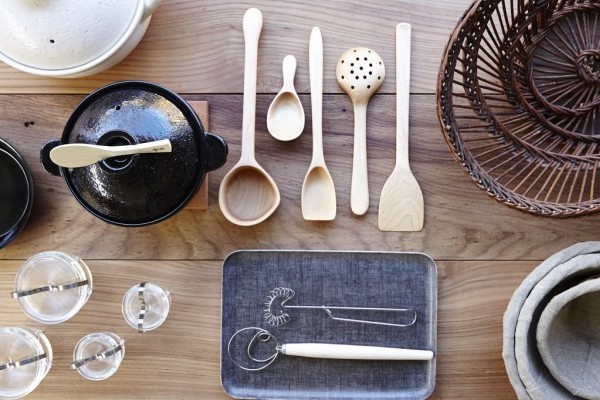 (Photo via Shed)
If you're searching for a token of Wine Countryness to remember your trip by, head to Shed for rarified wares for the kitchen and home, from fermenting crocks and rustic linens to local honey and beekeeping essentials. Be forewarned: things are pricey, but they're all exceptionally beautiful, and it's an ideal stop before or after a round at the Healdsburg Farmers Market in the parking lot across the street. They also serve a lovely brunch and lay claim to perhaps the country's first fermentation bar (think wine, beer, ciders, kombucha, shrubs, and more). // 25 North St., healdsburgshed.com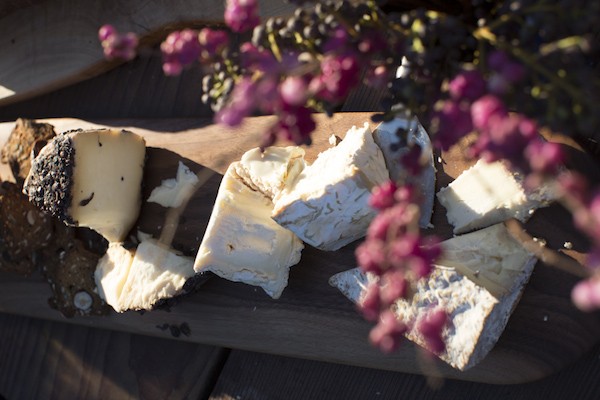 (Photo by Eric Wolfinger)
EAT
One of the OG gourmet shops in town—open since 2001—this off-the-square spot is your go-to for picnic provisions, all expertly sourced products (mostly local) by owner Doralice Handal—and trust, this girl knows her cheese. Plus, she carries her family's award-winning yet hard-to-find Denier-Handal wines (the rosé and petit syrah are killer). Stop by before the shop closes for good this spring. // 423 Center St., sharpandnutty.com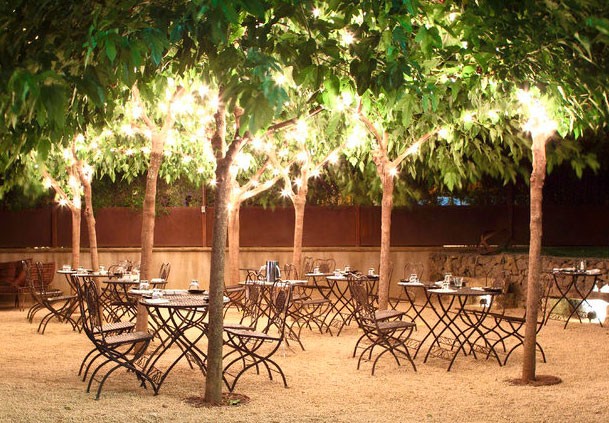 (Photo via Barndiva)
If you're looking for a special occasion spot (many a wedding have made this their reception locale of choice), this is your place—it's pricey, but worth the splurge. The atmosphere is elegant, rustic, and screams Wine Country, with local farm animal-themed artwork, antique fixtures, and a tree-covered gravel patio draped with lights, and the food is fresh, sophisticated, and beyond tasty (if salmon is on the menu, no matter what the preparation, get it—they source this from the gods). If you can't swing dinner, opt for an epic brunch. // 231 Center St., barndiva.com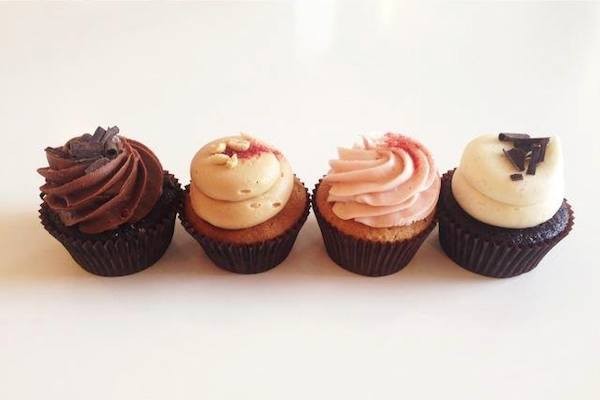 (Photo via Moustache Baked Goods)
Across the street from Campo Fina, let Moustache Baked Goods sway you back to the twee dessert with cheeky flavors (The Butcher's vanilla, maple, and bacon) and outrageously thick frosting and flavorful cake. We'll gladly proclaim it's the best cupcake in the Bay Area. Plus, owners Osvaldo "Ozzie" Jimenez and Christian Sullberg (two local boys who just get it) offer FourBarrel Coffee and sea salt caramels to die for. // 381 Healdsburg Ave., moustachebakedgoods.com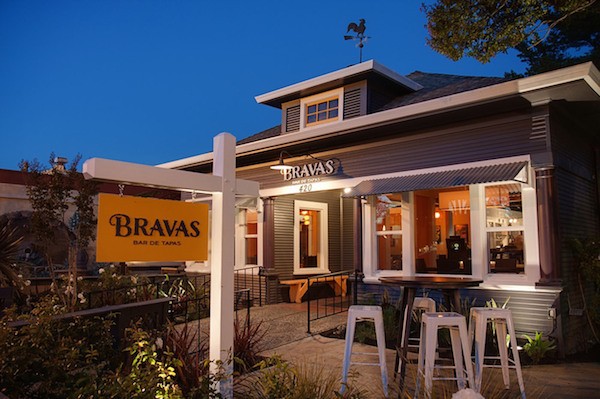 (Photo via CraveLocal)
Boasting perhaps the best patio in town, this three-year-old tapas restaurant by the same owners as nearby Willi's Seafood Bar is lively—note the list of gin and tonics (try the Chubasco) at the outdoor bar, where they broadcast the local games—and solid for shareable plates such as duck meatball bocadillos and octopus a la plancha. Finish with the goat cheese tostada (topped with golden onions and white truffle honey) for a savory-sweet dessert. // 420 Center St., starkrestaurants.com/bravas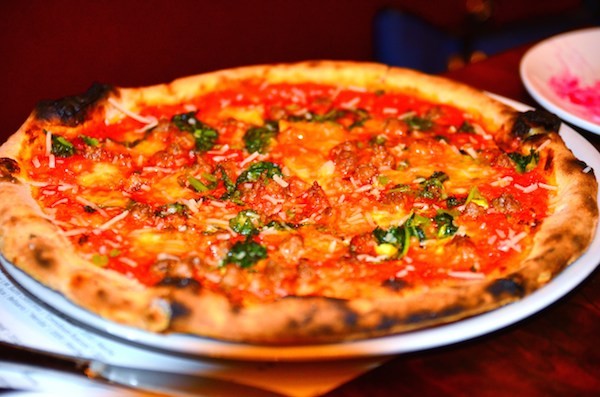 (Photo via Two Fat Bellies)
Good luck dropping in to chef-owner Ari Rosen's perpetually packed Scopa for dinner—the little Italian gem on the square books out weeks in advance. Instead, try sister restaurant Campo Fina around the corner for blisteringly delicious pizzas and homey dishes such as The Old School in a Skillet or Nonna's tomato-braised chicken (the same as Scopa's). Their back patio is ideal for an al fresco dinner, but even better for a giant salad or panini lunch (try the Cali B.L.A.S.T.) and a game of bocce. // 330 Healdsburg Ave., campofina.com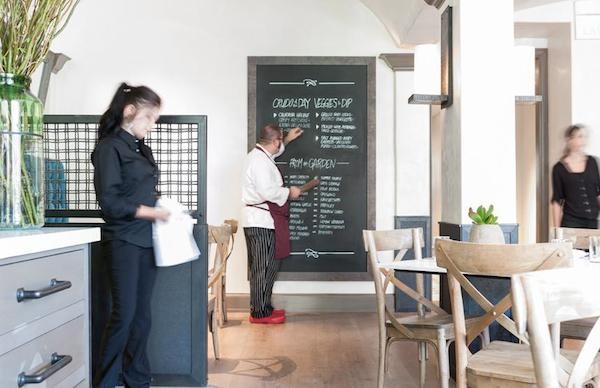 (Photo via macfeeddesign.com)
We mourned the loss of fine dining post Cyrus adjoining the lobby of Hotel Les Mars, but in its place Chalkboard's casual atmosphere and elegant service has flourished (become a regular, and GM Sean Coleman will likely have your favorite cocktail at the table before you have a chance to order). Since opening in May 2013, each meal there gets better as chef Shane McAnelly lets his creative juices flow throughout a menu of small plates impossible to choose from (plus they've opened up the back patio for warmer months). Don't miss the Dungeness crab tater tots, calamari a la plancha, or any of the housemade pastas, but save room for The Candy Bar: perhaps the ultimate throwback dessert with dense layers of brownie and caramel and a tower of roasted milk chocolate cremeaux and scoop of nougat ice cream with peanuts on top. // 29 North St., chalkboardhealdsburg.com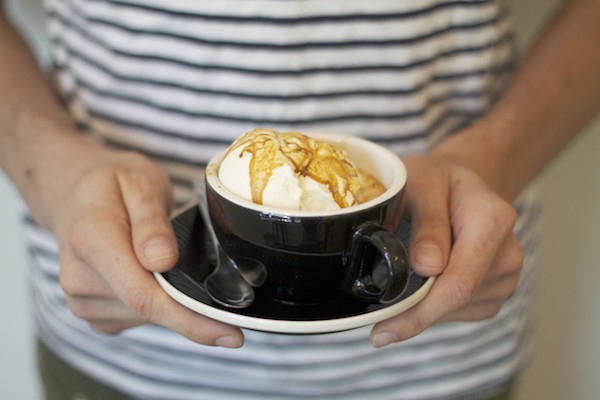 (Photo via Noble Folk)
Noble Folk Ice Cream & Pie Bar
This sweet little shop on the square by the Moustache Baked Goods guys, which taps into the hipster in all of us peddling "heritage pies," won accolades from us for their amazing chocolate maple walnut version, but the deliciousness doesn't stop there—scoops of ice cream the size of your head in flavors such as orange clove sherbet, apple cider cinnamon, and Japanese purple yam make this the Bi-Rite Creamery of Wine Country. // 116 Matheson St., thenoblefolk.com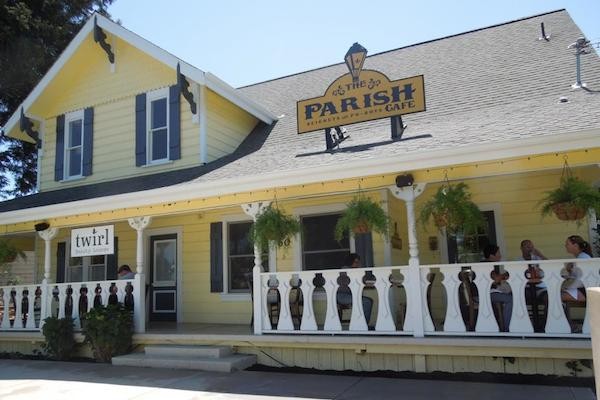 (Photo via sonomacountywineblog.com)
This sunny little space on the way into town from the 101 (take the Central Healdsburg exit) is a slice of the south plopped in Wine Country, and perfect for a quick breakfast or lunch before wine tasting. Pick from your poison of po'boys, share an order of fried pickles, and don't miss the beignets. // 60 Mill St., theparishcafe.com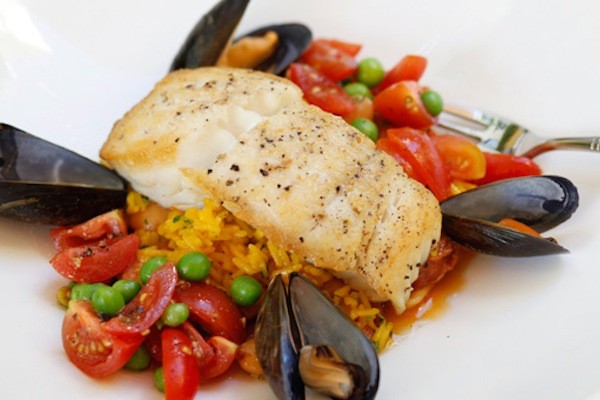 If you're traveling with out-of-town parents, Charlie Palmer's Dry Creek Kitchen, at Hotel Healdsburg, is guaranteed to please with an approachable, modern American menu and seasonal ingredients fresh from Sonoma County. Settle in for a six-course tasting with pairings, but don't miss the wine list: More than 600 Sonoma lables promise a comprehensive taste of the region. —Chloé Hennen // 317 Healdsburg Ave., hotelhealdsburg.com/dry-creek-kitchen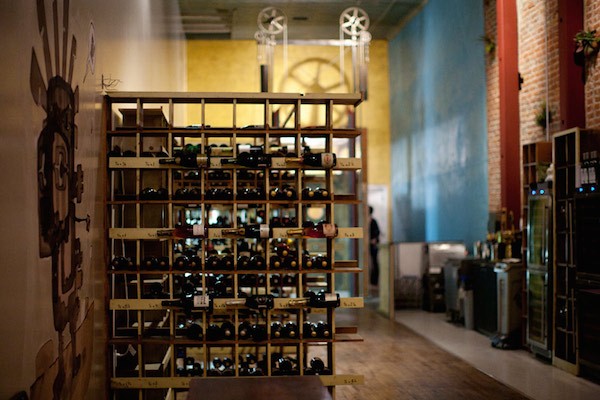 (Photo by Kena Frank)
DRINK

Sure, you want to celebrate the region's terroir, and you will do much of that in these parts, but sometimes you want to shake things up—this wine bar and retail shop from sommelier and SF expat Kevin Wardell (Flour + Water, A16), pours only Mediterranean wines, plus a selection of beers, sakes, ciders, and dessert wines. Crack a bottle from the porn room, guarded by a weighted door and stocked with hard-to-find vintages, to go along with a gourmet grilled cheese. Plus, it's open until 1 am on most nights and offers Monday movies nights and the occasional concert, which means industry folk clamor here for a good time. // 328A Healdsburg Ave., bergamotalley.com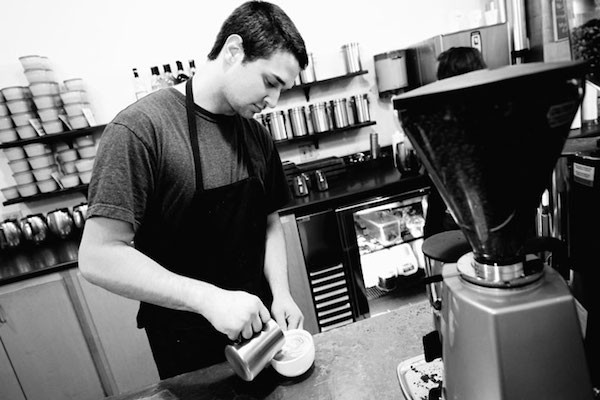 (Photo via Flying Goat Coffee)
Third wavers, this is your haven for coffee as good as any found in SF's city limits. Their ethically sourced beans and quality roasts of have won awards for years, plus they have yummy pastries on-hand for quick stops. The Optimist's Blend will start your day on the right track. An insider tip—there are two locations, so if one is packed, likelihood the other is wide open. // 324 and 419 Center St., flyinggoatcoffee.com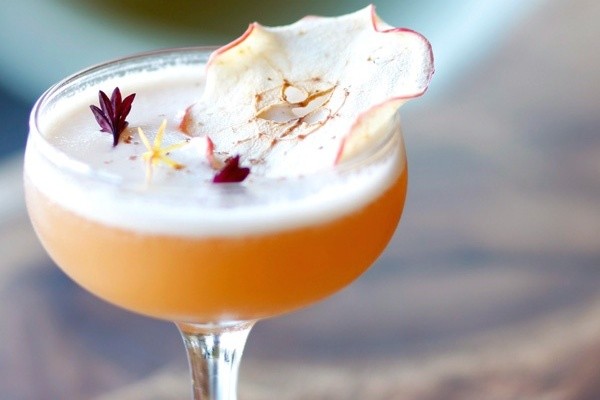 (Photo via Spoonbar)
Credit the Bay Area's market-driven craft cocktail movement to this four-year-old bar in the H2Hotel, where housemade shrubs, cocktails on tap, and concoctions adorned with edible flowers are still thrown back liberally. Come here on balmy evenings, when they open the retractable walls up to the sidewalk. They also recently launched Sunday spirit tastings with bar manager Tara Heffernon hosting her favorite artisan distillers. // 219 Healdsburg Ave., spoonbar.com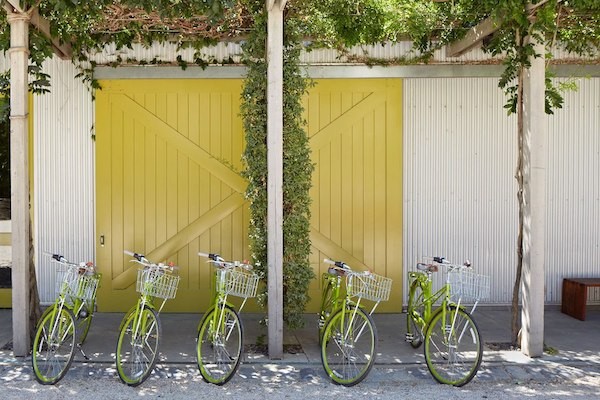 (Photo via Hotel Healdsburg)
PLAY
Bike it Off
While managing the square is easiest on foot, exploring by bike is just as fun. Find rentals at Wine Country Bikes, or get a gratis Public Bike included in your stay at H2Hotel.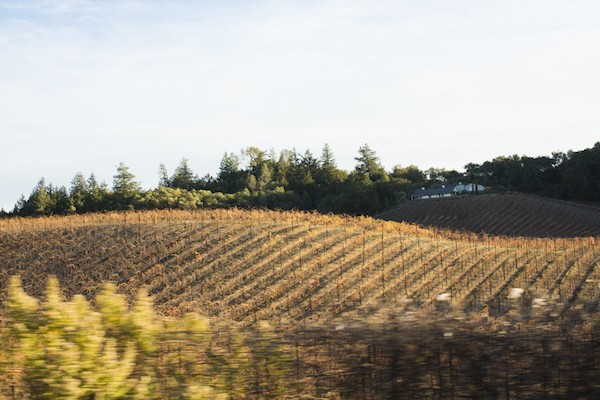 (Photo by Eric Wolfinger)
Wine Taste to Lake Sonoma
Looking for an efficient wine tasting route? Take the Dry Creek Road exit off of 101 for a tour through scenic hillside vineyards and wineries. Make a pit stop at Dry Creek General Store for sustenance first, then hit up Unti (appointment only) for syrah, Ferrari-Carrano for whites, and Truett-Hurst for creekside tastings and live music. You'll eventually hit Lake Sonoma—a recreational wonderland, where camping sites, gorgeous hikes, and water sports abound. Return via Yoakim Bridge Road and take it to West Dry Creek Road, which has must-visit family wineries—try Preston Vineyard for sauvignon blanc and a loaf of owner Lou Preston's famous bread, Quivira Vineyards for rosé and heritage chicken ogling, and Martorana Family Winery for petit syrah and cabs to sip over bocce.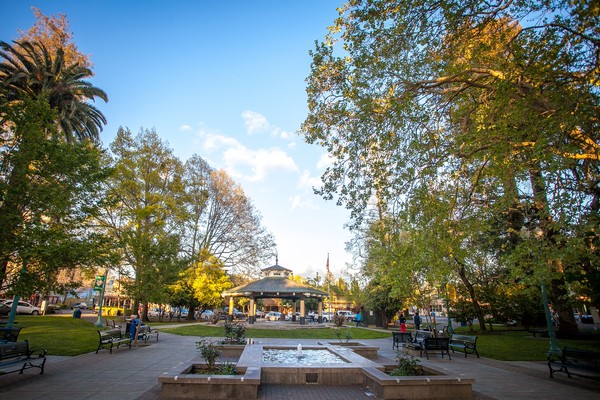 (Photo via healdsburg.com)
Square Dance
Don't have a designated driver? Take a talking wine tour of the town's newest tasting rooms around the square (see them here).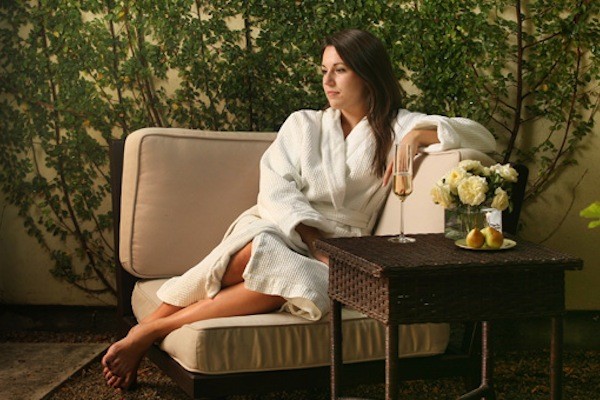 Chill Out
Weekend R&R in Wine Country wouldn't be complete without a little chill time at the spa. Do yourself a solid and head to Spa Hotel Healdsburg, a small hideout tucked back by the private pool (ask for a day pass if you're not staying at HH). Go for seasonal "farm to spa" treatments such as the citrus ginger mani/pedi—with scrubs and potions made from locally sourced meyer lemon, as well as a sublime hand and foot massage and perfect nail sculpting, this is one of the best nail treatments we've had yet. —CH // 25 Matheson St., hotelhealdsburg.com/spa
STAY
If you get the heebie-jeebies at hearing the words bed and breakfast, take a deep breath and open your mind to the Grape Leaf Inn, a sweet little B&B just a jasmine-scented, few-block walk from Healdsburg's town square. Built in 1900, this 12-bedroom Queen Anne stay is more modern than its outdated website might suggest, with a sunny-chic morning room; a speakeasy bar serving craft cocktails (4 to 7pm); and luxurious king rooms with spa tubs, fireplaces, and flatscreen TVs. When it comes to breakfast, you get what you pay for (it's included in your stay), but the grounds are truly wonderful: Planted with ancient cedar, roses, herbs, wisteria, delphinium and more, the gardens are a perfect spot for canoodling with a glass of wine in the afternoon; the Grape Leaf offers complimentary tastings from local winery partners of Fridays. Rooms start at $265. —CH // 539 Johnson St., grapeleafinn.com