This is what 25 years of collecting looks like," says bag and accessories designer Basil Racuk, surveying his sunny live-work loft located in a former turn-of-the-century laundry factory in Oakland. But even decades of acquisition—mostly of contemporary works by emerging and established artists and designers—hardly amounts to sensory overload here. Instead, alpine-high ceilings and vast white walls allow Racuk's prized possessions to command their own space in a gallery-like tableau that's spare, curated, and very special.
---
"My greatest joy is to exist with works that change the way I perceive art and design," says the SF native. To wit, the home's centerpiece is a large installation by Reno artist Katie Lewis, who created an amorphous map of her health concerns by clustering hordes of dress pins and thousands of tiny penciled-in dates—all on a 25-foot wall-cum-canvas. Its intricacy can be contemplated from various viewpoints, like the living room's leather sling chairs by Charles Pollock for Knoll with original, age-appropriately tattered cushions ("My cat, Fred, has spent a lot of time on them," says Racuk). Or the bedroom loft, where a sculptural wooden headboard from Mexico and a colorful late-career print by fashion illustrator René Gruau attempt to divert your interest.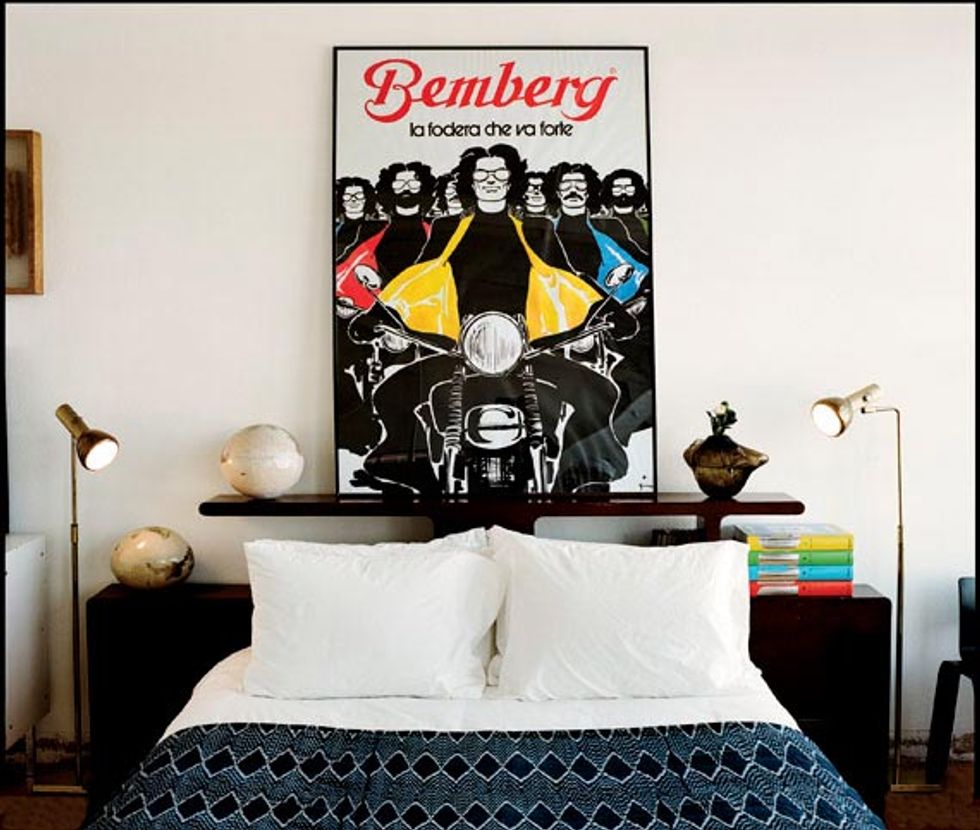 René Gruau print from New York City's Housing Works, headboard from an antique shop in Mexi. co
But inevitably, curiosity lures houseguests to peer from over the bedroom's mezzanine for a bird's-eye view of the Lewis piece. "I recommend that everyone lives with art," says Racuk, 47. "Over time, you can understand how the work came to be."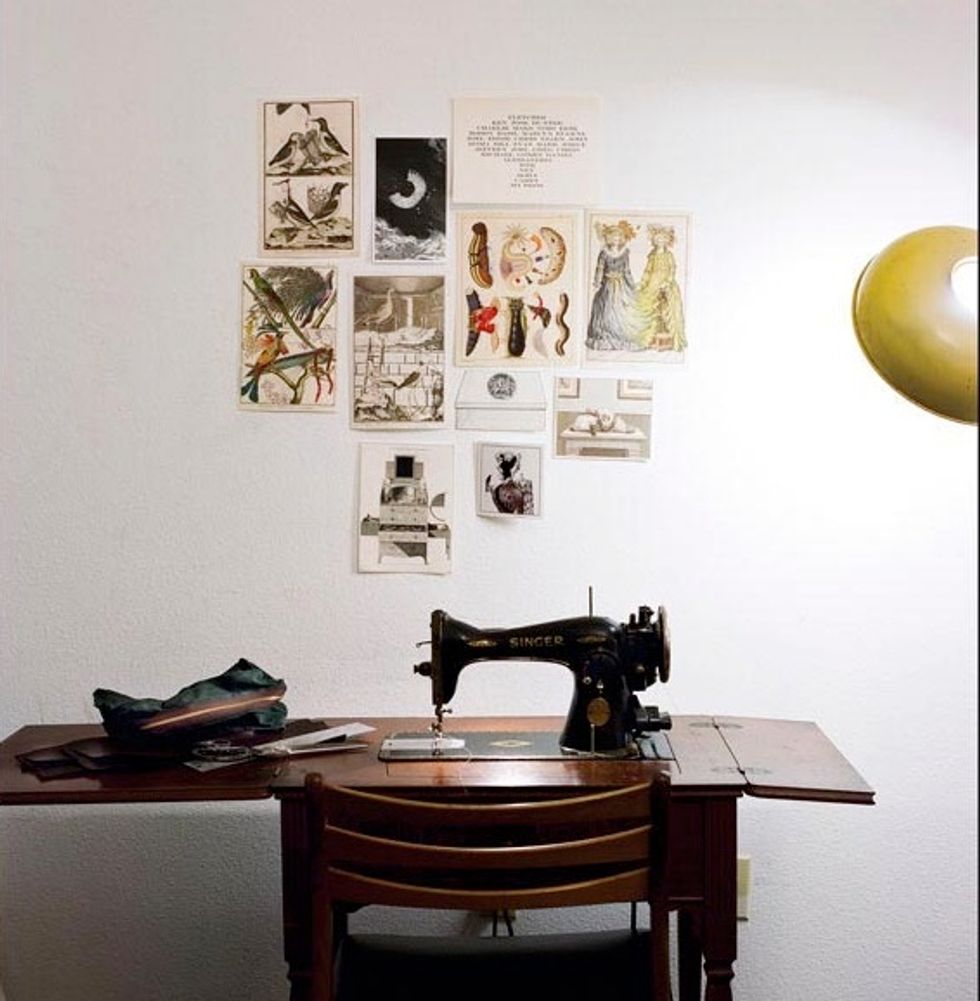 Racuk's loft does double duty as his home and design studio.
While it may be more interesting to discover this level of nuance in Racuk's standout pieces (such as an early work by SF photographer Sean McFarland or delicate glass domes by local artist Travis Sandoval), he thinks of a humble 1968 sugar bowl by Environmental Ceramics—a $3 Thrift Town score—as his most considered find. Its simple egg shape resonates deeply with Racuk, who strives for the same thoughtful clarity when designing his leather weekenders, briefcases, and clutches in the loft's ground-floor studio. Crisp seam-on-seam construction and discreet hardware contribute to the sculptural purity of Racuk's masterpieces—available locally at The NWBLK in the Mission—and exemplify his attachment to a heartfelt crafting process. "I'm very sensitive to how something is produced," he says. "If that makes me precious, so be it."


This article was published in 7x7's March 2014 issue.