Mendocino is known for its picturesque seaside setting. You expect to see things like shining blue water, rugged coast and even the not-so-pretty thick, wet fog.
---
Llamas out for a jaunt – well they make you question your eyes, and when you realize you're not seeing things, even pull over.
"They're like a huge dog," says Dana Whitehead, owner of Lodging & Llamas.
She and her husband bought their first llama over a decade ago to use as a pack animal for their own personal adventures. Now, they share their home with more than a dozen of the gentle creatures and use them to show visitors a whole new view of Mendocino County.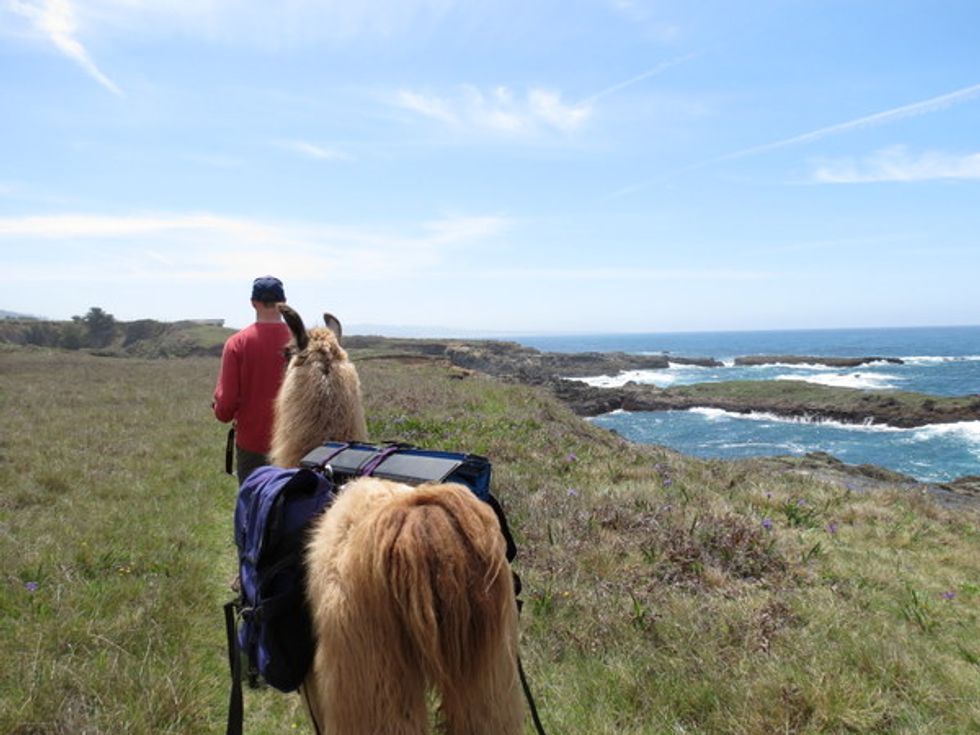 Mendocino Coast Llama Trek
The most frequently asked question - do they spit? Yes - but only if you give them reason to. And you won't. Llamas make great hiking companions. All that stuff that normally winds up on your back, instead goes on their backs with no complaints. Just about anything you might want to bring along, extra layers, cameras, or easels and art supplies. Packing in and out takes on new meaning when you're not the one doing the packing.
Whitehead accompanies guests on all treks, but guests are encouraged to take the lead and walk with a llama during their adventure. It's easier than walking most dogs. Kids as young as three have held the reigns. Whitehead has two set llama treks, but will happily make adjustments based on guests preferences. She's also happy to take care of your picnic needs for the day, and is known to introduce guests to favorite locally made products.
She doesn't do much advertising, but word is getting out. You could say llama treks are becoming an amenity actually. Check into Little River Inn and you'll find a welcoming note in your room.
Need an extra pillow? No problem.
Need a llama? A little more difficult, but doable.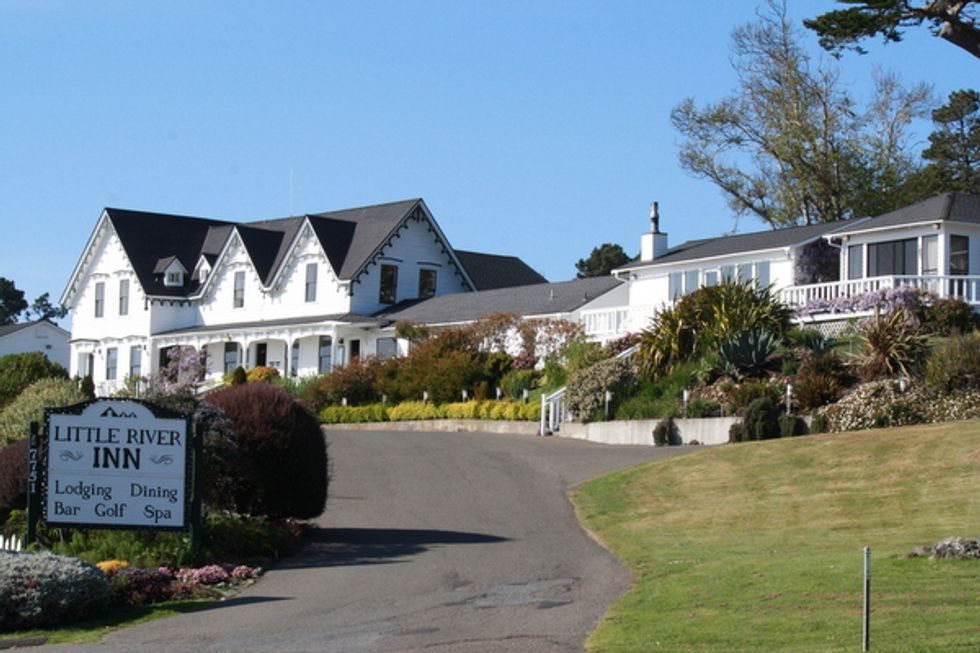 Little River Inn
Doable and different than the Mendocino most know about. It's a non-traditional offering by a Mendocino Inn that's all about tradition. You've probably driven past the Little River Inn hundreds of times. It's a landmark of sorts, opening its doors as an Inn eight decades ago. The classic seaside property has made some changes over its many years, adding perks like a 9-hole golf course with pro shop and day spa, but it's still run by the same family. Fifth generation innkeepers who are good at their job.
Family touches are often what turn guests into repeat guests. Whether it's fresh baked scones, served warm with jam and butter in the Little River Inn Restaurant at breakfast, the olallieberry cobbler made from their grandmother's recipe or the relaxed vibe at Ole's Whale Watch Bar, it's hard not to feel at home here.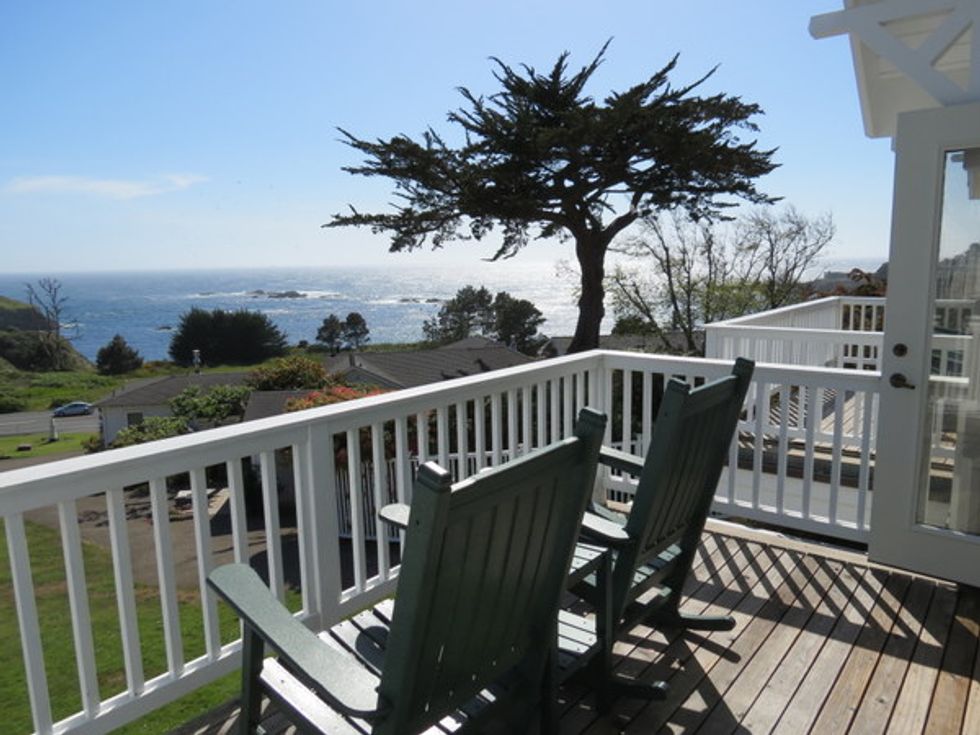 Relax and enjoy the view
Perched in a perfect location, the view steals the show. Of the 66 guest rooms, 63 have ocean views and green rocking chairs that seem to have magnetic qualities.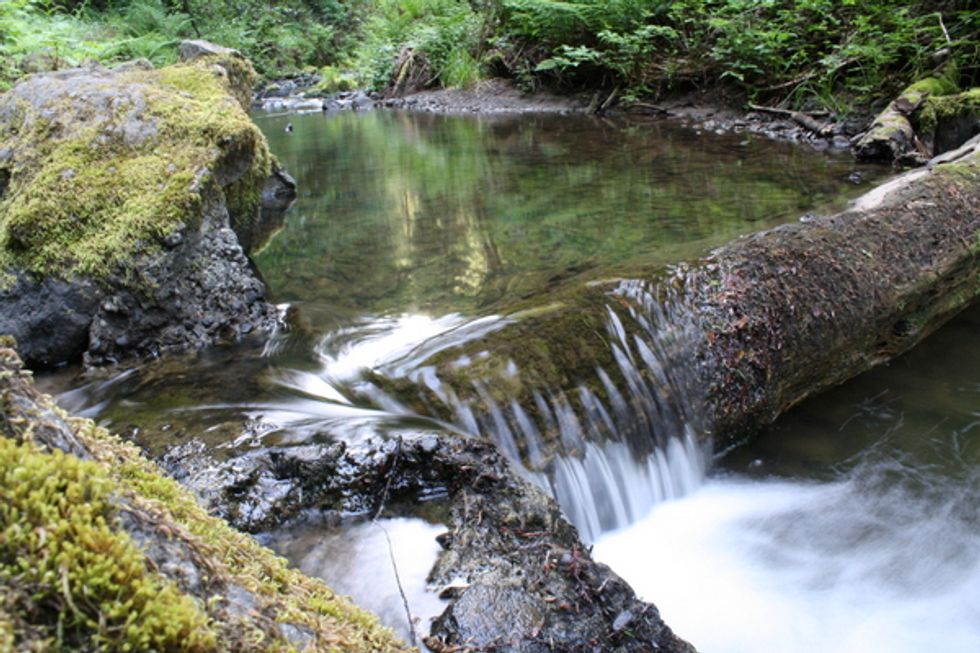 Little River, Van Damme State Park
When you peel yourself out of your chair, strap on a pair of hiking boots (actually sneakers or even flip flops will work too) and go. There's a trail from the Inn to the beach and Van Damme State Park. Check out the popular stretch of sand, but save time to explore Van Damme State Park. Hike the Fern Canyon Scenic Trail along the Little River, a spawning area for Coho salmon. If you're feeling energetic, keep going the 3 and half miles or so to the Pygmy Forest Discovery Trail. A boardwalk takes you on a short self-guided trail alongside trees that are 100 plus years old, but are often less than five feet tall because of poor soil.
Dana can be found on Twitter @drebmann
Dana's trip was organized by Little River Inn and Lodging & Llamas, but as always her thoughts and opinions are her own.