When I watch Sanaz Mazinani's mesmerizing video and photography series, Conference of the Birds, I'm lulled by the sounds of birds singing, and I'm drawn into the elegant, repetitive circular patterns. Then other surprising elements emerge: the cry of protestors from the Occupy movement in Oakland, images of flags fragment and the soothing yet urgent voice of a foreign news correspondent speaks, and all are combined to create a disturbing yet seductive message.
---
Without paying close attention, you could think of her work as a pretty rendition of Islamic ornamentation and pattern. On closer inspection, provocative images from the media are spliced, colored and repeated, with the purpose of bringing together opposing political views, as well as reflecting on the melding of Islamic and American cultures.
The content and footage for this video comes from three different sources online. The first is news footage of the Occupy movement in Oakland, which shows police brutality against an unarmed group of protesters. This footage is then combined by video shot by a citizen journalist in Cairo of a group of men chanting during the Arab Spring. Interspersed between these two videos are short clips of the American flag and a news media helicopter that is sources from Al Jazeera.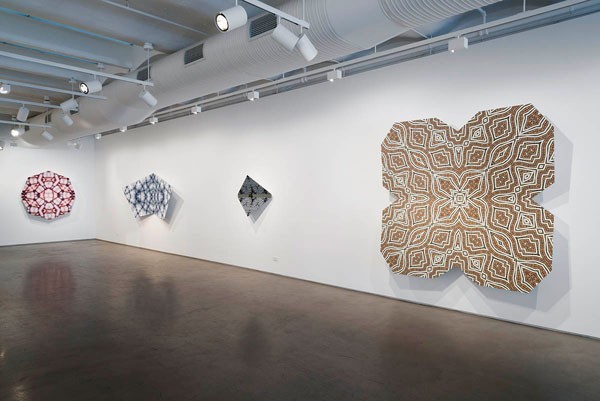 NY Show - Works on gallery wall
Mazinani, who lives in San Francisco, says of her work, "I like combining traditional Eastern and contemporary Western image production techniques. And even more so, the patterns in these works stand in for the networks of information exchange. Our shared connections through social media in the end link us all. My work moves beyond decoration in order to transform and transfigure - the endless patterns reflect the infinite and the enduring spirit of activism".
The Iranian-born artist immigrated with her family from Tehran at age 11 to Canada (after the Iranian Revolution), and moved to Northern California in 2009 to attend Stanford University. She now lives in Bernal Heights, which is close to her studio in Bay View. "I love, love, Ocean Beach, or any bit along the coast. I often go out to Fort Funston. The immensity of the landscape mixed with the chaos of wet dogs, hang gliders, and the ocean waves is my favorite. Living here has been incredible, and the diversity of life and culture are particularly thrilling."
Mazinani has an impressive list of artistic accomplishments, not the least of which is a current solo show in New York at Taymour Grahne Gallery, open until May 24.
She also received the San Francisco Arts Commission Art on Market Street public art installation for 2013-2014, which took the form of posters exhibited on Market Street for three months. She describes her joy seeing these works, "It was an incredible feeling to walk around and see your art right on the street, and people engaging with it! Public art is really rewarding and I especially enjoyed getting a chance to research Bay Area Activism and to learn more about the amazing work that SF citizens do every day towards achieving Social Justice".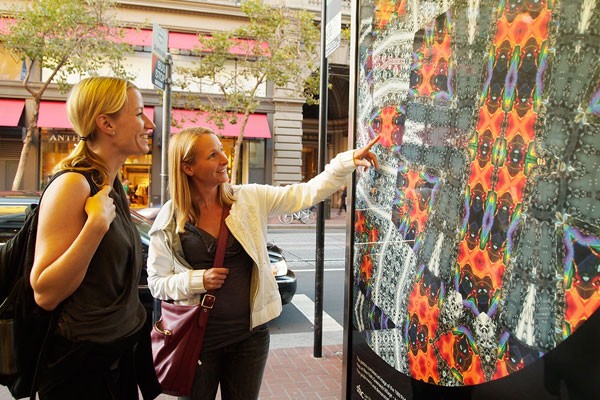 Poster art on Market Street 
This September she'll have new pieces in an innovative project that will transform the SOEX gallery in San Francisco, into an Iranian Bazaar. Fellow artist and curator Taraneh  Hemami is inviting 10 artists of Iranian decent to work with a collection of found archives that belong to the Iranian Student Association of Northern California. The projects will deal with political discourse, and the distribution of knowledge.
In the fall, she'll be curating a unique exhibition for the Mission Cultural Center for Latino Arts in San Francisco, including works from the incredible husband and wife team Jeremiah Barber and Ingrid Rojas Contreras. The exhibition, Lo Real Maravilloso / The Marvelous Real, is slated for January 2015.
Although Mazinani is receiving great exposure in this country, her work is unknown in Iran. I ask her what her kind of expression might mean in her country, "I think that the response would be very similar to here. The project is very much about equating the desires and the ambitions of the citizens who reside in the East and the West, and how we all aim to stand up for ourselves and feel empowered to do what we know is right. So I would assume that the work would also be experienced in the same way.
I would of course be happy to show my work in Tehran, but it is important for me to find the perfect match. When I was last in Iran, I gave an artist talk to a crowded room and found that the direct engagement with my work was rather rewarding".
Mazinani's heritage is clearly a source of inspiration and creativity for her, and her explorations in New Media create a new type of language or expression. When I ask her about this, she answers in a beautifully inspiring way:
"I am a huge fan of the 13th century Persian poet and Sufi mystic Rumi, who wrote, 'Speak a new Language so that the world can be a new world'.
"I believe that the distance that we might feel towards others in the Middle East is somewhat manufactured, and that there is actually a great deal of overlap between you and me and my cousin who lives in Iran. So I hope that my art works function in some way to connect and visualize our shared interests."
Experience The Conference of the Birds below: 
Sanaz Mazinani: Conference of the Birds, 2012 from Sanaz Mazinani on Vimeo.