Best Sugar Fix: Peanut Brittle from Mr. & Mrs. Miscellaneous
---
There are cookies in this world, and then there are cookies. The peanut brittle specimen at Dogpatch ice cream shop Mr. & Mrs. Miscellaneous is of the latter kind. As if their house-made peanut brittle wasn't addictive enough on its own, they chop it up and mix it into cookie dough to make a salty, sweet, chewy, nutty cookie that defies reason. These treats might be huge, but get two—you won't want to share. 699 22nd St., 415-970-0750
Best Sustainable Fish: I Love Blue Sea
When it comes to purchasing sustainable fish, doing the right thing makes for some hard choices. Which is exactly why I Love Blue Sea started its online business last year, shipping responsibly selected seafood—from wild-caught Tai snapper to local squid—countrywide in green packaging. Lucky for us, Blue Sea is located right off Third Street, in the ABS Seafood facility on the docks of the bay. Local orders over $50 are 20 percent off and can be picked up at Radius Cafe (1123 Folsom St.), Tuesday through Saturday, noon to 8 p.m. 415-300-0940.
Best Deals on Wine: Invino
Gilt lead the way with designer fashions, and now wine lovers have their own flash sales to look forward to. Invino offers daily, private sales of bottles hand-picked by Sonoma-based industry stalwarts Tony and Danielle Westfall. The prices can make an oenophile's heart race. The curated selection of wines is discounted up to 70 percent—and it's not just local juice. One day might feature Burgundies while another might delve into their Cellar Collections, wines plucked from private collectors, such as the cultish Harlan or Miura, produced by former SF sommelier Emmanuel Kemiji. For toe dippers, there's no minimum purchase required, and shipping in California is a $5 flat rate.
Best Politically Correct Dish : Shark Fin Soup at Benu
It wasn't intentional, but one of Benu chef Corey Lee's most stunning creations, "shark's fin" soup, couldn't have come at a better time. Just as the ban on shark fin was proposed in California, this gorgeous dish became a signature of Lee's. Made with chicken broth, Chinese ham, truffles, and ginger, the concoction depends on hydrocolloids instead of actual shark fin to create the gelatinous texture for which the soup is so prized. All of this floats on a layer of truffle custard topped with crab. The quotation marks on the menu are the only tip-off that this is Lee's idea of fool's gold. 22 Hawthorne St., 415-685-4860.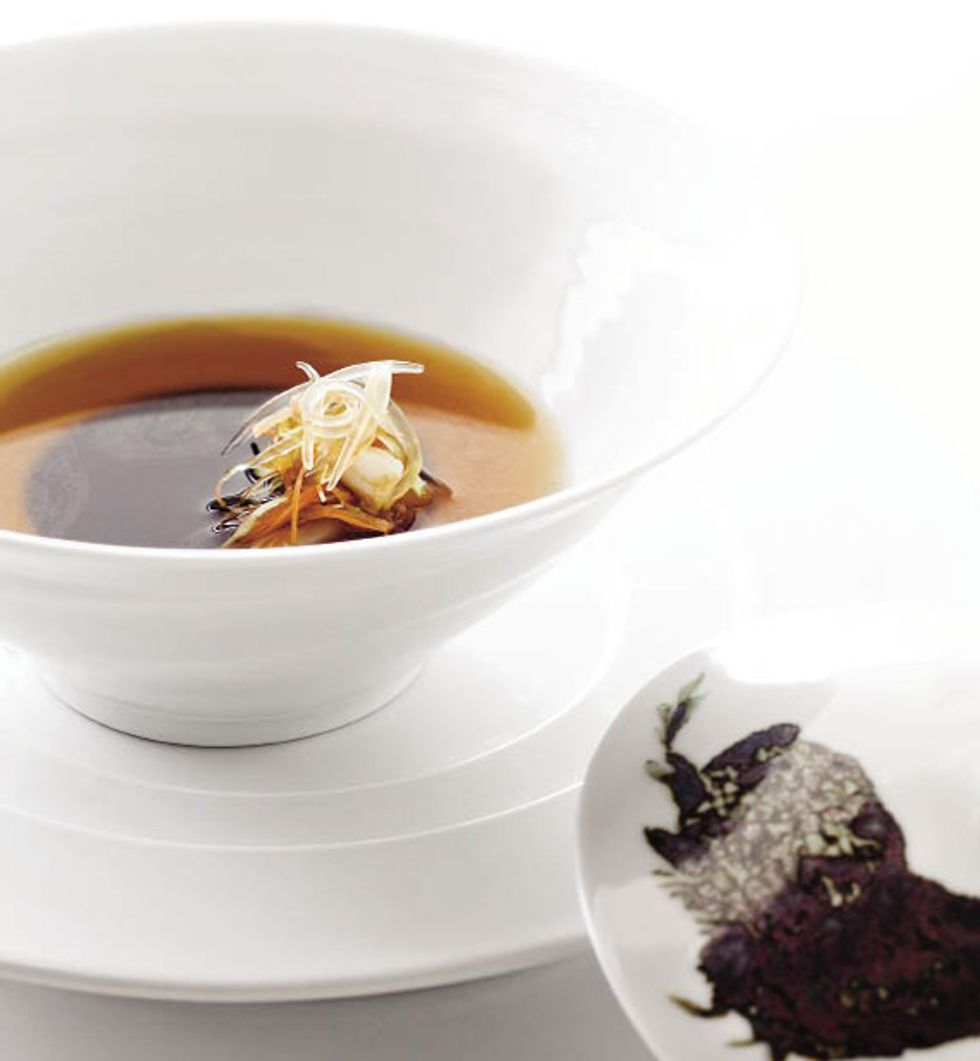 Best Baker: Miette's Meg Ray
Miette owner Meg Ray, the self-taught baker behind the city's most gorgeous cakes, cookies, cupcakes and more, doesn't sugar-coat it. She's the first one to tell you what she doesn't like: One is formal dining of any sort. "I don't like to be waited on, the tension and theatrics of it all." Instead, she sits at the bar at restaurants—if she must. What she really prefers to do is eat at home. "Everyone should know how to make good food and do the dishes," she says—all the more reason to pick up her first cookbook, Miette (Chronicle Books), out last month.
Best Cocktail Project: Underhill Lounge 
Erik Ellestad, a Unix systems administrator at UCSF by day and blogger for Underhill Lounge by night, has been hitting the bottle for years now. His goal? To mix, document, and photograph every one of the 888 cocktails in The Savoy Cocktail Book. At press time, he was up to 765 drinks, with 123 to go. One Sunday a month, Ellestad also hosts The Savoy Cocktail Book night at Alembic bar in the Haight, wherein participants can order any cocktail from the book. (The next one is June 26.) After all this research, what's Ellestad's favorite cocktail? The Manhattan, which just goes to show the power of the classics.
Best Book on Wine: Secrets of the Sommeliers
Every year dozens of wine books come across our desks, but as a read, they're often as dry as a Sancerre. Acclaimed wine director Rajat Parr of the Mina Group was lucky to pair up with his old friend Jordan Mackay (the former wine and spirits editor for 7x7) to write Secrets of the Sommeliers (Ten Speed Press). The end product is a book that introduces wine through the sommelier's perspective—serious enough, but also entertaining. Of course you learn about tasting, serving, and choosing wines, but ultimately it's the duo's clear infectious passion that make you turn the page. At press time, the book, which came out in the fall, was nominated for a James Beard Award. Champagne all around.
Best Restaurant to Reconsider: Rose Pistola
With few exceptions, the last place to find good Italian food has become North Beach. One exception is Rose Pistola, the Ligurian restaurant that was cutting-edge when it opened 15 years ago—before it was common knowledge that Italy has distinct regional cuisines. A February remodel inspired chef Mark Gordon (of Terzo and Rose's Café) to brighten up the menu too. His seafood-stuffed calamari wins the prize, but don't miss the wood-fired pizzas, the linguine with crab meat and, for lunch, the capponata salad with tuna conserva and a poached egg. 532 Columbus Ave., 415-399-0499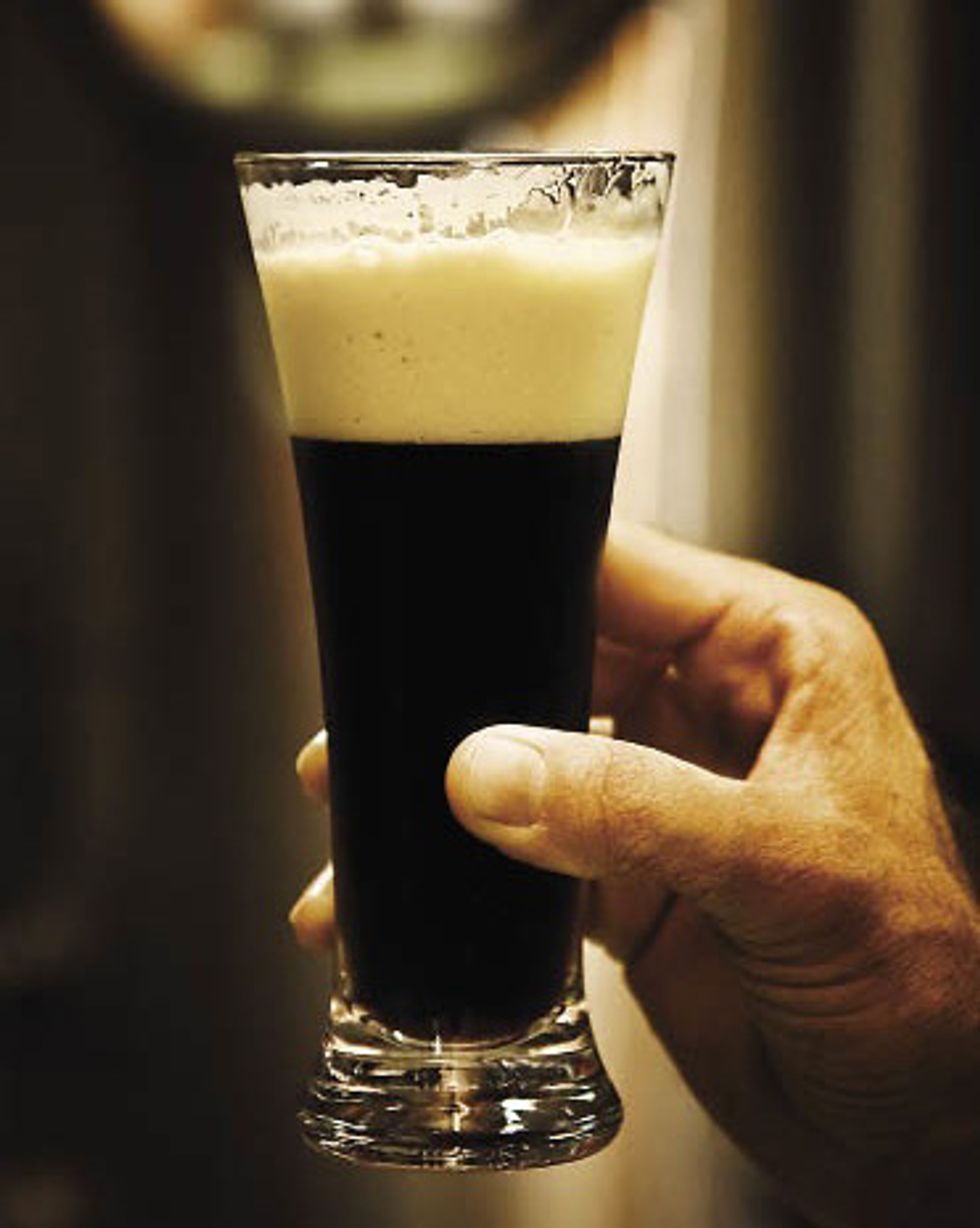 Best Dark Beer: Linden Street Brewery
When it comes to beer, black suggests porters and stouts—heavy brews akin to liquid whole-grain bread. Meanwhile, lagers are lean, pale, and sharp. Black lagers have provided a perfect common ground. Many of these beers start out refreshing and crisp and then smooth towards a rich and complex finish. Linden Street, the Oakland brewery, makes a fine example. On tap at Flour +Water, 2401 Harrison St., 415-826-7000
Best Comfort Food: Leopold's
Faced with hearty plates of brat and steins of beer, it's the delicate chicken and dumpling soup at Leopold's that we want to sink into most. Growing up, owners and brothers Albert and Klaus Rainer used to have their mother's gries nockerl every Sunday. At Leopold's, they make this family recipe with a clear, consommé-like broth afloat with tiny, carefully chopped vegetables and two or three herbed semolina dumplings tender enough to make you weep. 2400 Polk St., 415-474-2000
Best Man Meal: Fifth Floor Restaurant
For an indulgent threesome, get yourself to the Palomar Hotel's Fifth Floor restaurant's lounge. Their $25 "Burger, Bourbon, Beer" cure-all includes a glass of Buffalo Trace bourbon (neat or not-so), a chaser of Lagunita's IPA, and chef David Bazirgan's macho burger made of more than a half-pound of ground beef from Golden Gate Meat Company. Piled on top are pickles, Comte cheese, and braised onions soaked in bourbon and smoked over Syrah grapevines. The whole thing is sandwiched between a toasted bun from Firebrand Artisan Breads in Oakland and served with fries. 12 Fourth St., 415-348-1555
Best Kitchenware Shop: Pot and Pantry
In a mere 250 square feet, former Williams-Sonoma employee Donna Suh Wagemen packs her love of kitchen gadgets and accessories into Pot + Pantry, a cozy Mission district shop that makes you want to tie on a cute, patterned apron and bake pie. Wagemen offers a buy-sell-trade option for kitchenware enthusiasts who find themselves drooling over both new and vintage Le Creuset and Dansk pieces, as well as treasures like a Mauviel copper roasting pan. The shop also sells online. 3412 22nd St., 415-206-1134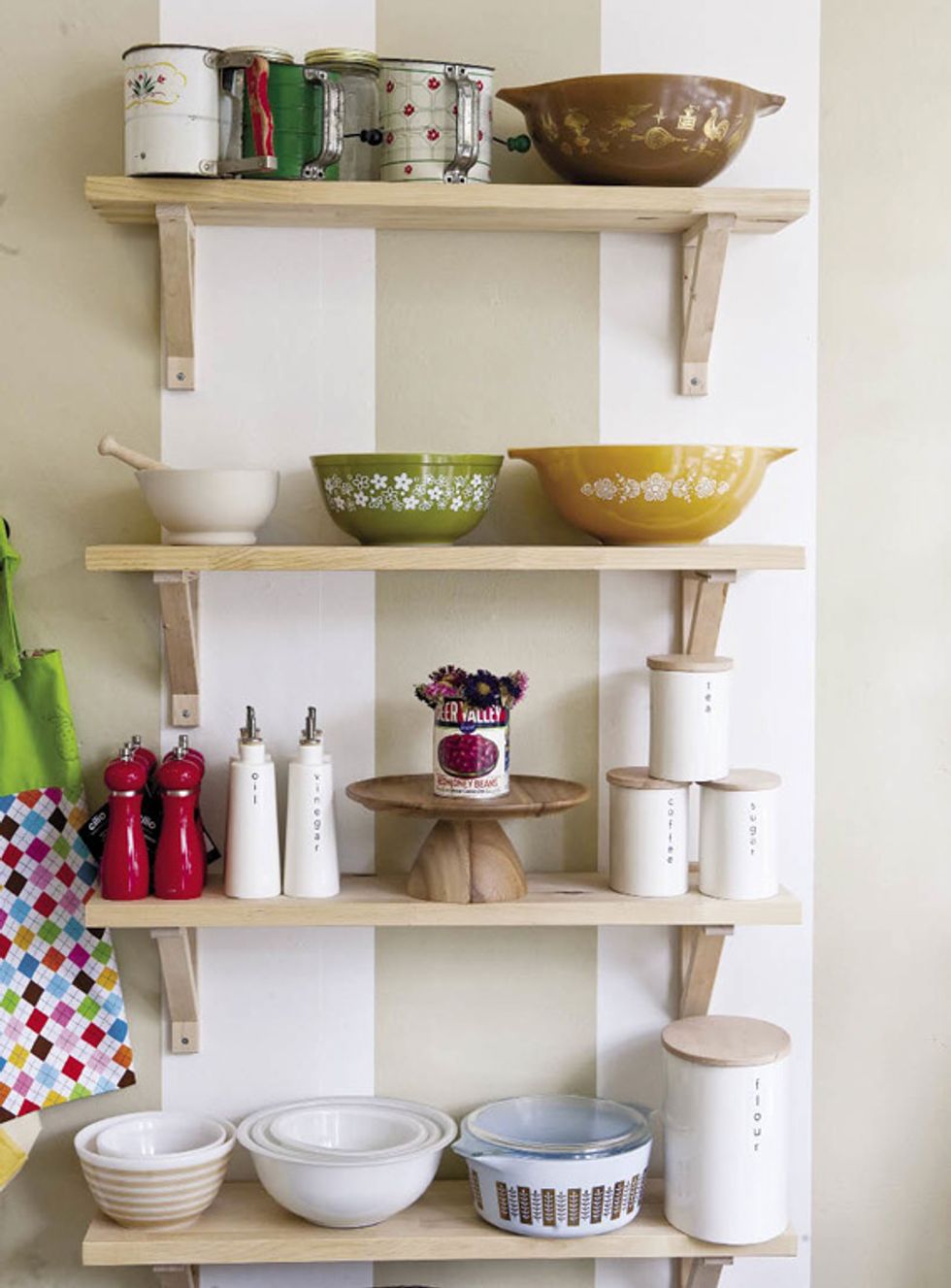 Best Veggie Burger: Roam Burgers
Selling more than 100 daily, Roam Artisan Burgers makes a purple, protein-packed patty out of brown rice, beets, black beans, dates, quinoa, jalapeños, cumin, and other fresh herbs and spices. (The irony that this veggie delight is found in Cow Hollow is not lost.) Get The Classic built with house-made pickles and the tasty house-made Thousand Island or the Veggie Sunny Side topped with a free-range egg, aged white cheddar, and caramelized onions. 1785 Union St., 415-440-7626
Best Bar Away From Home: Royal Cuckoo
You might say Paul Miller opened an insta-dive. His debut of the cozy Royal Cuckoo in the Mission in January tapped the perfect mix of low and high. Artisan spirits kick up modernized classics like the cucumber-infused Royal Cuckoo gin and tonic. Patrons pair the red margarita with super burritos from Taqueria Cancun across the street. But the real clincher is the music: If you're lucky, you'll witness the occasional organ jam session, and Miller's extensive and quirky vinyl collection is on constant rotation. 3202 Mission St., 415-550-8667
Best Recipe Inspiration: Tuesday Recipe
Ready to cook? Slog through the millions of ideas on your Epicurious app, or better yet, let SF native, cooking school teacher and cookbook author Tori Ritchie provide simple inspiration. Once a week, Tuesday Recipe—a free, sans-advertising newsletter—arrives in your inbox with one recipe to get you fired up. The recipes aren't intimidating—Cambozola-stuffed figs, tomato bruschetta with Romano beans, lamb stew with artichokes, cherry granita—which is just how home cooking should be. One of Tuesday Recipe's star subscribers is Nora Ephron, meaning that if you're getting the newsletter, you just might be two degrees away from the writer's next meal.
Best Last-Minute Reservation: Hackertable
Everyone knows that dining at French Laundry isn't exactly an off-the-cuff event. Now parties of two or four with a little standby spirit can score a seat with Hacker Table, a new site that tracks down elusive reservations at Bay Area restaurants, sometimes just a day in advance. Hacker Table holds almost 70 restaurants in its database—Chez Panisse, Frances, and Quince, to name a few. To find the hottest rez at any given time, founders Gary Lerhaupt and Joe Robinson created an algorithm that includes reservation time, restaurant rating, and the number of tables that are available. Lerhaupt says, "We've seen about 50 French Laundry reservations come and go since we launched in March."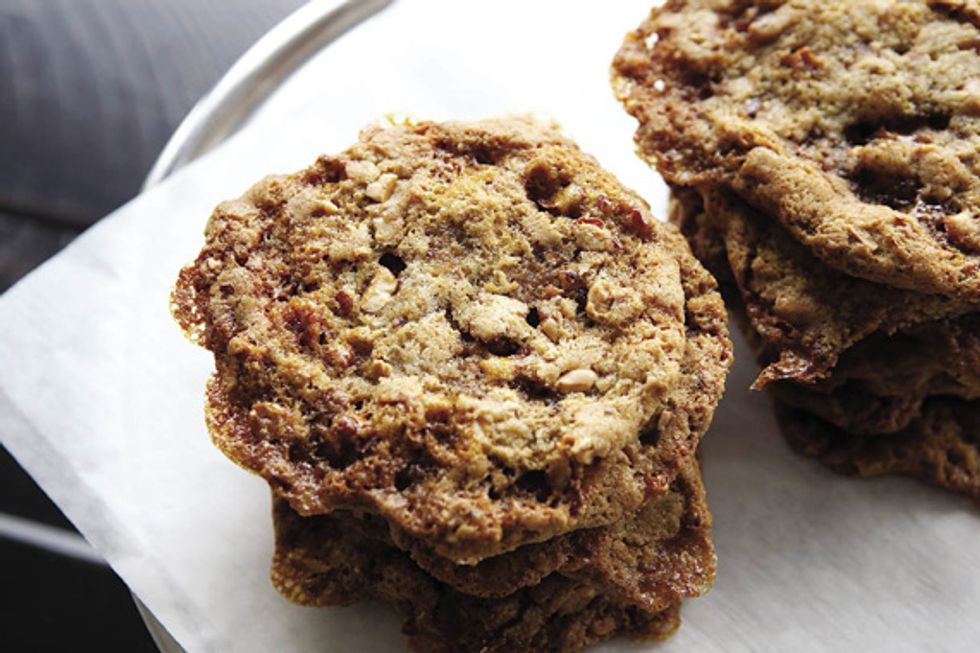 Best Sauce: Yuzu Passion
The izakaya boom has perfumed the city with one of Japan's most signature scents: the yuzu, a fragrant and prized citrus. Yuzu Passion, an SF company that launched in 2009, sells everything from marmalade to pure juice made from yuzu they have harvested and pressed in Kito Village, Japan. But the soy sauce is where it's at. Sweet, tangy, and just salty enough, it's somewhere between soy sauce and ponzu—and perfect for dipping. At Boulette's Larder, Ferry Building Marketplace, 415-399-1155
Best Coffee Selection: Ma'Velous
Rather than go the way of a roaster like Four Barrel, Ma'Velous—a coffee and wine bar located in a beautiful 1910 building on an unlikely stretch of Market Street—sells coffee from roasters outside the city limits. Always on offer are Stumptown (Portland), Intelligentsia (Chicago), and Ecco Caffe (Santa Rosa), but on rotation, aficionados can try coffees from around the world, including Terroir (Massachusetts), 49th Parallel (Canada), and Coffee Collective (Denmark). Coffee can be brewed six ways, from a Hario V60 coffee drip to a Japanese slow-drip coffeemaker to a custom La Marzocco espresso machine. Be warned: Requests for milk and sugar come with a lecture. 1408 Market St., 415-626-8884